POV Holder:
Bridgette
POV Competition
July 9th
POV Used
?
POV Ceremony
July 11th
HOH
Bridgette
Next HOH
July 14th
Roadkill Competition Winner:
Frank
Original Nominations:
Paul, Tiffany, Bronte
After POV Nominations:
?, ?, ?
Have Nots
Nicole, Corey, TIffany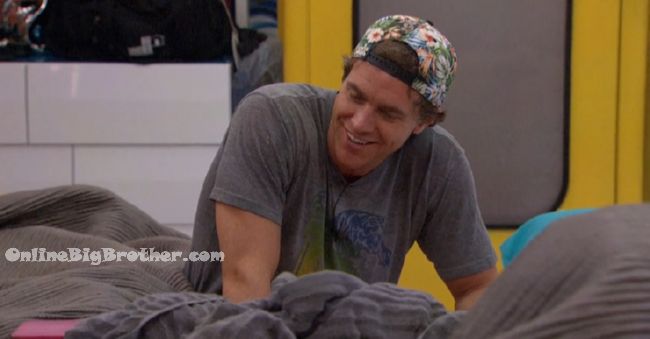 7:55pm Frank and Natalie
Sounds Like Frank pushed Bridgette down at some point during/after the POV.. He says how sorry he is about it.
Frank says Tiffany is going home it doesn't matter who else is on the block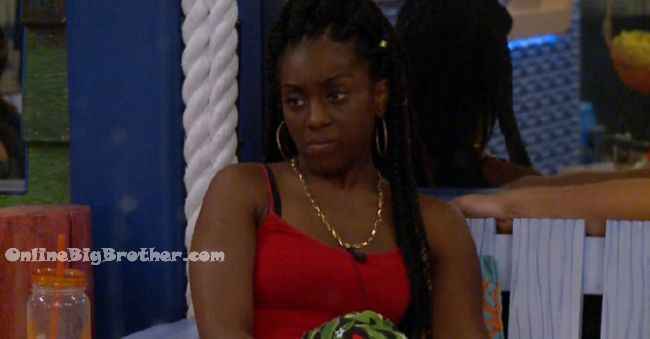 8:00pm Frank, Zakiyah and Da'Vonne
Frank again mentions he knocked the POV winner to the ground.
Frank confirms with them that Bridgette doesn't know he won't the roadkill.
Frank is trying to tell the Bridgette and Bronte that Tiffany is going home doesn't matter who is on the block.
James joins them says Bronte is going to tell Brdigette to not use the veto.
Frank – it feels great at this point.. Get that all over.. It's easy now..
Da'Vonne warns them that Tiffany knows a lot.
James leaves.. .
Frank's goodbye speech will be
"So your sister got 3rd place you got 13 have fun talking about that with your sister over thanksgiving dinner"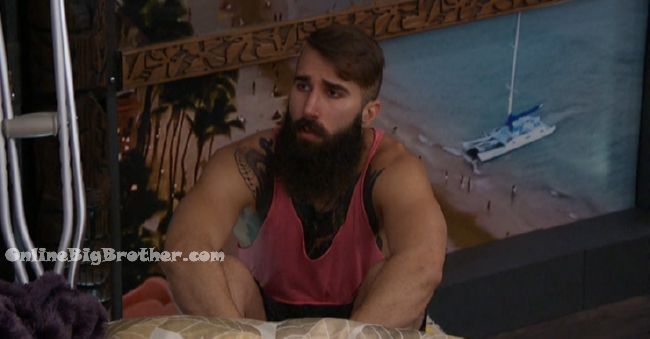 8:03pm HOH Paul and Bridgette
Paul – when you pull Bronte off home girl is going up
Paul says he thinks he's going home
Paul – Tiffany is really worried.. The thing I'm worried about is Tiffany she said I need Natalie to go up next to me..
Bridgette – why would TIff want Natalie….
Paul explains that Tiffany thought he won the Roadkill and was asking him to put up Natalie now that BRonte will be pulled down. Paul told her he didn't have the Roadkill.. She replied to him, "Well then i'm going home"
Bridgette – make no sense …
Paul suggests not use the veto on Bronte so Natalie goes up theres no point.
Bronte comes up.. Paul tells her about what Tiffany said.
Paul says none of the men like Tiffany but he's not sure about eh girls they need to spend tomorrow observing.
Paul – I got to go check on my muffins you two stay here. (HAHAHAHAH)
Bronte tells her to not use the POV on her unless something comes up tomorrow. Bridgette says Paulie has stopped campaigning against Brointe.
Neither of them know for sure if Paul is telling the truth. They think Tiffany is close to Michelle.
They count the votes..
Bridgette – Nat, Frank for damn sure, James votes with Natalie,
"We just need 2 more" .. They think they have Paulie and with PAulie they get Zakiyah
Bronte thinks Natalie knows who has Roadkill..
Bridgette – She'll tells us when she's ready.. That's ok that's who she is we accept that"..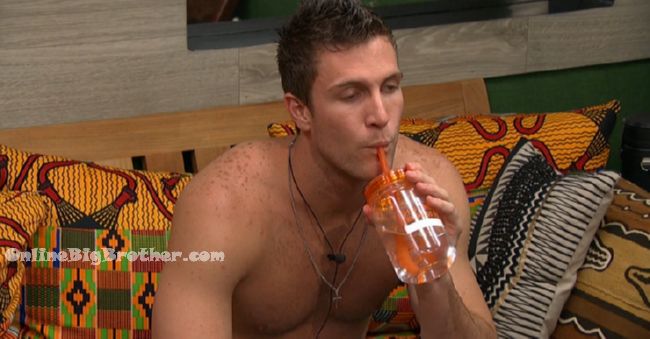 8:25pm Corey, NIcole, Zakiyah and Paulie
Talking about how Bridgette has got to go..
Paulie – we got one beast first
Zakiyah – ya that one first
They all talk about how Bridgette really "slipped up" winning the POV she should have "Thrown it" because now they all want her out because she's so strong.
Paulie says this shows bad social game, she showed them all how good she is at "Memory recall"
Zakiyah saying "YUP" after every point Paulie makes.
Paulie leaves.
Nicole – Tiffany will be in that room all week
Zakiyah – All week long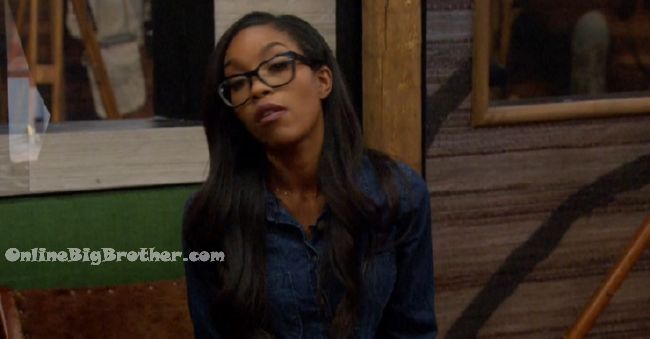 8:31pm Paul has made a slop Muffins
Zakiyah.. She better stop saying his name like that before I punch her in the face..
Zakiyah – WHy is natalie such a damn flirt.. That's the girls get all the THOT out.. All the THOT..
LIke the rest of us Nicole had no idea what she's saying..
Corey tries to explain what THOT means..
Zakiyah – That Hoe Over They're.. (Points to where Natalie is)
Zakiyah – Natty got to go
Michelle – I agree
Corey – she goes up i'm down..
8:38pm Paul delivers slop Muffins to the HOH.. .
After he leaves.. Bridgette and Natalie are talking about Paul saying Tiffany doesn't want Natalie up.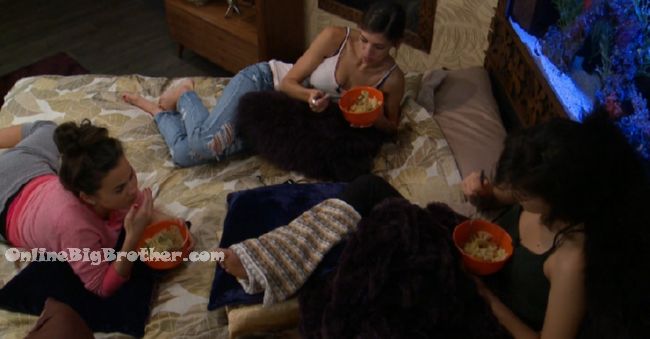 Bronte comes up with food..
Bridgette – you girls are the best.. Thank you so much.
They wonder if Paul was lying about Tiffany.. Bridgette doesn't think so says Tiffany only has Michelle and that's it she's using Paul as a "sounding board".
Bridgette says if TIffany stays she's targeting all of them not just Frank. (LOL yeah the person with 1 ally is going to take you all out)
Bronte – Frank knows if she [Tiffany] somehow stays she's coming for him .. he's going to make sure she goes.. He'll make whatever deals he needs to.. especially after today because he feels terrible
Bridgette – Awwww the poor guy
Bridgette says Frank's legs are really strong. His ankles are think he's never sprain an ankle..
Natalie now saying she's winning HOH next week.. She so wants it.
They says "Spy Girls DA DA DDDDAAADA"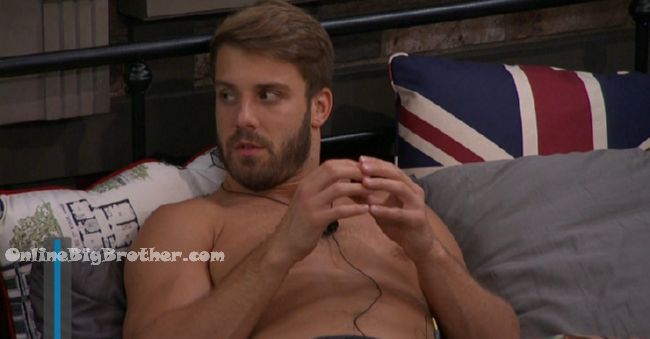 8:45pm Paulie, Da'Vonne and James
Talking about the spy girls finding out Frank had the Roadkill after he puts Natalie up. Paulie suggests James tells Natalie because they are close. They determine next week they have to backdoor Frank they are running out of time.
Bronte joins them.. Chit chat..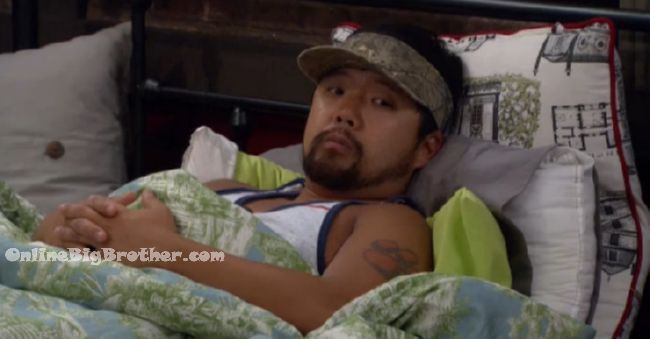 9:01pm James and Da'Vonne
James says he told Natalie that Frank won the Roadkill. HE adds that Natalie hasn't told anyone yet.
JAmes – she hasn't even told Bridgette
Da'Vonne – BRidgette is going to be hurt when she finds out Frank put her up that first week.
Da'Vonne says that's one thing they can do to get Bridgette o vote Fran out
James says they won't need Bridgette's vote.
Da'Vonne – I want to be spiteful.. I can trust him for now but I know i'm, Corey and Zakiyah have a final 3.
James- Paulie told me he's working with him.
Da'Vonne – I want to get rid of Corey so we can get Nicole back..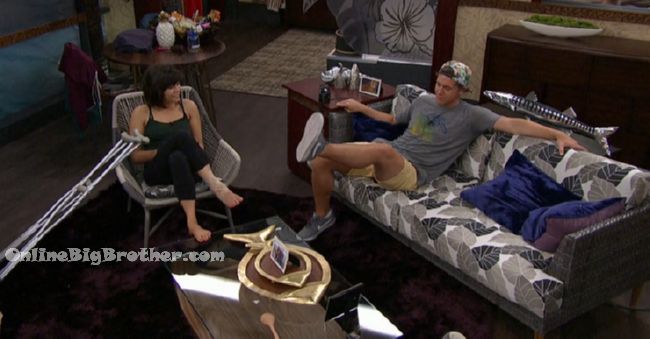 9:07pm HOH Frank and Bridgette
Bridgette – What's up frank
Frank – not shit.. You going to use it on Bronte or not
Bridgette – I don't try think so
Frank says Tiffany is going 100% .
Bridgette – I don't want her hurt her I just want to send her home.. that's f***ed up
Frank – I'mm be mean in my goodbye..
Bridgette – ok you be you I can't stop it.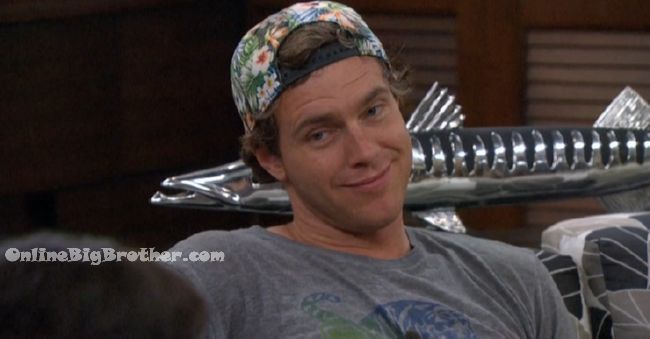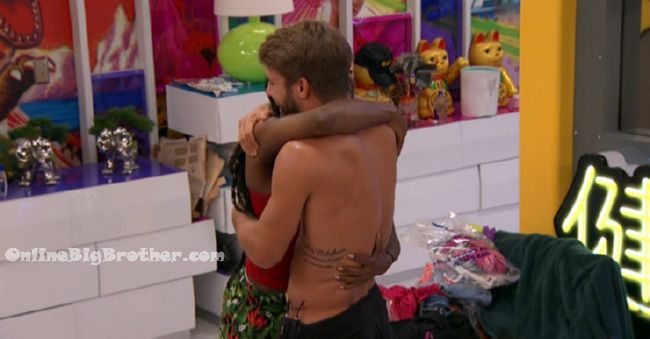 9:22pm Da'Vonne and PAulie hug it out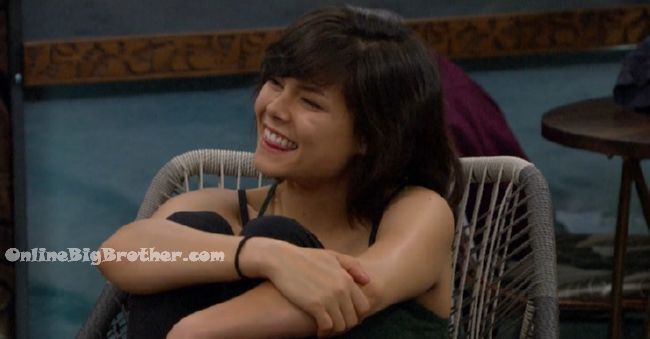 9:37pm HOH Natalie, Frank and Bridgette
Frank tells them about how he's looking forward to the steak house Dinner (A prize his team won during the POV) Says during his first season all he got was penealties. Told the girls about the chum bath.
Frank explains the chum was smelly galatin.
Frank – Chunks of gelatin for 24 hours and that Carrot Costume for a week..
Frank – it was cold at night..
Frank says production is easy on you says he was called into the chum bath 16 times. they let him sleep for 4 or 5 hours.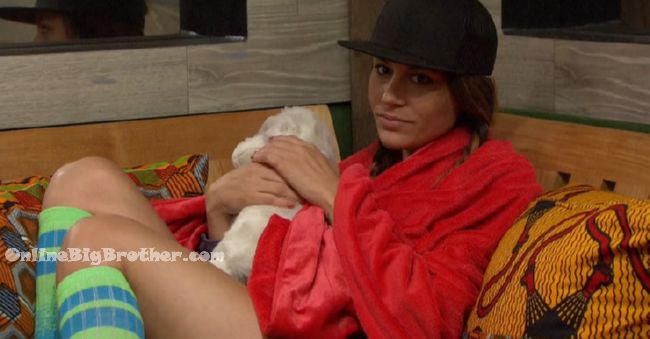 9:45pm Tiffany joins Nicole, Zakiyah, Corey and Paulie.
[polldaddy poll=9464831]
[polldaddy poll=9464369]
[polldaddy poll=9465176]