POV Holder:
Bridgette
POV Competition
July 9th
POV Used
?
POV Ceremony
July 11th
HOH
Bridgette
Next HOH
July 14th
Roadkill Competition Winner:
Frank
Original Nominations:
Paul, Tiffany, Bronte
After POV Nominations:
?, ?, ?
Have Nots
Nicole, Corey, TIffany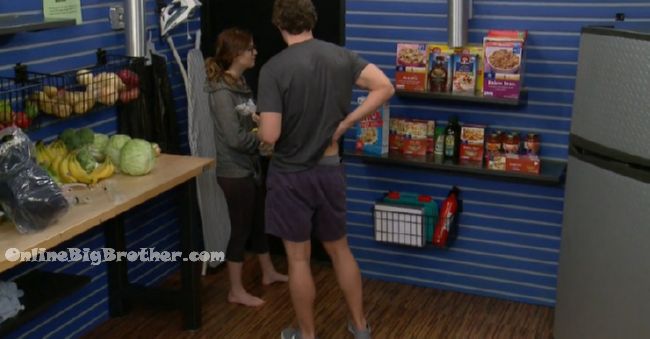 10:09pm Frank and Michelle
Frank says it's an easy week.
Michelle is worried Tiffany is going to throw them all under the us
Frank isn't worried at all he says it's too late for her to do that. If Bridgette uses the POV on Tiffany Bronte goes home. HE'll tell that to Bridgette she wouldn't do it.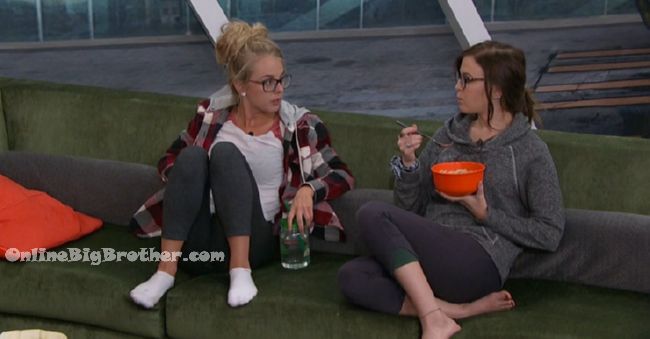 10:14pm Michelle and Nicole
Michelle says Frank has been joking with her going home.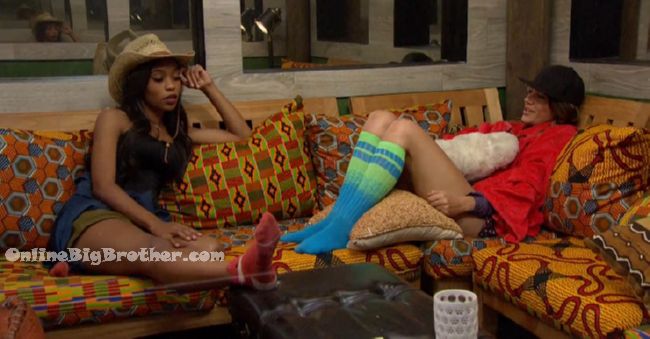 10:15pm Zakiyah and Tiffany
Zakiyah saying people aren't telling here a thing
Tiffany Says she's safe
Tiffany – sucks being on the block
Tiffany tells her she wouldn't stress isf she was her ..
Zakiyah – you should be fine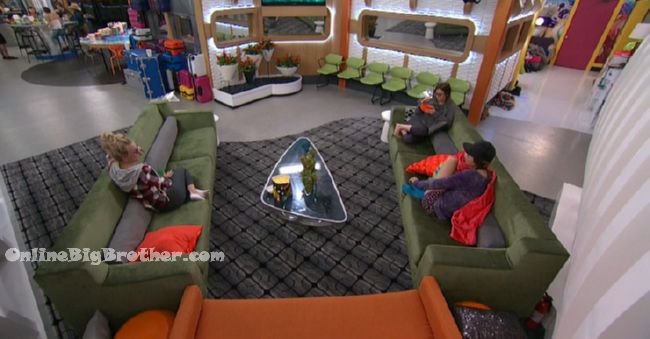 10:27pm Tiffany, Nicole and Michelle
Nicole is complaining she's on havenots. . Tiffany says she needs to keep her strength up for Thursday's HOH.
Michelle says they need to win the HOH.
Nicole goes on about how Corey is the perfect guy, he's kept, established, well mannered, got his shit together,.
Nicole – we're friends.. We're just friends
Tiffany – it's weird two people click like you two.. Just saying.. Just saying..
Tiffany says she was really upset that she didn't win that competition.
Zakiyah joins them.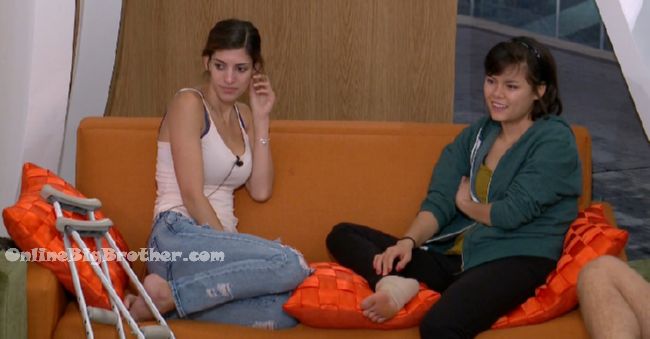 10:43pm Living room Frank, Bridgette, Bronte, Tiffany, Michelle, Paul and Zakiyah.
Bronte is happy the last 4 days are over she just needs some time to breath.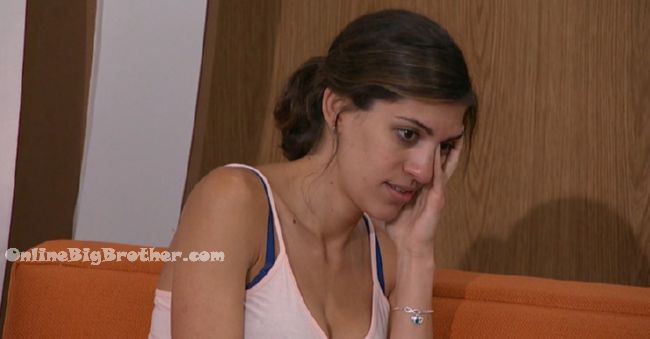 Bronte says she's getting 15 hours of sleep a week
Frank says he's getting 15 hours a day..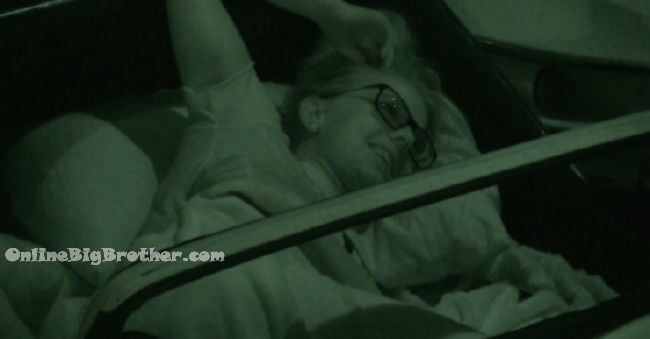 10:51pm Nicole and COrey chatting in the have nots
Nicole – I'm a really good cuddler.. You don't even want to know what i'm capable when it comes to cuddling..
Corey – I got to do all the work first.. Seriously
Nicole – YES..
Sounds like Frank fell and took BRidgette out which caused her ankle to get sprained. HE's explaining what happened.
His leg landed on some uneven ground .. he was thinking "Oh my gosh I landed 200 lbs of man meat on her ankle.. "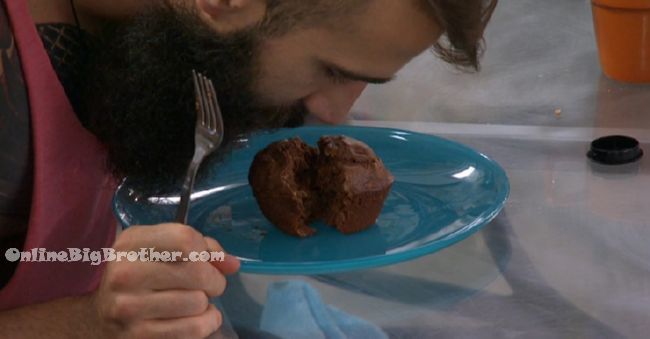 11:05pm More Paul muffins..
Bronte – What's in it ?
Paul – friendship
More Muffins by Paul..
Bronte – What's in it ?
Paul – Friendship #BB18 @DawgsBigBrother pic.twitter.com/SOeS7cVkUJ

— OnlineBigBrother.com (@bigbspoilers) July 10, 2016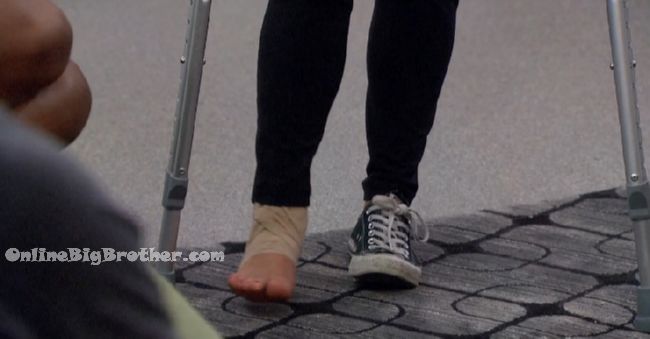 11:11pm Bridgette's ankle .. apparently the swelling has gone down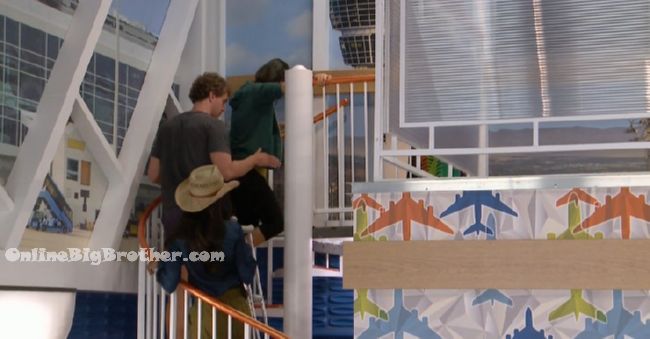 11:23pm Frank helps Bridgette back up the stairs..
Frank – don't toot on me
Bridgette laughs no
Frank – I didn't think so..
Frank – Crutches are no fun.. They look like fun but they're not. .
Bridgette – Crutches suck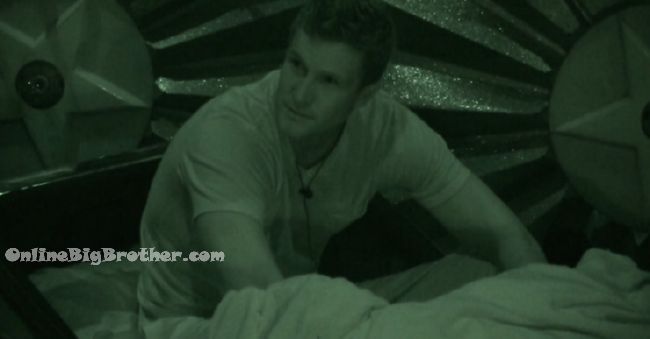 11:28pm Nicole and Corey
Corey tells Nicole he doesn't want to hang out in the HOH unless it's one of them winning the HOH.
Nicole says she just doesn't want to get out in the next 2 weeks because that's pre jury.
Corey says they have enough ammunition if they found themselves on the block and it was going to be close.
Corey says james will be really upset if Natalie goes up.
Nicole – James would be really upset if he found out what she said to you
Corey – Natalie is causing problems for me I just want to send her home..
Corey – I actually like James..(Wow you actually do.. lol) Should I tell him or not.. I feel bad because Natalie tells me that she doesn't like him and he thinks she's like him he talked to me about it.. I want to be like HEY dude I know you like Nat… you know.. It's uncomfortable..
Nicole says she was talking to Zakiyah and she said she's really liking Paulie.
Corey – she was rubbing all up on him today
Tiffany comes in,..,.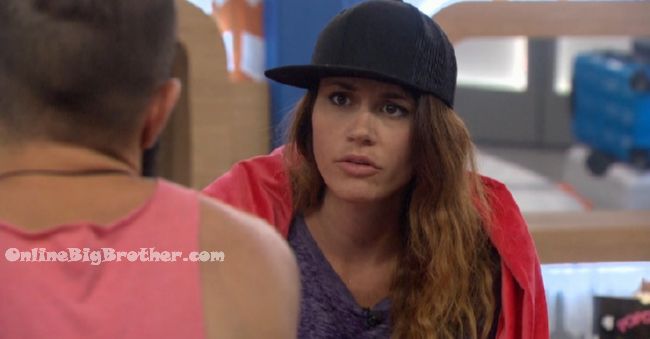 11:35pm Tiffany and Paul
Paul – where do I fall
Tiffany – keep doing what you're doing.. People have said you've changed.. I don't think you've changed you've been cool from the start…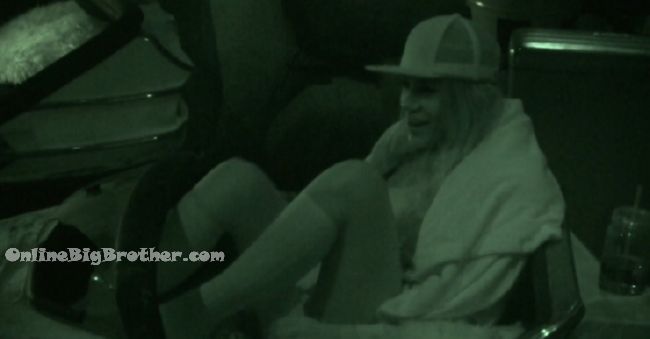 11:40pm Have nots Tiffany, COrey and Nicole
Tiffany – sucks to be on the block week number 2
They don't think Bridgette will use the veto, Tiffany heard she doesn't want to ruffle any feathers.
Tiffany – I really think it's Frank who won (Roadkill) it
Tiffany doesn't thinks Frank will press Bridgette not to use the veto.
Nicole tells Tiffany that the majority of the house will vote out BRonte if she's on the block
Tiffany found out that she was going to be on the season 6 days before
Nicole says Bronte found out a week before, Nicole wonders if something happened some last minute switch up.
Nicole heard she's going to be on a month before.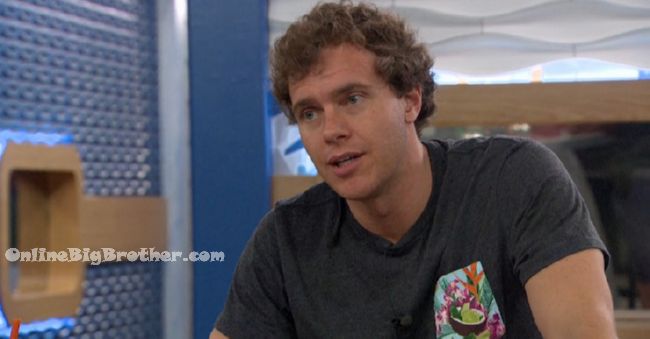 11:50pm Paulie and Frank
Frank says Tiffany is going to freak out on him once she hears his goodbye speech, 'Bro"
They count the votes… it'll be 9 to 0 Tiffany evicted.
Frank saying they are looking strong going into next week.. They might have to "Beast it out" .
Paulie going on about Bridgette winning too many competitions and showing her cards, "Can't hide her cards no more"
Frank – I would rather keep BRidgette around over Michelle..
Paulie – Bridgette can beat us..
Frank – i'm not saying that long.. 6 or 7 that's a person that can win comps and keep us safe.. Michelle can't pull our own wait
Paulie – Maybe we're overestimating Michelle
Frank – absolutely..
Paulie says Bronte and Natalie are just jokes.
Frank – Bronte won't make it to Jury.. they want her out next week..
Nicole joins them. Frank asks why is Tiffany telling Paul she thinks he' has the roadkill..
Frank says he wasn't a fan of Vanessa's game.
Nicole – I don't want to blindside her .. I want to tell her the day before
Frank – I relish a day I can rub it in her face
Frank talks Nicole out of it because Tiffany knows too much it'll f** them up.
Paulie says with James close to Natalie and PAul close to Bronte it wouldn't be a bad idea to get close to both sides.
Frank says they have to see how the next HOH plays out.. He want them to be as safe as possible.
Frank – I think we should get rid of Bronte next week..
Paulie agree.s.
Frank – Then we trim our own fat like Michelle.
12:12am
Frank says if they win Roadkill they don't tell anybody and they put Da up
PAulie says after this week they have to keep the roadkill wins a secret.
Paulie – between the three of us we control everything..
Paulie thinks it's best if Michelle wins the next HOH to take the heat off them. Frank agrees says that frees up them for the following HOH which he thinks
Frank wants to put DA up before Jury with and roadkill.
Frank says if they get Da up they can pull in Frank, Paulie, Bronte, Natalie and Bridgette's vote.
Frank – And Corey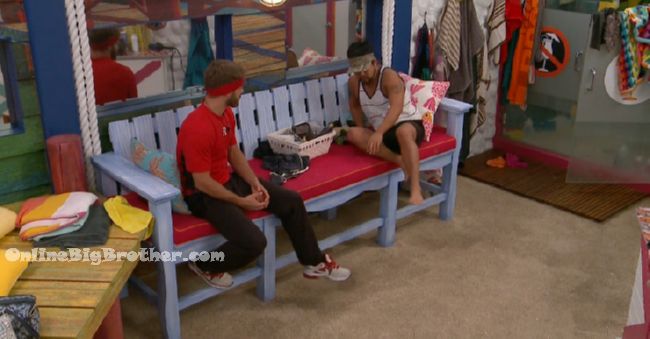 12:22am Bathroom JAmes and Paulie
Paulie saying once they get rid of Frank they can snatch up "Those three girls" Bronte, Natalie and Bridgette.
Paulie wants James and Corey to go deep with him says once Frank goes they can bring together the two sides of the house.
Share it YO!
Tweet