POV Holder:
Elissa
Next POV
Aug 24th
POV Used
POV Ceremony
Aug 19th
HOH Winner:
Aaryn
Next HOH:
Aug 22nd
Original Nominations:
Elissa and Helen
Current Nominations:
Last Evicted Houseguest
David, Nick, Jeremy, Kaitlin, Howard, Candice, JUDD, Jessie
Have Nots (head cheese and habaneros)
GM, Amanda, Helen and Elissa
3:00pm HOH Aaryn and Helen
Aaryn: "I'm scared of McCrae every single person in this house wants to keep him"
Aaryn says Amanda, McCrae and Andy have deals with everyone in this house and it's scaring her.
Aaryn doesn't make fake deals because fake deals bite you in the a$$. She doesn't know which deals are real and which are fake.
Helen says it's depressing to her what Amanda is doing. She kept Amanda in this game for so long and now she's not talking game with Helen anymore. Helen says they are treating her differently.
Helen explains that Amanda is using Aaryn to take out Helen and by doing that Elissa will target Aaryn. Helen adds Amanda is trying to get everyone to make the moves so when she gets to the end she has few enemies.
Helen: 'I am very taken back with how she's treating me this week"
Aaryn: "I would love to see Spencer go.. I want him to go.. I do.. "
Helen: "we just have to tell people that spencer is the target and you and I didn't come up with anything"
Helen: "You gm and I have to have a talk"
Helen says she's worried about Aaryn's thoughts about Andy and McCrae. Aaryn says Andy has lied to her flat out and he's very good at pretending to be on your side when he's not. Aaryn mentions how the first couple weeks Andy lied to her repeatedly when she thought they were tight.
Helen was watching how Andy performed on the POV she doesn't think he fought hard enough for it.
Helen: "We need each other in this game.. We need spencer out"
Helen: "They are using us to kill each other"
Aaryn: "I know"
Helen: "Please keep it to yourself that I'm mad at Amanda.. I trusted her.. She's been using me.. and that is why I'm worried about McCrae.. They don't have my best interest it's obvious.. You know.. You know.. I protected them.. You know and when I'm on the block she isn't there to support me.. "
Helen: "I thought we were all on the same side supporting each other.. obviously they are not"
Helen says she noticed that during the POV competition Amanda, McCrae and Andy were not cheering for them.
Aaryn: "Spencer, MCCrae and Andy are going to full on gel if he stays"
Aaryn says she's noticing the guys getting closer.
Helen: "This is the new Aaryn and Helen"
Aaryn says that Amanda and McCrae are making deals with everyone. She explains That McCrae is making side alliances with a set of people. Amanda is making side alliances with another set of people. They then have their side alliances fight while keeping each other off the radar.
3:15pm Helen, Andy and Aaryn
Helen: "Aaryn and I have been talking and her targets Spencer"
Helen: "do i have your vote "
Andy: "ya DUH "
Helen: "my worry is Amanda and McCrae will not vote to keep me "
Andy explains it doesn't matter they have the votes.
Helen: "THey are so tight and MC does whatever Amanda wants .. Amanda has ignored me all week.. that is outside the norm for Amanda she usually talks game and strategy. "
H: "please don't share that.. "
H: "Andy you will be the deciding vote, GM votes to keep me, ELissa votes to keep me.. "
Andy: "duh you've always been loyal to me.. Amanda nd McCrae will realize you are staying they will vote to keep you"
Aaryn: "I'm surprised Amanda hasn't been talking to you.. it shocks me."
Andy Tells her to call Amanda Out on ignoring her.
Helen: "it's not my style.. I felt that I kept her safe these last few weeks and now she doesn't talk to me"
Helen "You know Jessie wanted to get her out" (Amanda and McCrae)
Helen: "I noticed when Elissa won the veto nobody was excited for her.. even Amanda and MCrae.. so.. I trust you Andy to keep this to yourself.."
Helen: "the vote is 5 days away"
Andy: "Oh my god I hate waiting.. you don't have to worry about me… I told you from the beginning of the game I don't trust specner he had me fooled for the first 2 weeks of the game and anyone that can do that once can do it again"
Helen leaves to get Elissa
3:21pm HOH Andy and Aaryn
Aaryn: "OH mY GOD"
Aaryn: "F****"
Andy:' Yeah"
Andy: "Ohh Helen.. she's lying.. she was trying to get Amanda and McCrae out" (Helen was saying to Andy and Aaryn that she kept Amanda safe for all these weeks and points out that it was Jessie that wanted to get Amanda out. Everyone knows Helen is lying but she still says it when trying to build up her Loyalty resume)
Aaryn: "She is going after McCrae and Amanda now"
Andy: "Wheres your head at right now"
Aaryn: "I don't know"
Adny: "I mean Amanda and McCrae are the ones to keep our cards with.. what do you think"
Aaryn: 'Me to… do you think McCrae is legitimately loyal to me"
Andy: "I think Amanda and McCrae will be loyal to final 4"
Aaryn: "OK"
3:31pm HOH Andy, Aaryn, Elissa And Helen
Helen says she thinks she has GM, Andy and ELissa so they need to remind Amanda and McCrae how dangerous he is and how they want him out.
Helen looks around the room and says Spencer has no loyalties.
Helen says she trusts Aaryn, Elissa and Andy to work on McCrae and Amanda tell them the house is keeping her.
Aaryn tells Elissa it was McCrae that told her Elissa did want to sit next to her and GM during the HOH competition. Elissa says McCrae is trying to start a fight between them she didn't say it that way. Elissa is very annoyed at McCrae.
Helen: "We all have to realize what is going on here.. they using us "
Aaryn: "Do you think Amanda threw that at me so she wouldn;t have the blood on her hands.. Like 10 seconds went by and I thought she was throwing it to me"
Helen: "Who would she have put up"
E: "Specner and GM"
Aryn: "Something is not right"
H: "Yup"
Gm rolls in
Helen says she wants to take something back that she told GM she told GM if it's Aaryn and GM on the block she would keep GM but now she cannot give that type of promise, "I don't want to lock myself in.. everything else I met completely"
GM says no problem she didn't think much of it.
Helen: 'I'm going to talk to AManda and McCrae but you guys are my base"
Elissa: "Aaryn is the tie breakers"
Helen: "There is no tie"
3:46pm HOH Elissa, Andy and Helen
Helen tells them that McCrae told Aaryn to put up Helen and Elissa because Aaryn was going to put Spencer and Elissa.
Elissa: "I think MCCrae was so mad that I wouldn't start a fight with Aaryn.. that's so weird.. cause in the beginning Amanda fought everyone and now she's trying to get other people to do it"
Helen: "Aaryn and I had a coming to Jesus moment about what is going on in this house"
Elissa says voting out Helen is handing the game to McCrae and Amanda. Helen keeps telling Andy how Amanda and MCCrae are using him and he needs to vote out Spencer.
Andy: "You think I would keep Spencer over you.,.. give me some credit"
GM rolls in. Elissa asks if Amanda has been saying things about her to GM. Gm says no.
You can re-watch ever second on the feeds using the flashback feature.. It's just like a DVR and is super easy to use. click this link for a Free Trial —> Subscribe to the Big Brother Live Feeds
4:10pm Backyard Amanda and McCrae
MC relaying his conversation with Specner where he said he doesn't think he'll win the first prize so he's hoping to get to second.
Amanda says she doesn't want Spencer to go to the final 4.
Amanda: "He was a supreme a$$hole to me for the majority of this game I won't forget that"
Amanda: "he was a bully.. him and Howard"
MC says if they bring Spencer to final 5 he will take Aaryn out. Amanda: "Won't he take me out" MC says Spencer will stick with them because he wants to be dragged to the end.
Aryan rolls in.
Aaryn: "Helen is campaigning hardcore to stay.. "
Amanda: "What is she saying"
Aryan she's saying she has a plan and she's trying really hard, "Just want you to know"
Aryan leaves.
Amanda:" She's digging her own grave"
MC: 'Gm said the same thing this morning"
Amanda: "I have no problem telling Helen i'm voting her out.. she is toxic to my game"
Amanda: "Once Helen leaves she is going to tell Elissa to come after me.. That is why she has to go next week"
MC: "YUP"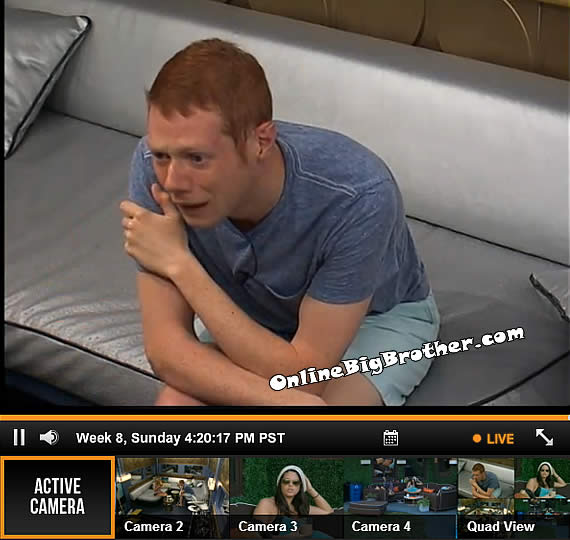 4:20pm Cockpit Andy and Aaryn
Andy relays his conversations with Helen. he says she has no idea what is really going on.
Andy says they really have to worry about Amanda and McCrae he want them to stay loyal as long as they can but moving forward they cannot hide from that fact that Amanda/mCrae will take each other to the end.
Andy: "You and I really need to talk to GM and tell her they need to stick together"
Andy mentions that when they get down to final 5 and he wins HOH he'll make a move against McCrae and Amanda to ensure Aaryn, GM and him make it to final 4.
And: 'GM listens to you..we need to talk to her.. I want to remain loyal to all of us as long as we can.. "
Andy: "I would be so excited if I get to the end with you.. oh my god.. the jury heads will explode"
Andy: "GM is our secret weapon"
Aaryn:'Elisa is Their secret weapon"
Andy: "don't worry i will work on that Hardcore"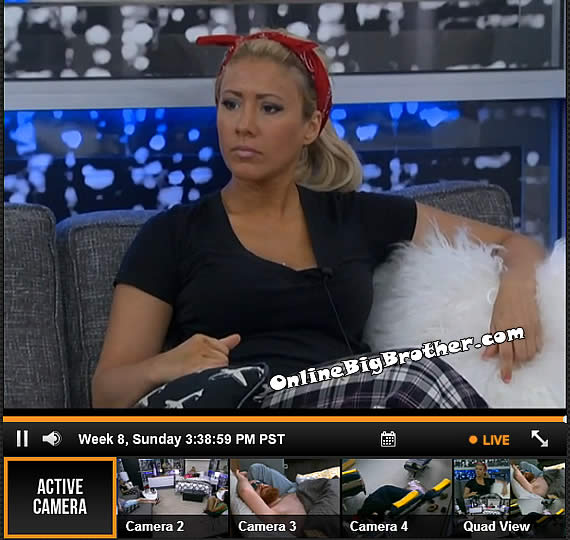 [polldaddy poll=7329443]