POV Holder:
Zach
Next POV
April 24
POV Used
No
POV Ceremony
April 19
HOH Winner
Zach
Next HOH
April 22nd
Nominations:
Godfrey and Jordan
Have Nots
Godfrey, Sarah, Jordan, Bruno
POV Players
Zach, Jordan, Godfrey, Sarah, Ashleigh, Pilar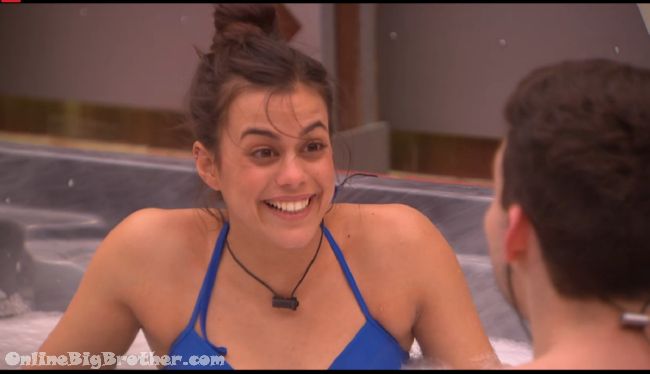 7:10pm Kevin and Pilar
Pilar tells a story.. lots of Giggling.
They're in the hot tub for over a hour. A movie of them kissing below.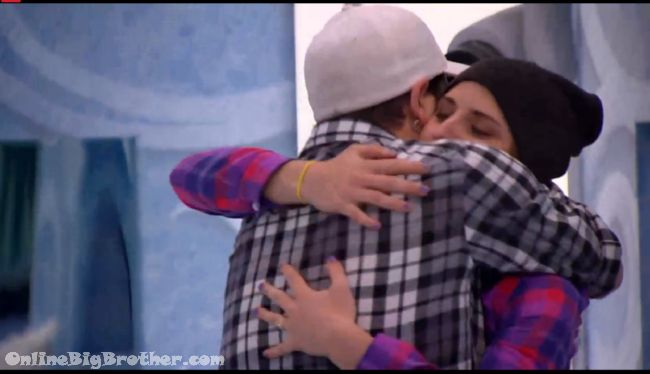 7:26pm Bruno and Willow
Bruno mentioning that during the POV Ceremony Godfrey told Zach he should have never had put his boy on the block.
They think that Canada is involved this week. Willow says all she's got is the Chop shop she wants to make sure they are good. bruno says 100% they hug it out.
Bruno is worried about Jordan he doesn't know where his head is at and he's close with Zach, Sarah and Sindy.
Willow agrees says she loves him but Jordan talks with everybody
Willow – I dunno
Bruno- He F***g scares me .. he's a superfan he knows his sh1t.
Willow – he's not in the chop shop so he'll have to go at some point.
Bruno – Exactly .. 100%
7:40pm Bobby walking on his hands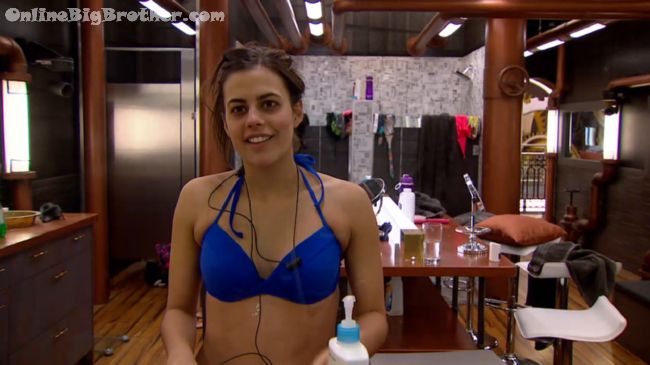 8:21pm Nothing remotely interesting going on.
and Kevin were showering While AShleigh was taking a "Poo". Pilar asks how are things with Zach and AShleigh in the HOH. AShleigh says it's been fine.
Poolside house guests are talking about Game of thrones, ubrew beers, uber etc..
8:44pm Bathroom Sarah and Sindy
Talking about blaming Jordan leaving on Bruno and Bobby. Zach is going to be pissed at them and not Sarah/Sindy. Sindy plans on taking some tears "Oh my JP"
Sarah says she gave Jordan the chance to fess up and be honest and he didn't. Don't blow smoke up my a$$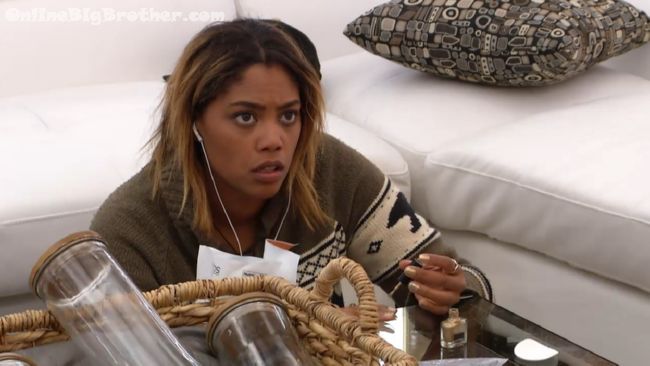 8:49pm HOh brittnee and Sindy
Before they start there talk Sindy goes to the HOH bathroom to make sure someone is not hiding in there.
Sindy says she can trust Bruno they have their "Own" relationship. She thinks Bruno talked to Bobby about getting JOrdan out because Bobby wants to talk to Sarah.
Sindy points out Brittnee is a "cuddle buddy" of Bobby so maybe she can do some convincing. Sindy really wants jordan to stay but for her game he's got to go.
They agree Godfrey is going after Zach he made it clear during the POV ceremony. They think Godfrey has a good chance to win the HOH
Sindy – if he comes after me I'll punch him in the f***g face
Brittnee – No I'll punch him in the face… I won't actually
Sindy brings up Bruno telling her about the 5 person alliance, Jordan-Zach-Asheligh-Pillar-Kevin
Brittnee about diapers alliance "They are way too powerful and Zach is way comfortable"
Sindy says she trust Brittnee and Sarah 100%, Bruno 60% and Jordan 45%. She's going to stay close to Bruno because he's close to the other side.
Brittnee thinks Jordan is lower than that
Sindy – I want Zach than I want Bobby.. willow pilar and Kevin.
They agree they need to break up the couples. Sindy is going to break down in tears when Jordan leaves and yell Zach saying that he put his friend up on the block how could he do that. She plans on getting closer to Jordan
Sindy – Zach needs to pick a side
Brittnee- he's playing all sides
Sindy – "Canada doesn't like Willow and Canada doesn't like Zach right now
Sindy says Willow and Zach were in her Social media conversation.
Brittnee thinks Zach would be a fan favorite, "Playing the whole house".
Sindy – Nope.. It's how he's playing.. Nobody likes a floater.. Like nobody likes a floater.. He's got all these alliances.
Brittnee says Kevin is Bobby's target.
Sindy says if Bobby agrees to keep Godfrey she's pulling all 5 of them into a room and confirming to make sure it happens.
Sindy says only Jordan gave her a straight answer when she was being evicted. Everyone else didn't give her one. She really wants to trust Jordan but not when he's so close to Zach.
Brittnee – I thought he was smart .. I thought he was smarter than this.. I don't understand what his plan is.
Sindy mentions the last two winners of Big Brother were non superfans.
Brittnee – it's almost that they know the game too much and try to think of too many plays… instead of coming in here with a clear mind.
Sindy – Making deal with everyone..
Sindy makes it clear if she wins HOH she'll put up Bobby/Willow and when POV is used Zach goes up.
9:10pm Bruno and Godfrey
Bruno asks him if he's worked anything out. Godfrey thinks he has but nothing concrete yet.
Godfrey says bruno is going to do alright in this game, 'Just stay cool'
Bruno isn't convinced "Game's crazy dude you never know"
Godfrey – you'll do good.. trust me no one will come after you any time soon.. keep staying close to the girls you'll be alright.
Bruno says it was nice when Graig was here because he was always the target.
Godfrey – whether I stay or go I still want you to win this.,.. yo and bobby are the only ones I want to win
Bruno – You and Bobby are the only ones i trust.
Godfrey saying he's going to plant seeds to help Bruno and Bobby out after he leaves.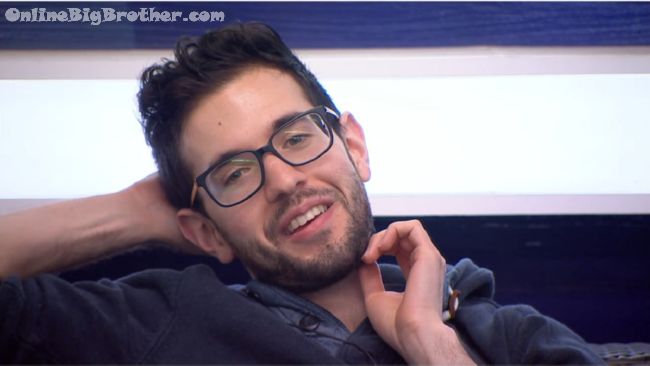 9:36pm Backyard.. Jordan talking about Twitter haters.
Jordan talking about forum says the people are ruthless on their they will all get shredded, "Its never positive". Says theirs old men in their basements that will never be on Big Brother and are bitter. He also brings up twitter haters saying it's easier to send out hate so you will get more of that.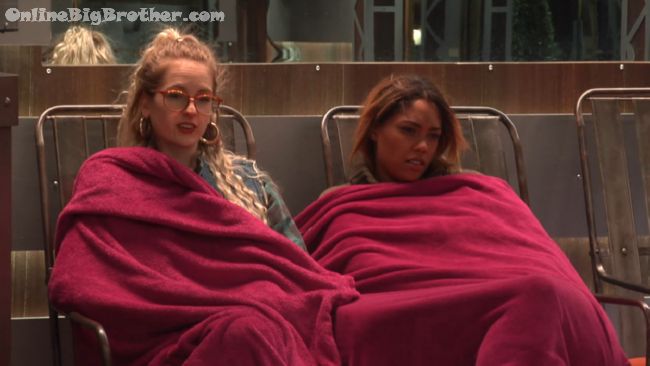 9:46pm Zach, Brittnee and Sarah Hot Tub
Talking about Getting Godfrey out now. He's much smarter than they thought. They mention how Risha was in sequester for 3 weeks and finally got out today.
According to Sindy, Naeha was silent when she walked off the stage, it was obvious she was upset. They agree Naeha went out a shitty way.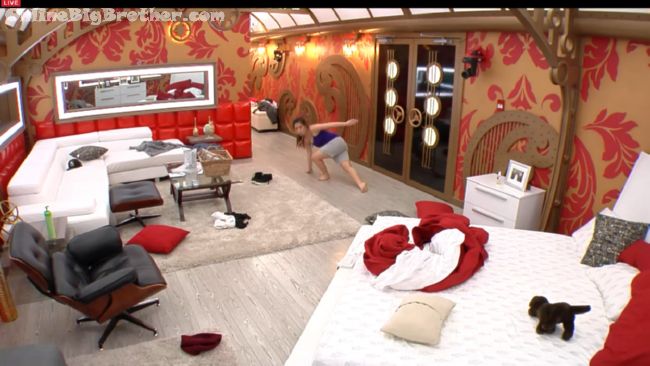 10:05pm Sindy dancing in the HOH Fan feed
ALLIANCES IN THE HOUSE
There are always a lot of Alliance but we've tried to make sense of it all.. Read our alliance help guide
[polldaddy poll=8810064]