POV Holder:
Zach
Next POV
April 24
POV Used
No
POV Ceremony
April 19
HOH Winner
Zach
Next HOH
April 22nd
Nominations:
Godfrey and Jordan
Have Nots
Godfrey, Sarah, Jordan, Bruno
POV Players
Zach, Jordan, Godfrey, Sarah, Ashleigh, Pilar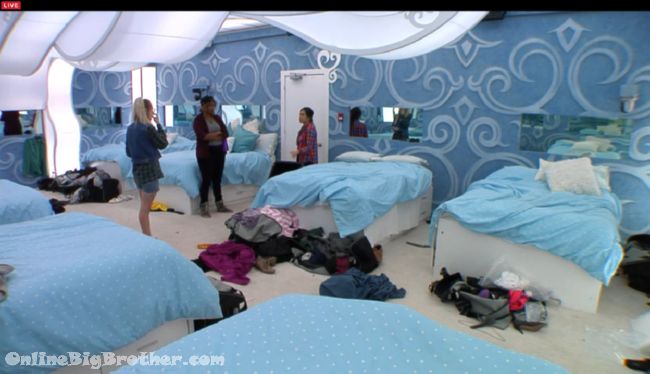 6:00pm Brittnee, Sindy and Sarah
Talking about keeping Godfrey. They agree it's going to be tough. Sarah – "We're going to do it"
Sindy leaves.. Sarah thinks they can talk to Bruno convince him to vote out Jordan but for now the need Sindy to do their dirty work.
Brittnee – we gotta lay low
Sarah – It's a smart move.
Brittnee – everyone knows it's a smart move
Sarah says Zach, Bruno and Bobby have been together from the beginning.
Sarah – I'm going to nicely scare the sh1t out of f***ing little JP
She's going to tell him Bobby and Bruno may be resentful because of Jordan/Zach's relationship. They may be voting him out and Godfrey is certain he has their vote.
Sarah and Brittnee agree Sindy is trustworthy.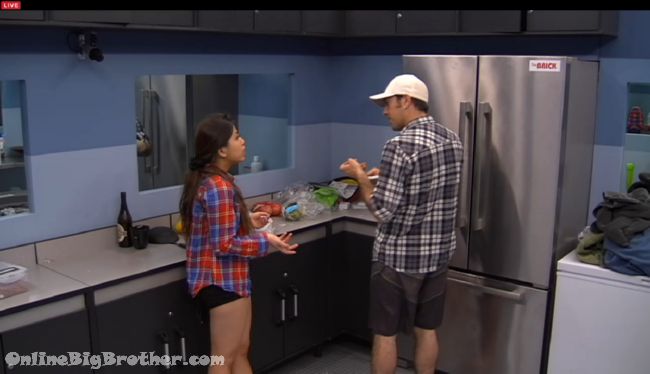 6:02pm Storage room Sindy and Bruno
Sindy trying to talk Bruno into keeping Godfrey. Bruno thinks they should talk to Bobby because he's the one they need to persuade to evict Jordan. Bruno agrees with Sindy that Godfrey staying is better for both their games. Sindy says they can hide who voted it can be 5/4.
Sindy – we can play dumb afterwards.. who voted for JP
Bruno thinks it's a good move to get out JP BUT at the same time is stresses it's a tough move. Bruno has doubts about Sarah he tells her he just trusts her and Bobby.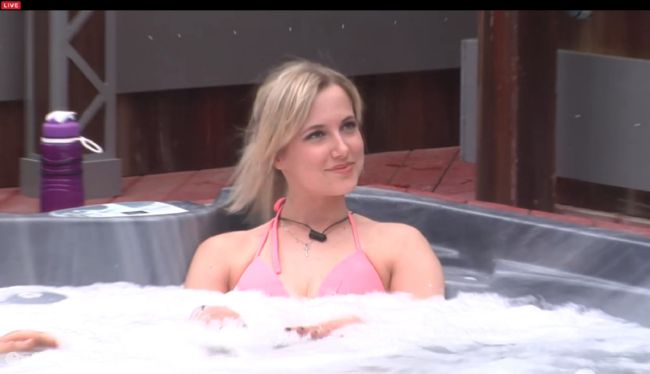 6:10 Hot Tub Ashleigh, Bobby and Bruno
Chit chat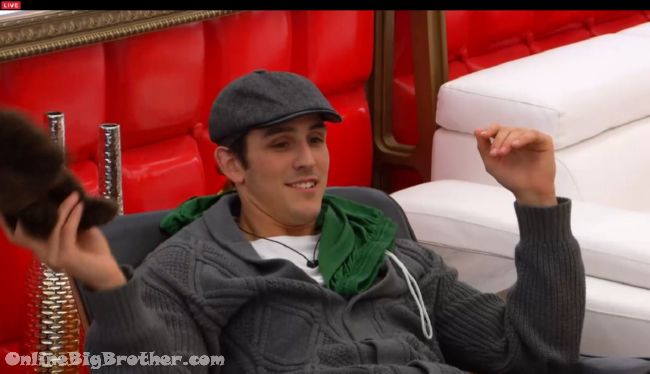 6:27pm HOH Pilar, Kevin, Zach and Willow
talking about the POV Ceremony.
Zach talking about the line he messed up " I'm going to give you a chance to tell me why I should use the power of veto on you "
Zach – Just tell me why I should use the power of veto on you. (LOL)
Godfrey told Zach that he woke a sleeping giant and "I want your (Zach) blood on my hands"
Kevin thinks production is pressing the twisto twist button too much. They agree that was the best Power of Veto Ceremony to date.
Don't use the power of veto I want your blood on these hands. Godfrey also said Zach should use the veto on JP.
Kevin – "that is when I lost it"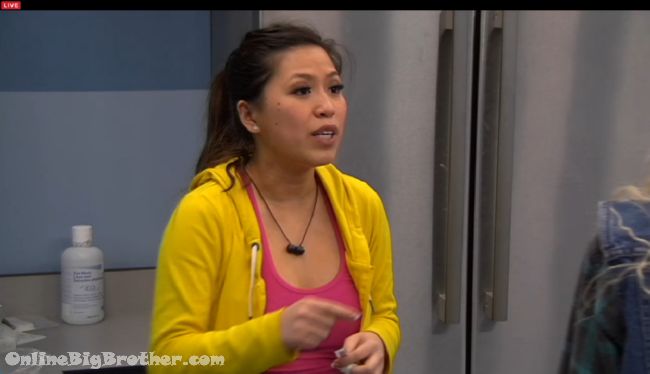 6:34pm Storage room Sarah and Sindy
Sindy gives her the rundown with Bruno. Bruno is down with getting rid of Jordan, "He wants to keep Godfrey for numbers to get Zach out but he's worried about you". Sindy adds that Bruno is going to talk to Bobby but is worried about Sarah he thinks she's going to want Jordan to stay. Sindy told Bruno if Jordan stays he has Zach, AShleigh, Kevin, Pilar, but if Godfrey stays he's with them.
Sarah – Are you sure he's not lying (bruno about getting rid of Jordan)
Sindy doesn't think so but she'll ask him again she adds that Bruno told her he only trusts her and Bobby.
Sarah says if Sindy can get 100% confirmation from Bobby and Bruno to keep Godfrey they are going to roll with the plan.
Sindy thinks even if the four of them are together (Chop Shop) they have to get rid of Zach eventually.
Sarah – they are resentful for Jordan swooping in
Sindy says Graig started the Chop shop day three.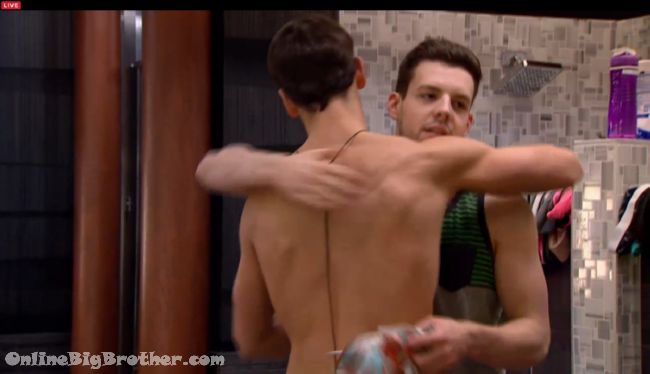 6:44pm Kevin and Zach bathroom
Zach saying that Kevin is off the radar of the chop shop he's good for next week.
Zach – We're still going to move forward.
Zach warns that Joprdan has the best social game in the house he's good with everyone he's safe this week.
6:49pm Work out area.
Zach saying that Jordan is going to stay with a unanimous vote. They have such a good social game they have everyone brainwashed that keeping them in ads value to their games. Zach says they are both sitting pretty good.
tell him it f****g suchs that he's on the block.
Jordan – you did what you have to do.. I volunteered for it
Jordan – As soon as godfrey went outside everyone went inside.. I feel awful for him.. It"s game but he's a nice kid.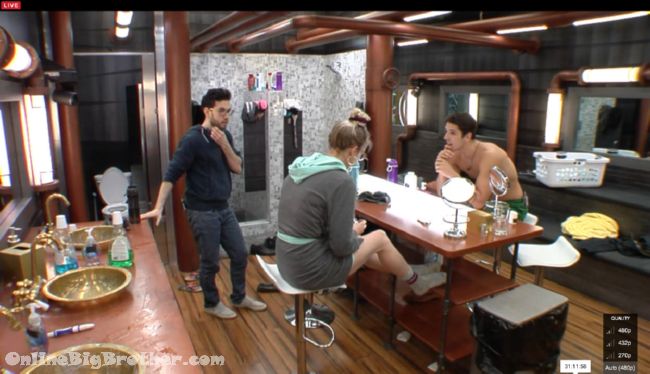 7:00pm Zach, Jordan and Sarah
(Prior to Zach coming in)
Sarah tells Jordan that Godfrey thinks he's got the votes, 'He's pretty sure"
Jordan brings up just talking to Godfrey and he said he thinks he's done.
Sarah didn't know Zach was so close to Bobby and Bruno. Zach tells her he's not going to run deep into the game with the guys. Zach explains he didn't use the veto because given what is happening in the house with the 12th player it was too early, "There still SOOOO much game left.. SOO much game.. there's only 4 f****g people gone"
Jordan mentions on Wednesday they are almost 1/2 way done and still have 11 people
They bring up Willow, Zach can't trust her. Jordan finds her annoying.
Sarah leaves. Zach calls Willow a rat mentions how she's told him something about every person in the house.
Jordan – she's a nuisance she's a thorn in my side.
Jordan – I'm like G now I look at her and she's so annoying..
Zach – She's talking shit about Bobby to Sarah.. and She's in the chop shop
Jordan – what is she doing.
Zach – Is Sarah OK
Jordan – She's 100%
Jordan isn't worried about Sarah in the least.
Jordan says he's going to throw the next HOH because he doesn't want to be the person to take Cindy out. Zach wants targeting Willow to be a priority.
Jordan thinks Brittnee will back door Bobby but they can convince her to take out Willow. Zach wonders if he should be the one to take out Willow. Jordan – it's a waste.

(Video uploading. The first bit is Sarah, Jordan and Zach the last Half is Jordan and Zach one on one)
ALLIANCES IN THE HOUSE
There are always a lot of Alliance but we've tried to make sense of it all.. Read our alliance help guide
[polldaddy poll=8810064]