POV Holder:
Corey
POV Competition
July 16th
POV Used
YES
POV Ceremony
July 18th
HOH
Paulie
Next HOH
July 21st
Roadkill Competition Winner:
Tiffany
Original Nominations:
Tiffany, Natalie, Corey
After POV Nominations:
Tiffany, Natalie, Da'Vonne
Have Nots
James and Natalie
CBS All Access: Live feeds are only $5.99 per month – Try it FREE for 1 WEEK!
1:39pm Storage room James and Natalie fight with stale bread
Bread Fight #BB18 @DawgsBigBrother pic.twitter.com/dYehrS9EMX

— OnlineBigBrother.com (@bigbspoilers) July 20, 2016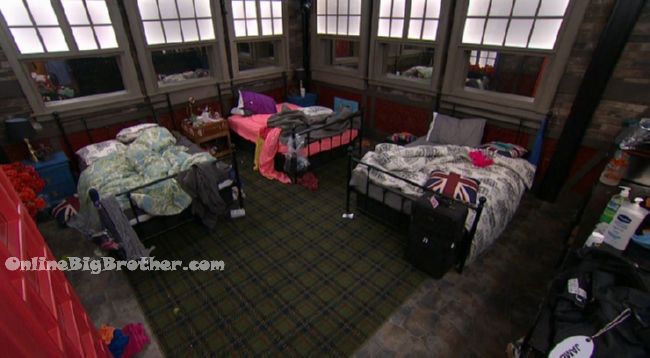 1:42pm London room Da and Michelle
Da'Vonne is telling Michelle that they were on lockdown because productions said "they will be going in and out of the backyard"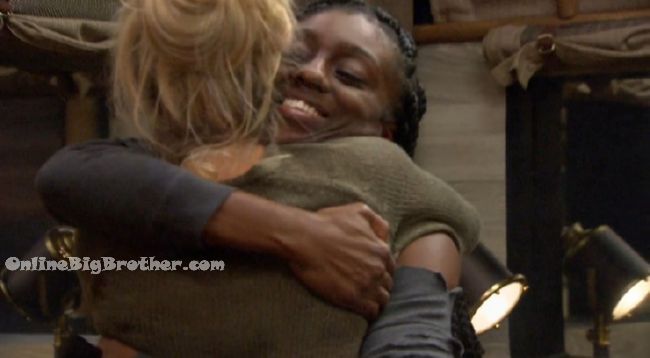 1:44pm Da'Vonne and Nicole
Nicole doesn't want to have an intense Conversation because she doesn't have her makeup on
Da'Vonne saying she's been feeling distance with Nicole.
Da'Vonne – Am I good for tomorrow
Nicole – Ya I don't think theres distance.. I don't know how you feel.. .like..
Da – be open
Nicole – I feel like.. I dunno.. Like… like… I always told you you were good…. Like you never believed me… you know what I mean.. You brought it up.. No it's fine.. Like.. .(WTF nicole)
Da says she thought they were building a friendship and it seems to her that Nicole is moving closer to Zakiyah ..
DA – it's awkward..
Nicole says she wants to fix this..
Nicole says she lets distance happen with her closest people.. Says when someone tries to steal her boyfriend she just lets them.. She's done it with her best friends before
Da' – I'm the complete opposite I'm a fighter if I want a friendship i'll fight to keep it
Nicole – I want to squash this.. I dunno it's bad i'm sorry I just want to fix it.. We want you to feel really comfortable..
Nicole wants to go back to how they were
Da – me to it was strong
Nicole blames it on Frank says he's trying to pull them apart.
They huge it out..
Nicole – sorry, that's my personality … it's terrible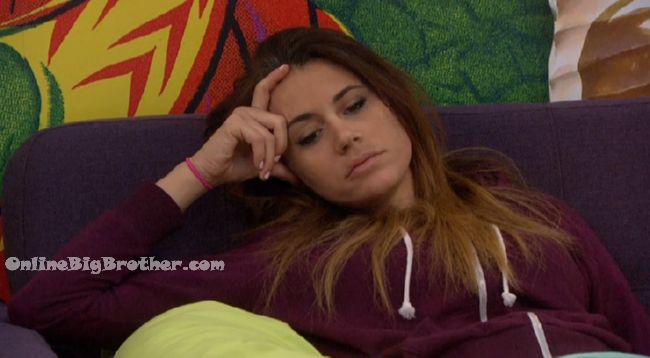 1:50pm Tiffany and Frank
Tiffany has a sore stomach, she's blaming it on the coffee on a empty stomach.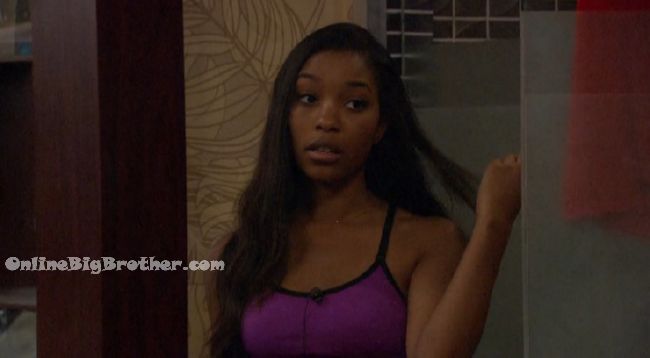 1:52pm HOH Nicole and Zakiyah
Nicole relays the conversation she had with Da.. "She pulled me aside and was like.. She wants to make sure she's good for tomorrow.. She feels like her and I were really close and now I'm gravitating towards you
Zakiyah – WHAT
Zakiyah thinks Da will bring the same thing up with her
Nicole – she's putting targets on our backs
Nicole says Da brought up Christine from Nicole's last season and how Nicole was played by her. Da told her that isn't what she's doing
Zakiyah – is that some kinda red flag
Nicole – if something's awkward i tend to stay away from that .. I just know she doesn't like corey so what am I supposed to do..
Zakiyah says she could tell Da was really watching Nicole's body language "I can tell.. She's definitely been acting weird with me"
Nicole – she is a threat to us.. Don't you think
Zakiyah – ya
Nicole says the only reason Da brought up the fatal five to the house was to put a target on all their backs.
Nicole – that's not cool
Zakiyah – no that's not
Zakiah says that isn't how you play this game you should want to play it as clean as possible because of the final vote.
They start talking about how they've played a loyal game, Haven't betrayed anybody and kept true to their side.
Zakiyah – shit you play fair.. And I feel like I have to.. I haven't betrayed anybody..
Nicole – someone betrays us we can't trust them anymore .. It's not anything bad on our part..
Nicole – she's going to the other side.. I know it
Zakiyah – I have a feeling too..
Zakiyah brings up Da talking to her in the beginning saying the two of them can make it final 2.
Nicole says Da told her and Tiffany the same thing
They agree Da had the same conversation with a lot of people, James, Frank, Michelle etc..
Zakiyah – didn't someone say james will never vote her out
Nicole – she made a deal with Tiffany behind our backs..
Nicole – did you guys kiss last night
Zakiyah – no.. let me tell you about my crazy a$$
Zakiyah says she did the nightmare trick on him where she pretends she's having a nightmare hoping that he pulls her closer.
She did it this morning and it worked he pulled her close she kissed him on the neck said "I'm sorry" he told her he liked it when she kissed her on the neck.
Zakiyah – no he hasn't kissed me yet.. I'm like DANG i have to sleep downstairs tonight..
Zakiyah – we don't cuddle we pretzel
2:17pm HAve nots more James/Natalie snuggle fighting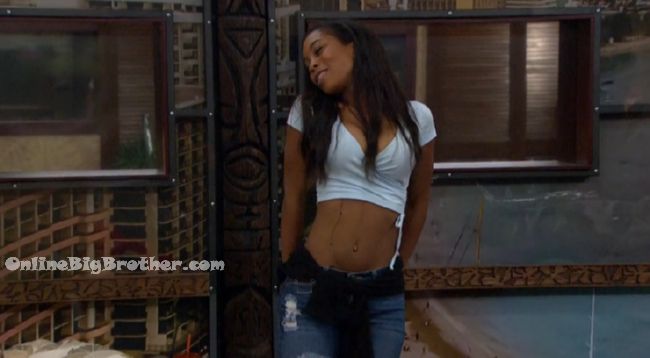 Zakiyah before she leaves Corey and Nicole to chat..
2:23pm HOH Corey and Nicole
Giving him the rundown about her conversation with Da'Vonne. Says that Da'Vonen told her she's not doing what Chrisitne did.
Nicole – I really hope I don't run into a Christine this season.. she backstabnbed the crap outta me
Corey – I'm voting her out (Da)
Nicole – no you're not
Corey – I'm serious.. .
Nicole – I bet we could get her outta here if we want it
Corey – I'm down
Corey – It'll be 4-4 and Paulie will break it
Nicole – I want Michelle and Zakiyah to be on board
Corey – Michelle won't be OK with it.. NOT one bit
Nicole – Michelle cries at the thought of anybody voting her out..
Corey – lets screw it and vote Tiffany out..
Corey – it's not good for our game
Nicole – it's terrible for our game
Corey – we have to get her out next week
Nicole – we do..
Nicole – Me you Zakiyah need to win HOH that is the only way we are going to be safe..
Nicole thinks Frank is going to win the HOH, Corey says he's going to try hard he wants to win.
Nicole doesn't want to win HOH because Frank wants Da and Da wants Frank
Corey says he'll put up Da and Bridgette..
They go back and forth the possibilities of the following two weeks..
They agree Tiffany should blow up in front of Da and call her out on all the bullshit that way they can see what lies Da'vonne comes back with.
2:44pm
Corey says Paulie has a big mouth he tells everybody everything, "HE tells Paul a lot i'm like bro chill"
Frank and Zakiyah come up.
They talk about how during the lockdown Tiffany was dancing and Da'Vonne sat there with the meanest face. Corey and Nicole think there will be a blow up between those two. Frank doesn't think so says Tiffany is scared right now.
Nicole – she's doing a good job to hide it.
Frank brings up the change in routine today.. He's speculating that there's nothing going on today but tomorrow will be a full day like it was "That first day" he's thinking they "Vote in the morning" (Feeds cut a lot during this conversation)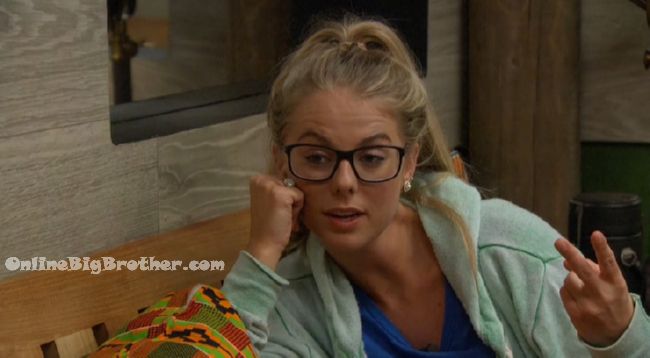 3:00pm Safari room Nicole and Frank
Frank – shit could go down tonight.. Things might be moving faster than we expected..
Nicole – the only way for Tiff to stay is for her to blow up on Day and expose all her information otherwise it's not going to go
Frank – Why? We have Me, Bridgette, paul, You, corey.. If you talk to James.. he just wants assurance..
Frank warns her about Da'vonne getting into Jury she'll poison it for them because she'll know they were behind her getting out. Nicole agrees.
Frank – I got your's and Corey's back
Nicole says she doesn't want her and Corey to be nominated that will piss her off she wouldn't put Frank and Bridgette up. Frank reassures her she's not a target of his and either is Corey.
Nicole – I trust you way more than I trust Da, da is dangerous I want her outta this house..
They agree Da'Vonne just makes sh1t up all day and it's bad for their games.
Frank says the move Da made to get tiffany and Frank to target each other was crazy
Nicole – it was brutal .. i don't trust her.. She thinks if COrey goes i'll go running to her, I'm not
Frank tells her BRidgette will not put Nicole up 100%
Nicole – we want Da out so bad but we want it to be a good game move for us and not get crapped on the next week
Nicole is worried Bridgette is coming after her.
Frank says Bridgette will go after Zakiyah and Michelle
Nicole – I don't' get into that petty crap I don't throw her cookies in the trash
Frank says those 2 girls are mean as hell to her Bridgette will ultimately do what Frank says but those two girls (Zakiyah/Michelle) are not safe.
Nicole – i know.. I don't want to go on the block for something dumb like that
Nicole – If Corey wins he'll put up Da for sure
Frank – Da is going
Nicole – I don't think Da is going.. I don't want james coming after me
Frank says james is not with Da'Vonne she just needs to talk to him and she'll understand.
Nicole – if she does not go this week she has to 100% go next week
Nicole says Corey wants Da out but he doesn't think the numbers are they're, "Focus on Da next week"
Frank – if you do it it's 5 to 4
Nicole – Michelle will be so mad..
Frank- you're not scared of her and she won't have anybody and if Michelle wins she'll put up Tiff and NAtalie
Frank – she's (TIFF) not diabolical
Nicole – what does that mean.
Frank explains… "She's not her sister 100%"
Frank – best case scenario Tiffany stays and Tiffany wins HOH she goes after Michelle and ZAkiyah
They agree Da had 4-5 final 2 deals.
Nicole will talk to James, Frank is pushing that James is onboard. Frank says once they have 6 votes locked he'll drop it on Michelle, she'll vote with the house.
Nicole says james is closer to Da than they think, the final 2 deal Da has with JAmes is real, 'He believes everything she says"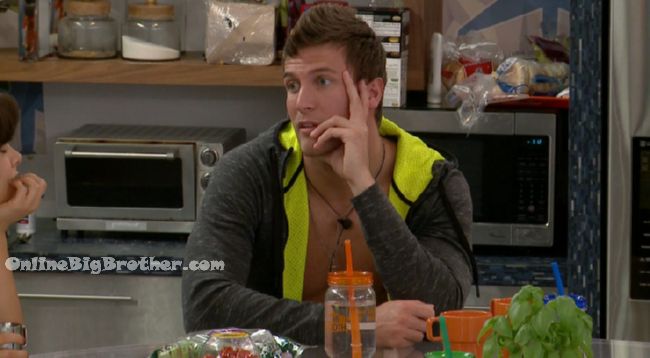 3:11pm Kitchen Bridgette and Corey
Bridgette says if Da wins HOH she'll put up Frank, Paulie or Bridgette. Corey adds his name to the list but adds that Da won't win any competitions. Bridgette thinks da can win mental comps.
Bridgette – these girls treat me like shit
Corey – I don't know why.. I totally agree..
Bridgette – it's mean … they keep spreading rumours they won't even stay in the same room as me.
Corey – I see it .. probably because you're blowing out winning and they are not..
Corey says him and Nicole see a good person with Bridgette. adds that Nicole likes Bridgette.
Bridgette says the girls are doing the same thing with Tiffany these last 2 weeks they've been treating her like sh1t and TIffany was best friends with
Bridgette – They keep f***g with me.. I'm like a boiling pot ready to burst.. (HAHAHAH love it)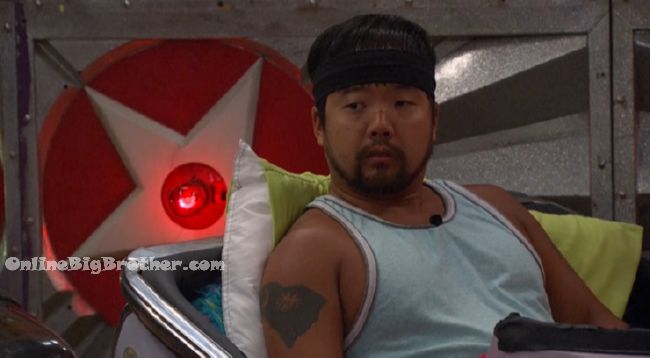 3:16pm Have nots James and PAulie
PAulie saying that Frank and Da'Vonne are coming after the couples.
James – I can see Frank trying to throw a curveball at us..
Paulie says Frank will send home Natalie so he can pull James in, He also wants to send PAulie and Corey home and use Bridgette to take out Nicole and Zakiyah. (LOL with their never ending HOH wins)
James about Da "Me and her are pretty close.. She still tells me things.. I don't know how close Zakiyah and da are
Paulie – Paul is suspicious of Moma da
PAule adds they've been planting seeds about Da'Vonne so once they get Frank out they can get Da'Vonne out.
They both claim they won't have a problem getting their showmances out.
James proposes the 3 showmance and Paul ride to final 7.
Paulie wants the boot order to be Tiffany, Frank, Da, Bridgette.
Paulie says if they stick together they can get to final 5 easy.
James says he's got Corey and Paulie's back
3:37pm Kitchen Frank, Bridgette, Nicole and Corey
Frank says during his season Mike Boogie would hide his beers away so before he was evicted he had a 6 pack. Adds that boogie was 3 beers deep right before the show and had beer in a cup during the live show.
Talking changes to Frank,Will, Janelle, Ashley and Boogie going to the Kentucky derby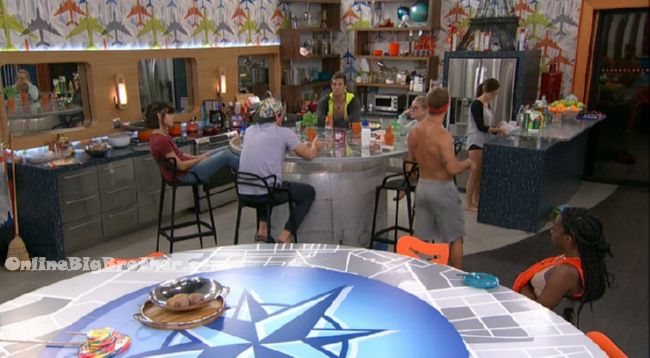 4:21pm – 4:50pm Chit chat…
Da not saying much..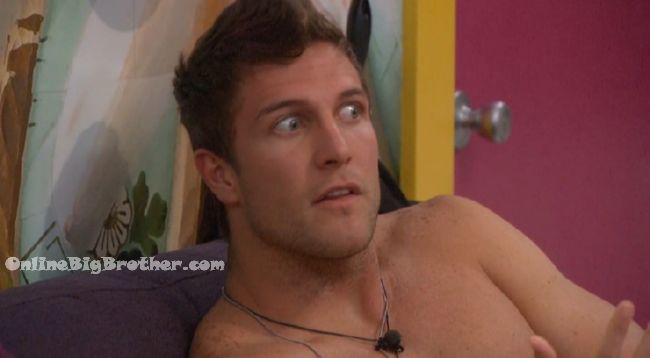 5:08pm Corey and Tiffany
Corey saying he would much rather Tiffany stays in the game over Da'Vonne. Corey wants to make sure they have the votes and it'll go down.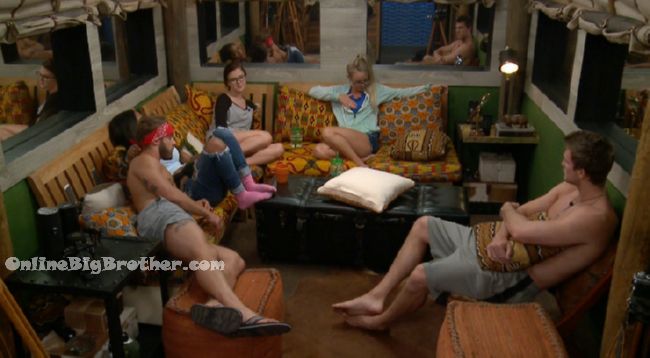 5:14pm Safari room Nicole, Paulie, Michelle and Zakiyah
Talking about keeping Tiffany.
Corey joins them, Michelle is talking about Da mentioning to her this season will eb really hard to win because there are 4 very tight people in it.
Corey and Paulie leave..
Michelle – Corey isn't changing the vote right
Nicole says they don't have the numbers to flip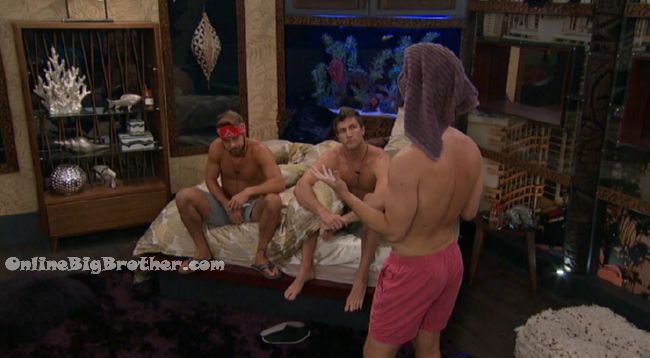 5:18pm HOH Corey and Paulie Frank in the shower.
Corey – lets say it's me Nicole, Frank and Bridgette that vote her out..
Corey – lets get her out..
Corey says Bridgette and Tiffany are after the girls.
Paulie thinks they are lying to him. he says Tiffany will go after the guys "I've seen her sister do it.."
Frank comes out.. "We got to get that mother figure out of the house"

[polldaddy poll=9473607]
[polldaddy poll=9471428]