POV Holder:
Corey
POV Competition
July 16th
POV Used
YES
POV Ceremony
July 18th
HOH
Paulie
Next HOH
July 21st
Roadkill Competition Winner:
Tiffany
Original Nominations:
Tiffany, Natalie, Corey
After POV Nominations:
Tiffany, Natalie, Da'Vonne
Have Nots
James and Natalie
CBS All Access: Live feeds are only $5.99 per month – Try it FREE for 1 WEEK!
12am Big Meech, DaVonne and Z are talking about Bridgette. Michelle says I remember she was like "I don't even know the show.. and then she knew Frank's season and other seasons. She knew answers right away. Z says I think everyone here except for Paul is a mega fan. DaVonne says I've caught her in way too many conversations. Big Meech says I remember when Frank was working out and she was kicking him in the stomach saying he he he he. Z says she's annoying! Big Meech asks do you think Frank thinks she's secretly annoying? DaVonne and Z say no. Big Meech says it pisses me off how she's playing up the cooking and cleaning thing. They head down to join the others in the kitchen.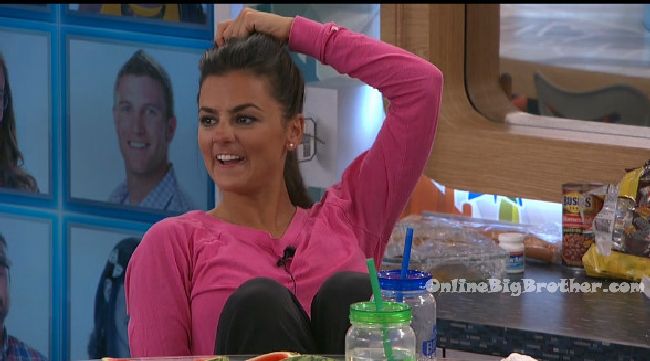 12:10am Kitchen – James, Corey, Tiff, Nat Nat, Nicole, Bridgette, Frank, Paul, Paulie. Nat Nat tells James you can sell my underwear online. It would make a lot of money. That's what James just said and I just agreed. Nat Nat says James I'm going to sell your underwear online and make some money. James says make a penny. Natalie says I'm going to sell Franks underwear. James says you had to send to to bio-hazard. Frank says F**k YOU!

1:10pm The house guests play hide and seek. DaVonne counts in the storage room and then comes out to find them. She finds Michelle under the kitchen table. Then Nicole under the couches in the safari room. Paul in the ottoman. Z in the shower. James under the covers beside the HOH bed. Natalie behind the plant in the HOH bathroom. Nicole is the seeker next.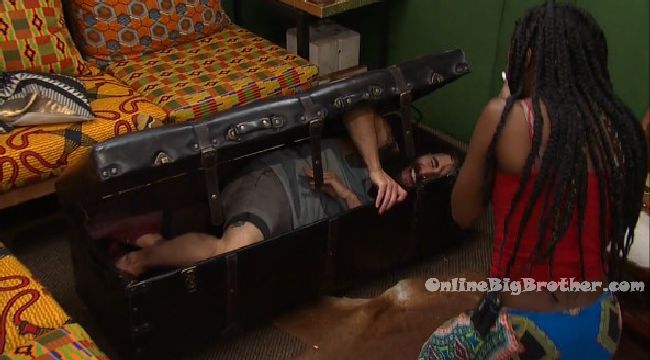 Bridgette helps Paulie and Natalie hide under the boards in the bed..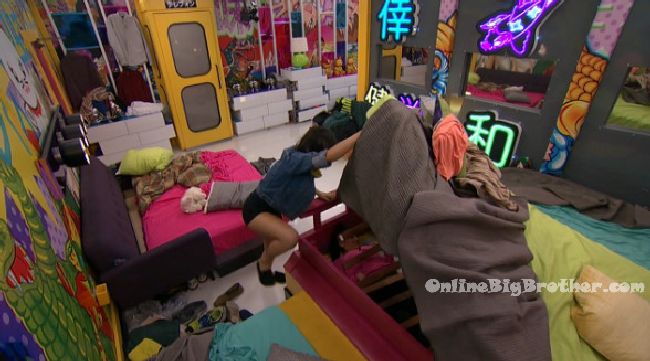 Bridgette hides in the havenot locker..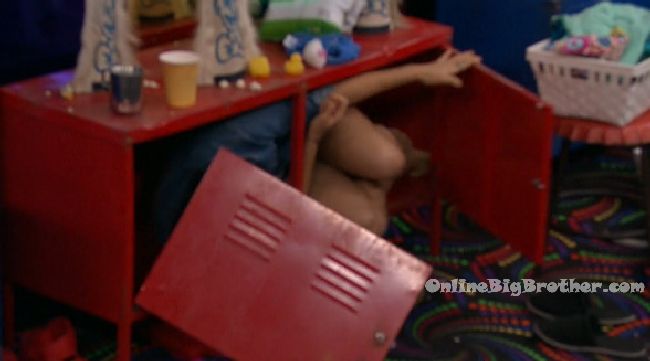 James hides under the sink. After Corey finds James he heads to the bathroom and opens the bathroom door to find Bridgette going to the washroom. He says sorry I thought you were hiding.

1:45am Corey can't find Natalie or Paulie. Frank says I think they hit the red button and self evicted. James helps him find them by telling he's getting close by says hot/cold.

1:55am Nicole and Z are in the bathroom talking. Z says I don't know how to act and react in a situation like this. Nicole says she wouldn't know how to act either. I don't think its a good idea to sleep down here and act weird… Act like you're not jealous and don't give a crap. Act like I don't care what you do. If you like her then you sure as heck don't like me because we're nothing similar. Take your pick. You've got everything, you've got morals, you've got goals, you're beautiful, you're smart, you're talented, you're basically a dream girl to a guy and if he wants to throw that away with someone he considers a "Jersey girl" .. his words.. then so be it. I would act like you don't even give a crap, you're too good to give a crap. Hold you head up high. Just be a little harder to cuddle tonight and play hard to get but just confident, not where you're mad. Act like you don't even give a crap. That's what I did with Corey he was acting all like that and then now look at it. Z says you're right! Where have you been all my life!?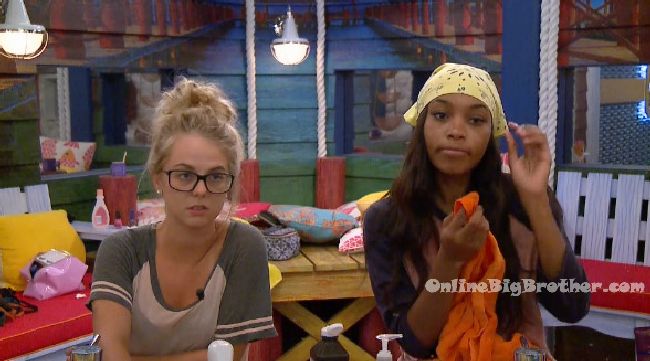 2:40am HOH room – James tells Paulie I need to tell you some information when its just you and me. Top secret information. Z joins then and they stop talking.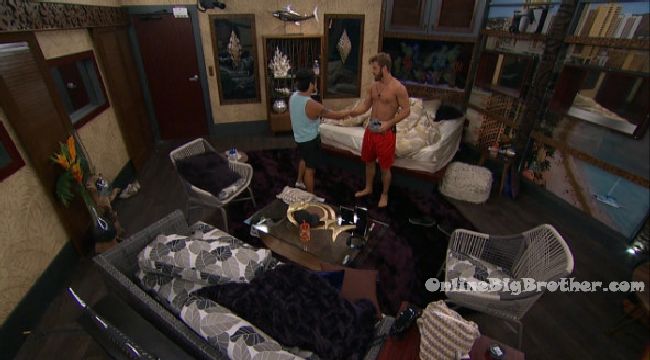 FLASHBACK and watch everything you missed: CBS All Access FREE Trial!

3:10am – 3:30am Storage room – James and Paulie. James says I didn't want to withhold any information from you but Day is my girl…. BUT .. If this gets back she's going to know who said it. You know when me and her were sitting on the couch and you and Z baby walked in here this morning/earlier to day. She was like James these couples we have to get them out of here. You and Z baby walked by and she was like that. James says she might not be coming after you but .. I'm just looking out for you. Paulie says everyone is on the fence about who to send home. James asks who really!? Paul joins them. They talk about how they've had suspicions about Day. Paulie says we could put up Day and Tiffany (may have said bridgette) and then backdoor Frank.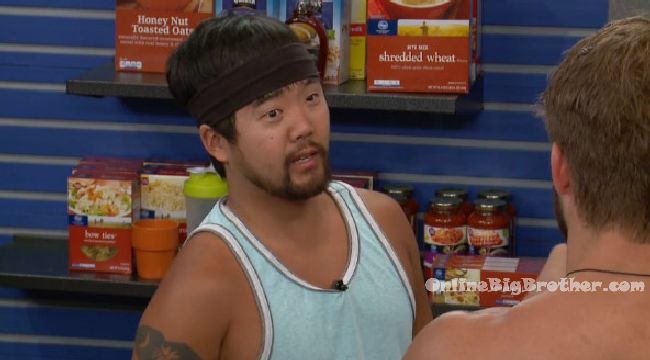 3:50am Paulie, Paul, Nicole, Corey are chatting about random things in the HOH room.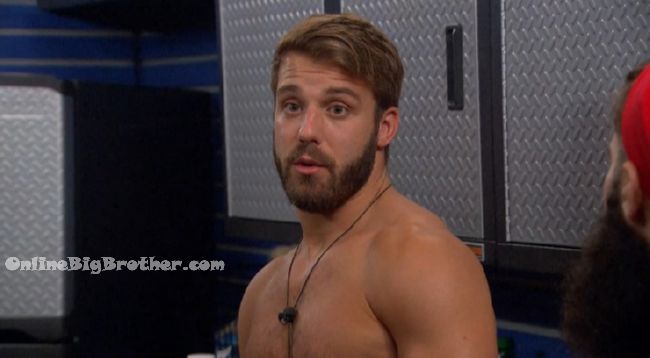 4:00am Paul and Paulie Storage room
Paulie is telling him that Da'Vonne and Frank are both coming after him 100% they need to clip Tiffany this week and Frank next week. Paulie is doubtful Da'Vonne will win the HOH so he's thinking they have time.
Paul is eager to win this next HOH and take the shots to take out Da/Frank.
Paulie says Zakiyah/Michelle/Nicole will target Da if they win HOH. They have to keep Zakiyah and Nicole safe for the next 3 weeks but after that he wants to clip Nicole/Michelle (Big surprise) . Right now the guys don't have majority votes but once the numbers flip they can start making their moves against their girls.
Talk moves To Zakiyah, Paulie says she's been getting pissed because apparently wants to kiss him. This is coming from Nicole to Corey and back to Paulie. Paulie suspect it's Da'Vonne getting in her ear.
Paulie – I like Z I really do and I'll f****g talk to her outside of this house.. but it is a game i'm not going to get blinded by that.
Paulie will see if it works with Zakiyah after the game. "The feelings are there.. she wants a kiss that sort of thing.. I don't want to do that
Paulie lays out their plan, Final 8 will be Paulie, PAulie, Corey and James vs Nicole, Michelle, Natalie and Zakiyah. The next to go is Natalie. Paul thinks james will keep Natalie safe. Paulie is adamant he won't Natalie will got that week unless she wins POV/HOH. They consider Natalie the weakest girl out of those 4 she will be easy to evict.
They comment on Frank thinking DA'Vonne is going, He'll be pissed when she doesn't and will be gunning hard for the HOH. Paulie believes this will mean DA'Vonne and Frank will team up. (To take out the showmances and save the season! -simon)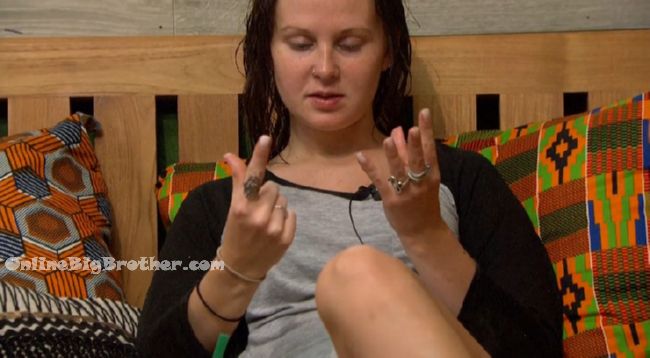 5:43am Michelle in the safari room chatting to the camera..
Michelle saying she wishes she had won a HOH instead of throwing it to Paulie (During the week Victor got out)
Michelle – they want me to win HOH cause they want to play in double eviction… not happening
Tiffany my hit list is – Bridgette – Frank – Da'Vonne – Natalie – James – Paul
Michelle – that leaves 5 of us (AKA shit a$$ season if it happens).. That is my hit list, James and Natalie can be switched cause Natalie bit be ok by herself..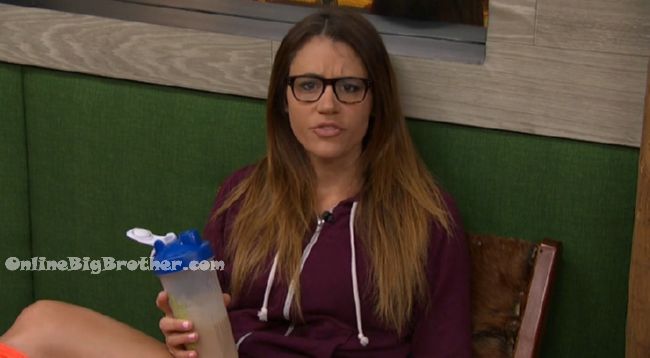 11:48am Safari room Tiffany talking to the camera
"I want to tell everybody exactly what the hell is going on with Da'Vonne this is the friggin truth and I'm so friggin over it. CAuse the feeds weren't on for the first couple weeks "
"She's in the business of lying.. So I'm just going to say everything that happened.. So… "
"Day 2 she wants to make a final 2 with me She tells me how she wants to work with me she likes my vibe.. All this stuff.. And .. Honestly I thought because my sister told me final 2's are a big deal in the house Just don't make them with anyone… and i'm like ok this is cool.. She has my back, she has my best interests. "
"Clearly she has no idea how to play the game.. Because.. Like.. All this stuff came out blows my mind.. "
(Before Tiffany can continue Big Brother comes over the Speaker)
Big brother- Houseguests please report to the Head of household bedroom.. Feeds cut..
12:51pm Feeds are cut to Jeff.
(they are probably filming the battle back competition that is why the houseguests are on HOH lockdown so they don't hear the noise from the competition)

[polldaddy poll=9473607]
[polldaddy poll=9471428]