POV Holder:
Steve
POV Competition
Aug 8th
POV Used
Yes
POV Ceremony
Aug 10th
HOH
Becky
Next HOH
Aug 13th
Original Nominations:
Shelli and Steve
After POV Nominations:
Shelli and Vanessa
Have Nots
Meg, James and Jackie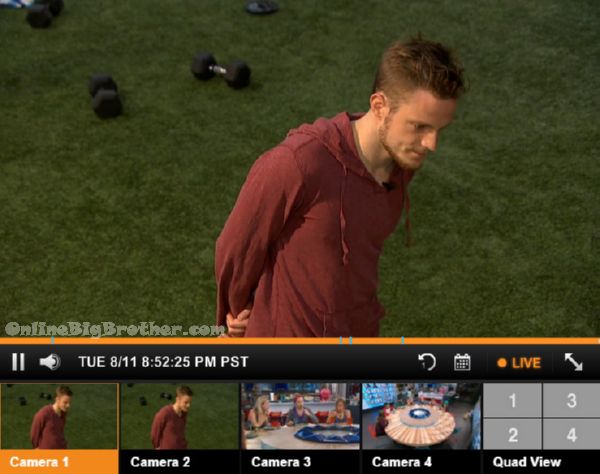 8:52pm Steve and Jmac Hammock
Steve says his canker sores are bothering production because it's messing up how he talks
Jmac asks when jason left did Jackie campaigning against Becky
Steve – no
jmac – a lot of stuff has gone down
Steve- we need shelli
Talking about breaking a 8 person group they have to take out. Jmac leaves to get food says it's not worth it to him to have just one beer.
9:10pm Steve and Jamc
Steve saying his vote doesn't matter
Jmac – Becky is the tie breaker
Steve – shelli staying is what we need.. because of the 8 person alliance.. we need Shelli here and if my vote made a difference this would be a super easy call
Stev – You, gremlins, Becky, done.. I don't matter
Steve – I don't want to come across as someone that breaks their promise..
9:21pm Jackie and James
Worried about Vanessa. Jackie says Steve is freaking out she's had enough of it "Grow up and deal with it"
9:33pm Austin and Liz
Austin says JAmes came up to him on the hammock and said he's not sold on keeping Shelli.
Austin goes over some of the highlights of his conversation with James.
Austin says it seem slike he's now the centre of all this everyone wants to talk to him.
Julia joins them.. "Steve is the one that blamed this whole backdooring thing
Julia wonders why Johnny Mac is always called into the diary room
Julia calls Johnny Mac a sneak
Austin – he's a shady f***er
Julia – he's a ghost and he blends into the wall
Meg joins them.
Vanessa joins them 'Steve helping Shelli strategize"
Julia says Shelli asked her who she's putting up.
Vanessa leaves, they start talking about telling Becky they are voting out Shelli.
They starts making fun of Becky's alliance name called the generals.
Meg points out Steve and Johnny Mac were outside talking when they were all eating dinner.
Austin says Becky won 10 G's she shouldn't be that mad.
Austin – If Vanessa and becky go to war we're safe
They all question what the deal is with Johnnymac
Meg has noticed Johnnymac is getting called into the DR 10 times more than when he was in every competition.
Julia and Liz have both walked in on Steve and Johnnymac talking game they are so obvious.
Meg – Steve is freaking out
Austin – he slipped..
Meg tells them Becky's plan was to take down Shelli and put up Vanessa, "There's something between becky and Shelli"
Twins – WOWWWWWWWWWWWWWWWWWWWWWWWWWWWWWWWWWwwwwwwwwwwwwwwwwwwwwwwwwwwwwwwwwww, OPOOOhhhhhhhhhhhhhhhhhhhhhhhhhhhhhhhhhhhhhhhh
Austin – all Becky has done was bring us closer
Meg – yup, she was telling us the entire house is against James
Austin – the only person against James is shelli
Liz says becky is always saying she has a side
Meg – she told us she never trusted us last week
Austin- It's a lot of un-thought out game play
Austin – for me Johnnymac is who I want gone
Liz/Julia – ya
Meg – we have to convince Becky Vanessa is the plan for double eviction
they agree Vanessa winning HOH is a good thing she'll go after Johnnymac and Becky if Shelli wins HOH they are all in trouble
Meg leaves..
Liz/Austin – good talk
Julia – Shelli sketches me the f** out.. I've been hanging out with her and making an effort to not leave her alone.. Bye b1tch i'm done
Austin – I'm scared of Vanessa too you don't want to be on the block with Vanessa straight up she's too good
Austin – honestly i'm more at the point that Jackie, Meg and James are more our level of intellect, we have a better shot with them than anybody else we really do need to stick together the 6 They are down Becky has made it easier for us
They all seem to like the goblins now more than Vanessa/Steve
They are wondering why Johnnymac is in the diary room so much he doesn't really do much. Julia says when she goes to the washroom late at night she always walks in on Jmac and Steve talking game.
Austin tells them Vanessa is still on their side she's going to win a HOH. Tells them for now what they have with the goblins will get them through the double eviction, "WE're in pretty good shape i'm feeling good.. not too good" .
(Wow Jmac's game is in a nose dive)
[envira-gallery id="127757″]
9:39pm Becky and Shelli
Becky says no one is willing to risk their game for Vanessa, "She did try to Backdoor Austin.. Vanessa likes to change and manipulate votes"
Shelli – I hope nobody flips I don't want to get too comfortable
10:17pm Hammock James, Austin and the twins
They start questioning what Johnnymac is doing Julia says she hasn't been called in the Diary room once and he's been in the Diary room 3 times. James agrees something is fishy.
10:20pm Hot tub jackie and Meg
They say the nominations are Johnnymac and Vanessa and they have the votes to get Vanessa out
Jackie thinks Austin's side will put up Johnnymac and Steve if POV is played Vanessa goes up and we have the votes
Jackie – it's crazy they switched like that.. WOW
Meg says she wants Steve to stay and Johnnymac to go
Jackie – if Vanessa wins she'll put up Becky and Johnymac.. we have the votes to save becky..
10:24pm bathroom Julia and Shelli
Julia is saying Steve has been acting weird lately
Shelli feels bad she made things awkward earlier
Julia -no, Steve has been weird
Shelli – I don't want things to be weird between us two.
Julia – I don't know what is up with steve
Liz comes in
Julia – you've been sun burnt
Julia – you know Vanessa won't have the votes we can work together.. it's hard for us to choose.. Vanessa has done a lot for me with the whole Austin thing.. I know you aware they're too..
Shelli tells the twins she knows they are all voting for Vanessa 'I want to feel that I can still talk to y'all"
Austin rolls through to use the toilet..
Shelli agrees with the twins that Steve is acting weird
They agree it's turned into 'Scamper city" in the house
10:36pm Vanessa in a goblin circle
Vanessa pouring scorn upon Becky. The goblins seem to be Agreeing
James – Right
Meg – Legit
Jackie – you never know
Vanessa continues rehash conversations and things Becky said that was a lie. She says Hypocrisy, Calls Becky a flip flop. Says she loves Shelli isn't going to campaign against her Vanessa is just going to state the facts.
Vanessa goes on a tirade about everything Becky negative.
[envira-gallery id="127765″]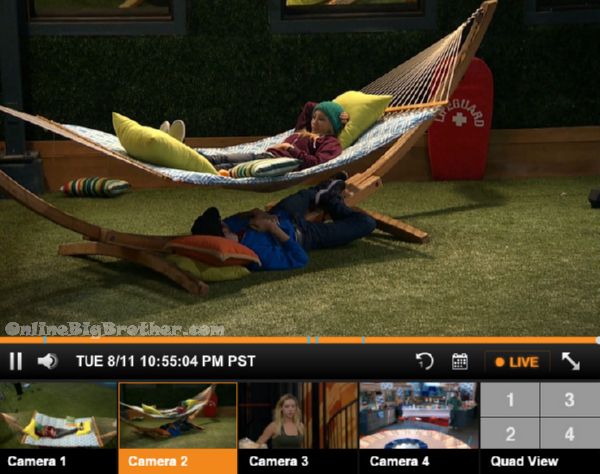 11:00pm Vanessa accuses Steve of touching her butt. Steve denies.
Vanessa – i need glass of water
Steve – you want me to get you a glass of water
Vanessa – no I can get my own water
Vanessa – go scamper Steve
Steve scampers off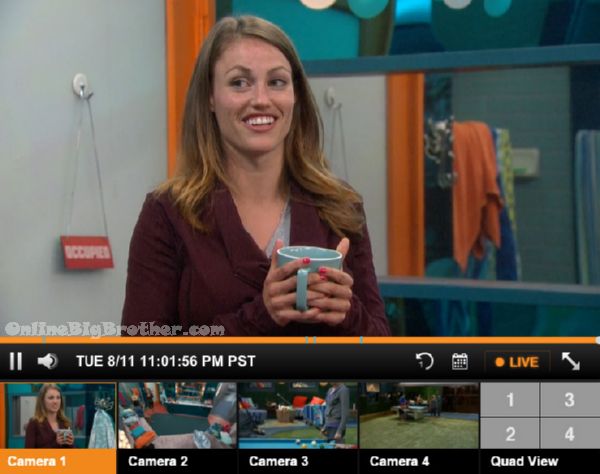 10:59pm bathroom Becky, Jackie and Meg
Becky – Shelli is preparing for the worst but hoping for the best
Meg and Jackie say vanessa started talking to them today.
Becky – we need to be on our toes this is going to be closer than we like
Becky says Vanessa is always working on james
Jackie – she want's to talk to me to
Meg – she wants to talk to everybody, honestly she has every right
Meg asks about Steve where's he at.
becky doesn't know tells them she'll talk to him tonight "he stays up late"
Jackie – everyone is acting weird
Becky comments that Vanessa is all out and about being
Becky says she has a lot riding on this vote she made it pretty f***g clear her target
Jackie – we'll get her out either way
Becky says she wants Vanessa out first and shelli out second.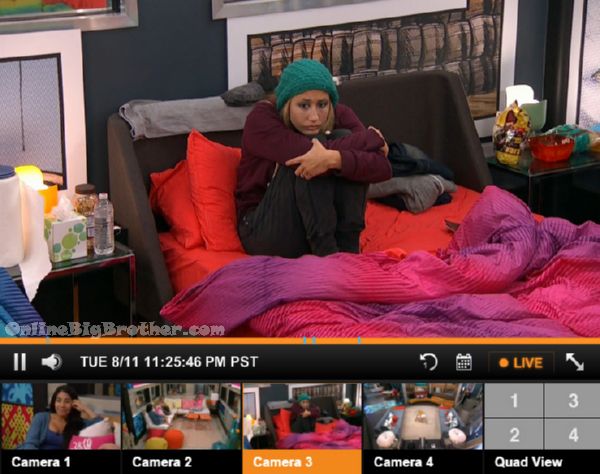 11:16pm Steve and Vanessa
Steve asks her if she really thinks she can stay
Steve – is Austin coming after me
Vanessa – you're getting f***G paranoid man.. you're scampering around you're acting super shafy. . you're not on the f***g block.. just relax
Vanessa tells him everyone in the house has noticed him scampering.
Vanessa – you gotta understand you got a loyal group in freaks and geeks they're really loyal people
Steve – does he know you told me about the 1 week deal
Vanessa – no
Vanessa – how does Johnnymac and Shelli know about it
Vanessa – she's doing a great job of playing the middle becky.. she better hope I go cause if I don't I go for Becky and i'll get her out
Steve – I need to talk to Austin tonight
Vanessa – I know you're scared of going up against Johnny you have the votes
Steve – you think
Vanessa – AGAINST JOHNNY you have freaks and geeks
Vanessa says she has no final 2 deal with anyone that is current.
Steve – did you make one with Shelli after clay
Vanessa – no I give you my word
Steve says he's in a win win spot right now
Vanesa – if I stay in this game you're not going anywhere
Steve – you can trust me
Vanessa – can I, It's just a f***G game bro.. it'll be OK
Vanesa – if you're the first 4 out you go to Jury and you get a chance to play a fun game to come back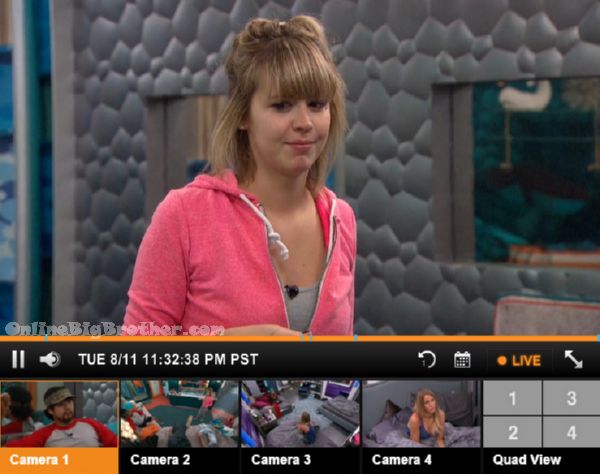 11:36pm James, Meg and Austin
Talking about sending Shelli out. Austin says Thursday morning when they tell Becky he's sure Shelli will find out.
Meg tells them they have to win Double Eviction
Austin – I think it's going to be before and after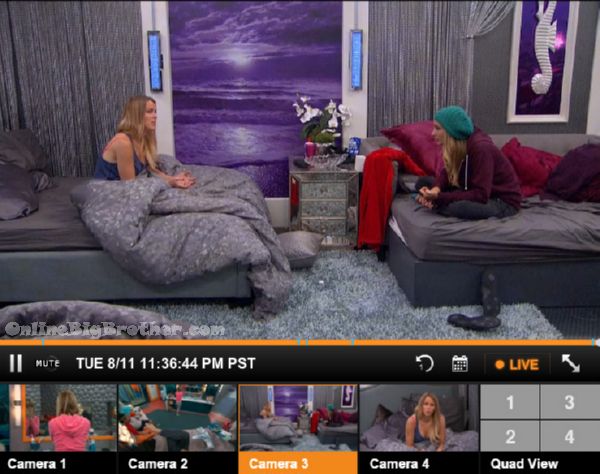 11:41pm bedroom Shelli and Vanessa
Vanessa swears the plan with Becky was for them to put Johnnymac and Shelli up they controlled the votes to get Johnnymac out.
Shelli asks if Vanessa leaves can she trust Austin and the twins
VAnessa warns her about Steve says he's smart but he's different than her, "He's young, he's hungry, Be careful there"
Vanessa starts says Becky told her that she dresses up, cooks cleans when the guys win HOH.
Vanessa – she flipped flopped twice
Vanessa about Becky – She's not trustworthy at all and flip floppy"
Vanessa – she's not a kind person, she turned her back on my slammed the door on my face
Vanessa says the twins are playing a great social game they could win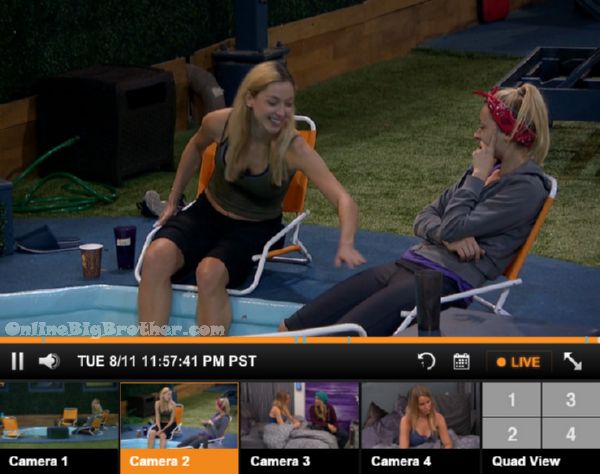 11:56pm Hot Tub Julia and Liz
Julia- where's your creeper Austin
Liz – scampering
Julia says he's the worker bee he goes out and gather information and she's the queen bee she stays around and looks pretty
Julia – and cook
Liz – yesterday he was trying to cop a feel (see video)
Julia – ewww
Liz – I told him Austin save it for Jury
Liz – yesterday he was trying to cop a feel Julia – explain coping a feel #BB17 @DawgsBigBrother pic.twitter.com/e2Gr8dOQG3

— OnlineBigBrother.com (@bigbspoilers) August 12, 2015
[polldaddy poll=9015303]