POV Holder:
Steve
POV Competition
Aug 8th
POV Used
Yes
POV Ceremony
Aug 10th
HOH
Becky
Next HOH
Aug 13th
Original Nominations:
Shelli and Steve
After POV Nominations:
Shelli and Vanessa
Have Nots
Meg, James and Jackie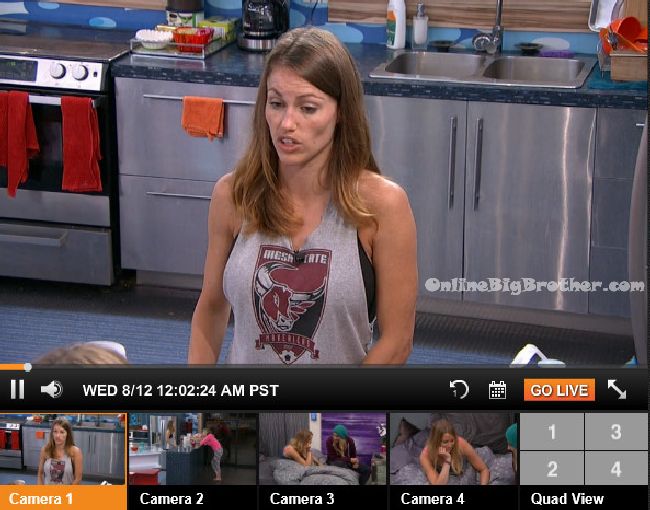 – The live feeds are going to be crazy leading up to Thursday's Eviction –
Watch the next week for FREE with the 7 day Trial!
12:05am In the kitchen – Becky is talking to Meg. Becky says with Vanessa I pissed her off and she is manipulative. I want to make sure we're focused on her leaving. For me its a big deal, a huge deal for Vanessa to go this week. Shelli is not as much as a social player as Vanessa is. She is more of a poison in the house. Meg says I don't know I see it differently. Becky says I think that you, Jackie and James are a bit different and not in a bad way. Meg and Becky head into the havenot room to talk more. Becky says I have such a big bullseye on my head. If Vanessa doesn't leave during the double eviction, I am done! I'm out the door. Meg says well that's not true because she doesn't vote. That's the thing it doesn't matter if one person is after you when you have the votes. Becky says I would hate to have gone the route I did to backdoor someone and the way I went about it. I went about it thinking she would be out because I was thinking our group would get her out .. that's why I chose the steps I did and proceeded the way I did because I meant for her to leave. For me to have made her a backdoor target and to hide sh*t from her, to lie to her face and to spring it on her and then to have our group keep her would be very hard. Becky asks will James vote her out? Meg says yeah but it makes me nervous because I don't know if the house feels that way. Becky says she doesn't know where Steve stands and says that Vanessa is very manipulative. Becky says I know Johnny, you, Jackie, .. I'm worried for James becaues he's got a bigger vendetta with Shelli and I've got a bigger Vendetta with Vanessa. If Vanessa gets Steve and James .. I would be extremely upset if… extremely upset if Vanessa stayed. Meg says yeah we just have to let her do her thing right now. Everything happens tomorrow night. I 1000% want Vanessa out and need her to go. If for any reason the group doesn't go with it then it would be very hurtful for me because I would have liked to have heard lets focus on Shelli because then I would have gone about it differently. Meg says she thinks Austin and the twins don't want either of them here. Becky says Austin and the twins have a closer connection with Vanessa. Meg says I think it will be fine. Becky says I'm going to feel really stupid if Vanessa stays. I put my game on the line to help the group. Today I'm getting more and more panicked. Meg says its just one person. Becky says I would sh*t myself if she were to stay. Meg says it will be a big day on Thursday. Becky says being HOH is hard.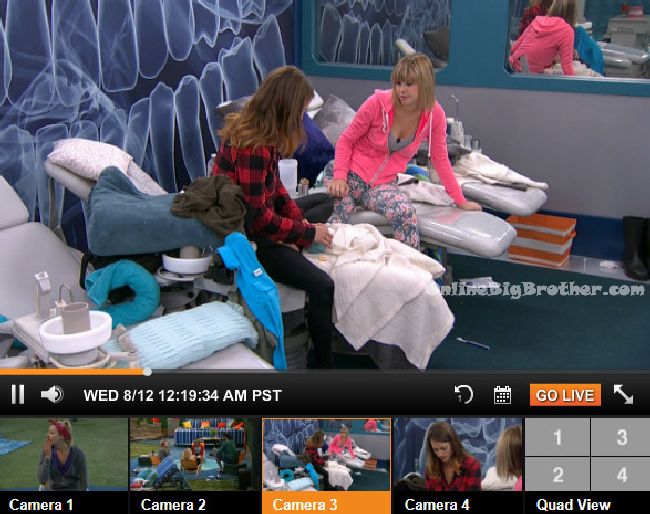 Becky talks to Shelli in bed. Becky tells Shelli that James is scared that you'll go after him. They're almost looking for some kind of deal for you to cut with them that if you win during double eviction you will not take them out. They're looking for some type of safety if they vote to keep you. We don't know where Vanessa would go but feel like Shelli would take us out so that's the one thought that we have. Shelli says I just spoke to Jackie and Meg. Why didn't they say anything to me about that?! Becky says I think they want it to be initiated by you. Becky leaves because she doesn't want to get caught talking to her. Becky leaves. Shelli whispers to herself I don't care any more.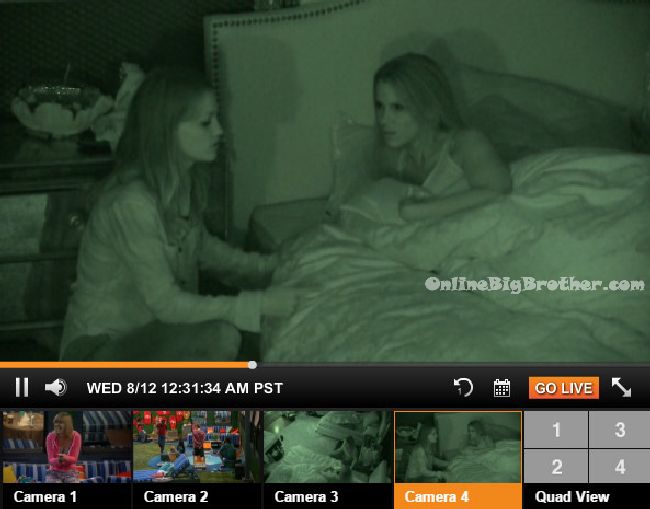 12:35am Liz talks to Vanessa on the backyard couch. Liz says a lot of things are being brought into light and other people are seeing it too. Vanessa asks about Becky? Liz says yeah and the whole situation getting you out over Shelli. Vanessa says the only reason why you would go about it that was is if you have the votes. Its better for their game because I am going for Becky and everyone knows it. If they keep Shelli in the game then there is a 3 person thing. I am telling Steve to stop scampering .. he thinks I'm telling him to protect him but its really to protect me. He thinks if I go he is the next target. Liz says I don't consider him on our side any more. Vanessa says I always had your guys back. Liz says we don't owe her anything. Liz says that Meg, James and Jackie are the new threesome. They are thinking why would we want to keep Shelli over Vanessa. Vanessa ask why does Becky think that they would want to keep her. Liz says tomorrow night they're all going to go up and tell her. Liz says that's all you needed to say was telling everyone who you were going after. Vanessa says she hasn't even apologized to me for what she said. I had to tell them how Becky has been disloyal to then so they didn't feel like they needed to be loyal to her.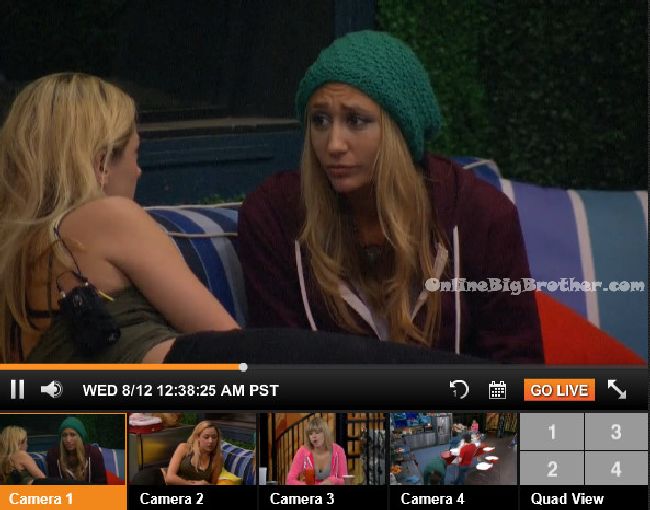 Listin horsing around…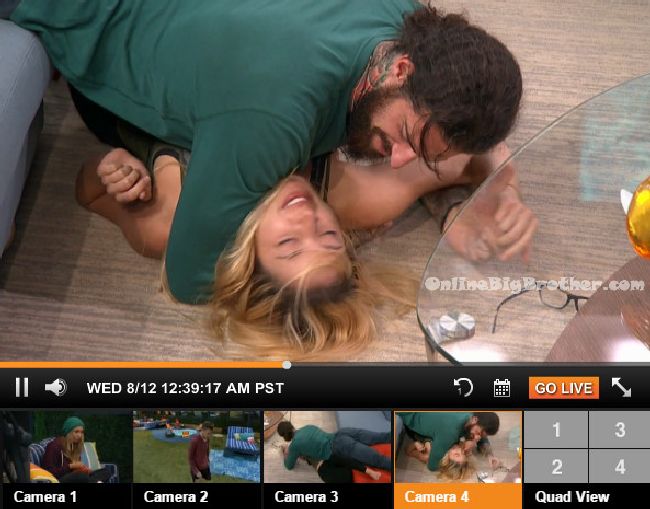 1:05am Comic bedroom – Vanessa talks to Julia and Austin. Vanessa says you don't try to blindside unless you have the votes. Austin says it doesn't add up because it doesn't make sense for James to want to keep Shelli. Vanessa says I told Steve he needs to calm down because I need him to stop talking to Shelli. I told him its because its making him look bad. But obviously its to help me. Austin says it is helping all of us because it is making them look like they're in an alliance.Liz joins them. Vanessa says I even asked him for his vote but I don't know if he is going to. Julia and Austin tell Vanessa you're staying. Austin says they want us all to go up to Becky to tell her we want Shelli out. Vanessa says I am the one person that has not played every side. Austin says look who's not sleeping (Johnny mac). Vanessa says him and Steve are playing so hard. Austin leaves. Vanessa tells Julia and Liz that Steve knows something is up because for the first time I'm not telling him anything. Vanessa tells them about how Steve told her .. he, Shelli and Johnny Mac are scared of the 8 person alliance so they're going to work together. Steve you had your shot and you blew your loyalty. I helped him so much! Do not give him any more information. Vanessa says that Shelli doesn't have a heart. Not warm at all she's cold! You can see it in the way she treated Audrey before she left. Austin and James joins them. Austin says that Becky is freaking out. James says she thinks you've flipped me and Steve for our votes. She was like Vanessa's got to go, she's got to go! Vanessa says that Johnny Mac and Steve are 100% working together .. that's why he's not going to bed. James says that Meg wants Shelli gone. Vanessa tells James do you realize Becky was running done telling Clay and Shelli all your conversations until one of them was for sure going home then she cut ties. James says that Jackie is on board .. she is just a little hesitant. Becky's loyalty is first and foremost to Johnny Mac and then to you guys.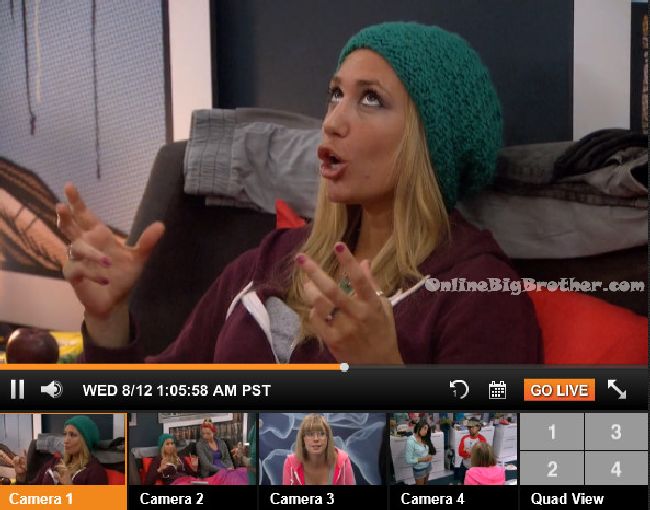 Try the Live Feeds FREE for 7 DAYS! Click here for your: Big Brother 17 FREE Trial
1:05am Havenot room –
Meg tells Jackie and James that she had a conversation with Becky in here about how she is realizing the votes could change. She is sh*tting bricks about it. I didn't tell her we were thinking about it. I told her that one person in the house against you doesn't mean anything. She kept saying I need to get Vanessa out. She is freaking out. She told the twins that she isn't coming after them. She didn't promise our safety either. She had me in here drilling me. She says if she knew that the group wanted Shelli out we should have told her. James says plans change. Meg says maybe its better to let her come to terms with it. James says I gave up 5K and took the veto. James says its probably because its f**king up her plan. Jackie says like she doesn't want Shelli to go. Meg says I just don't know how to deal with the Becky thing. She isn't fighting for us at all. The whole conversation didn't sit well with me at all. Becky joins them. Becky says I really want Vanessa to go. Jackie says me too. Shelli needs to go too. Becky says for me to lie to her and blindside her and take ownership of it … I need her to go. I would be very very very hurt if anyone in the group were to keep Vanessa over Shelli. If anyone had come to me before Monday we would have talk about it and decided the best way to go but we didn't so please Vanessa needs to go. I risked my game for this to happen. I would have in a heart beat changed it to Shelli if anyone had said it.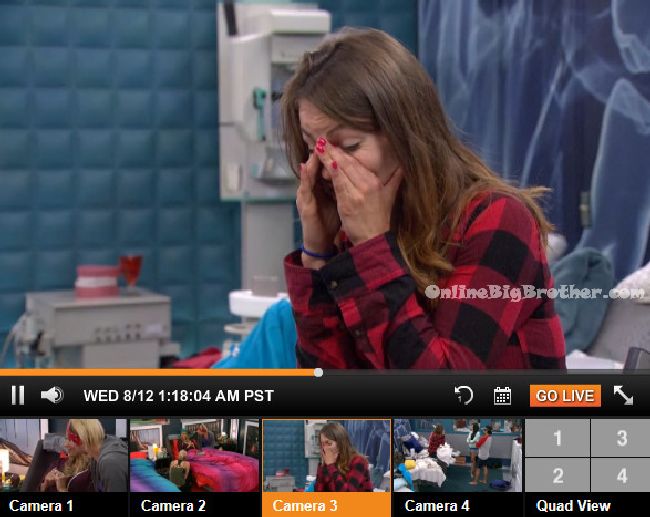 1:30am Meg and Jackie talk in the havenot room. Meg asks what are we supposed to tell her. Becky joins them again. Becky says I am not okay if anyone from our group votes Shelli out. I am not okay with it. Anyone could have come to me on Thursday, Friday, Saturday, Sunday, Monday morning.. and if someone had I would have totally changed what I said to Vanessa. I would have told her she is going up but she is okay, we're sending Shelli out. Meg says we are all just trying to figure out how to get them both out. Meg says that Steve promised his vote to Shelli tonight in front of Vanessa. Becky says I know I am freaking out. Meg says if Vanessa stayed and won HOH she would put you and Johnny Mac up… and you would 100% stay. Becky says I went after a social target that manipulates people. Meg says I have made it very clear that you are protected 100%. Becky says Austin and Vanessa are close .. that's a group of four with the twins. I see Shelli with Johnny Mac. Meg says all Austin cares about is the twins. Becky says that Austin was worried when I said I was putting up Vanessa. Meg says Austin was worried about James (by leaving Shelli in the game). Becky says we made an attack against her. Becky says I am not trying to be selfish. If we don't know can we please just take out Vanessa. Vanessa is just as likely to win HOH she is a close with a larger group. I know I'm not convincing you guys. Can we please please please just take out Vanessa. Meg says I just feel so uncomfortable with Shelli in the house right now. Jackie says none of us are leaving on Thursday. Meg says none of us. Becky you are going to be safe. James says its inevitable to have someone mad at you when you're HOH. I wanted Shelli out and she is still here. Becky says I will never personally take so much heat if I win HOH again. James says I'm going to vote how ever we decide to vote. James tells Becky she looks like a depressed woman that just got out of rehab. Meg tells Becky we all have your back 150%! Becky leaves.

2:30am – 2:45am James says yeah she didn't sell me. All I heard was me, me, me! Well you selfish bit*h! Jackie says when I said one of us was going home if we keep Shelli. She didn't say a damn thing! Vanessa joins them and says game wise I don't understand why you wouldn't keep me over her. Loyalty wise you owe her nothing. Vanessa tells them all the reasons Becky isn't trustworthy. (The Generals Alliance, Becky being a rat and then cutting ties with Shelli & Clay when one of them was going) Vanessa tells James, Meg and Jackie she will not put up any of them. Not as initial nominees and not backdoored. Jackie asks who would you put up next to her? Vanessa says Johnny Mac and backdoor Steve. 100% I swear on my life. James says it sounds f**king good to me. Meg tells Vanessa this is all something we've been thinking about and appreciate you coming to us with this information. Vanessa tells them how its very clear that Steve, Johnny Mac and Shelli are working together.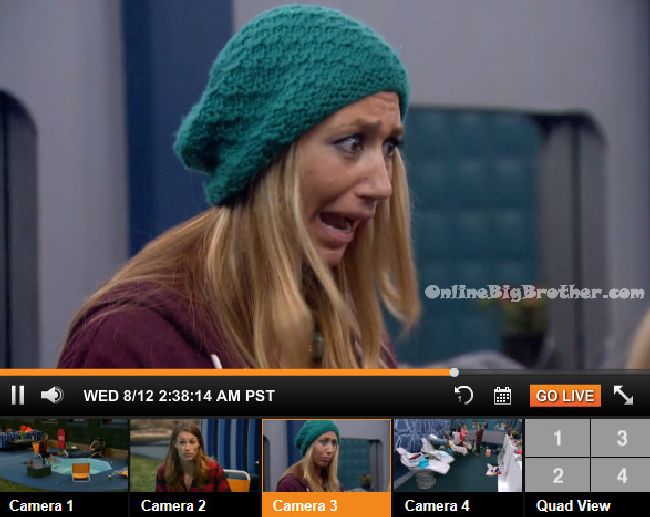 2:15am Steve heads into the backyard and talks to himself. I think no matter what we do.. Vanessa is going because of the gremlins and Johnny Mac are all going to vote out Johnny Mac. That's four votes and that's all you need. With Becky as the tie breaker Vanessa is gone. Do I want to make a power move and try and flop the .. Before I do that lets weight the pros and cons of each decision. Vanessa is part of SOS, she gives me a lot of information, I don't think Austin and the twins would put me up with keeping Vanessa. Vanessa is going after Becky and I've wanted Becky out for weeks. Where ever I go I am at the bottom. I am at the bottom with the grimlins, I am at the bottom of the freaks and geeks, I'm at the bottom of the Shelli / Johnny trio. I have to figure out how much of the 8 person alliance I believe. Becky tells me Vanessa was the driving force in it. I wonder how true it is that Vanessa kept me safe. I don't know how much crap Vanessa is feeding me. Becky wanted to target Vanessa for a reason. I think both Shelli and Vanessa are telling me whatever I need to hear. I need to give Vanessa my vote out of loyalty. Becky joins them.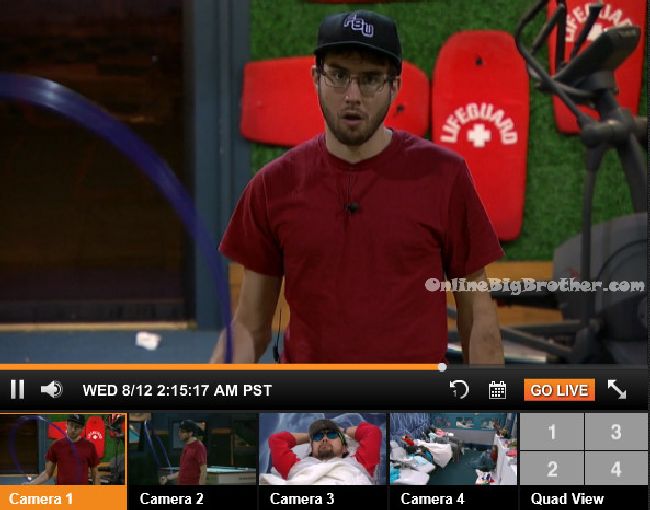 2:47am – 4:20am Havenot room – James says for the group .. if Becky did all that .. that can't be excused. If she did all that she was not on our side. The only reason she was on our side was because I won HOH. Jackie says we know where Vanessa stands and who she is going after. She is not coming after us. When Becky said she was worried about her safety we told her we have her back 100% but when we said we were worried she said nothing, nothing! Meg says we know now that Becky is going to Shelli and tell us she won't put us up. Jackie asks how do we know for sure Becky was revealing information about our plan? Meg says we ask Shelli. Jackie says we ask her and tell her she's not going home if she tells us … and if she tells us she is still going home. James says OHhhn brass tacks! James says she won't give us information she did last time and we still sent one of them home. James says Becky was damn exposing all out sh*t! Becky was being the rat. Jackie says F**K IT we're doing what we want! For the first time! Meg says we are not keeping her (Shelli) .. Vanessa came in here immediately promised us safety. Jackie says we have to get rid of Shelli! James 100%! Meg agrees. James says when you make 1 mistake in this game that's when all your sh*t comes out. James says it pisses me off if it was her (Becky being the rat). Every week we look stupid. I'm tired of looking stupid. Vanessa has a good chance at winning HOH this week. James says Becky will get a little mad whatever that will wipe the slate clean. They think Becky will put them up now if she wins HOH again. Meg says she was hinting at it. James asks is that bullying. James says she's throwing us out to the wolves. Jackie says I think if Austin, the twins and us go and talk to Becky and convince her she is safe I think she'll be okay with it. James, Meg and Jackie go to sleep..
FLASHBACK and watch ALL the DRAMA: Big Brother 17 Live Feed 7 day FREE Trial!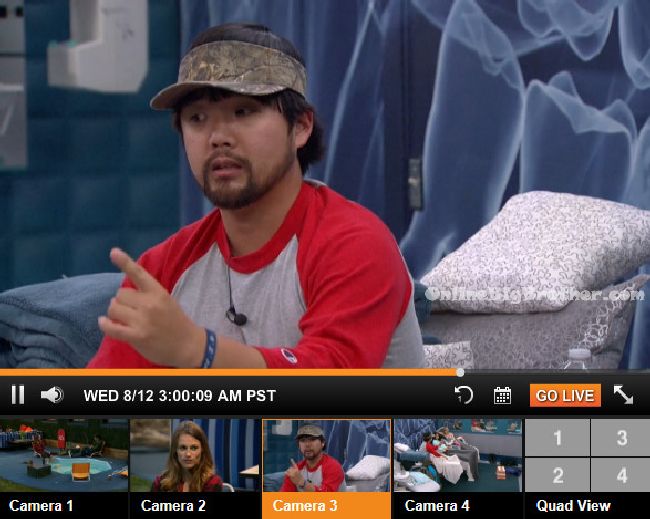 [polldaddy poll=9015303]