POV Holder:
Clay
Next POV
July 25th
POV Used
Yes
POV Ceremony
July 27th
HOH Winner Team 1:
Jackie
HOH Winner Team 2:
Vanessa
Nominations 1 :
James & Liz
Nominations 2:
Clay & Becky
Battle of the Block Winner
James and Liz
Next HOH/ Next BOB
July 30th / July 24th
Original Nominations:
Clay and Becky
Current Nominations:
Jason & Becky
Have Nots
Shelli, Clay and Steve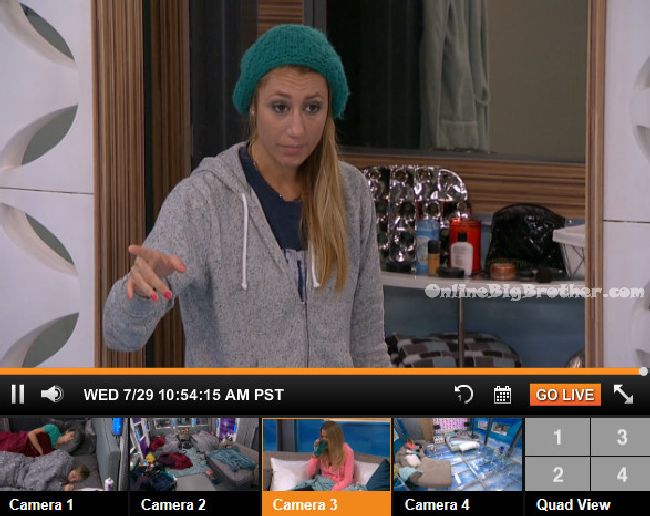 TRY the Big Brother 17 Live Feeds FREE for 1 WEEK:
Click here to ensure your live feed subscription supports OnlineBigBrother.com at no extra cost to you.
10am Big Brother wakes up the house guests. The house guests slowly wake up and get ready for the day.
10:45am
Shelli heads up to the HOH room. Vanessa asks do you think its weird how Austin and Liz are being? Liz is completely flirting with him again. Did they sleep in the same bed. Shelli says she's all over him. She's in love with him. Vanessa asks wait seriously!? Shelli says well no I'm just making that assessment. Vanessa says when she thought he was going home she slept up here and the second he wasn't going home any more she is sleeping down there again. Last night they were sitting in the hammock and her legs were draped over him. I thought she said she didn't like him. I'm so confused. Shelli says she decided she did, I guess. I don't know. Vanessa says she was making fun of him. Isn't that weird. Shelli says I don't think she would like him in the outside world.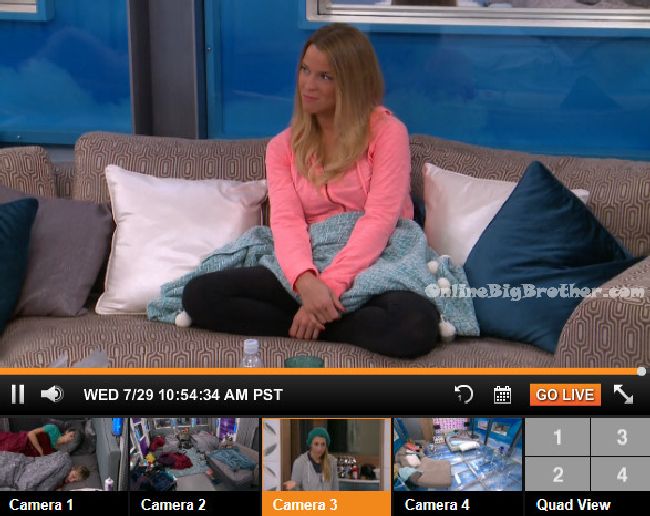 Vanessa tells Shelli that she doesn't think they need to sweat Jackie any more. Becky came at me with what I think is a pretty good idea. I told Becky about the plan of letting Jackie think she knows what the plan is. Becky suggested that you me and Clay call up Becky and Jackie at the same time and talk about who our targets would be this week. It protects Becky and gets Jackie feeling like she is on our side. Do we do it before she wins HOH or after. Shelli says she will run down there and tell them. It is painfully obvious that she will run down there and tell them. Meg came up to me last night and basically gave me a plea to save Jason. She said don't you think Becky is a much bigger threat than Jason. How do you know where she stands. Jason is loyal. If he gives you his word he will fight with you. She was basically saying that deals could be made. She said she is close with you, me Clay and Jason. I was confused why she said your name. Vanessa says I'm confused too. Shelli says that you and her bonded when you slept down there last week. She said that you're very smart and someone that would be good to play the game with. Vanessa says here's the thing we can't undo what we've already done. We came into this with Becky on our side. No matter what deal we make there will always be doubt in Jason's mind. It will be just a matter of time before Jason turns on us and he will have the reasoning to do so (Getting DaVonne out). Leaving him in the game, he can win and think unilaterally. Meg, Jason, Jackie is a strong threesome. Taking out Jason will weaken them. We're positioning ourselves perfectly with this. I think a deal could be made with Jason. I am not worried about Austin, Liz, or Becky. It doesn't mean we will get to the final 3 .. but the odds are in our favour. If we keep Jason .. we are picking up a Meg, Jackie. And then we have no targets left in the house. Shelli says and if we keep Jason we loose Johnny. Right now Johnny's targets are that side of the house and if we get rid of Becky we open ourselves up to be fluffy targets. I wish Jason wasn't as good at this game. We're stupid if we keep him. We can pick Steve's brain and he isn't as good socially. We have no history with working with Jason. I think Becky does want to work with us. She has said that Jackie needs to go. Shelli says this is the perfect opportunity to let them think we are voting to keep Jason. That way Jackie votes out Becky. So that when the vote come in Becky will realize that Jackie voted for her. Vanessa says oh my god that's perfect! Becky will then further separate herself from Jackie. Vanessa says that is so smart. Let me test that idea. I like it however if it leaks that you're going to vote for them.. then people might swing that way because people vote with the house. Shelli says we could tell Steve and Austin. But not tell Johnny. Vanessa says that Jackie is only voting to keep Jason because of the numbers. Clay joins them. He says that Becky is flying under the radar right now and I wouldn't mind if she won because she would target Austin and the twins. Austin is paranoid of you and will come tell you any information because he's scared you will axe his a$$.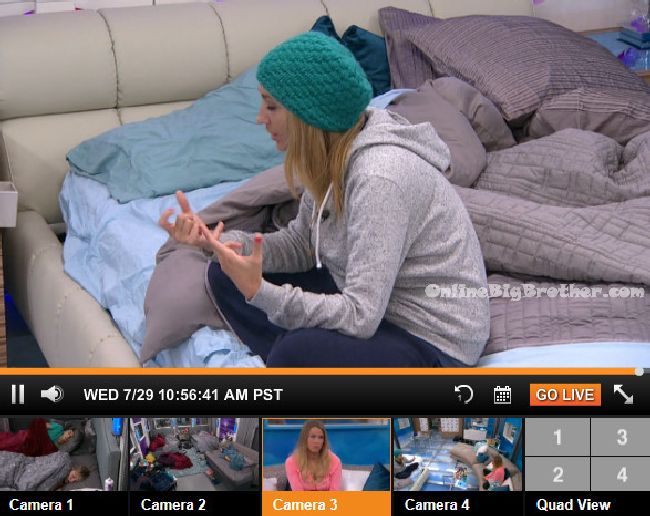 11:15am – 11:35am Vanessa says that it is so hard to talk game with Jackie. Vanessa explains that Jason would never fully trust us and would turn on us. The cracks are already in the foundation. Shelli says that the strongest duo in the house is Johnny and Becky. She isn't connected with anyone other than Johnny. She is flying under the radar. Johnny is the single biggest threat in the house. He's been winning BOB's, POV's and hasn't been winning HOH's so he hasnt' had to get any blood on his hands. He is extremely smart and really smart socially. SHelli thinks that Johnny and Steve have some type of language. Its like you and I have a look that we just know we need to talk. Vanessa says now that you mention it, I realize there is something there. Clay says I think the order to go should be: Jackie, Becky, Johnny. Vanessa questions if Johnny should go before Becky. Shelli says Becky without Johnny doesn't do anything. Vanessa says If you get rid of Johnny it isolates Steve and Becky. Shelli asks how do you feel about Meg? Vanessa says she is someone I would bond with outside the house. But haven't inside the house. She is very emotional. I am shocked that she said she feels close to me because am getting out her closest friend. Its dangerous to take someone that can't win to then end because they statistically can take your or my spot. People are more likely to take her over us because she wont win. Shelli tells Vanessa that Meg will come talk to her today. Vanessa says that Meg is highly emotional. Clay says she is looking at the big picture and that she knows that her side is being picked off one by one. She is looking to find other people. I would definitely want Becky and Jackie out before her. Vanessa says that's whats wrong with Jackie .. if she just sat back she would coast through. Vanessa says if she (Meg) comes up I will make her realize that she's not the target. They wonder if they tell Meg their voting for Jason to stay and then don't it will piss of Meg and piss off Jackie even more. Vanessa says there is a way to do it with the same benefit. We tell her if we decide to do this are you with us. Get that information and then use it against her later. Shelli explains that Meg is not a snake she's a bunny rabbit and no one wants to take out the bunny rabbit.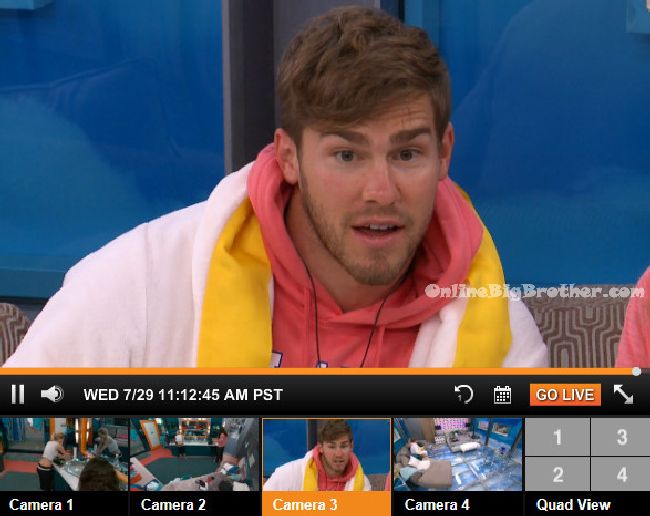 12pm – 12:20pm HOH room – Clay says Meg is a smart player and realizes she has no one. Vanessa says I almost want to say to Meg that I see your strategy is to find a strong player and ride with them. Vanessa says anything we say to Meg she will take right back to Jason. I will just make her feel comfortable. Clay says tell her we have the numbers, we have the strength. She is looking for people who she can trust. People that have the numbers. Clay says that Johnny doesn't tell Becky that he's targeting Jackie. Vanessa says he is the person that I just can't read at all. I don't know if he is acting or if he's a mastermind. Shelli says you know how people use the term he is a Dan. If we keep him in too long people will use the term he is a John. Shelli says that Steve is the same but puts his name in peoples head whereas John does not. Clay says he is here for the money. He said he has 750,000 in loans to pay off. Vanessa says there is no way dentistry school costs that much. The most would be 450,000. Shelli says he has the lake house too. Clay says he has owes more than the prize money. Clay says we should put it in Austin's head that we would throw it to him if it was a double eviction so that he trust us even more. Just so he wouldn't put us up. Vanessa says he would never put us up. They end their conversation and head down stairs.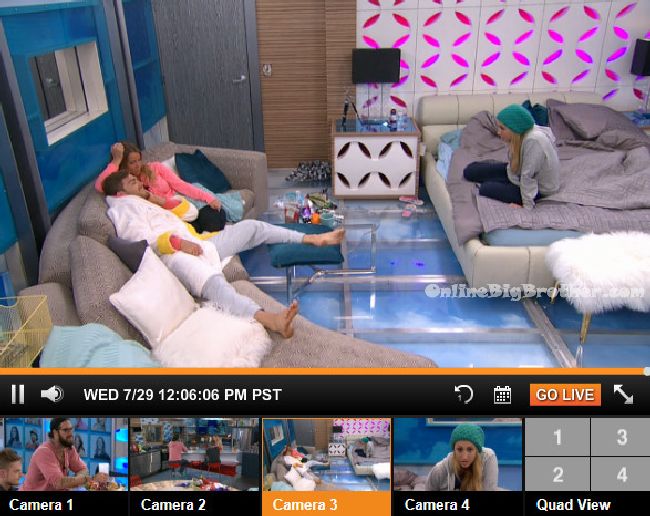 12:25pm – 12:35pm In the kitchen – Shelli, Johnny, Austin, Johnny Mac and Clay talk about how the Liz hasn't switched with Julia. Liz says she thought it would have happened by now but now they think it won't till the live show when she comes in. She says they called her in and told her its not happening today. Liz talks about how when Julia comes in she wants to be wearing the same outfit. Clay says I can see Austin put a line of cocaine on a female and sort it. Shelli says wow!? Liz say I can absolutely see that. Austin says I would let her do that to me. Liz says if I'm not HOH next week I am making Julia be a havenot with me. Liz says she did it for 3 days and I did it for 4 days. I've never done it for a full week.
12:40pm – 1pm HOH room – Liz, Austin and Vanessa are talking. Liz says that Jackie and Meg are besties now. Jackie doesn't even talk to Becky any more. Jackie is definitely someone we can work with because she is dead in the water. Austin says that Jason hasn't asks Steve for a vote and Steve said there is no way he is getting it. Liz says I know he hasn't asked me either. Vanessa says they are going to try and get you to turn against Clelli. Liz says that Meg came up to us and said she's a game player. What game?! She hasn't done anything. Vanessa says that she told Jason she appreciates that he didn't blow up at her. He said from a game stance he understands why she did what she did. Vanessa says that they were going to target you if they had won and it just so happened that you lied to me at the exact wrong moment. Austin asks why would Jackie attach herself to the sinking ship. Of maybe we just unearthed a really tight bond they had. Austin says that he is worried about Jackie and James winning an endurance competition. Liz asks has Jackie said she wants to work with you? Vanessa says she doesn't talk game to me. She keeps her stuff up here and tries to ask questions to feel me out. Liz says I love the way you described her being vindictive, that's exactly how she is. Liz tells Austin if he wants motivation? If you win HOH I'll give you a kiss. A good kiss too! Austin says more than 3 seconds, maybe around 10! Liz says that Jason only has 3 votes .. James, Jackie and Meg. Austin says and some of them might jump ship too.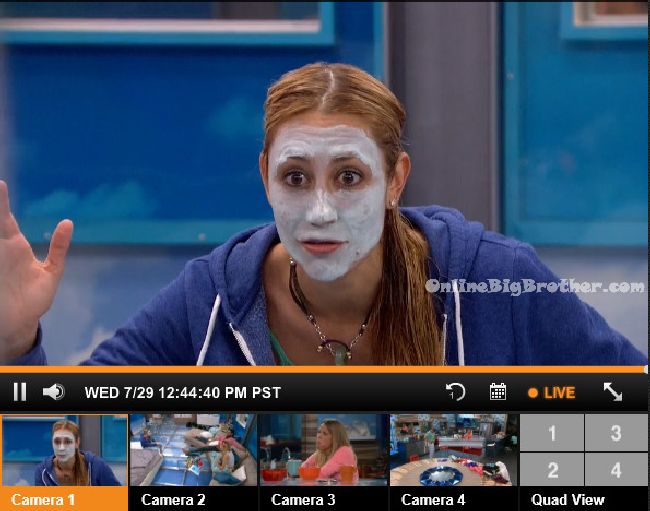 1:20pm
Clay is playing Johnny in a game of chess while Becky and Shelli watch in silence. Meanwhile in the HOH room – Austin talks to Vanessa / Liz about how he bailed on being on big brother last season and how he didn't go into the two week sequester this season but was called after. He said he knew when he got the call he would take a lot of heat from the producers about bailing last year. Austin starts talking about what he did in the last year and about wrestling. Vanessa leaves to watch the chess game. Austin and Liz talk about how Day wasted the biggest power of the season. Austin says I knew getting Audrey out last week was a bad idea because it made me the next target. Liz says and James I really hope you try to pull a prank on me … that sh*t does not fly with me buddy!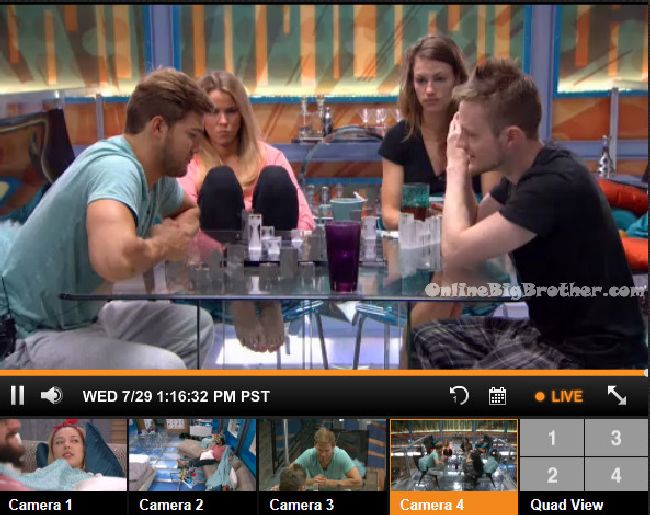 1:40pm – 2:15 pm Austin says that he hates Jason in the game but would love to be friends with him outside the house. Liz says that she will never talk to Jackie again. Austin says I don't think I would talk to jeff ever again. Austin and Liz leave to watch the chess game. After a long game Clay beats Johnny Mac. Clay then plays against Vanessa. Vanessa then beats Clay in only a few moves with a "booby trap". Shelli says okay rewind and play as if he didn't fall for the booby trap. Vanessa says she's never had someone not fall for the booby trap. Johnny says she did that to me yesterday. They rewind and play again .. Vanessa beats him again 5 minutes later.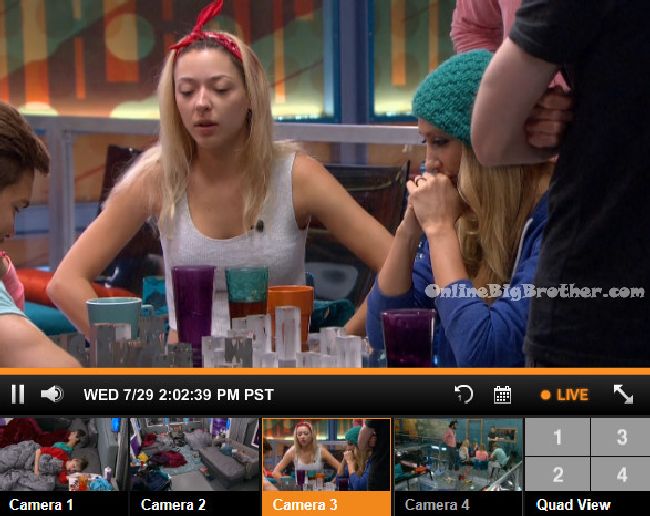 2:35pm – 2:55pm Johnny Mac and Austin start working out in the living room. Clay joins them to work out. Meg finally wakes up and says good morning everyone! Meg eats and then heads back to bed. James and Jason are still sleeping…
Johnny Mac working out @bigbspoilers #bb17 pic.twitter.com/JBpcXZO5dC

— Dawg (@DawgsBigBrother) July 29, 2015
[polldaddy poll=8994045]
Share it YO!!
Tweet