POV Holder:
Clay
Next POV
July 25th
POV Used
Yes
POV Ceremony
July 27th
HOH Winner Team 1:
Jackie
HOH Winner Team 2:
Vanessa
Nominations 1 :
James & Liz
Nominations 2:
Clay & Becky
Battle of the Block Winner
James and Liz
Next HOH/ Next BOB
July 30th / July 24th
Original Nominations:
Clay and Becky
Current Nominations:
Jason & Becky
Have Nots
Shelli, Clay and Steve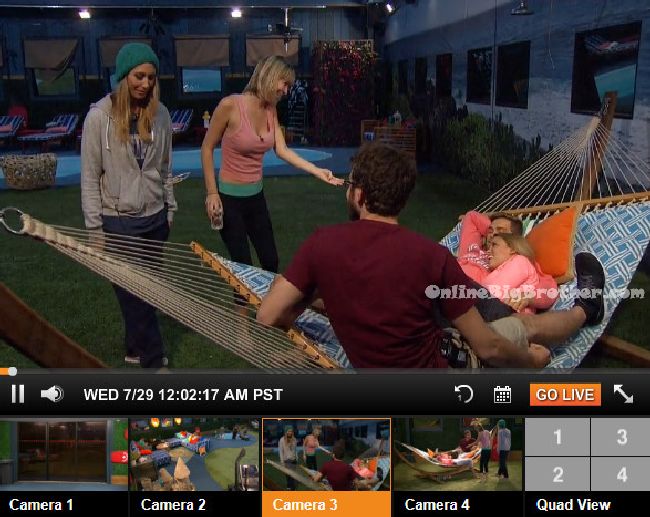 TRY the Big Brother 17 Live Feeds FREE for 1 WEEK:
Click here to ensure your live feed subscription supports OnlineBigBrother.com at no extra cost to you.
12am Hammock Steve, Shelli and Clay. Steve tells them he thinks there will be one more eviction and then jury will start. 11 people left = 9 person jury with 2 finalists. After this week there will be 12 people left. The first person to go home during the double eviction will not go to jury and the next person will. Steve says there will be one more eviction to survive before jury. Shelli says which it will be the one you win. Meg comes out and says they got alcohol. Shelli says the havenot's are over here avoiding the alcohol. Meg says we decided whoever's havenots next when they get alcohol gets to hide it throughout the house and everyone has to go find it. Steve leaves. Shelli says I love our friend Steve. Clay says he and Vanessa were talking .. who would you want to leave first Johnny Mac or Steve. Who would you pick. Shelli says Johnny Mac. Clay says yup! Shelli says I think he's the same in terms of Becky in the sense that he's sitting the prettiest in the house and is mentally and physically competent. Clay says Vanessa said she was throwing out little quizzes at Johnny Mac and he was getting them in 30 seconds where most people wouldn't get them in 30 minutes. Clay says that couple right there (Becky & Johnny Mac) could be the strongest couple. Shelli says you're so right. They're floating under the radar because they have protection from both sides. Clay says if it comes to the point were we've got heat we might have to pitch that. They talk about Becky not wanting to be seen as a couple but as individuals. Clay says they're the first ones he would wont to target once it gets down to it because of that. Shelli and Clay join the others around the hot tub.

12:05am – 12:45am Hot tub – Vanessa, Jackie, Meg, , Johnny, Steve, Austin, Liz, Jason, Becky and James are all sitting in a circle. They decide to pass the orange around and if someone drops it they have to take off a piece of clothing (James's rule) or tell an embarrassing story. Meg tells an embarrassing story about seeing a guy for the first time and throwing up. She says he held her hair back and everything. She says the next day he wanted to know when he could see her again. She says there's something wrong with a guy that sees you throw up and wants to see you again. Shelli and Becky say if a guy can't handle you at your worst he doesn't deserve you at your best. They toss the orange around again and Meg drops it again and tells a story about thinking she would have a one night stand and but ended up balling and leaving because she didn't know the guy. Jason drops it next and takes off his shirt. He says you're not hearing any embarrassing gay s*x stories. Becky drops it and tells them how when she is about to kiss a guy she gets nervous and runs away. Liz drops it. Liz says she did a "rip and dip" (slept with her guy and left) and then did the walk of shame to where Julia was with her guy but she wasn't there so she had to continue her walk of shame for another mile in her heels to get home.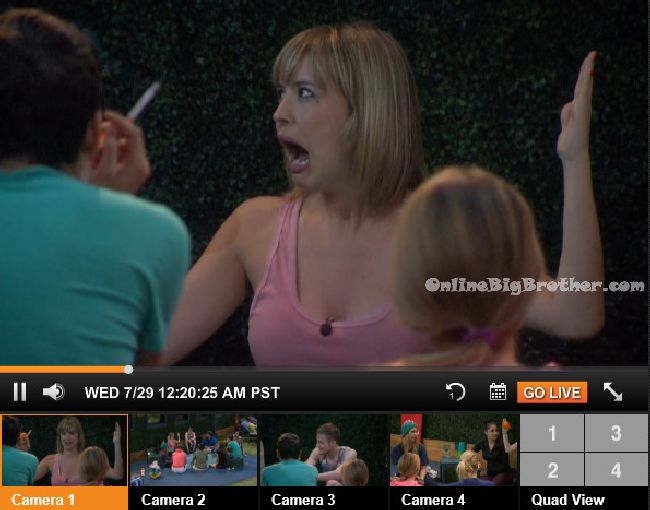 1:05am Big Brother blocks the feeds to tell the house gusets that they're getting locked in at 6:00am for the HOH set up on Thursday! James, Meg and Jason comment on how they're going to stay up till 6am now until the backyard closes. James and Clay go play a game of pool. Meanwhile Jackie and Jason are on the backyard couches. Meg joins them. I can't wait for her to realize that Clay is party boy because he is. Meg says I can't wait for her (Shelli) to realize that he (Clay) is way crazier than she is. Jason says he loves it because he has no choice but to love it. I think she knows, she's just lying to herself. Jason says this lockdown might be my only saving grace. This lockdwon might save me. I might be able to convince these people (Shelli & Clay) that its endurance and they need to keep me. Because I will win and I will not put them up. That's my only option. Its so not going to be endurance, I know its not but I can make people believe that. Jason tells Jackie I hope you know its not a shot against you.. I know you have to vote for Becky. I hope that doesn't make you sour at all. I would be just as loyal to you as Becky is to you. Jackie says oh I know. I want it to pan out which ever way it does. Jackie says they've probably already secured their safety with Becky to make this happen. Jason says I know where your loyalties lie but I hope you don't tell her (Becky). Jackie says no. Jason says I need to make her (Shelli) freak out. I can't do it tonight, I'll do it tomorrow night. Shelli will self-implode. She will crazily combust. Jackie says you just need to push the button.
FLASHBACK and re-watch any moment on the live feeds: Big Brother 17 live feeds
1:30am Jackie tells Jason in all reality you're better for my game than Becky. How do we get the numbers, its either Clay & Shelli or Steve & Johnny Mac. The four of us (Jackie, Jason, Meg, James) need to go to them and make an alliance with them. Jackie says do they (Steve & Johnny) want to be trash bags and be sh*t on for the rest of the game? They're just used for numbers right now. Meg tells Jackie that any strength Becky has, you have. Meg says I don't trust going up to Steve and Johnny Mac. Jason says I think the best bet is going up to Shelli and Clay and scaring them into thinking they're the targets and that its going to be an endurance that I would win and I would win and keep them safe. And I would actually, probably stay good to that. James joins them. Jackie says I will vote for you (Jason) if you can 100% convince me you have the votes. Jason says We need to convince them (Shelli & Clay) that Liz & Austin will come after them. We need to break up that group so Shelli and Clay will come over with us. Jackie says I love Becky but we need the numbers. Jason says because she's floating to that side. They're scooping her up. James says she know she owes them. Jason says I'm not doing this till tomorrow. We need to scare Shelli & Clay. The only other option is Steve & Johnny. Steve might vote for me anyway if he is that random vote and he always votes against the majority. Let's hope America loves me more than Becky. James says I was only supposed to get 2 votes against Jeff and then I got 4. They comment on how 1 of them might have been Liz (it was Liz & Steve). Jason says I need to get Shelli alone and then let her transfer it. Jason says the only thing I have against Becky is she told me who she would put up if she wins HOH.. Steve & Austin. Jason says he believes Steve is America's vote. Meg says Jackie needs to talk to Shelli & Clay too. Jackie says if I talk to them it could work but if it doesn't I'm f**Ked. Meg says they're terrified of you. Meg says it would kill my game if I talk to them. Jason says nothing would kill your game. You're their Victoria. (LOL) They would still chop me and keep you. Jason says you have to let them know that as loyal as I am to you, I will be to them. Let them know that I am your puppet. Let them know I pulled in Day and brainwashed that bit*h. Jason says this is all I have. That's why I'm all scared. Jason says they have to know that I will kiss their feet and feed them grapes. And that Jackie won't come after them. Jason says maybe you talk to them first, Jackie talks to them second and I talk to them third. Tell them anything you want about me. Tell them I'm the dumbest motherf**ker to ever be here and you've been feeding me everything.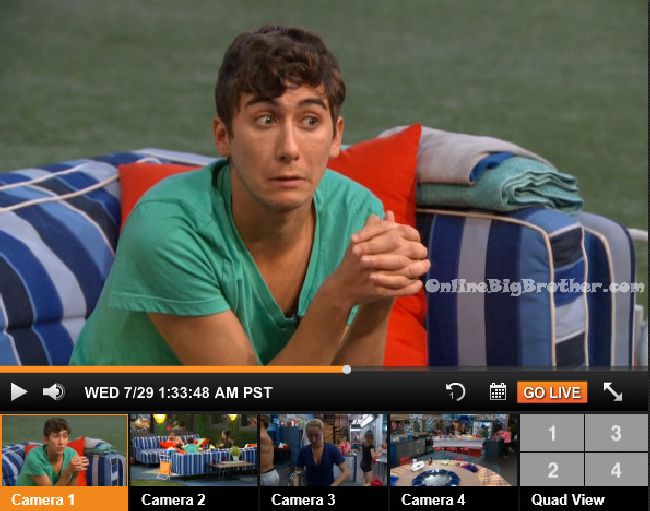 1:45am Havenot room – Shelli tells Clay that Jackie doesn't even make eye contact with me any more .. its weird. Clay asks really?! Shelli says I notice it when we're all sitting around laughing. If she does catch my eyes she will look away smiling. Its weird, like I didn't do anything to her. Clay says I wouldn't worry about it. One of us wins we put her up and she's gone. Clay says even if Jackie wins we convince her we need to get out the twins before jury because they're not going to vote for ya'll. Period, so you need to get them out. Shelli says that Vanessa told her that Clay has such a good social game. Clay and Shelli head to the hammock.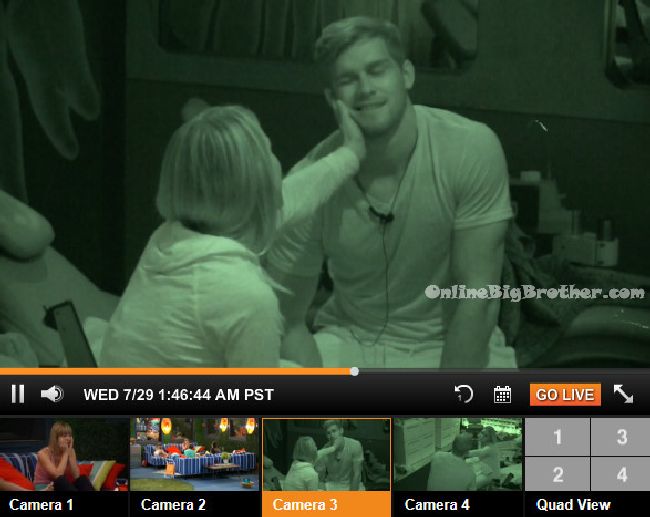 2:10am Bathroom – Jackie and James are talking. James says my game is definitely better to keep Jason over Becky but its going to take an act of congress. I'm not saying it can't be done, this is big brother and people have thought they were dead in the water. Jackie says they flipped on us, lets f**king flip back on them!! We're f**King stronger! We can't sit there and f**king like.. James says steam roll on us. Jackie says sit here with their di*ks in our mouths. Like come on!! Lets stand up for ourselves and throw down! James says yeah! Yeah I'm definitely down for throwing down! We need to win HOH! Jackie says and we will after that. James says we can't do sh*t till we win. If any of us win, they're f**Ked! I don't even mind going for a big swing. Jackie says but I don't want to ruin my game over this if it fails. James says we have to have factual evidence to make things turn. Jackie says I'm not going to ruin my game to save 1 person but at the end of the day they did it to us, so why can't we do it to them. James says if Becky stays will she ever come for you, would she ever vote against you. Jackie says that's the question.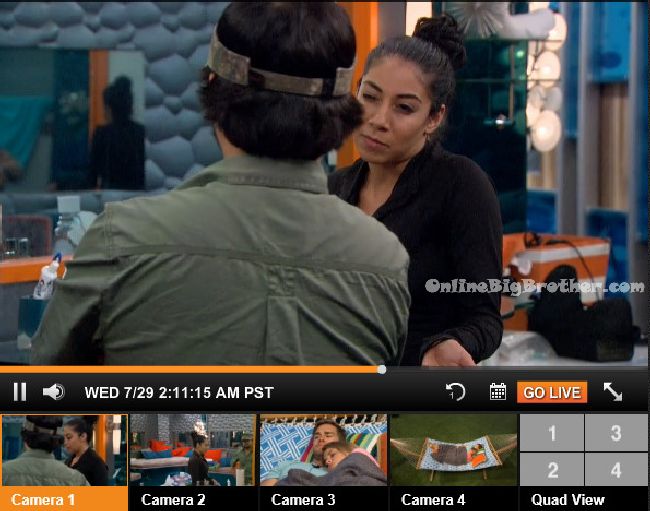 2:20am – 2:55am Hammock – James comes out to talk to Shelli and Clay. James is talking about his daughter and step-son. Clay asks why didn't it work out with the mother. James says it was a one night stand and she got pregnant. We tried to make it work but we just couldn't make it work. James says the baby's momma said she was so hard on him to make him never want to have a one night stand again. I try to be a good father but at the end of the day I haven't been the best either.
2:25am Kitchen – Jackie tells Meg I hope James isn't with them. I just talked to him about how we can do this and then he ran outside and started talking with them (Shelli & Clay). Jason says I'm going to go see right now. Jason looks and sees James is talking to Shelli and Clay right now. Meg says worst case it wouldn't even matter any ways.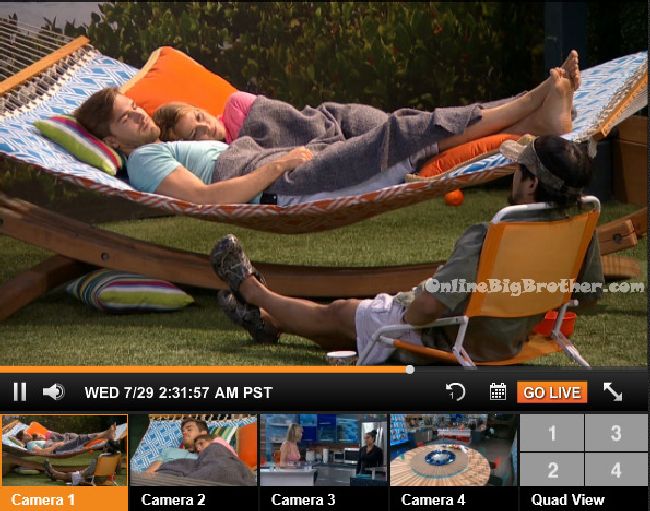 3am Bedroom –
James, Jackie and Meg are talking. Jackie asks James should we drop it? James asks what? Jackie says what we were talking about. Jackie asks will it ruin our games? James says if we swing and we miss it puts her (Jackie) in a bad position and I don't know what its going to do with me and you (Meg). James says we're going to have facts and come at them with facts. We would need to come at them like Becky said this about you. Meg says that's not how I would play it. Jackie says I know we have to be careful, I look like a f**King a$$hole doing this. At the end of the day Jason wouldn't want to ruin our games. Jason joins them. Meg finds the
zucchini condom prank
in her pillow. Steve pulls it out and throws it on the bed asking what the white stuff is. James picks it up and throws it at Steve. Jackie says he made me squirt the lotion. Steve asks wait so its lotion? Jackie says yes, what did you think!? Steve says well you never know with James.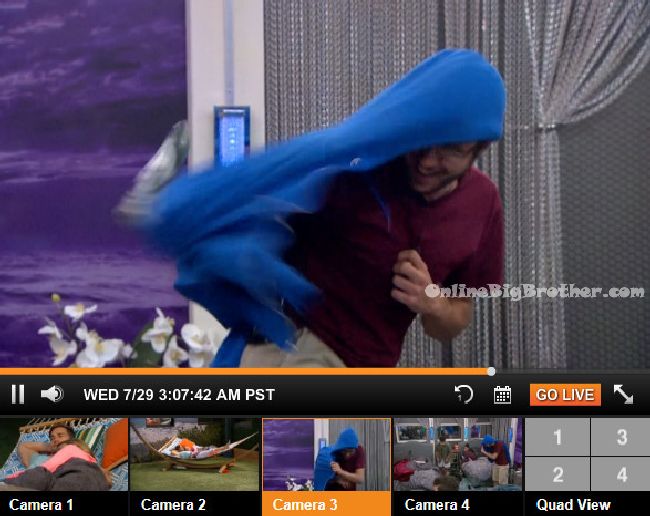 Meg finds the condom prank and Steve pulls it out @bigbspoilers #bb17 pic.twitter.com/rYZidvivog

— Dawg (@DawgsBigBrother) July 29, 2015