POV Holder:
Vanessa
Next POV
July 18th
POV Used
Yes
POV Ceremony
July 20th
HOH Winner Team 1:
Liz
HOH Winner Team 2:
Shelli
Nominations 1 :
Jackie & James
Nominations 2:
Jason & Johnny Mac
Battle of the Block Winner
James and Jackie
Next HOH/ Next BOB
July 23rd / July17th
Original Nominations:
Jason & Johnny Mac
Current Nominations:
JohnnMAC and Audrey
Have Nots
Jackie, Audrey, JohnnyMac and Becky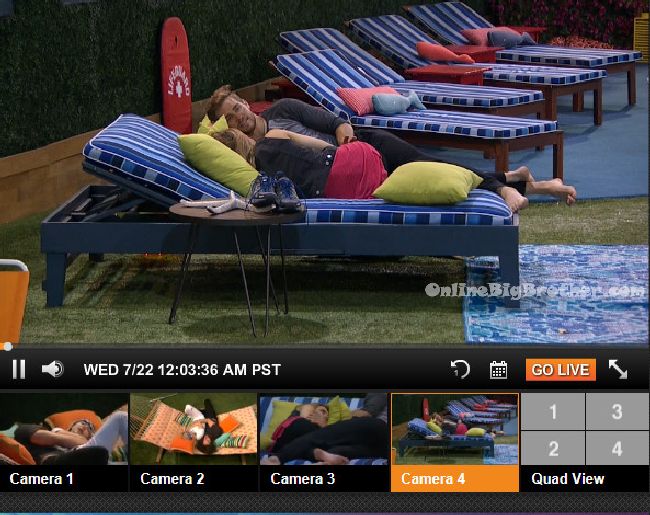 TRY the Big Brother 17 Live Feeds FREE for 1 WEEK:
Click here to ensure your live feed subscription supports OnlineBigBrother.com at no extra cost to you.
12:05am Backyard – Clay tells Shelli that she is a stone cold fox, ambitious.. he says and the list goes on and on. He says other people have been a let down to him. Shelli says you know we were put here for each other. That's a fact. He says if I was with someone else and they cheated on me then clearly I wasn't doing my job and they weren't the ones for me. Shelli says see you later! Clay says exactly. Shelli says I know you're young, why don't you want to sow your wild oats? Clay says its not gratifying for me to go out, bring someone home, sleep with them and then kick them out. I don't find fulfilment in that. I go out with the objective to be with good people. I don't want a rando. When girls do that I think about my sister. I hate strip clubs. I've wanted to pull the girls aside and be like what are you doing? I know how these guys think. They don't respect you.
12:05am – 1:15am Big Brother blocks the feeds.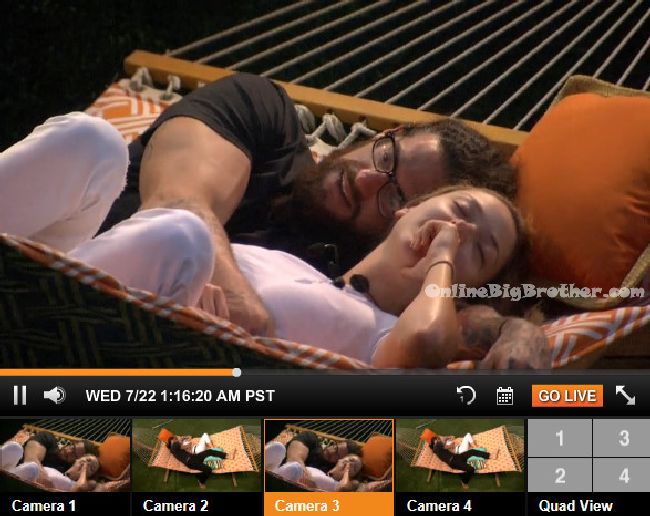 1:15am
Austin and Liz are talking in the hammock. Austin says that it was the best move to take out Day. Liz says I don't even feel bad about it. She had such a bad attitude. They're happy she went home. Liz says and now Jason is a completely different person. Austin sees Steve and says he just has to have something in his hands all the time. Austin asks what the f**k are you really like this? What I don't get is are you really that inept with menial tasks. Like are you really not flushing the f**king toilet!? Liz says I know that is so embarrassing! He is such an idiot. Austin says and like in the kitchen he can't even make a sandwich. He is such a mess, mess, mess. He's fine but does he have to be so annoying. Does he have to walk around while we're all in the HOH room.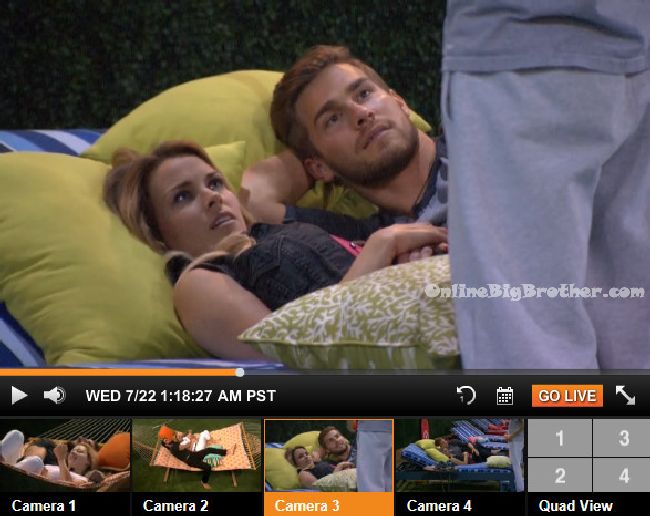 1:20am
Steve comes over to ask Shelli if its okay if he goes to tell Audrey about her (Shelli's) speech about how she encouraged everyone to be nice to her. Shelli says she wouldn't mind and says that's very sweet of you to ask. I tried to check on her earlier and she didn't want to talk to me. Clay says I did too. Steve says I spoke to her briefly. What she is doing right now isn't healthy. This is outside of the game at this point and that's why I'm getting worried. Shelli says I agree with you and I really commend you for this. Steve asks do you think the best thing to do would be to leave her alone? Shelli says I think it would be amazing for you to check on her. I think its wonderful. I tried to check on her earlier when she was asleep. Steve asks do you want to come with me? Shelli says I don't think she wants to talk to me. Steve says because you put her up. Shelli says I am going to try and talk to her again tomorrow. Steve says its just a terrible way to go out. Steve goes to check on Audrey but realizes she is asleep and so is JMac so he turns around and leaves the room.
1:35am – 1:55am
James, Austin, Liz, Clay and Shelli head into the kitchen to eat.
Clay and Shelli head up to the HOH room. Clay heads down stairs and into the bathroom. Meg notices he farted and says oh my god you don't want to do it upstairs but you're okay doing it in front of me. James says because you're Meg. Clay heads back upstairs.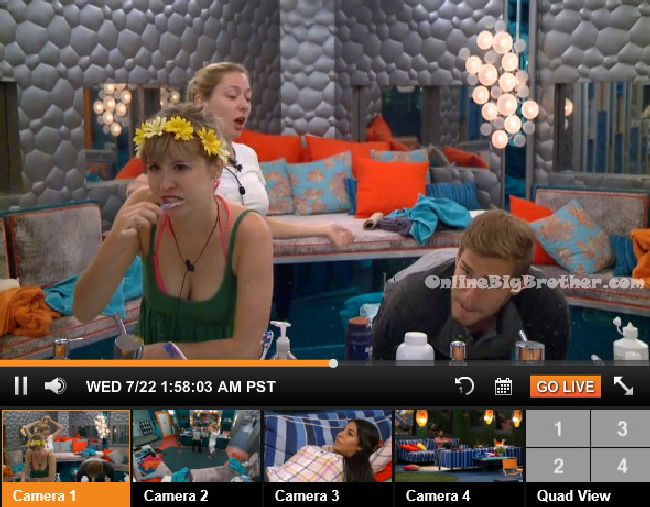 Meanwhile Jackie, Jason, Meg, Becky and Steve are sitting around the hot tub. Steve asks who is the most hated house guest of all time? Maggie (BB6)! Meg asks did people not like Andy (BB15). Jason says he's a rat. He defended Amanda the whole time and then flipped on Amanda at the end. At least even if America hated Amanda maybe he would have left with a little more respect. But them he flipped and united all the floaters that no one cared about and then took that to the end. Everyone just looked at him like you're a rat. Everyone had been approaching you for weeks and weeks to try and get Amanda out and you were constantly telling on them. Andy was in every room in on every conversation. He had the most information. That's why there's a million gifs with rats and Andy's face on them. They talk about Steve and all the similarities he has with Ian Terry (BB14). Jackie says I'm not anyone. Jason calls Liz the Porsche (BB13)of the season. She's just here to hang out in bikinis, duh. Steve says that Meg is the gerbil of season 9. Jason says she's not even a housemate. No Meg's the Britney Haynes of the season.
Try the Live Feeds FREE for 7 DAYS! Click here for your: FREE Trial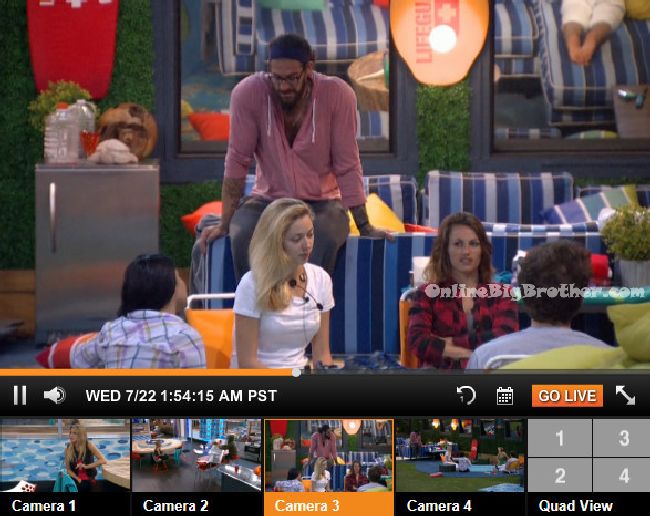 2:10am – 3:15am Backyard – Jackie and Jason are talking. Jackie says no one knows what Johnny is up to. Hopefully he would just put up the people that put him up. Jason says John's just laying in the paint waiting for a cheque. Jackie says see those are the people that like .. I love them to death and you're like oh their like Jesus they'll never go home but its like those are the people that will go home too. Jason says he will have to go home eventually. Jackie says if you're having someone here fighting for it I would rather vote to keep them. Jason says he really wants to get to jury. He just really wants to make money off this because he's in debt. Jackie says we all are I guess. I know I have zero dollars right now. Jason says I'm not in debt, I'm just at zero. Jackie asks it looks like we'll make it to jury. Jason says we're doing pretty well. Jackie says and if the twins do come in we'll target them. Jason says if the Austin thing doesn't work next week, then there's Steve. Jason says whoever gets up there is going to target the twins. Jackie says that's why I need to get rid of Austin first because he's going to fight. Jason says he's not as much of a beast as he would like to think he is. Jackie says he's a talker and isn't afraid to lie and do sh*t and f**k sh*t up. Jason says I don't think he able to do it flawlessly. He lied to me one time and I was like yup look at his eyes. Jackie says we can do this if we all stick together. Top 7. Jason says Shelli, Clay, Meg, James, Me, You, Becky. Jackie says I like it. Jackie says we just need to start getting them out. Vanessa joins them and they talk about all the drama Audrey has caused. Jackie says she has to go. Jason says after we can wipe our hands clean without her here manipulating everyone's games. They end their conversation and head to bed.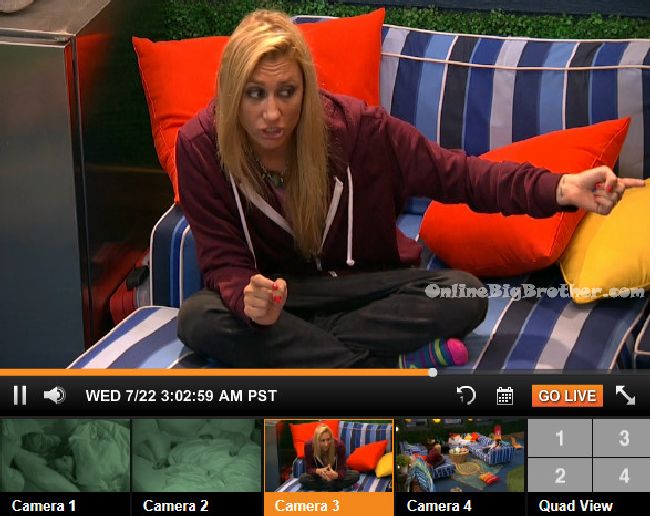 5:10am "Get into the backyard its time for the Whack Street Boys!" Liz "I'm so pissed!"
Live Feed subscription gives you CBS All Access thousands of archived shows. Live Shows like Big Brother, all the Big Brother Seasons, and 24/7 coverage of what is happening inside the Big Brother House. Plus there's flashback that lets you go back to any second of the feeds and rewatch what happened. Simon and Dawg will index the season just watch the parts worth watching. All this for $5.99 a month try it out 1 week free. Support our efforts and get your feeds via a link on this site. Live feed subscription Sign up
[polldaddy poll=8983592]
Share it YO!!
Tweet