POV Holder:
Vanessa
Next POV
July 18th
POV Used
Yes
POV Ceremony
July 20th
HOH Winner Team 1:
Liz
HOH Winner Team 2:
Shelli
Nominations 1 :
Jackie & James
Nominations 2:
Jason & Johnny Mac
Battle of the Block Winner
James and Jackie
Next HOH/ Next BOB
July 23rd / July17th
Original Nominations:
Jason & Johnny Mac
Current Nominations:
JohnnMAC and Audrey
Have Nots
Jackie, Audrey, JohnnyMac and Becky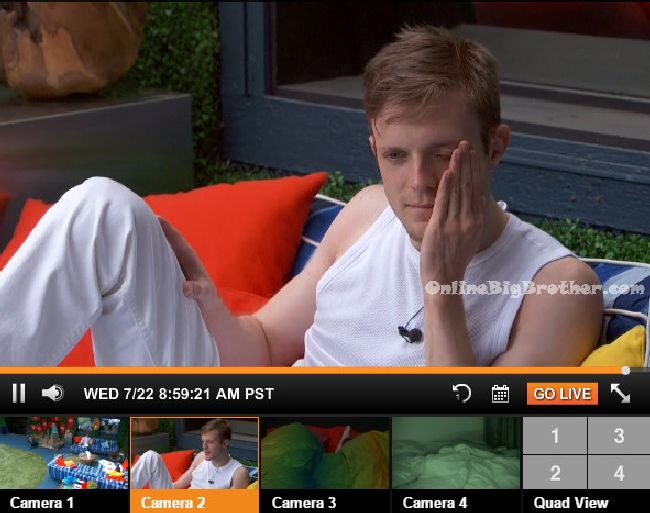 TRY the Big Brother 17 Live Feeds FREE for 1 WEEK:
Click here to ensure your live feed subscription supports OnlineBigBrother.com at no extra cost to you.
8:50am
Jason and JMac are out on the backyard couches. Jason says I gave ya'll miserable and ya'll didn't want it. So now they're going to keep pressing that damn button throughout the night till you're miserable. Just act like you're miserable. Johnny asks you want me to be miserable next time? Jason says yeah maybe then they'll be like mission accomplished. Jason says says just pretend, I know nothing makes you miserable. Just pretend. Jason says that Liz has been miserable since the third time we've done it. Johnny says okay I'll be miserable and sad. Johnny says its way worse than gronk party. Jason agrees. Jason says he checked in the DR for Jackie when havenots would end and they said Friday. You started Saturday, you end Friday midnight. Honestly though if I was you and they were putting me through this sh*t and being a havenot where they're letting someone cheat on the rules. My a$$ would have been done eating. Full stop! I would have been like, so how many hours do I have to be in here (DR) till you let me eat pizza?! Johnny says we'll we can end it for her in a day. Jason says the way I get questions about it makes it sound like its not that serious (Audrey). But then that would be using production as strategy so I don't know why that would be allowed. Johnny says I don't know what is going on. She doesn't ay anything to us. All I can say is that she's done this before to a milder extent. Johnny says the only other time he remembers is Amanda Hansen. Johnny says first time someone doesn't attend the veto meeting. Jason says the only other time was Jocasta but she was saved. Jason says after seeing a random name on Jackie's mic it makes me think someone here is an a word (alternate). Not that it matters because we're all here now. Johnny wonders if there will be a punishment with every battle of the block? Jason says no I don't think so. Wearing the costume is fine its that they're getting us up throughout the night to dance like monkeys. Jason heads back to bed.
9:50am – 10:15am Big Brother wakes up the house guests. Becky joins Johnny Mac on the backyard couches. Steve comes out looking for his necklace. Johnny Mac says he thinks he saw Jason with it. Steve heads inside looking for it and asks Clay/Shelli if they've seen it. Clay tells Steve to stop taking it off and leaving it places. Steve says he took it off to go in the pool because the rule book says not to wear jewellery in the pool. Steve continues searching. Johnny mac tells him its around, we're not going anywhere. Steve says but the backyard is. If we weren't getting locked inside soon I wouldn't be as worried. Johnny goes to workout with Austin while they still have the backyard. Becky, Clay and Shelli talk about working out and yoga.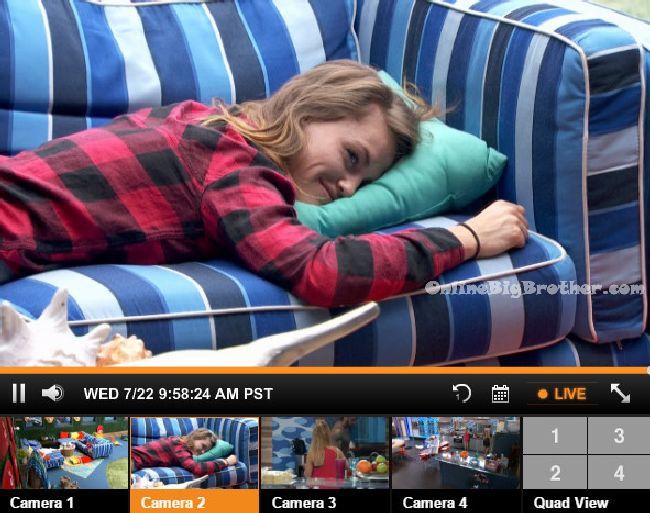 10:25am Austin, Clay and JMAC workout.
JMAC pumping iron to look good for his groupies @bigbspoilers #bb17 pic.twitter.com/6mnjfy1UMA

— Dawg (@DawgsBigBrother) July 22, 2015

Clay and Shelli talk on the backyard couch. Clay asks what I brought up last night.. do you think we should do that? Shelli asks what? Clay says Jason & Meg. Shelli says and John & Jackie too. Clay says yeah. And asks should we bring up the final 4 thing? Shelli says at least open up that line of communication and see what they think. They're the ones that said it. Clay asks would Meg tell James because that's all I'm worried about. Shelli says I don't know if she would. Clay says I think she would. Shelli says just ask them and see how the conversation goes or how she feels about it. Again its not our idea is their idea. Clay says we have to be careful being loyal to too many people. If I do win, there won't be many to put up. Shelli says it looks like he (Austin) might be the target this week. Clay says yeah theres are 3 targets in front of us .. Austin, Liz and Steve. When she (Julia) comes in then.. Shelli says we have to start targeting people within our group to make it not look obvious. Like he (Austin) would have to be the one we do that with since people are already saying his name. Becky joins them and the conversation ends.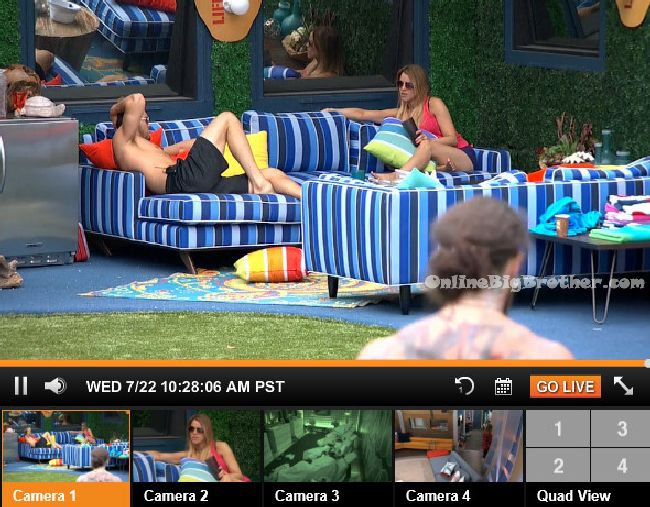 10:35am – 10:50am Shelli asks if Audrey has talked at all. Becky says no she said thank you when I put down the food but that was all. Shelli says it just so sad. I guess she's going to do that till Thursday. Becky says Audrey did a good job of freaking people out when they were on the block and making them think they were going home. And now she's on the block, she's not a havenot anymore, the lights can be left off during the day, you don't have to attend meetings, you should have meals prepared for you. Which I did for the first 36 hours because I didn't know about the medication but I am like OKAY you're not medicated. They did not say at the meeting Audrey is sick and cannot come …it was Audrey has opted out. So it wasn't medical because they would have deemed it medical otherwise. Its hard because when I've seen Meg and Jackie be picked on by her when they're on the block and now when she's on the block she cant walk or talk. We don't have people waiting with pitch forks out here. We have a lot of people wanting to talk to her. Wanting to be nice. Showing that the house is here if she needs it. I find myself constantly going back and forth being like you signed a contract too and wanting to be kind. It's like you were not kind and forgiving to those before you.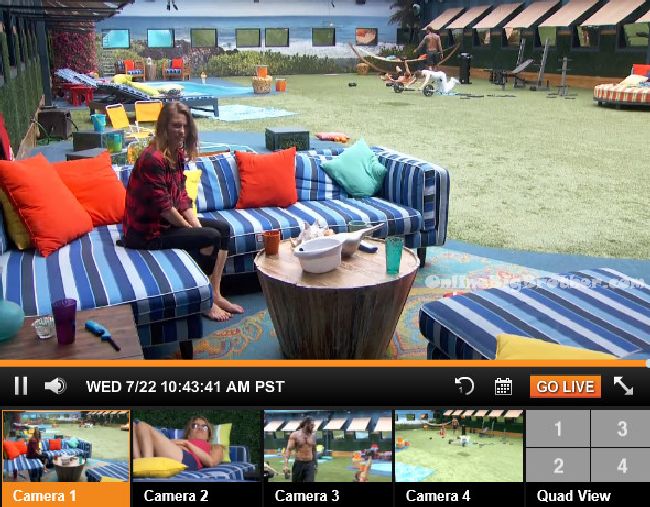 Clay sniffing his dirty laundry @bigbspoilers #bb17 pic.twitter.com/sd3xJRVI6u

— Dawg (@DawgsBigBrother) July 22, 2015
11:20am – 11:35am Johnny asks do you think Audrey is going to try anything or is she down for the count? Clay says I don't think so. It will be interesting to see if she even shows up for the meeting tomorrow. Johnny says this is the best thing she can do, just not say anything. Clay agrees.

12pm – 12:30pm Shelli joins Clay by the hammock. Clay says its exactly why we have to stay extremely close to that side because if they win 2 weeks in a row .. Austin's gone, Liz could be gone. Shelli says well shoot my idea of the four some doesn't work any more. (Clay, Shelli, Meg and Jason) Shelli tells Clay to touch on it with them to see what they think. Shelli says we're going to have to do whatever we can to protect Vanessa. Clay says we just have to win. Shelli asks who would you put up? Clay says Becky. And maybe Austin to make it look like we're not with him. Shelli says that would be really bad. She says Jason made a good point you don't want to piss off the twins because they're two votes in jury. Clay says obviously Becky and Jackie but that's scary. Shelli says you can't put them up together. Definitely can't put up Johnny again. We can't do that to him any more. Clay says we only have Becky, Jackie or Steve to put up. Shelli says it dangerous to put up Steve .. we want to stay in good with him. Jason joins them. Shelli says we were just talking about the conversation we had last night about the twins and Austin. Jason says I think that might be the plan for next week? Clay asks who would you put up? Jason says well Steve came to me for a 1 week deal but he doesn't want to win HOH so that's a one sided deal. Jason says Jackie was thinking it would be good to backdoor Austin but I think it would be better to just put him up. These comps aren't going to be made for him. I would put him up with Steve. Becky joins them.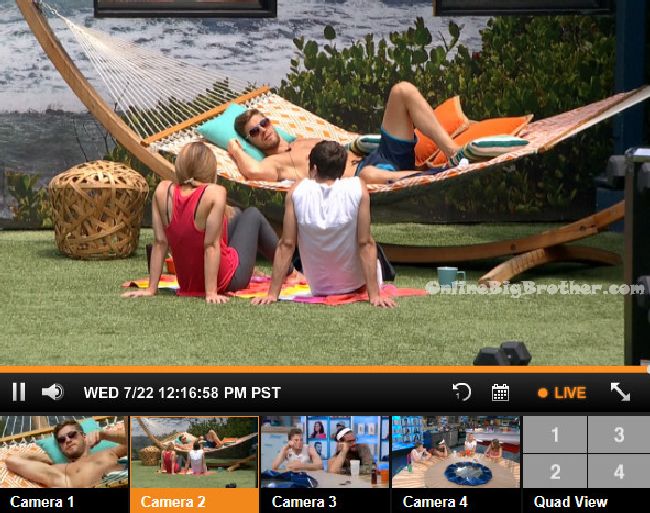 12:20pm In the kitchen –
Liz tells Austin that Audrey is acting like a baby. I'm not playing any more. She is an embarrassment to our cast. Austin says stand up and cast a spell on all of us ..like I curse you.
12:25pm Big Brother blocks the feeds.
Live Feed subscription gives you CBS All Access thousands of archived shows. Live Shows like Big Brother, all the Big Brother Seasons, and 24/7 coverage of what is happening inside the Big Brother House. Plus there's flashback that lets you go back to any second of the feeds and rewatch what happened. Simon and Dawg will index the season just watch the parts worth watching. All this for $5.99 a month try it out 1 week free. Support our efforts and get your feeds via a link on this site. Live feed subscription Sign up
[polldaddy poll=8983592]
Share it YO!!
Tweet