POV Holder:
James
Next POV
Aug 1st
POV Used
?
POV Ceremony
Aug 2nd
HOH
James
Next HOH
Aug 6th
Original Nominations:
Shelli and Clay
After POV Nominations:
?
Have Nots
Austin, Liz, Julia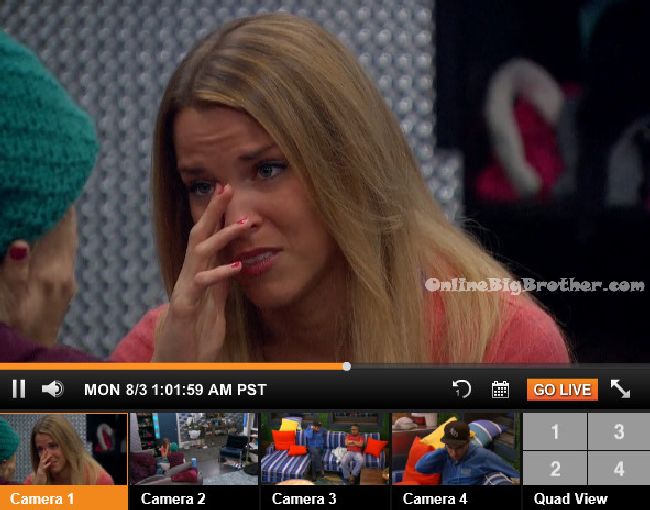 TRY the Big Brother 17 Live Feeds FREE for 1 WEEK:
Click here to ensure your live feed subscription supports OnlineBigBrother.com at no extra cost to you.

12:50am – 1:10am Shelli talks to Vanessa in the bedroom. Shelli says in a minute I want the 6 of us to get together and talk because I really want to let you know the things I have in my heart and the way I'm feeling. I feel like a lot of things are dishonest and I just want to feel like things are reciprocated. Vanessa says that James asked if I would be on board with Steve and I said yes, its obvious I'm very close with Shelli & CLay. I said I was fine, it would be the optimal scenario. Shelli asks do you think they're considering it? Vanessa says yes, why else would they ask me that. Shelli says that's good to hear. Shelli says she's just annoyed because some people are saying one thing and then going up there and saying something totally different. Vanessa says what I just said is verbatim. Shelli talks about how she doesn't feel Austin and the twins are reciprocating how they helped them out last week. Vanessa says she was talking to James and planted the seed.. you know it sucks that we keep throwing these grenades back and forth and these floaters are going to get right to the end. I planed that seed so hopefully he takes that. SHelli says Austin never gives us information. Shelli says I just feel bad, I keep crying. Shelli starts to cry. Obviously I want to save Clay and me but I don't want to hurt someone as sweet as him. It just makes me feel like a bad person but you have to be selfish in this game and that's why its so hard. I wish there was someone in this house that I really hated. Vanessa says it would be so much easier. If I did win HOH I don't know anybody in this house that I would want to put up. Clay comes back and says that James was outside talking to Steve. He wouldn't spoil our plan would he? Vanessa says he could, why wouldn't he. To get the numbers.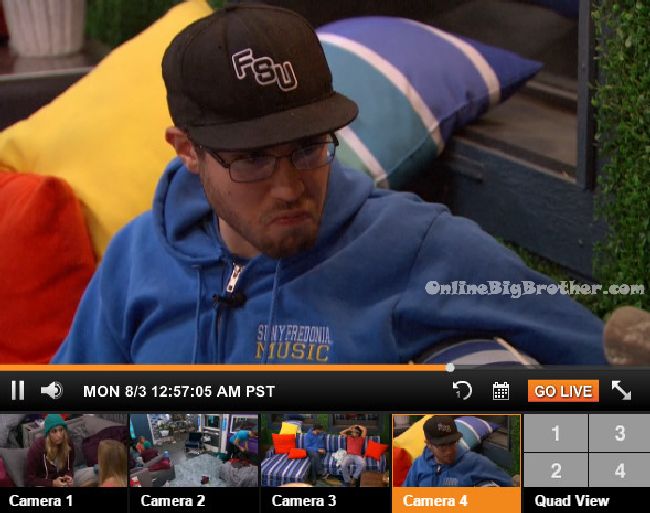 12:50am – 12:55am James tells Steve that he needs to talk to him outside. James heads outside and Steve follows soon after. They sit on the backyard couches. James says Steve I just want you to know here… some people have brought it to my attention to try to get you out of the house this week. Steve says okay. James says of course you know I have the veto and I have that option to .. Ummm.. the only thing I ask is I told them that Steve hasn't done anything to me and I really don't feel right because you haven't done anything to me. Steve says no I haven't. James says I don't know what your thoughts are if you would ever throw my up as a nominee or target me. Steve says I wouldn't, my target is another place right now. James says yeah I figured that, but I just wanted to let you know that two people came to me and wanted me to put you up as a nominee tomorrow. Steve asks if I were to guess who those two people were, would my guess be right?? James says I won't throw any names out. Steve says I'm not asking for a name. If I were to guess because there's an obvious 2 people to guess would that guess be correct? James says yes. I'm giving you this information to reciprocate trust back when you win HOH. If I were to do it, they would probably have the influence to swing to vote to get you out. Steve says probably. James says but I have the power to stop it, which is why I am pulling you aside. And letting you know because this could end your game before jury. I am taking you to jury, I'm not going to backdoor you. Just please don't go tell them that I told you this information. If I keep you safe just keep me safe 1 week if you win HOH. Steve says I can do that and will keep it a secret. James and Steve shake on it. James notice that Clay just saw them talking and gets nervous.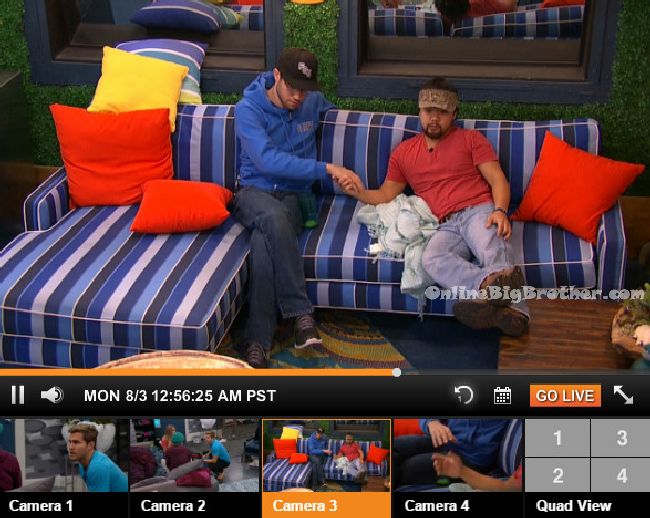 1:10am Bathroom – Austin and James talk. James says if this sh*t goes through, Clay is going to be sh*tting at first. Pissed! Austin says I know and that might make him not mentally prepare for the HOH. James says or he might be like I need to win this sh*t and defend the honour of my girl. Austin says I need to too. James says if he does get me out next week, you know who he's coming for next. Austin says don't worry I know. James says this season is about throwing grenades at one another. Straight for the jugulars. I think they like that though. James says I'm no homo but ..(James then points out a blond hair in Austin's beard.)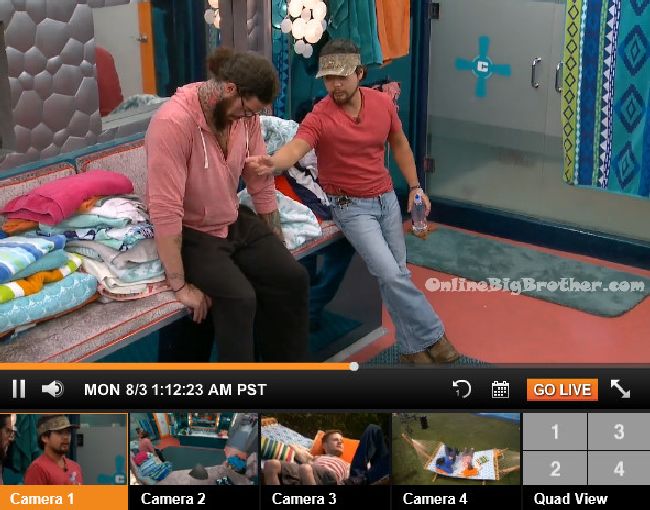 Johnny Mac asks we probably still want to remain low. Steve says yes. Steve says I don't think that has happened before where someone has made a deal with the whole house and then went back on it the next day. Johnny says he tried and amost won the HOH. Steve asks why? Johnny says because you said we should try to win it. Steve says you're doing it because of me, thank you. Johnny says I think we're good until the showmances are gone. Steve says this is why I always said I didn't want to be in a showmance. johnny says James said he would keep me safe I wouldn't go on the block. Steve says he just reconfirmed that with me. So he's telling everyone the same deal. Johnny says I did something stupid. I told Jackie and Meg if I had won HOH I would nominate them. Steve asks why would you tell them that? Johnny says everyone is saying Shelli and Clay are behind all this stuff.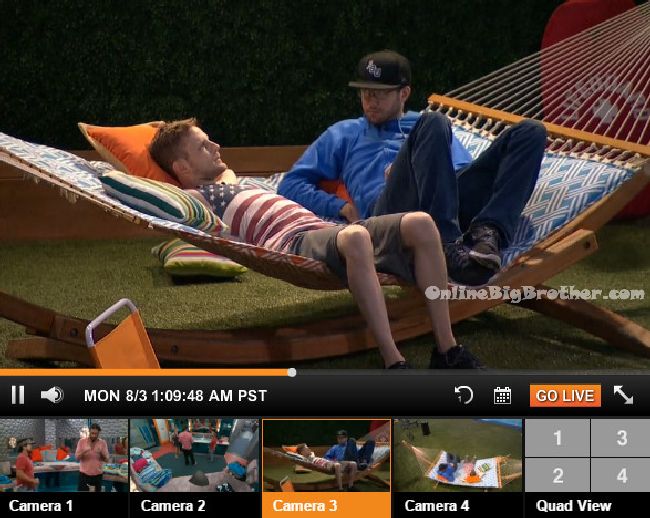 Clay tells Shelli there's nothing more we can do. Whatever happens, happens. Shelli heads into the havenot room with Shelli. Austin says that he tried to James to put up Steve. He says that James said why are we throwing grenades at each other because the floaters are going to float to the end. Right now he is probably set on keeping it because he doesn't want more blood on his hands. Liz says we played the Steve thing up. Shelli says we should talk game more together. Shelli tells Austin and Liz that there is no way James would put them up. Austin says watching you guys getting broken up kills me. It could have been me and Liz last week. Shelli says us here in the game is better for you guys. Shelli tells Liz and Austin everything she's done for them. Austin says that James is considering it. Shelli says you would have been gone last week so please don't let one of us be gone this week. Shelli leaves. Vanessa joins them. Vanessa says having them (Clay and Shelli) is good for us because they've been loyal to us. And having another couple in here is better for you. On the other side Steve has no one and they're very charismatic and can win. Vanessa leaves.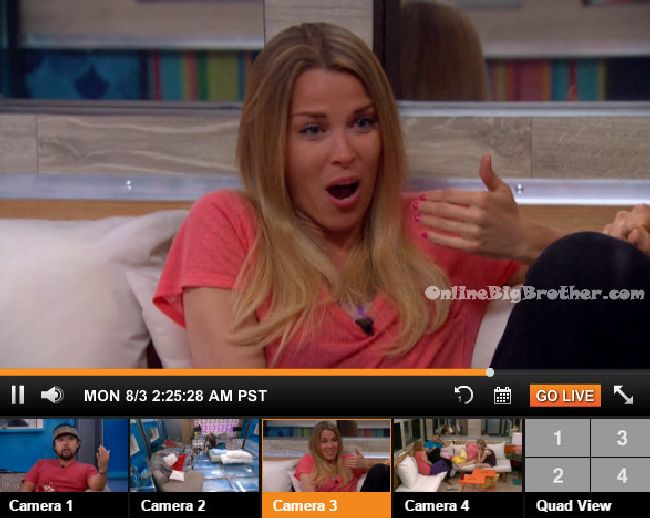 1:30am – 2:30am Cabana room – Clay and Meg are talking. Clay talks about how Steve isn't a floater. We put trust in people that were playing every side. Clay says we would ride or die with ya'll. We can't trust Austin and the twins they are so wishy washy. Meg says I'm worried James is in too deep with all this stuff. Clay says this could work out best for James. We would be indebted to you guys. We would ride or die with ya'll! Clay asks who would be mad if he does this? Meg says I don't know, you don't know where everyone stands. Clays says if you don't win HOH next week… one of the two of you are going up. We could help you. Meg says I know how James is once he puts a plan in action, he sticks to it. Clay says if ya'll help us we will repay that x 10! Shelli joins them. Shelli says I want to spill out everything to you so bad. Meg says you shouldn't be talking to me, you should be talking to him. I know you think I have influence over him and I do but not when it comes to him making decisions that go against his word. Shelli says you're acting like you don't want to hear the real reasons why things happened. Meg says because you keep saying you don't want to tell me. I don't want you to go back on something that you don't believe in. I don't like to play dirty like that either. Clay asks Shelli do you want to talk to James again? It seems like its a done deal. Shelli says what we're saying and presenting to ya'll is such a golden ticket. I'm just so tired, I just want to say send me home! Its so stupid! Like f**k it! WHY am I getting targeted!? I've been so loyal and nice to people. I'm getting targeted, why, why do I deserve that. I truly do not deserve it!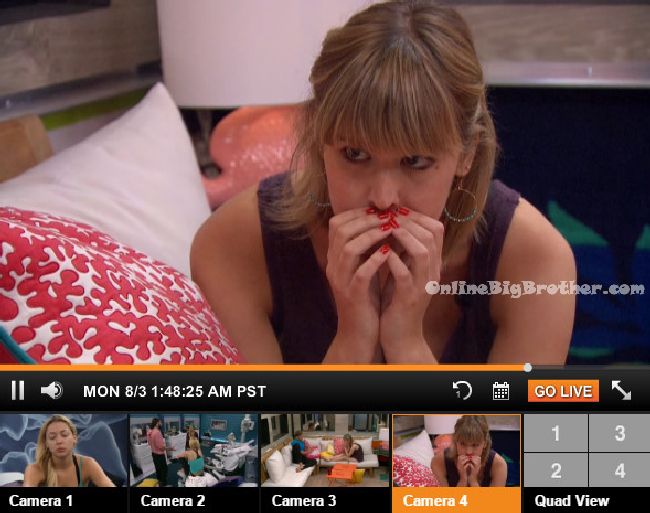 2:30am – 3am Clay and Shelli head up to the landing outside the HOH room. Shelli asks what are we even going to say? Clay says this is so f**ked up! Clay says I want to tell James if Meg doesn't win HOH this next week he is going on the block. Shelli says we need to breathe and not go in there mad. Clay says we have nothing to lose. He's not going to use it anyways. I just think he needs to know more information. Shelli and Clay head downstairs to lay in bed to cool off. Meg asks them if they talked to James. Shelli says no because we didn't want while we so heated because then the person that stays would have to deal with the aftermath. Meg leaves. Johnny Mac comes over. They ask him if James talked to him about if he would vote out Steve if he went up. Johnny Mac says no. Johnny leaves to go think about things. Shelli tells Clay she thinks Johnny was lying. She says but if you think about it he doesn't owe us anything. Steve comes by. Clay asks did James talk to you? Steve says just that if he doesn't put me up then I wouldn't put him up. Austin joins them. Shelli tells him it would really help if he went up to the HOH room. Vanessa says don't use names, just say floater. Austin says I'll just say its better to have big targets in here over having a floater.