POV Holder:
James
Next POV
Aug 1st
POV Used
?
POV Ceremony
Aug 2nd
HOH
James
Next HOH
Aug 6th
Original Nominations:
Shelli and Clay
After POV Nominations:
?
Have Nots
Austin, Liz, Julia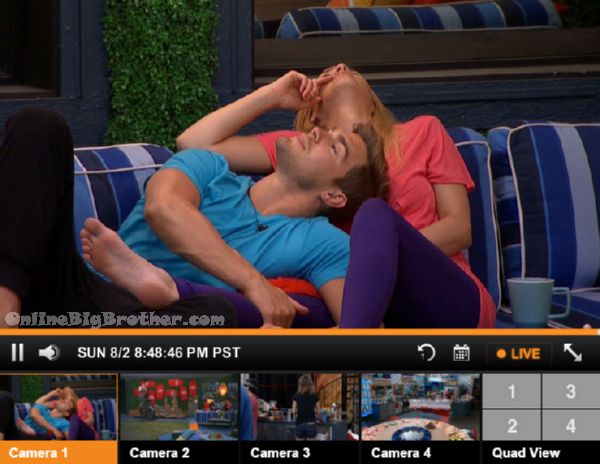 8:47pm Clay massaging Shelli.. She moans "you know all the good spots"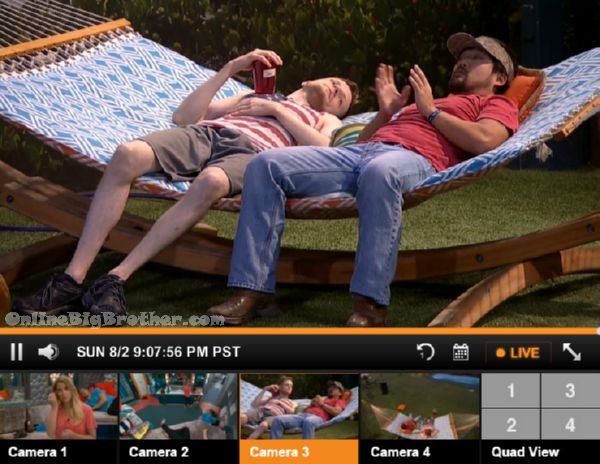 9:07pm Hammock Jmac and James
James asks him who he's voting for if the noms stayed the same
Jmace thinks Clay will fall on his sword for Shelli
Jmac – i'll vote with the house.
JAmes – i'm telling you the house is probably going to Shelli going out
Jam es- we're looking at it as Game.. Shelli is a competitor.. she's got 2 HOH she almost won this third one.
Jmac – James.. sometimes you're a d1ck .. RAWHAWAWHAA WA
They chat about the amount of "Dickness" in a person and how if you don't have a bit of "Dickness" you get walked all over your entire life.
Jmac – you can get on the show unless you have a bit of a d!ck in you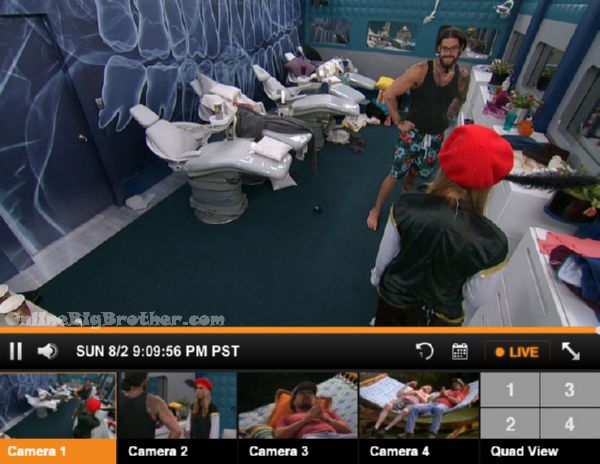 9:09pm Austin and Vanessa
Wondering what Clay and Shelli are going to try and do to get Austin on the block.
Vanessa says James turned down 5 thousand dollars and a Europe trip he's not going to change his mind and use the veto.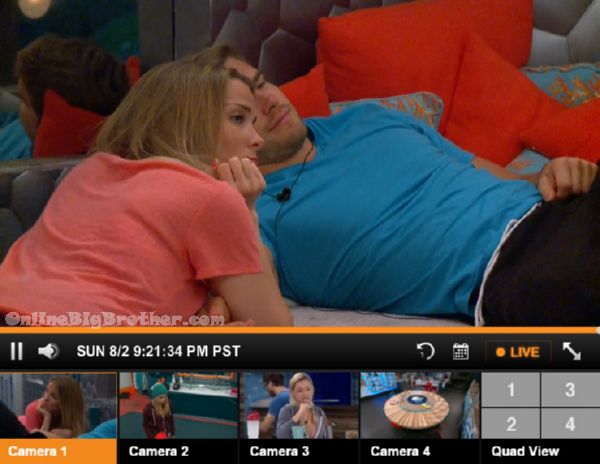 9:21pm Vanessa, Clay and Shelli Bathroom
Vanessa asks her if they have any ideas they want to rn by her.
Vanessa says she's not getting a lot of game talk with James the line's been drawn snds she on the other side.
Vanessa says she's really sad about this, mentions how this is a big hit to her game to.
Vanessa can only see one way they could stay but it would mean a real dirty blow and would a big long shot.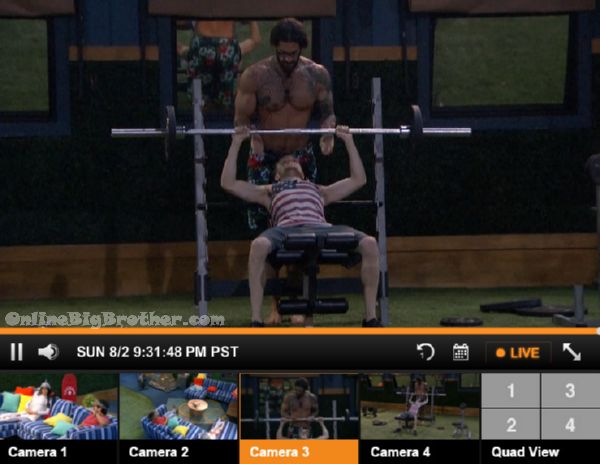 9:26pm Jmac and Austin Weight Bench
Mac says Austin is no was going up. Jmac says Shelli and Clay are the same he doesn't have strong preference on who goes home.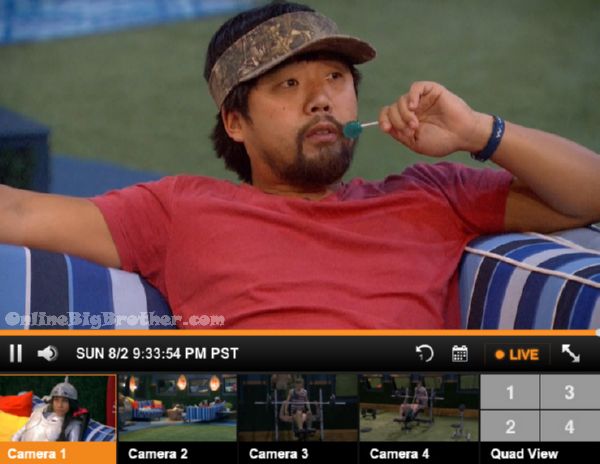 9:33pm James and Jackie
James- we got blindsided by the other half of the house and we gotta break that sh1t uop.. if they won HOH we would have all been f****D.. the only person I'm really worried about is Vanessa.
James says Clay and Shelli knew they were going up on the block, "It was Vanessa.. she's not telling them the whole thing they're giving hints."
Jackie – the whole point is not to tell them like they did to us
James – Both times Vanessa was HOH she caused someone to go home on an flip flop decision… Oh I changed my mind at the last minute
Jackie- And it's our friends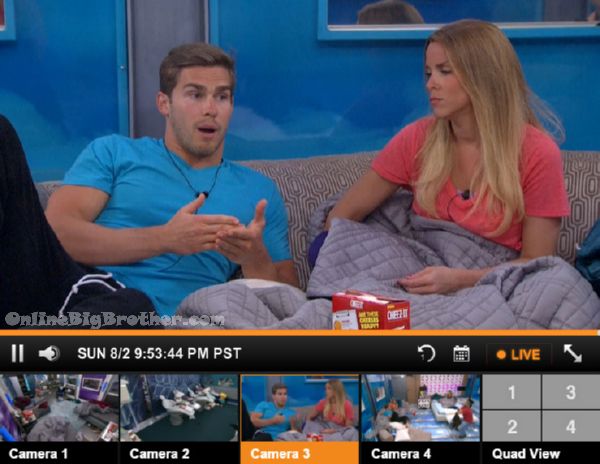 9:42pm HOH Shelli, James, Meg and Clay
Shelli give him an arguments if she stays in the game that's two Jury votes for James. If one of them goes home this week James will lose a JUry vote.
Shelli – basically what we're saying is we want the opportunity to end up in Jury. that's more money for us..
James- Right
Shelli says if they win the HOH they can put Shelli and Clay up they don't care they just want to get to Jury, 'We won't put y'all up"
Shelli – it just seems too early to be take shots at each other.
Clay chimes in asks them what they have to do to get the Veto used. Clay starts to recommend they use the veto put up a person that is on their own so james won't make any enemies. Shelli jumps in says they will work with tme that's two people.
Shelli – Why not why can't we mend it it's not too late it's not too late to work with y'all like a team
James- I knew going into this decision this was going to be a HUGE wave ..
James says there was a lot of decision last week that went down that he wasn't part of it nor was Meg.
James- if I keep both y'all in this game I sat out on 5 grand my daughter could use and I sat out on a vacation.. (He chose POV instead of prizes)
JAme s- if I was to change anything it would have to be a HUGE thing for me to do..
Clay – keep us in this game and you're closer to 500 thousand dollars.
Clay – I have yet to go back on my word..
Clay says the Jason decision they regret they regret it every day. "We've already built a solid foundation of trust with you two, everything we're saying is 100% sincere having us in the game we're bigger targets"
Shelli – Passing on the Money to get the veto might the best thing you could have done. The veto is so much better than the 5k or the trip because it gives you the option to use the veto, put up another target and Gain this loyalty so strongly that's so much more valuable than 5 thousand dollars We would not go back on our word.
Shelli – it's a no Brainer we're giving you our word
Clay – there's 2 people in this game that is behind Y'all
Shelli – you can't play next week we can play next week.. if we win Next week safety.. there's been times when you've been on the block and we never voted against you.. you hurt us we hurt you eye for an eye can we rebuild .
Meg – what's scary in the house is for me VAneswa put up Jason.. she said you know I have the majority of the house and for me that meant you guys..
Meg – Shelli you're beasting this game.. you are killing this game
Shelli – why don't you want to work with us
Meg – last week was so scary
They tell them last week Shelli and Clay betrayed them and they know if their side hadn't won the HOH they would be put up. Meg and James were legit with Dark moon.
Shelli – Getting Jason out was not the goal staying true to becky was
[envira-gallery id="125750″]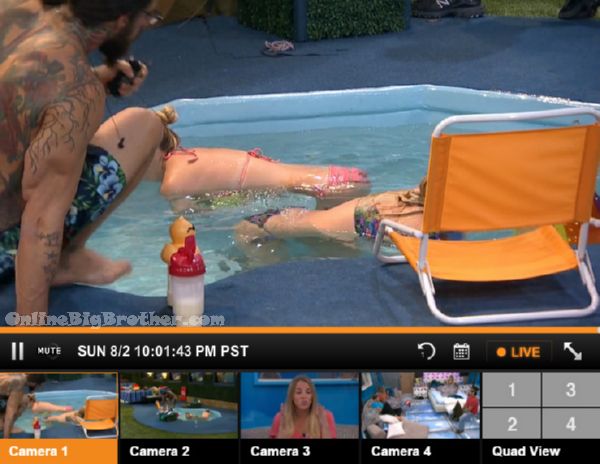 9:59pm Austin and his twins
They're worried what Shelli and Clay are saying but feel there's no way James will use the Veto because he chose it over the prizes.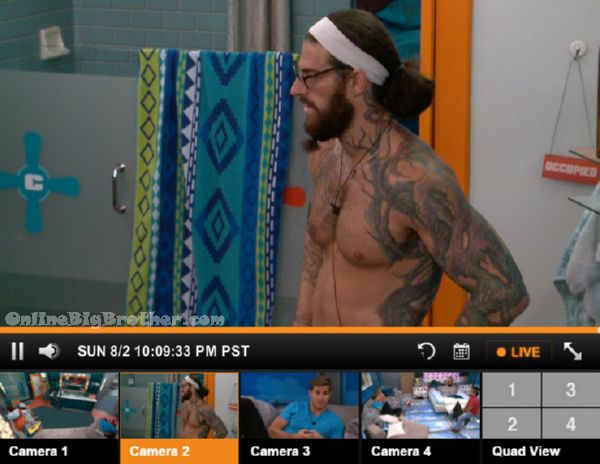 10:09pm Bathroom Austin and Vanessa
Austin says lay and Shelli are not saying anything bad about them or the twins they are trying to get Steve up because he doesn't have anybody.
Vanessa – you have nothing to worry about Steve has something to worry about
Austin doesn't know wsay James is into BIG MOVES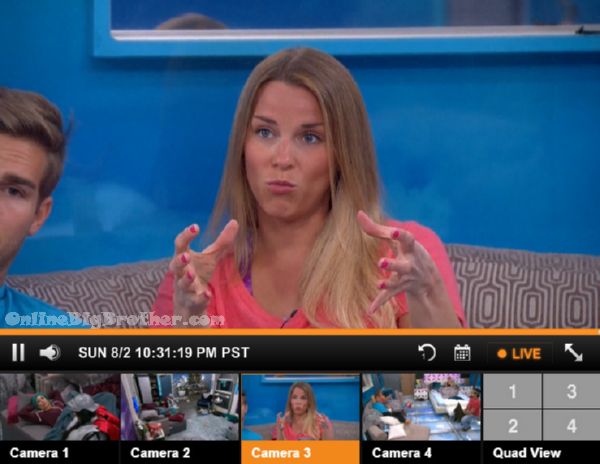 10:18pm Clay, Shelli, James, Meg

James says it's been brought to his attention there was plans in the house to put him up this week.
Clay – there are people in this house that gravitate towards power and are doing that right now.. all you have is you you and Jackie..
Shelli – Clear as DAY he will not put you up (Clay to James)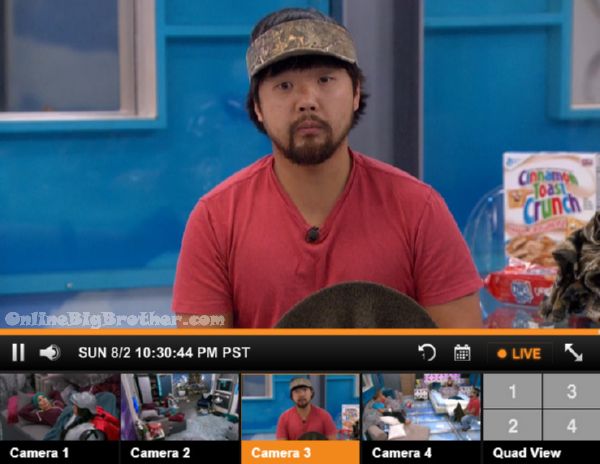 10:24pm HOH Meg, Clay, James, and Shelli
Shelli says they've never solidified anything if they keep her and Clay in the game James will have their word.
James- when we're up in the HOH room and we're talking I was like I'm looking for someone to put up..
Shelli tells him he can always put up Steve he's go no one in the game there will be no blood on James hands.
Clay says the house wants Steve to go home. "We've thought this through.. there's really no risk.. NO blood on your hands"
Shelli – No blood
clay says they are not the type of players to go back on their word.
James says they were all so secretive.
Shelli – We're friends with Vanessa but she was HOH she had conversations we're not aware of."
10:53pm Shelli tells James it would be amazing for her to have a close bond with James where she's telling him who is coming after him
Clay – the information throws through all 4 of us (Meg, James, Shelli and Clay if James agrees to Clay['s alliance idea)
11:07pm Shelli and Clay leave. before heading gout James tells them he didn't want to put them up.
James – I say stick to teh plan
Meg – we use this a little bit.. We could get Austin and the twins up here
James- Honestly Meg.. If I find out who they are putting up I would put there a$$ on the block.
They wonder who was the Person that told Shellia and Clay they are taking James. James thinks it was Becky.
Meg doesn't trust what Clay is saying
James- something is fishy no one wants to crack on these names, Vanessa won't tell me nothing.
Meg – Becky doesn't make any sense to me
James- I don't know who else it could be supposed I'm close to them.
James- If I was in Clay situation I would be singing like a tea kettle.
Meg says Vanessa isn't as close to Shelli and Clay anymore
Jame says he's not changing his noms he's using this chance to take them out.
James – Vanessa's got to go too
meg – She's too involved in things..
Austin comes up They tell him they want to call meeting with him and the twins.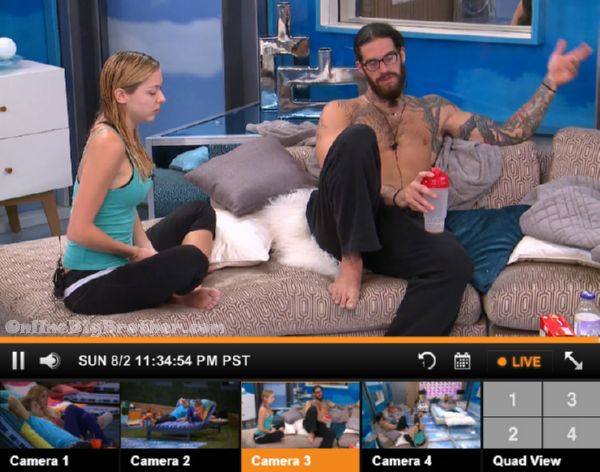 11:26pm HOH LIZ and Austin
Meg – Shelli and Clay came up to plead their case we want to make sure you guys still feel the same.
Austin – you went out of a limb this week.. for me what you want is what I'm going to do 100%
Austin says Clay is going around demanding people give him his word they vote him out and Keep Shell.
Meg wants to work with Austin and the twins and "really take down the house"
Austin says if they look back at originally Big Brother that is what ye have right now 12 people left in the house no Battle of the block.
Meg – we all need to change our mindset in this game
liz – or this house will get boring quick
Meg – exactly
They tell James him not using the veto speaks volumes
Meg saying after this week they will all be onboard with Getting Steve out because he'll dominate the competitions like Ian did.
Meg says Clay's game will be better off with her out.
Julia comes in, "I just had a freezing shower"
Austin says Clay is less of a threat when if comes down to competitions.
meg – I agree
Julia wonders if perhaps Clay has been throwing the HOH's
Liz – we might see his true personality
Austin – week 1 clay totally different guy
Julia says Clay has never made a effort to reach out to her that i why she would rather he goes
Julia – you for keeping the noms the same
Meg – yes
Meg – It's kind like a reset.. We feel really really good about you guys and Jackie feel really really good about you guys.
Austin – we do to
11:50pm Meg about Shelli going home "He knows"
Meg says they have teh votes as long as Austin and the twins vote with them. They guarantee they will vote with James.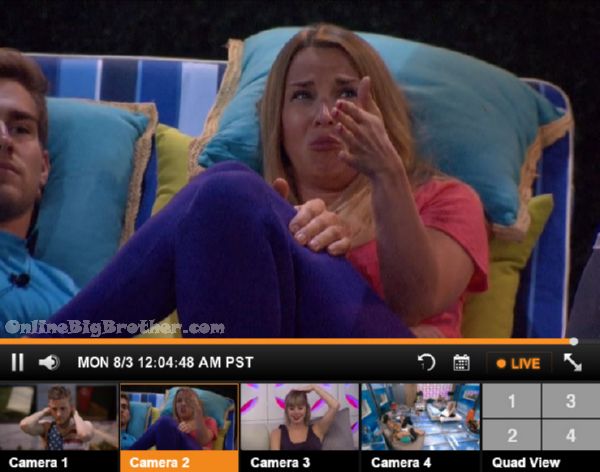 11:52pm Clay and Shelli
Shelli – We definitely didn't want Jason up there
Shell says Austin is trying to throw her under the bus, Do yo thin k
Jmac says no
Shelli – why
Jmac doesn't think he is
Shelli does
Jmac asks her who's idea was it ti put up Jason. Shell won't say but it wasn't them.
Shelli is pissed they are getting blamed for Jason going up.
Jmac says Vanessa was causing a riot in the backyard, during that Meg said bad things about Shelli and Clay.
Jamc points out he though tthe plan was theirs to get Jason out during the double eviction.
Shelli says she never wanted to get jason out.
Shelli starts to cry says she's too loyal to throw names under the bus. She believes Austin and the twins are throwing her name under the bus in the HOh right now.
Shelli "Why why why is no one backing me why I don't want to be here"
Shelli says people that are on her side are selling her out "Nobody is willing to stand up for us.. Nobody NOBODY "
Shelil says Jason doesn't deserve to leave, they did so much to save Austin "Its not right.. that man is throwing our names under the bus.. and now to save our a$$es we have to stoop to that level and lobby to get out Steve"
Jmac tells them his main target it JAckie.
John tells Clay he's had to lie a lot to keep the 4 jof them safe. Says he told Steve they're going to the end together that's a big lie he has no intentions on Keeping STeve around.
[envira-gallery id="125769″]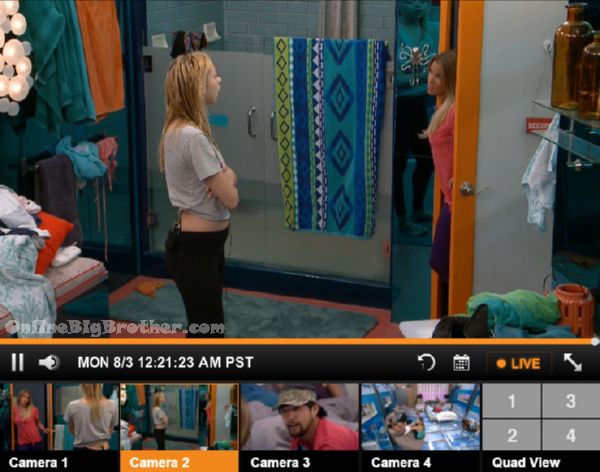 12:16am Bathroom Julia and Shelli
Shelli wants to know what is being talked about in the HOH, Julia says they are talking about Clay going around telling people to evict him.
Shelli – he doesn't want that neither of us want him to go home
Shelli says people in their group are lying to them.
Julia says they are not.
Shelli – none of y'all are trying
Julia _ we're trying
Shelli – no you are not.. we tried so hard to protect you and liz and y'all have done nothing.
Julia – OK.. I feel really bad you fee like that
Shelli – I feel like everyone in the house is lying to use right now and I don't understand why.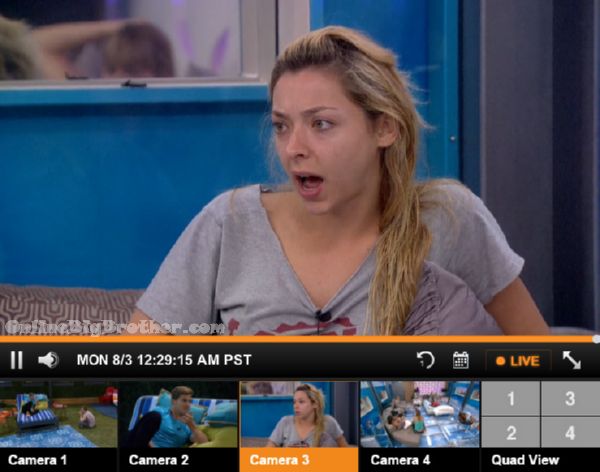 12:24am Julia in the HOH with Austin, James, Liz and Meg
Julia telling them about Shelli being pissed.
James says Clay is saying the house wants Steve up.
Julia – She literally tried to make me feel bad and stuff because I didn't tell you something..
Julia – She said We did so much for Austin next week.. They only care about each other… She literally attacked me
Julia about Shelli's conversation 'She was such a b1tch"
The twins are scared to go downstairs alone they might get attacked by Shelli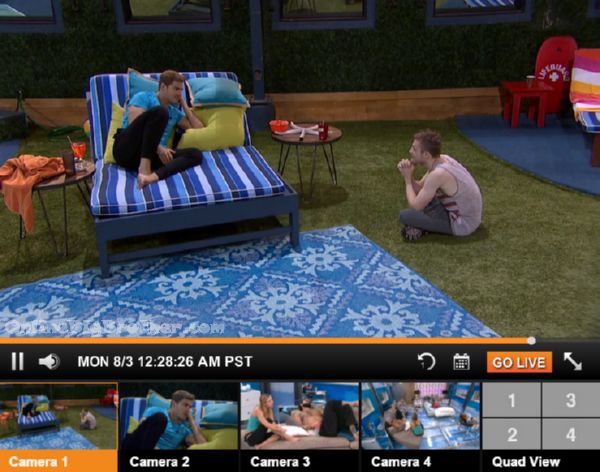 12:27am CLay tells Jmac about Dark moon.. "Vanessa was in it.. there was everyone but Steve, Jmac, Austin and Liz."
Clay – I think Vanessa started it, initiated it
Clay claims that him and Shelli were not into it..
Clay says Vanessa took out jason and tried to pin it on them.
Jmac – WOW I didn't know any of this sh1t. Becky never told me
Clay – don't fault her because it only lasted two days.. you didn't hear that from me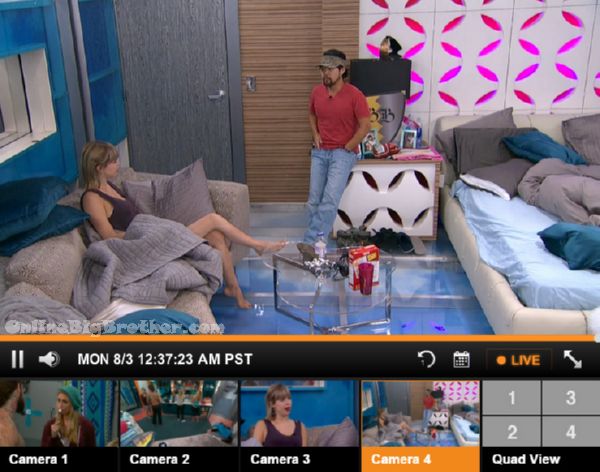 12:37am Meg and James
James- Vanessa is telling Clay and Shelli a lot of stuff.
Meg agree. they talk about keeping the information the feed to Vanessa to a minimum
[polldaddy poll=9004995]