POV Holder:
James
Next POV
Aug 1st
POV Used
?
POV Ceremony
Aug 3rd
HOH
James
Next HOH
Aug 6th
Original Nominations:
Shelli and Clay
After POV Nominations:
?
Have Nots
Austin, Liz, Julia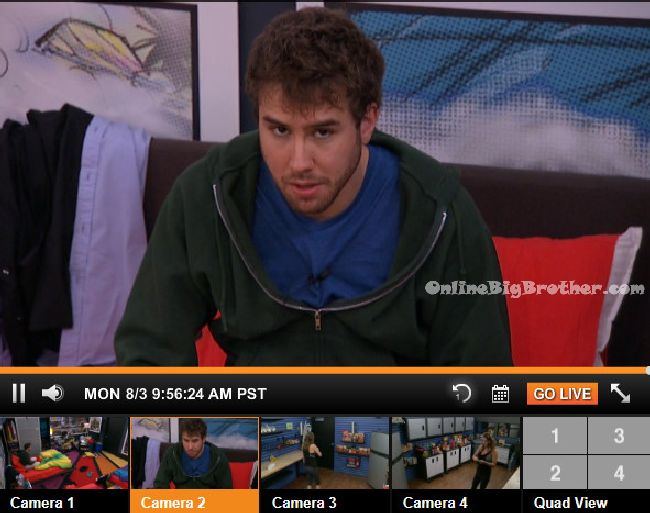 TRY the Big Brother 17 Live Feeds FREE for 1 WEEK:
Click here to ensure your live feed subscription supports OnlineBigBrother.com at no extra cost to you.
9:45am Big Brother wakes up the house guests. In the comic bedroom – Steve is whispering to the camera. Steve says James would be a fool today if he put me up but I would not be surprised if he did. Shelli and Clay were trying to get him to use the Veto but .. Becky comes into the room and Steve says Nighty Night! The cameras switch to Johnny Mac sitting out in the backyard alone.
Austin tells Liz that Clay and Shelli were trying really hard for me to go talk to James last night. They were sad and begging me really hard. They wanted me to tell him that Shelli and Clay would throw the HOH next week. Austin says that James said that he was keeping the nominations the same. It was very awkward. Big Brother calls Austin out for not having his mic on. Austin says good night. Liz laughs and says good night motherf**kers!
Storage room – Clay runs into James and asks are you going to give me a yes or no? James says its a toss up.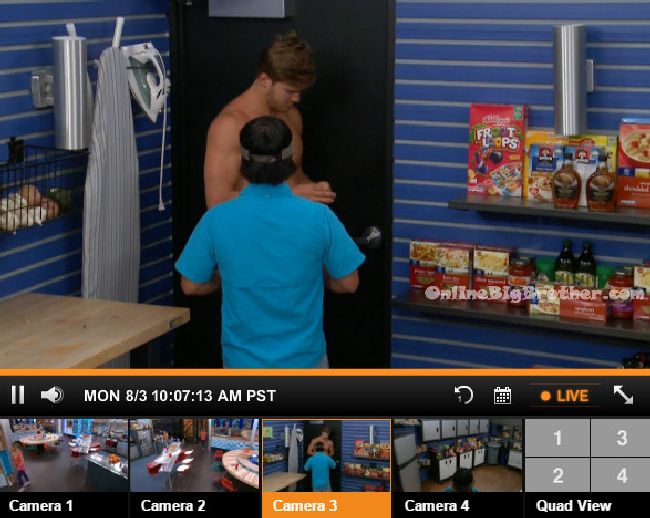 10:15am – 10:35am James tells Johnny how he was up till like 5:30am (More like 7:30am) trying to get to the bottom of the shenanigans. Johnny asks do you know what you're going to do? James says yeah. The more I investigate the more I find out. Johnny says you don't have to tell me anything. I'll find out at the meeting. Clay and Shelli made a mistake but do the people they were rolling with deserve to be up there as well. The whole thing is they want to work with me now but I thought we were working together. They left me in the dark. Come to find out they were all rolling together for weeks. James says no matter which decision either one will have a negative outcome. Johnny says yeah every decision we all make will have a negative outcome. Problem is we have to send someone home or quit. Not everyone is going to have done something. James says they would have had a better chance telling me all this before than waiting until right before the veto. Austin joins them and the conversation ends. James tells Austin that they came to him trying to save their lives but as far as what we talked about everything is good. Austin says okay thanks. James leaves. Austin says this sucks. Johnny says don't freak out because it sounds like stuff is going on. Austin says he doesn't want to get blood on his hands. Johnny says you have to. If I knew everyone was coming after my crew I wouldn't care! You could be as clean as you want people are still going to come after you. No matter what you do. Austin says that's true. Johnny says just make it count. I really think they had our backs man. Austin says I know I think so too. Should I talk to them one more time? Johnny says its not our fight. Austin says Its just sad you know. I want to help some how at this point. Johnny says everyone tries to involve you in their problems but you have to step back and say this doesn't involve me, you know?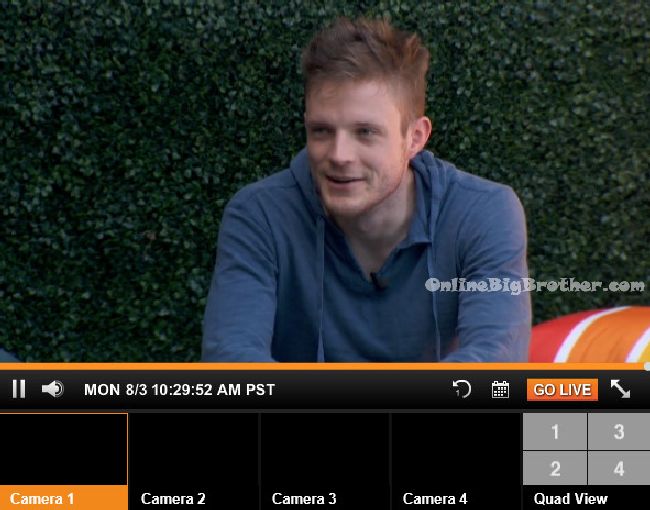 10:40am – 11:55am Backyard – James tells Austin that SHelli and Clay told me a lot of things last night but I just want to know that we don't have any grudges going forward. Like when Liz put me up. Austin says you were never the target though. James says they told me you told Liz to put me up. Austin says that wasn't the case and that's why I came down to tell you. They kept wanting me to come up and talk to you and Liz didn't want me to. I'm trying to be helpful and .. James says the thing I got is that you owe them because of their votes. Austin says I owe a lot of people. Now its a new game and everything's been reset. James says that's what I thought too and just wanted to clear the air. I meant everything I said. James says I like you and you have never done me wrong. James says I don't know how Shelli is going to react. They might be cool or they might go on the war path. Austin says I'm ready for it. James says you me and Clay/Shelli had a good understanding that we would relay info back and forth but it was pretty much just me reciprocating it. I can't fault you for it, I can't fault Vanessa for it. Austin says they say they have my back but do they really. James asks other than them voting or you what else have they done to help you out. James says you've got a good team rallied around you .. Meg and Jackie will go to bat for you. Not sure about Becky but she is close with Jackie. James says the only one you might have to worry about is Clay. I don't know how he is going to act when Shelli goes home. Maybe we can smooth it out with him after 2, 3 days after she's gone. Jame says I have no quarrels with you. Austin says after this week I owe you.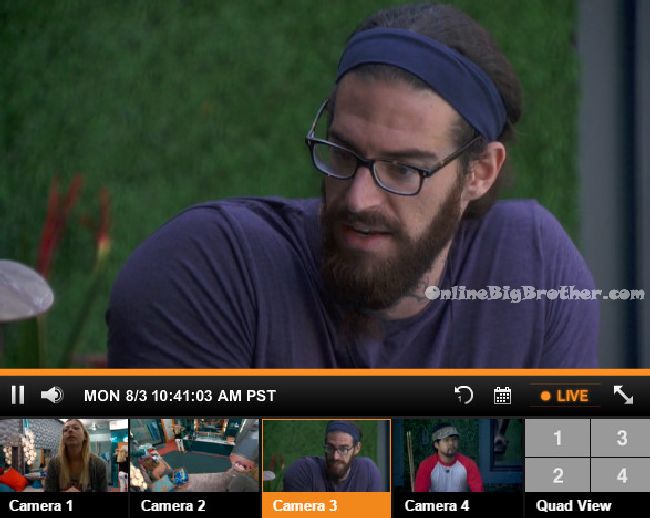 Havenot room – Austin tells Liz the conversation he had with James. He tells Liz that they (Shelli & Clay) hinted that we've all been working together for a while now. Austin tells the nominations are staying the same. They're (Shelli and Clay are going crazy.
In the bathroom – Meg tells Shelli that the Austin things we kind of expected and it was just too little too late. Shelli says I just wish I never said any of that now. Shelli so I got pushed into going against myself. That's what I have to live with. Duped into being someone I'm not. Meg says I think you were mixed with the wrong things, set up a little bit by people. Shelli leaves to lie in bed with Clay. She tells him she wish she hadn't said anything at all and feels she was duped by both sides of the house. Meg joins them. Shelli says what I don't understand is why he (James) had to go talk with Austin. Meg says I swear to you that I did not know that. I would never tell anyone what happened in that room last night. Shelli asks why does he have to tell them. Meg says I don't know why he would. We were all on the same page about that. It would be no benefit to tell that information. Clay says there are going to be some words exchanged! Shelli asks with who. CLay says James! Shelli says I don't know if he did. Stop! Shelli says James might have been saying something totally different, please do not explode. Vanessa joins them. Shelli asks if Austin knows? Vanessa says if he does it didn't come from me. Shelli says I just wish I had never done that. Vanessa says tell me everything you told him and I will do as much damage control as I can. Vanessa says I can tell you that Austin isn't a vindictive person. Shelli asks should I come clean to Ausitn? Vanessa says absolutely because James is going to use it to divide us. We don't want to make an enemy out of 3 people.
Bathroom – Meg tells Shelli and Clay are pissed because they just saw you talking to Austin. James says that's their f**king paranoia that got them there in the first place.
11:20am Big Brother blocks the feeds for the veto ceremony.
[polldaddy poll=9004995]