POV Holder:
James
Next POV
Aug 1st
POV Used
?
POV Ceremony
Aug 2nd
HOH
James
Next HOH
Aug 6th
Original Nominations:
Shelli and Clay
Current Nominations:
?
Have Nots
Austin, Liz, Julia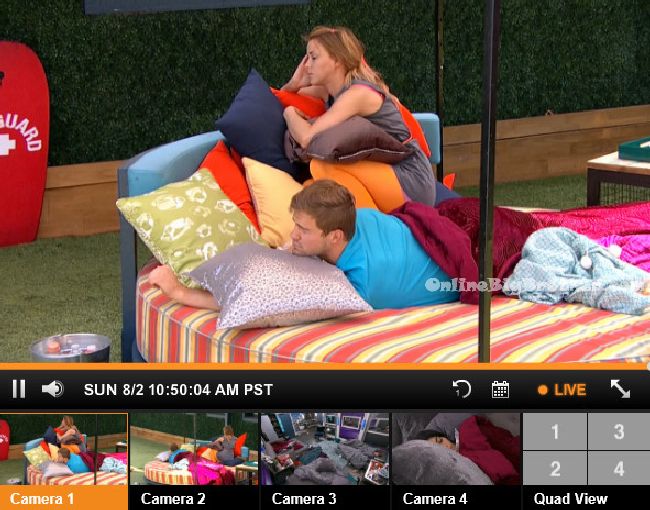 TRY the Big Brother 17 Live Feeds FREE for 1 WEEK:
Click here to ensure your live feed subscription supports OnlineBigBrother.com at no extra cost to you.
9:30am – 10:30am Big Brother wakes up the house guests. The house guests continue to sleep…
10:50am Shelli wakes up and says that she's irritated that no matter what she does the cameras are on her. I need some sunglasses. Clay asks do you want to get started? Shelli says she wants to know what time it is, get some sunglasses and enjoy her porta potty. Clay says whatever you want I'll get it. Shelli says I hate my morning voice right now. Clay says I like it, MMmmmm.. I like it! its so raspy. It sounds like a man. I like it when a man talks to me like that! Shelli says stop it. That's so weird.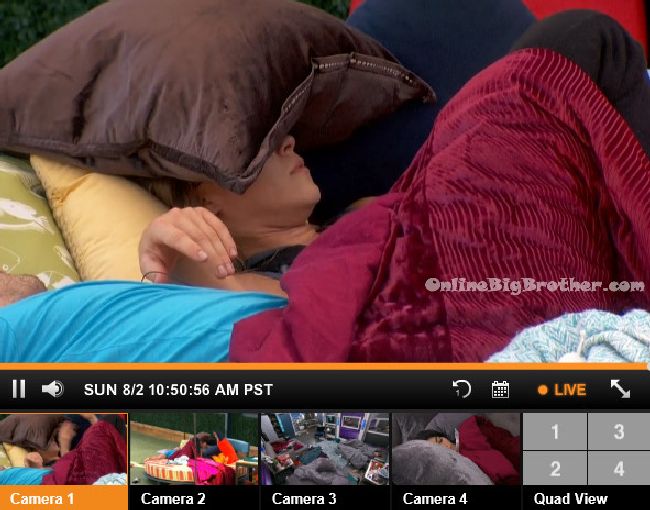 Big Brother tells Vanessa "Shine that armour squire! Vanessa puts in a valiant effort to shine the armour and Big Brother says good job squire!
Big Brother "Good job squire!" @bigbspoilers #bb17 pic.twitter.com/Kb45wrKV1O

— Dawg (@DawgsBigBrother) August 2, 2015
11am – 12:15pm Backyard – Shelli starts her Stab, Clop, Slash routine again.. She's at 1607 and needs to get to 2400 before the 24 hour mark is up. (It started at 9:30pm last night.) Clay asks her if she has any embarrassing stories from high school. Shelli says that she's too tired to think and talk. Johnny comes out and asks where Shelli's at? Shelli says not high enough … 1650.
Clay tells Shelli "I'll make a deal with you .. if you finish this I'll take you to Ireland."
Meg joins them and sees where Shelli is at and says at least you know you'll make it.
Clay tells Shelli "After 13-14 hours you still look good."
11:45am Shelli reaches 1700.
Try the Live Feeds FREE for 7 DAYS! Click here for your: FREE Trial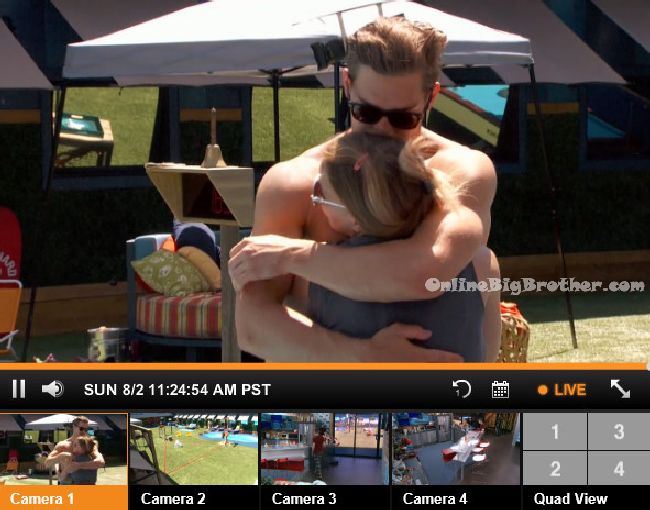 12:35pm Clays tells Shelli that anther reason they wouldn't use the veto is that they could argument that there might not be another option to get one of us out so they're going to take it now. So that's why I say.. big brother blocks the feeds. Just to put them at ease. You saying that you could put up Becky might make them okay with that. Shelli says yeah.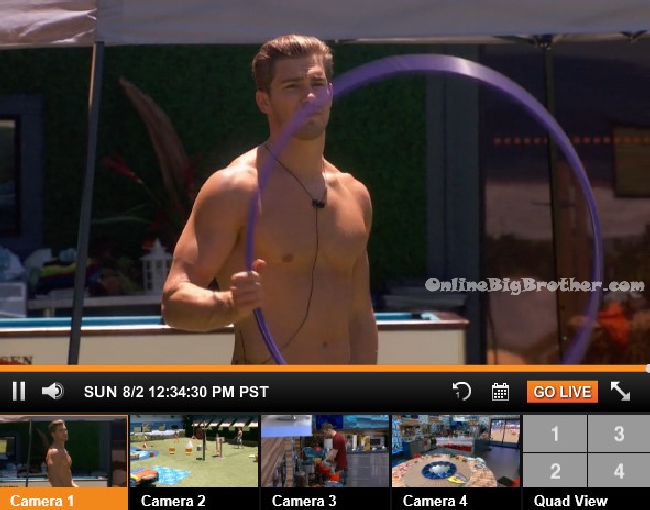 1pm Bedroom – Steve talks to Vanessa. Vanessa asks how Shelli is doing. Steve says tired and hot. Vanessa suggests maybe she needs a bucket of cold water. Vanessa comments on how brutal the punishments are this year. Steve and Vanessa talk about how this is the biggest cast ever with 17 people. Steve says that he was so far out of his comfort zone.
1pm – 1:45pm Shelli takes a cereal break.. Shelli tells Clay that it disgusts her how many opportunities he will get outside of the house. You're 23 and have already done so much. Clay asks why? Shelli says I'm scared you're going to change. Clay says my mom wouldn't let that. (LOL) You'll have just as many opportunities as I will. Shelli says no I'm old news. It makes a difference how old you are. Clay says I've already sacrificed my own game. Shelli says I wish you wouldn't. Clay says I already have. I wouldn't do that for someone I didn't care about. I'm a realist I wouldn't do it unless I thought you didn't have a better shot than I did. You're better at the comps. You've proven you can win. That's why they want you out. If one of us does leave that target is so much smaller. Clay says if they save us this week .. we could even volunteer to go up. The chances of them winning are so slim. It just shows we're not a threat to them. I'm almost so positive they're not going to win. I'm willing to take that risk to say that. I'm telling you if I stay and you leave I'm going to be a loose cannon by choice. I will let it know that some people better win every single challenge or their a$$ is going up on my end. Shelli starts back at her chopping and stabbing..
Clay tells Shelli it doesn't go unnoticed how well she's handling this punishment.

2pm Shelli reaches 2000 of the 2400 goal. Shelli takes a break. Shelli, Clay and Becky lay on the lounge chairs in the shade.
2:10pm – 2:25pm Jackie takes a shower but has to keep the helmet on if she's not washing her hair.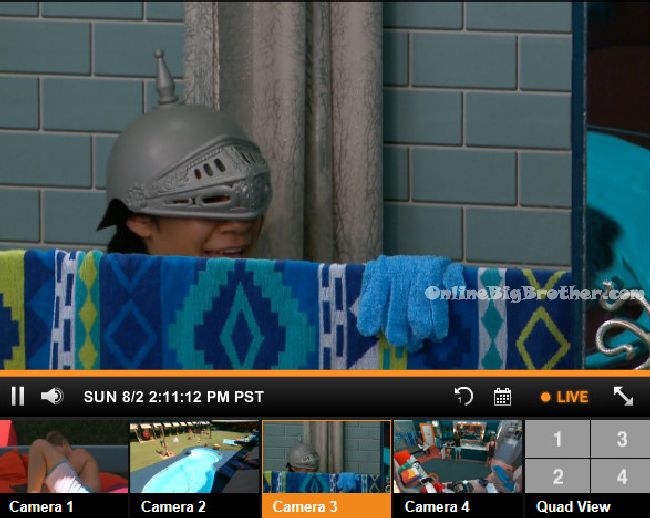 [polldaddy poll=9004995]