POV Holder:
James
Next POV
Aug 1st
POV Used
?
POV Ceremony
Aug 2nd
HOH
James
Next HOH
Aug 6th
Original Nominations:
Shelli and Clay
Current Nominations:
?
Have Nots
Austin, Liz, Julia
TRY the Big Brother 17 Live Feeds FREE for 1 WEEK:
Click here to ensure your live feed subscription supports OnlineBigBrother.com at no extra cost to you.
1:30am Liz comes out of the diary room with a big brother card and says House guests your friends on the live feeds want you to play spin the bottle. James says finally! I say even if its a guy you have to kiss them!! Austin says I'll just spin it to who I want it to be on. James says me too. I'll spin it to Liz and you'll spin it to Meg. James says if it lands on you we're going to have to kiss! Liz says yeah what if you land on Julia… Oh hell no!! Shelli hits 700 and does a round through the house with the ringing the bell. LIz says if you don't want to kiss someone then kiss them on the cheeks. Clay says I haven't even gotten one from her yet! Meg says that Shelli is the squirrel (head) and who ever lands on it will come over and kiss you.
Jackie and Becky kiss @bigbspoilers #bb17 pic.twitter.com/xBuzKTThJb

— Dawg (@DawgsBigBrother) August 2, 2015
Johnny MAC & Jackie KISS @bigbspoilers #BB17 pic.twitter.com/1t4NJUsc5w

— Dawg (@DawgsBigBrother) August 2, 2015
James
kisses Steve on the cheek
James kisses Jackie
Austin kisses Liz
Steve kisses Jackie
Clay and Shelli KISS @bigbspoilers #bb17 pic.twitter.com/3z2z19eDFB

— Dawg (@DawgsBigBrother) August 2, 2015
Steve and Meg KISS @bigbspoilers #bb17 pic.twitter.com/NTukpY5jK1

— Dawg (@DawgsBigBrother) August 2, 2015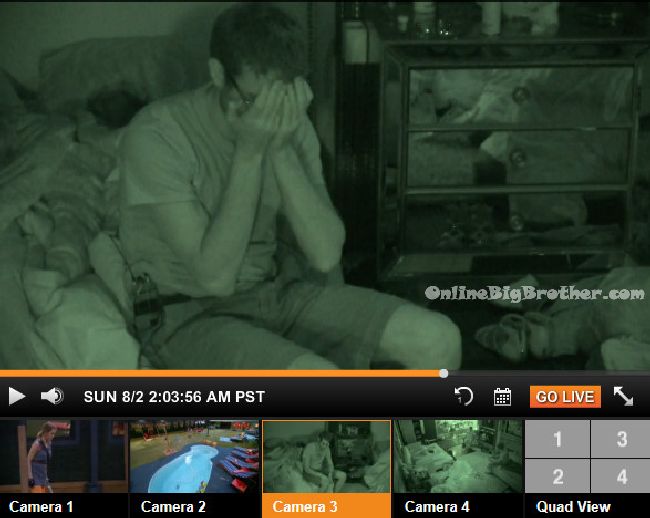 2am – 2:20am Bedroom – Steve tells Vanessa that tonight would have been his 6th and 7th kiss ever. Steve says that was not Clelli's first kiss? Do you think it was!? (Yes that was their very first kiss not on the cheek) Vanessa says it was definitely Liztins. (Nope this was their first kiss when Austin ambushed Liz). James congratulates Steve on his 3 kisses. Steve says I've never kissed a guy. James says yeah that was a little intense. Steve says I thought I was going to have my first kisses in college and not in the big brother house. Jackie says I wish we had alcohol though. Steve says this was a much bigger deal to me than anyone else. Its just to me I've been so sheltered that I've never done something like that before. Vanessa says but its good for you. Big Brother says shine that armour squire! Vanessa says that she couldn't do it because it would have been disrespectful to her girlfriend. Steve comments that Vanessa, Austin and DaVonne were the only people walking into the house with a relationship. Steve says he wants a relationship like that. Vanessa tells Steve he needs to sow his wild oats first. Steve says I don't know what that means. Vanessa says experiment a little, grow, live a little. You don't want to get into a relationship like I'm in until you've had more casual experiences. Steve says define casual experiences. Vanessa says go on dates with different girls. Vanessa says I feel like you have to go to a strip club or something. You need to break the seal. Jackie comments on how she kissed the whole house tonight. If I didn't think this day could get any weirder. James says you're a good kisser Jackie. James comments on how Steve wouldn't kiss him on the lips. James says we're going to break Steve out of his shell. Steve says I was broken out of my shell tonight. James says we just scratched the surface. Steve asks what more do you want to do?! What would be under the surface James says going in for a real kiss, then tongue action, then nibble on her ear, neck, then soft caress kisses. Steve asks how red am I?! James says that's just scratching the surface Steve and then you've got to slam her. Steve asks may I quote my fraternity? He's just going to thrash her right in the pu$$y! Vanessa says see that's what makes me wonder about you when you drop the p word. Jackie says I think thrash is scarier word!
FLASHBACK to watch everything you missed: Big Brother 17 Live Feed FREE Trial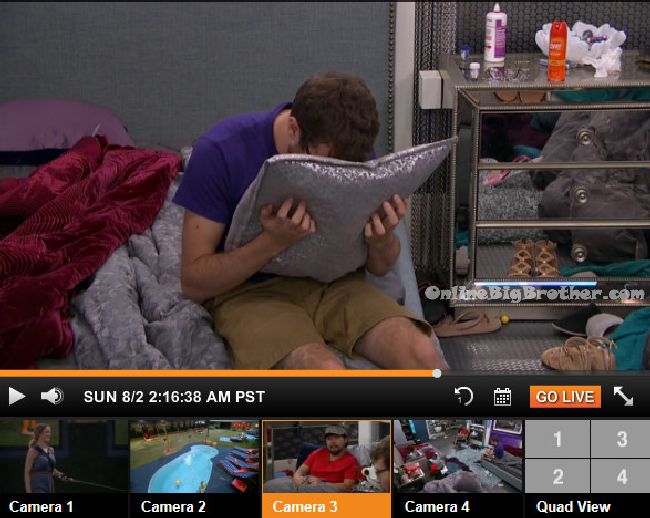 3:10am – 3:30am Shelli reaches 1000!!! Liz, Julia, Austin, Becky and Steve are all dressed up and do a parade through the house with Shelli as she rings the bell. After Shelli gets right back to her swing, stab, chop routine. At 3:13am the pole for the chopping one breaks. Becky runs to get the first aid kit to fix it. They try to fix it but it breaks again after 3:30am.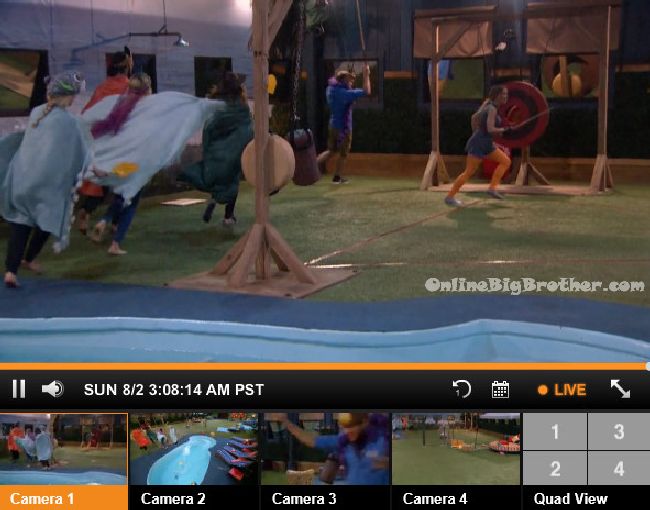 3:35am – 3:50am Big Brother blocks the feeds to fix the rod. The feeds return to Shelli continuing her routine.
3:50am – 4:05am In the bathroom – The feeds return to Clay and Liz in mid conversation. Clay is talking to Liz. Clay says he never said names but said that he would target us out of the house. Clay says the only person that doesn't want blood on his hands is Steve. Clay says would you rather Steve go home and not into jury or have Clay and Shelli here who will always be a target. Liz says Shelli needs to get this sh*t done tonight so she can talk to him (James) tomorrow. It was bad f**king timing, let me tell you! Clay says I know but the later we talk to him the better. We will talk to him tomorrow for sure. Clay says say that Clay and Shelli are alone, they aren't with anybody. Liz says Vanessa is with Jackie so she can't go up there and scheme. Clay says say that Steve did want you (James) out of the house a little while back and his comps are going to start coming up. Clay says hopefully ya'll talk to him be before we do so it will already be in his head. Clay says Next week will be double eviction and they won't win it. Austin joins them. Clay says we have a shot at him using it. That's all we've got. Its our last hope. Clay leaves. Liz tells Austin the Clay is going to go up and throw Steve under the bus. Telling James that Steve is coming after them. Austin says that's not going to work. The problem is Steve never says anything about anyone. It will look fishy. I think the best strategy is to tell James about Becky selling them out. But that won't work either because that will show we're all working together. Clay joins them. Clay says if James brings up Steve you can tell him he is coming after them. Clay says that they can tell James that Steve is the biggest threat at this point in the game because memory competitions are coming up. Steve said that he's going after that side. If it doesn't present itself then don't do it. Don't try to talk to him unless he comes to you. Clay leaves. Austin says well sh*t that's easier that we don't have to do it unless he comes to us. Austin says its not going to work. One of them are still going to go. I'm just worried he is going to tell us which one will go. Vanessa says we shouldn't do what he (James) says. Liz says James wants us to vote with him. He wants Shelli to go. Austin asks Do we do that? Liz says I don't know.
4:18am – 4:30am Shelli makes it to 1200. Shelli starts ringing the bell through the house. She tells Clay his kingdom is safe. Austin and the twins then do a half time show for Shelli making it to 1200 out of 2400. Shelli says it took me at least 6 hours to get half way. So I've got another 6 hours to go and that's with no sleep, and trying to do it in the sun.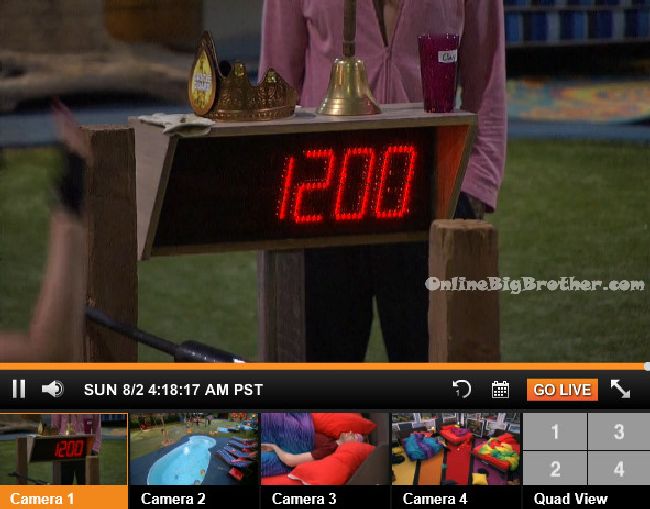 AUS-TWINs half time show for Shelli making it to 1200 @bigbspoilers #bb17 pic.twitter.com/v7VcL135V2

— Dawg (@DawgsBigBrother) August 2, 2015
4:40am Havenot room – Liz fills Julia in on how Clay wants them to mention to James that Steve is coming after him if he asks them. Liz says we don't want to do it though because we don't want it to look like we're working together.
4:45am – 5am Backyard – Clay tells Shelli and that he was in the office and asked Becky and everyone else if they were on board with backdooring Steve and voting for us to stay. Everyone is on board with it. Steve comes out and reiterates that he is staying up all night with Shelli to support her doing her thing. He said that he promised himself last year when Brittney had to do it .. that if he was in here he would stay up all night. Clay, Shelli and Becky tell him he doesn't need to stay up all night. Steve says he's still going to do it. Steve leaves. Shelli asks Becky do you think there is any possibility James will put up Steve? Becky says she isn't sure. James is sweating bullets which ever one of you stays will be gunning after him. James has been asking people if they'll take out the other one (Shelli or Clay) during double eviction. If you give James a really good deal that you're not gunning after him, then he might do it. Clay says he gave us his word and then broke it .. now he feels like sh*t .. so how will he believe that we would keep a deal with him? Becky says she's not sure. Steve joins them again. Becky heads to bed.
Steve says he had his first cry in the diary room the other day. Shelli and Clay asks what happened? Steve says I'm nervous about how long this is.. I just want to talk to my mom! I would do anything for a phone call.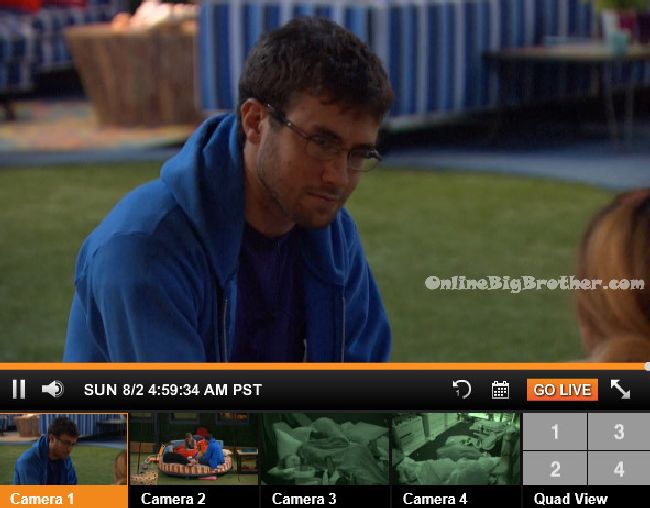 5:05am – 5:30am Becky comes back and asks Steve if she can talk to SHelli & CLay. Steve says sure and leaves. Becky tells Shelli that James wasn't super tied to the contract because it was obvious you were about to fall. Becky says James is NERVOUS about double eviction.. that is your edge. Shelli asks but why then would he keep both of us? Becky says I don't know. Clay says we'll make a deal with him to work with him and not go after him. Clay says if you vote one of us out you won't get our jury vote. If you keep us you will get both of our jury votes. Becky says that's a good angle. Becky tells them James' group never even considered anyone else. Becky tells them that they were always the target. Becky says if James does go for it don't believe it if you (Shelli) are still on the block. They still might flip in that last 24 hours. Becky tells them that they (James, Meg, Jackie) have no idea where Johnny Mac's loyalties lie. Shelli says just as a side note you and Johnny are so good with us. Becky tells them how they're good with her and how she just talks with the other side to get info. Becky says that Vanessa is good at being a chameleon, she can be friends with anyone she needs to that week. Becky says Vanessa doesn't only blend in with groups, she has a hand in their game. She has a heavy influence. Becky heads to bed. Shelli says poor Steve. Clay says I know I hate doing this to him. Shelli says I love her (Becky) and Johnny .. I want to marry them. Steve joins them again. Steve tells Shelli to go get her sword.

5:30am – 5:45am
Shelli starts her sword routine again…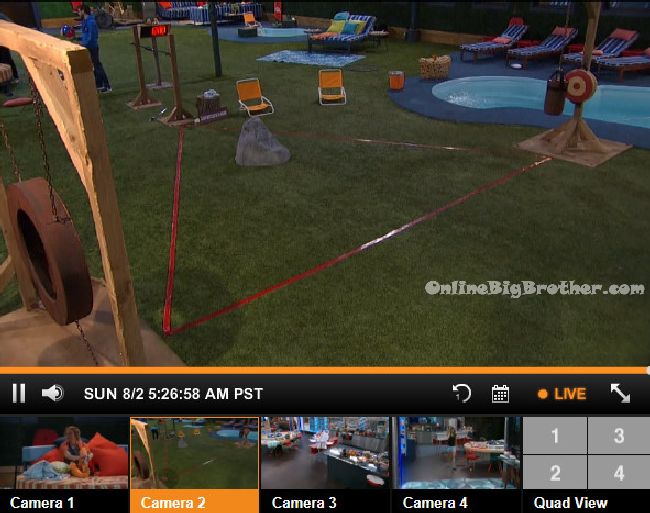 8:20am Shelli completes 1600. She only has 800 more to go.

Nap time…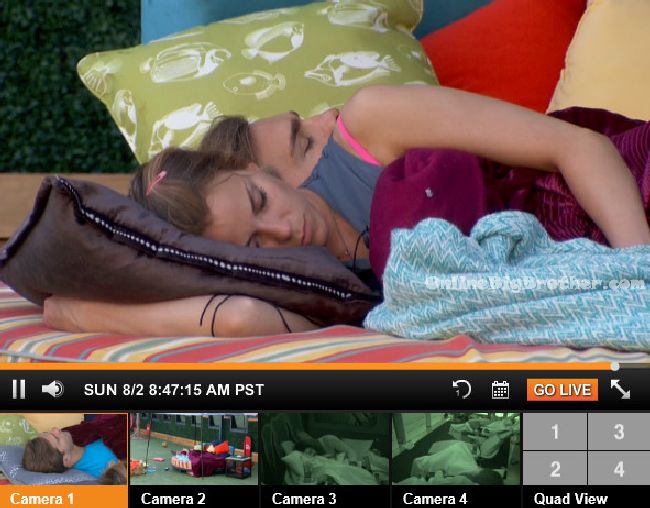 9:30am – 10:35am Big Brother wakes up the house guests. All of the house guests go back to sleep…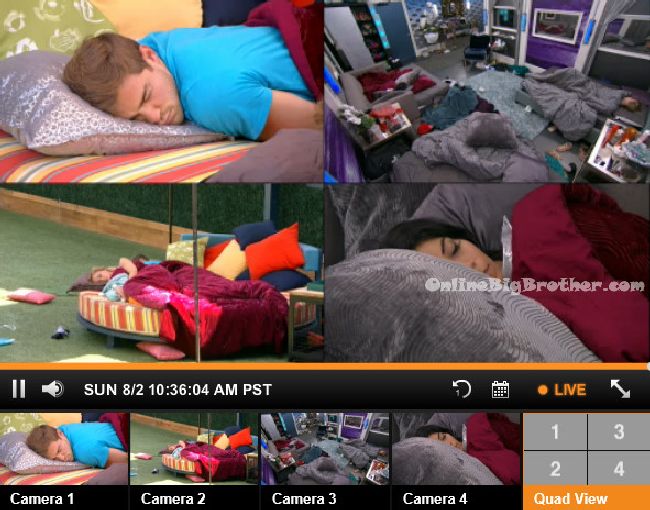 [polldaddy poll=9004995]