POV Holder:
James
Next POV
Aug 1st
POV Used
?
POV Ceremony
Aug 2nd
HOH
James
Next HOH
Aug 6th
Original Nominations:
Shelli and Clay
After POV Nominations:
?
Have Nots
Austin, Liz, Julia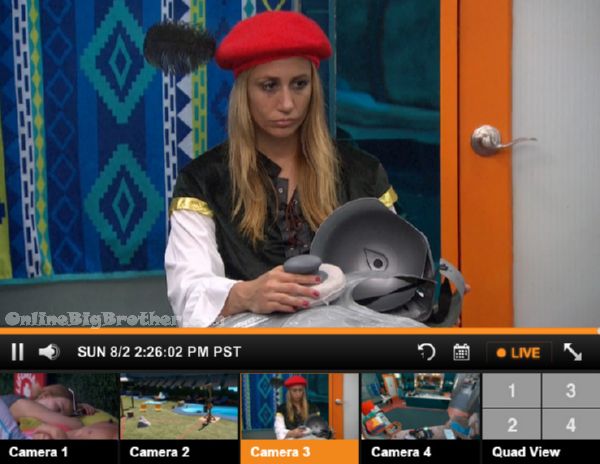 2:27pm Vanessa shines Jackie's armour while Jackie takes a sh1t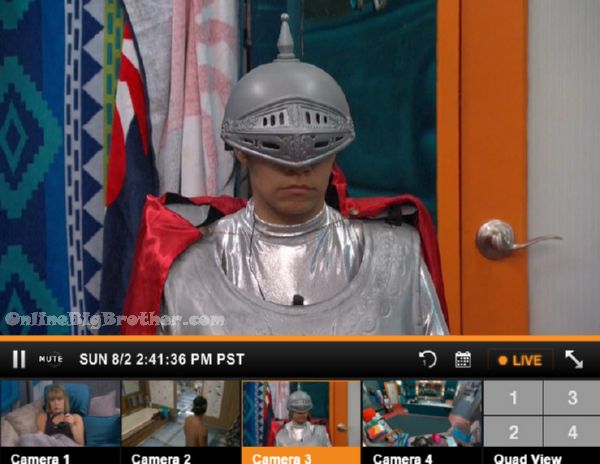 2:41pm jackie stands guard as Vanessa showers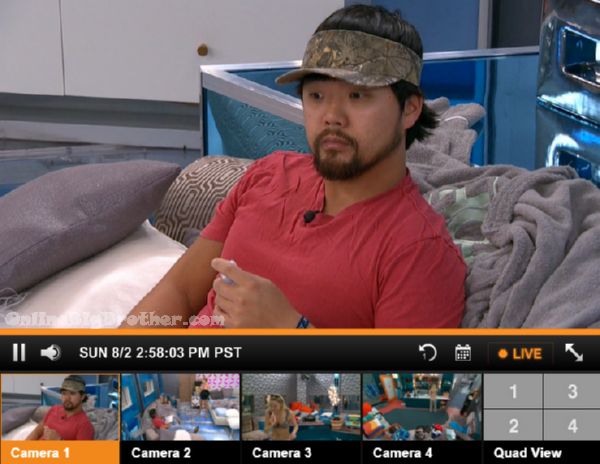 2:41pm HOH James and Meg
Meg saying Shelli has done 2000 battles she's exhausted and is taking a nap.
James- when's the veto ceremony
Meg – tomorrow
James brings up Vanessa asking him if he's keeping the noms the same
Meg – she thinks you are going to back door her
James – Shelli was the brains of Clay
Meg – Hopefully we have the votes for it, we need two more for sure
James – how many do we need 5, You, Jackie, Becky, Liz.. You're having doubts about Liz
Meg – not doubts..
James- they said they are fully onboard
Meg – ya they probably will be
JAmes- Liz and Julia have been primary supporters of Shelli
meg – Just recently.. I've never seen them interact in the house
Meg – I feel like JMAC will keep clay
James- ya, the whole thing I don't want to do is steer off the plan.. that's why we get mad at people for changing plans
Meg – I think it's a good plan still
James- the whole thing to get the couple out .. go from there..
Meg – I've been thinking of next week
James- what do you mean
Meg – if it's a double eviction you use that opportunity to take out a big target
Meg wonder if it'll be smart to take out Austin and the twins. They need four votes, "WE have Becky and Jackie on our side"
James – where will Clay lay after the dust settles..
They agree Clay will be close to Meg. Meg thinks Clay is pissed off at Vanessa
Meg asks Him if she wins Veto can she be the renomination. James say no.
James wonders if the twins will got after Steve if they won.
Meg thinks they should make it clear to Austin and the twins they want to work with them.
James doesn't think it'll be hard to get them out in the late game because they are not good at comps.
James says Meg has a really good chance to beat the twins in Competition. Meg agrees she's got a better chance vs the twins than Clay and Shelli. James hasn't seen much of Austin in the competitions.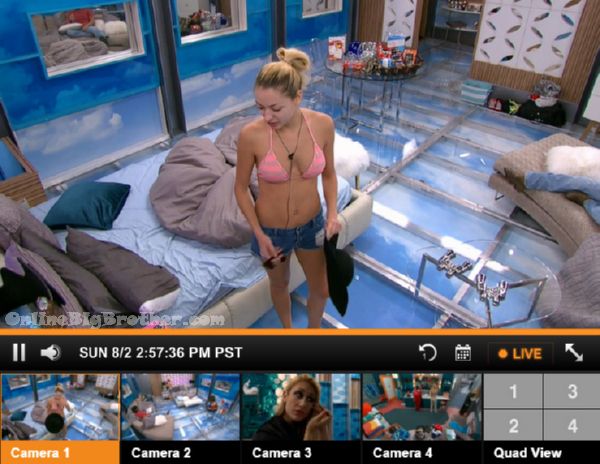 Liz joins them.
Liz says Clay came down to her and told her to vote to Keep Shelli
Meg – he said the same thing to me but now he's been making it a point coming up and saying PLease don't tell anyone I said that to you
Meg – I'm sorry we have to look at this game wise and Shelli has won 3 HOH's, Clay will be easier.
James – Shelli is the brains without Shelli… she's been running his game
Liz – word on the street they are going to come up here and try and get Steve backdoored.
Liz explains shelli and Clay will come up here and tell them the memory competitions are coming up and they have to get rid of Steve because he'll dominate them.
Meg – those comps are later anyways they're will be plenty of chances to get steve out.
Liz says it was crazy that James took the POC over Money.
Jame s- I told Austin I wasn't going to put y'all up
liz – you're a man that sticks to his word you could have taken Ireland and 5 thousands dollars.
Meg wants them to have a plan going into the double eviction.
Liz says she's going to starts Jedi Drilling.
Liz – I told you we would vote with you just tell us your agenda
Liz and Meg comment on Clay being a "baby" only 23 and Shelli is old at 33. They thinks If Shelli knows Clay is throwing away his game she's being selfish. James wonders what Clay's family is thinking since like them all Clay sacrificed so much to be on the show.
Liz says Clay and Shelli will tell him exactly what he'll want to hear. She believes if they stay this week they will come after James' side regardless.
Liz says Shelli and Clay suck up to whoever is in power says Vanessa won 2 HOH's and she's been buddy buddy with her.
[envira-gallery id="125684″]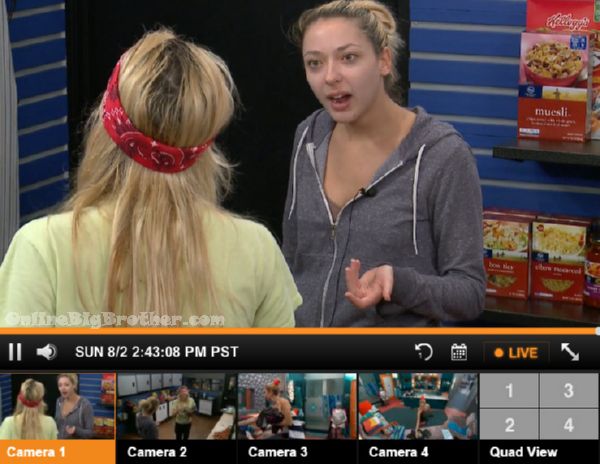 2:42pm Liz and Julia
Liz says Austin farted and denied it then put her hands on her, "Just admitted you farted bro.. I smelled the rotten eggs"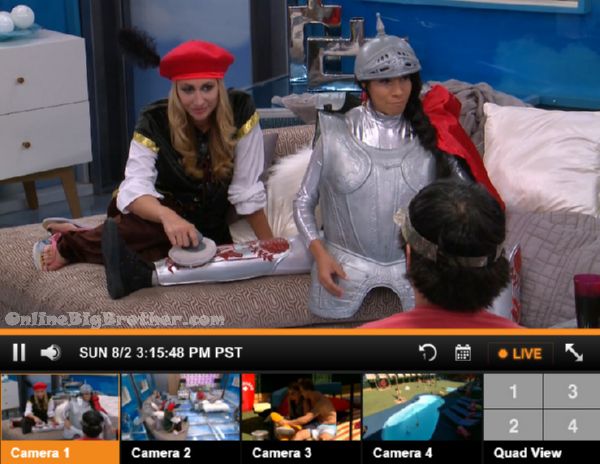 3:14pm James and Meg HOH
Meg – We gotta be good with Austin and the twins
James – that's 3 f***g votes
Meg – As long as they don't think we're coming after them they won't come after us
Meg – the one person we'll lose is Becky..
Meg – We'll have Steve, Clay Johnny Mac (To get out)
James is worried if Steve wins the HOH
Meg says Vanessa will run Steve's HOH, "Vanessa will start to attack the Austin group before us"
James agrees says She's already threw a shot at them
Meg – they've stopped talking game.
Jackie and Vanessa joins them…
Jackie laughing says she can't talk any game with the punishment because nobody will take her seriously.
Becky joins them in the HOH… CHit chat …..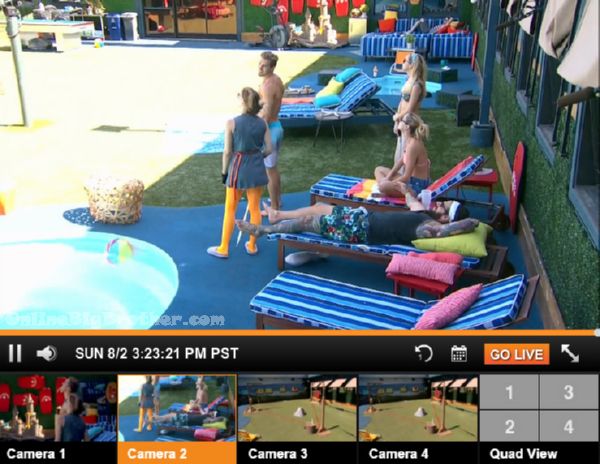 3:20pm Honeycuttz, Liz, Austin
(Shelli is finishing up the battles)
They're about about Still controlling the votes this week.
Liz – Meg was staying,., She thinks you want to go over Shelli..
Liz – James wants to keep you over Shelli
Clay – I know he does
Liz – really sticky situation they see her more as a threat she's won a lot
LiIz – Oh my God I love you
Liz – OH MY GOD
Austin – don't bring attention
Liz – With a heart..
Shelli – what in the world
Liz – Shelli.. Oh my god
Austin – Clay you pay for that
Clay turns around and smiles
Feeds cut
(It said "I Love you heart S")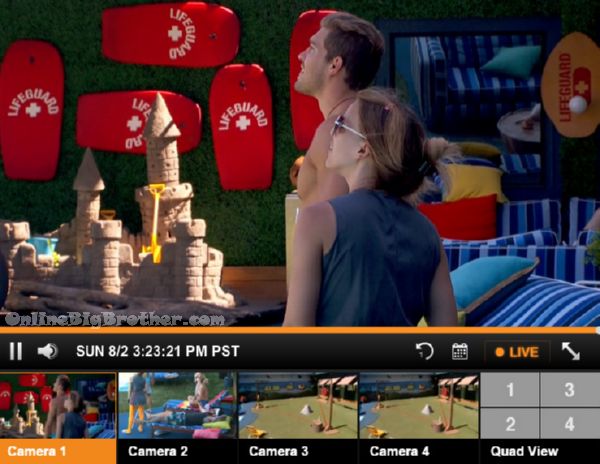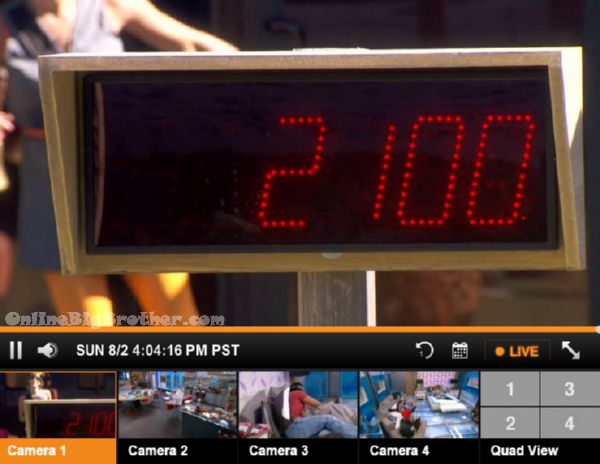 4:04pm 2100 done 300 more to go
4:12pm Most of the house is watching Shelli complete her last 300 battles
Shelli asks James if she can have a HOH shower after this. James says certainly it's all hers.
[envira-gallery id="125695″]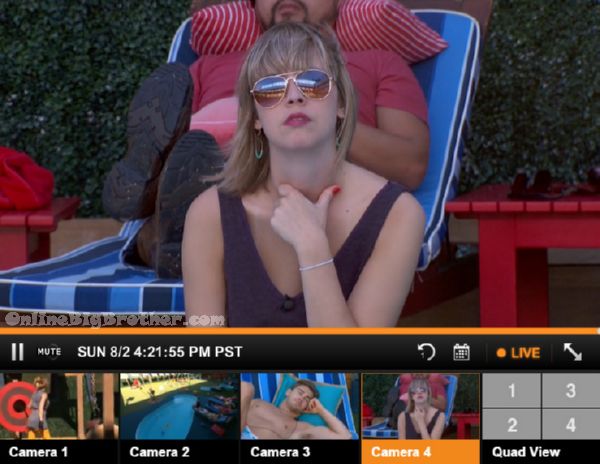 4:21pm
Meg – Punishments are no joke this week
Clay – Looking hot
Shelli – Feeling hot
4:27pm
Meg – Shelli you killed this bro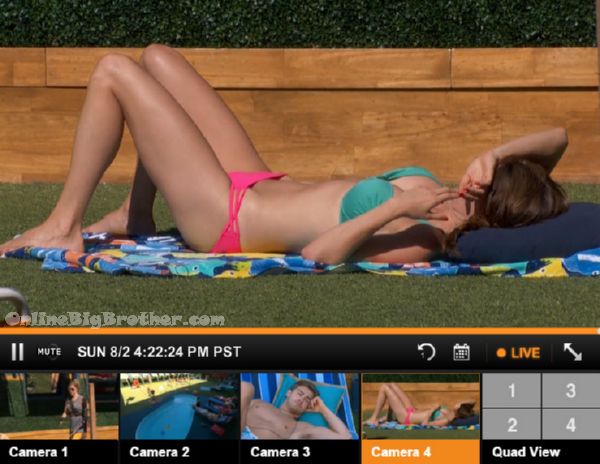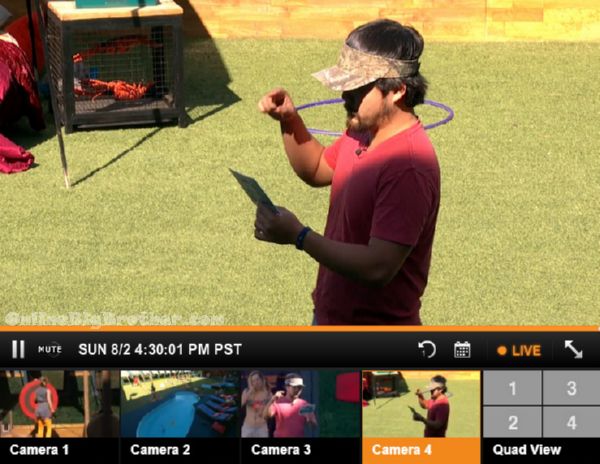 4:30pm James has a note from production
James – Behold Behold to all big brother people…
We want to see you use all four photo booth frames to show us how you can transform from Beauty into beast. In frame one give us your sweetest mug in frames two and three make your pretty face get a little uglier each time the shutter closes. By Frame four you should be in full ugly face beast mode for the live feeders.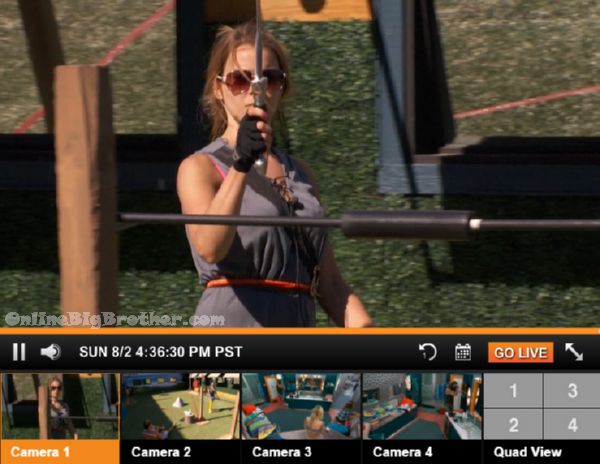 4:34pm Clay and Shelli
Talking about ways they can get Steve nominated this week.
Shelli – the things we do have in our favour is he's afraid..
Clay – he's terrified.
Shelli – we made one mistake.. there's still chance we can mend those bonds together
Clay – we've never done them wrong
Shelli says they have both done each other wrong.. now they can move forward.
Shelli says it makes sense the message would be up there for her because she's been outside all day. They never saw the complete message so are unsure who it was sent to. They just say a S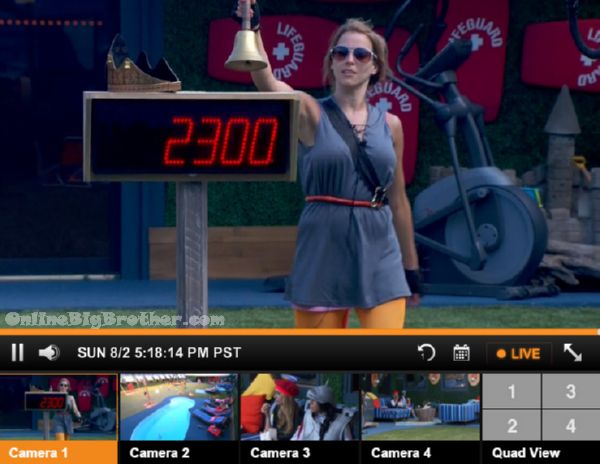 5:18pm
Shelli is done 2300.. just 100 more to go
[polldaddy poll=9004995]