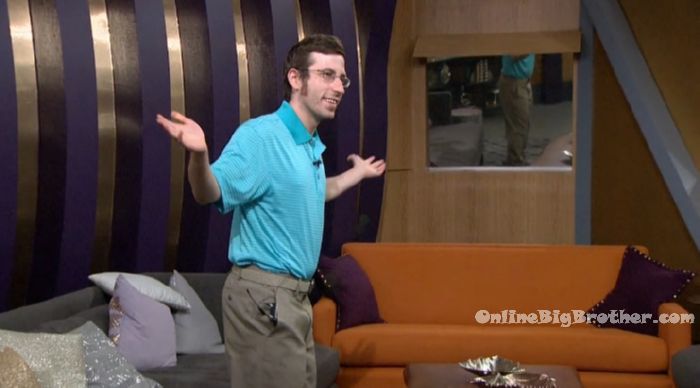 8pm Scott comes out of the diary room wearing a golf shirt and pants. He says they gave him the outfit. He says he has to stand out in the backyard "sand pit" for 24 hours. They ask if he has to go out there right now? Scott – no I have time to grab some water and a snack .. such as pickle. He grabs some water and a pickle and heads out into the backyard. Monte comes out and says dang dude that sucks. It's cold out too. Margan and Alex join them. Morgan – you're going to freeze! She tells him if he needs anything she'll bring it to him. He says he's allowed to layer up.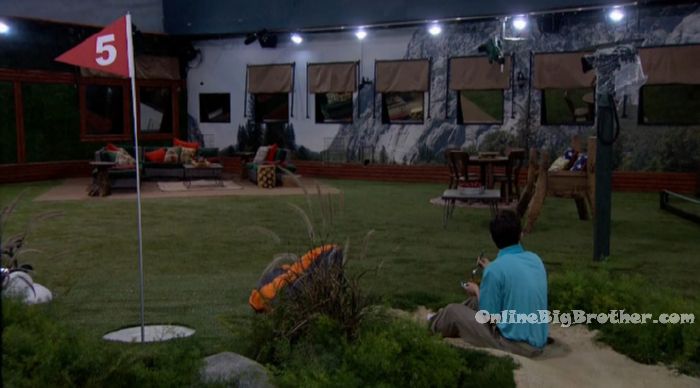 8pm Lounge room – Kryssie, Shane and Monte. Kryssie – numerically the only way you're safe is if Scott goes up. Monte – and I can pretty much count on getting America's vote? Kryssie – yes. I don't think you understand how you comes off. Monte – I don't. I don't want to be viewed as racist and all this other stuff. Kryssie – you come off malicious. And for the record I've been defending your a$$ in the DR about it and I don't have to do it. Monte – I appreciate it and that's another thing I don't want to get out of here and be boo'd and stuff. Kryssie – this is a big house and the people you think you can trust, you can't. Monte says Scott. Monte tells Shane – damn dude I didn't mean to come off like that. I don't know which way is going to go. Shane – you better pray she puts Scott up. Monte – if she doesn't, I'm pretty much gone. If Scott is up – I could get at least one of you to vote Scott. Shane – I would vote Scott out. Shane – Kryssie would vote Scott out too. She doesn't like him after the sh*t he pulled.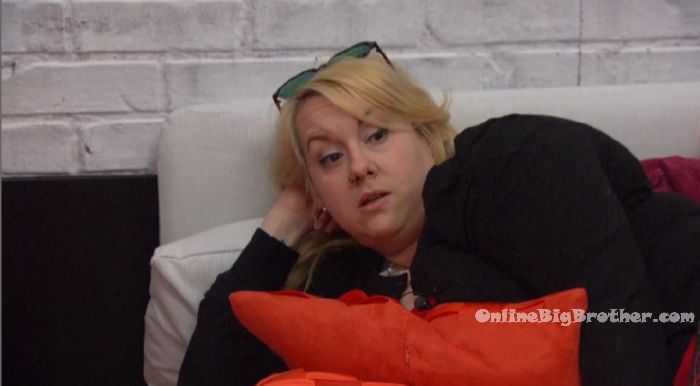 8:30pm Danielle comes out of the diary room in a golf shirt and pants. She says its almost time for my punishment. They gave me a swim suit. I have to strip. I have to get one golf ball every time I go in and I have to get them with my hands. So I have to go all the way under. Big Brother plays "FOUR! with the sound of a ball hitting the water. Danielle strips to the bathing suit. Neeley sings "the golf ball stripping blues.." Danielle gets in the pool to pick up a golf ball from the bottom. They talk about how she has to do this over the next 7 days. Big Brother plays the sound again and Danielle gets back into the pool to recover another ball.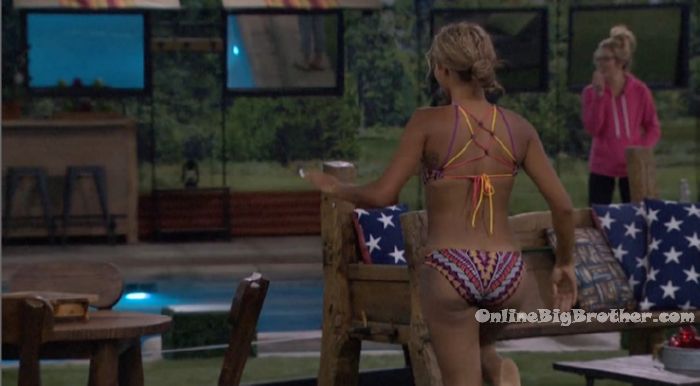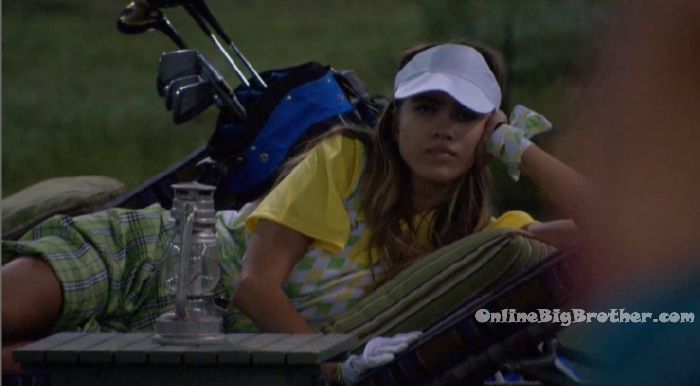 8:50pm HOH room – Monte – Kryssie is scared for her life. Alex – really? Monte – And you promised you wouldn't put her up? Alex – I did. Monte – if you do that Neeley is going to be pissed. I understand Danielle is a big target and if you want to go for her. If you want to put Scott. Shane legit doesn't like him. Alex – is there another option? Monte – Shelby? Kryssie and Shane were like basically Scott has to go. Alex – so putting Kryssie up and tricking Shane isn't a plan anymore? Monte – It can be. Its hard. Shane said he would vote for me if it was just me and Kryssie. When she (Kryssie) was in the room he was like yeah Scott has to go. Monte – The more out of the loop I am with you the better. Kryssie said she would rather I have a chance to stay in the game and redeem myself rather than go out like this. Alex – I wonder if I could convince Kryssie to go up as a pawn to keep you. The two options are trick Shane, which I don't think its much of a possibility because he's super smart. Monte – Justin is going to vote against me, I promise you. He wants my butt gone. At this point I know we want to get rid of Danielle. If I go home, I will take one for the team. I will go up against Danielle. Alex – I just don't want to put up Scott but I don't want to lose you. Monte – for your game it would be better for you to put up Scott. Alex – if I put up Scott .. I am down to two people I can trust here. Monte – maybe it would be better if we get Kryssie out this week. Alex – I did promise Kryssie I wouldn't put her up. I didn't though, I put up Shane and Danielle. I wasn't really serious about it, it was more to shut her up. Monte – I hate it but Scott will be blindsided. Alex – that's not in my character to do. Unless I swing Justin. I need to talk to them. He's told me that he doesn't trust Shane and Danielle. I plan to talk to him and tell him he can vote Danielle out and no one would know. We can blame it on America. Monte – you would have to put up Kryssie or Neeley next to me. Alex – she (Kryssie) really doesn't like you. Monte – then put her up. Screw it, I've got your back. If she's two facing me like that. Alex – Shane is playing everyone .. he is a snake and a liar and would vote you out.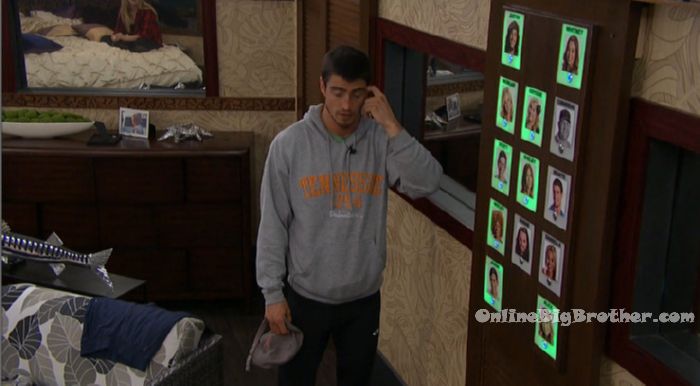 9:10pm HOH room – Monte – if we put Scott up, I am 98% positive I would stay. Neeley would vote out Scott out over me. Shane and Kryssie would too. Kryssie did shoot me straight a little bit. Alex – you need to pull Neeley aside and talk to her. Pull her emotionally. There is not an easy option. Monte – this could all backfire and they all backstab us and I go home. I think Shane would vote Kryssie out. Alex – I don't trust Shane. Let me put my entire faith in someone I just tried to evict. I could threaten Justin too and say if you don't vote with me I will put you up. I almost think putting Scott up is giving them what they want. Monte – at this point I am the most hated guy of the season. Alex – Kryssie is a big player in this game .. she's been safe twice now. Monte – I am telling you Danielle .. I hate that girl. Alex – if she doesn't go out I am in trouble next week. Monte – I am on board and I'm not scared. Putting up Scott is a coward move. I've handled myself with more class than Danielle and Kryssie in the last couple days.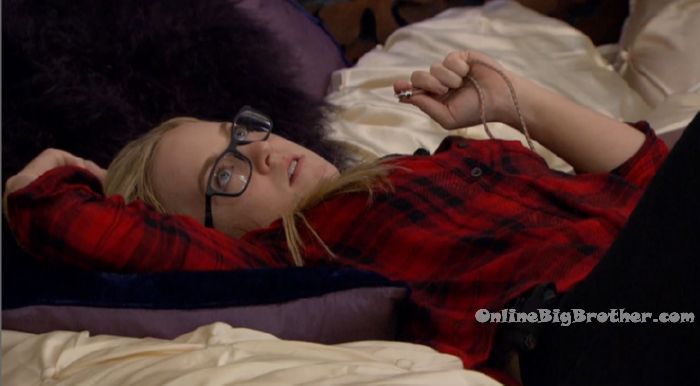 9:40pm HOH room – Morgan, Alex, Shelby and Monte. Monte – Shane still comes up to me and says he's got me. Alex – I'll talk to Justin. Monte – if Danielle leaves, that side will crumble. Morgan and Alex – I know! Shelby – she is the one trying to paint you as the racist. Monte – If I go out I would want to go out trying to get Danielle out. I want to go out swinging. They tell Monte he can't trust Shane will vote to keep him. Shelby – Monte not everyone is as honorable and as trustworthy as you. Morgan – how boring would that be if you get voted out. How boring would that be if that side of the house stays. Shelby – that side of the house doesn't care about Kryssie. Monte – I'll tell Shane that I tried you to put up Scott but you wouldn't and ask him to vote out Kryssie.. when the real target will be Danielle.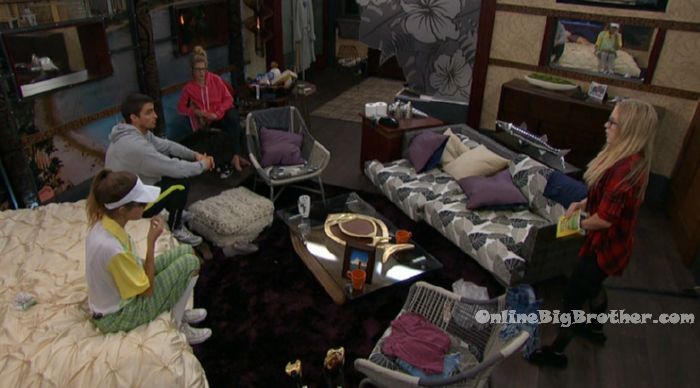 10:45pm HOH room – Jason, Kryssie, Neeley, Shane and Alex. Jason – we would have the votes to get Monte out this week but if you would put up Scott we would vote him out. Alex – its hard for me to know if I did put him up would y'all really vote him out or am I being played. Kryssie – I've heard I might go up? Alex – your name has come up but only as a pawn. Jason – we want to help you not have a target on your back. Alex – so if I put up Scott y'all would not target me? Neeley and Shane tell her they wouldn't. Alex what is your problem with Scott? Shane – he acts like your friend when he's not. Kryssie – he is of no use to anyone in this game. Its already been established that he doesn't care how long he is here. Jason – and Monte will be weaker next week. If we are in power next week Monte would be our target, not you. Kryssie – next week you can't play HOH and if we win, our numbers are bigger. Alex – if you can all look me in the eye and if I put up Scott you will vote him out. Jason – if you do us a favor this week, we would owe you next week. Neeley – he (Scott) isn't going to win anything. Jason – we can guarantee you, you're good. We're the straight shooters in the house. You don't want to hear Scott's name. Alex – he has literally screwed everyone in the house. Neeley – I don't care, if I win HOH next week Shelby is going up. I don't care if its the best strategic move or not. Alex – its nice to know if I put up Scott y'all are on board with it.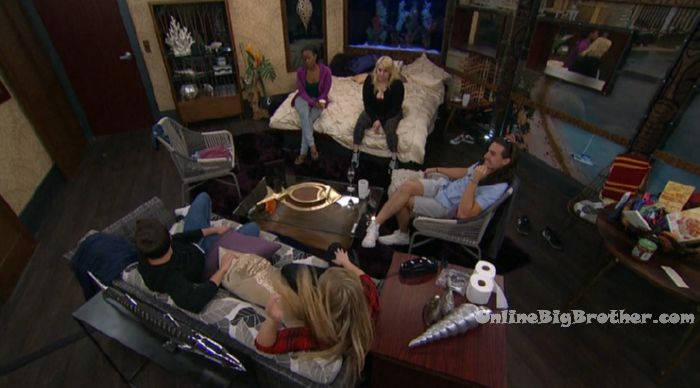 11:25pm Backyard – Jason, Kryssie, Neeley, Shane, Danielle and Justing are talking. Kryssie – I am really getting nervous about her (Alex) putting me back up. Neeley – it wouldn't be smart for her, it would be terrible for her game. She would make way more enemies! Kryssie – did you tell her that? Shane – do you know how terrible it was for her to put me and Danielle up!? Shane – don't tell her .. see if she digs a grave. Kryssie – if she knows, maybe she won't do it. Shane – she shook your hand. Justin – its obvious she (Alex) doesn't want Monte to go home.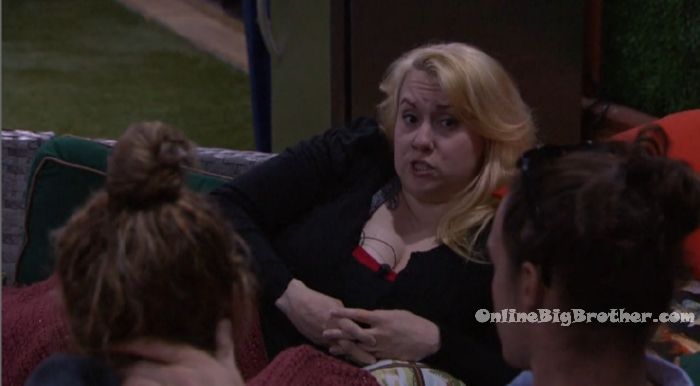 12am Bathroom – Monte talks to Neeley. Monte – I don't know what is going going to happen. I don't want to go out like Cornbread. I would just ask if you could throw a vote for someone else so that I don't go out 8-0 or 9-0. I'm not going to ask anyone else. I know you're a straight shooter. I'm pretty sure America is going to vote for me. Neeley gives him a hug and he leaves the room.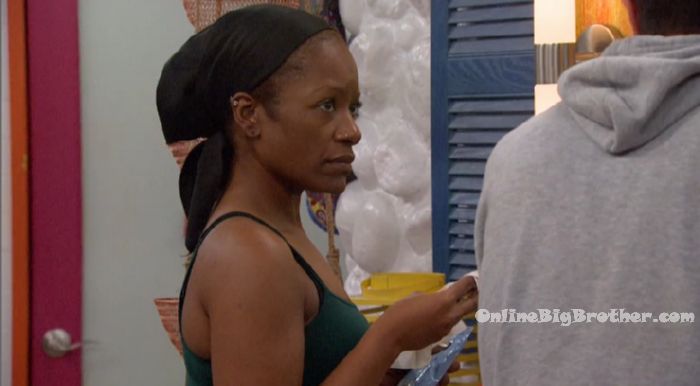 11:50am – 12:45am HOH room – Whitney, Morgan, Shelby, Monte and Alex. Monte – I'll talk to Neely and play the sympathy vote. Shelby – no matter what I am voting out Danielle. Morgan and Whitney say same. Monte – if I go that would be bad. I deserve to go out as a fighter. I'm just asking for a chance. I do not want to go out as a trick. That's what they did with Cornbread. Monte – the house is divided. Don't give in! Don't give them what they want. The only chance we have at winning big brother is by getting Danielle out this week. Monte – I don't want to screw you guys over. Shelby – Monte you're going to be diving into a sea of pu$$y if you go home. Monte – no I'm going to be hated. Whitney – I would be willing to go home trying to get them out. Monte – I'm going to tell Neeley … after you put up Kryssie that they were trying to get me out. Should I tell her we're putting up Kryssie? They tell him no, we want it to be a surprise. Shelby – twerk for the camera. Monte – oh I'm going to be twerking all day tomorrow trying to get the votes from America. If this does work I will tell Neeley that I had no idea you guys were voting Danielle out because she is a good person.