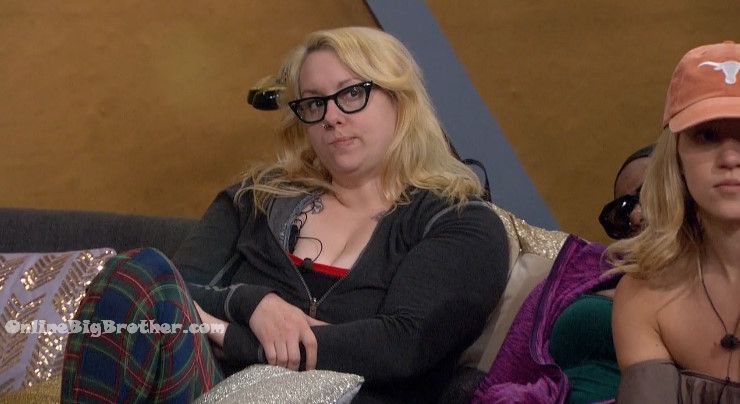 1:00pm Shane uses the Power of Veto on himself. Alex nominates Kryssie as the replacement.
Danielle, MOnte and Kryssie are nominated for eviction.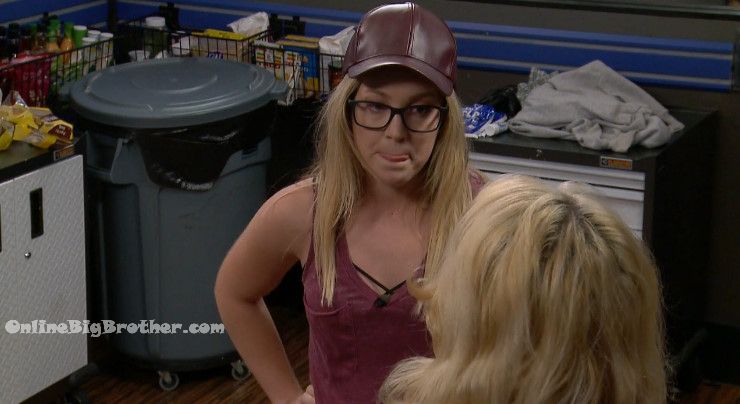 1:10pm Storage room Alex and Kryssie
Alex – I know you are not going home this week America loves you.
Alex says Monte is going home they need to distance themselves
Alex says she couldn't put Scott up because of how he's been isolated.
Kryssie – I got have seen it from space.. You should have at least pulled me aside first
Alex was worried that house will blow up.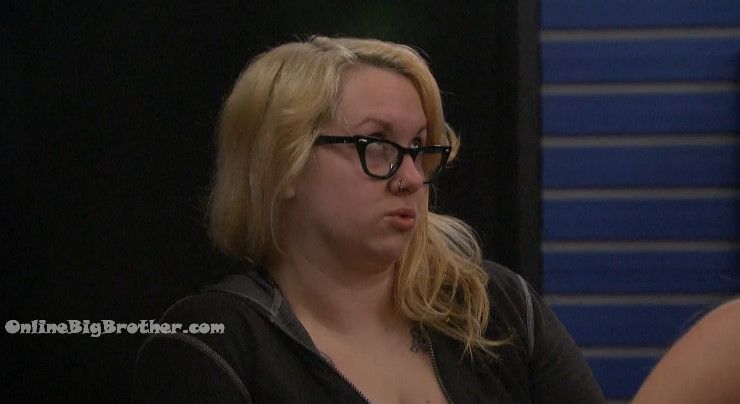 Kryssie says she's disappointed.
Kryssie – I'm not mad at you…
Alex – there was a person to put up that made a lot of sense.. Everyone wanted me to put up Shelby..
Alex – I've heard her name get thrown out by a lot of people
Kryssie – I've been honest with you she's gotta go
Kryssie adds that the only chance she had to save Monte was to put Scott up, "If you guys are done with MOnte… "
Kryssie – you've made a wise choice in the game.. You need to distance yourself from here he already put his foot in his mouth.
Alex – I don't want you to think I'm picking on you..
Alex says Kryssie will not get America's vote putting her up was her best bed.
Kryssie says she needs to talk to Neeley cause Neeley is going to be pissed.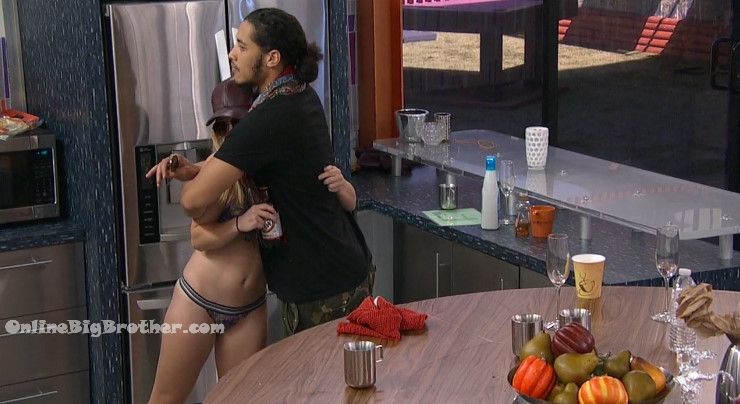 1:24pm Alex and Justin
Alex – I know MOnte has to go home this week.. America won't vote out Kryssie she's good
justin – I got ya
THey hug..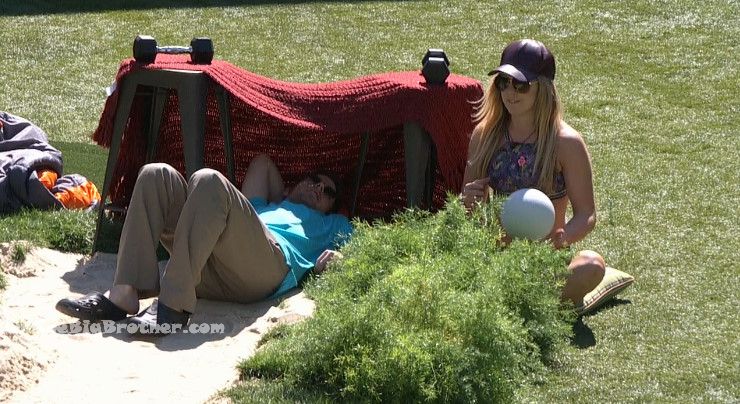 1:27pm SCott and Alex
Alex – I pissed off the entire house to save you
Scott – thank you
Scott – you will always be my number 1 If I win Veto…
Alex – thanks.. what time to you get off this thing
Scott says another 6 hours.
Alex – have you had to use that porta potty
Scott – I've used it twice..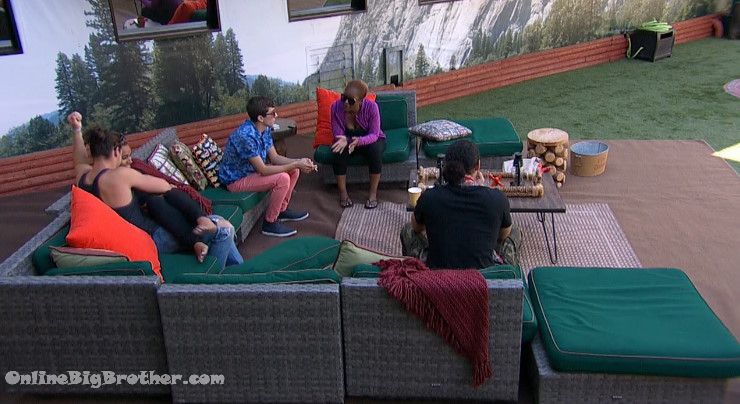 1:35pm Misfits (Neeley, Danielle, Jason, Shane, Justin) Talking about targeting Alex next week. Neeley is pissed that they put up her best friend in the house. THey laugh at Monte's speech where he asked Shane to use the Veto on him and to "Let the house decide"
Neeley is now coming after Alex.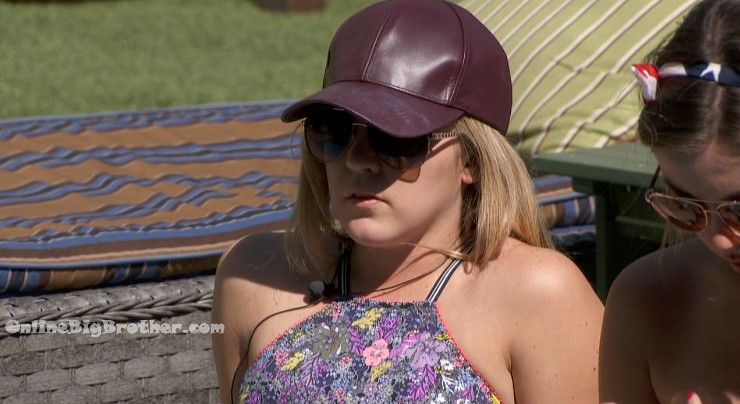 1:40pm Backyard Alex and Whitney
Alex says Kryssie handled it very well.
Whitney asks about Scott. Alex says Scott and her talked he said he grateful and he's not putting them up.
Alex says Jason will look at things as game moves whereas Shane and Danielle look at things personally, 'I don't care they can be mad at me all day long"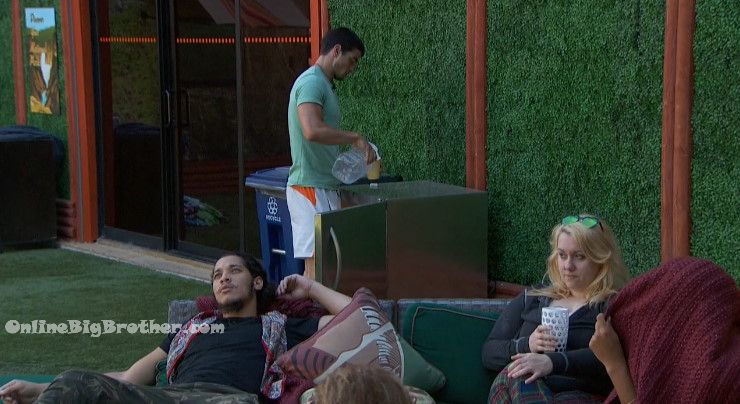 1:47pm Danielle, Kryssie, Neeley, Justin, Monte (Monte is behind them near the backyard fridge)
Danielle saying that it all rides on America. It's a 4-4 split right now.
Justin – If Monte is still in this house I will lose my sh1t.. I don't care.. don't give any f****s
Kryssie says she doesn't believe Alex saying that they want to get rid of Monte.
Danielle says America wants Monte out of the house, "We all want Monte out" (Some Canadians want the showmance out)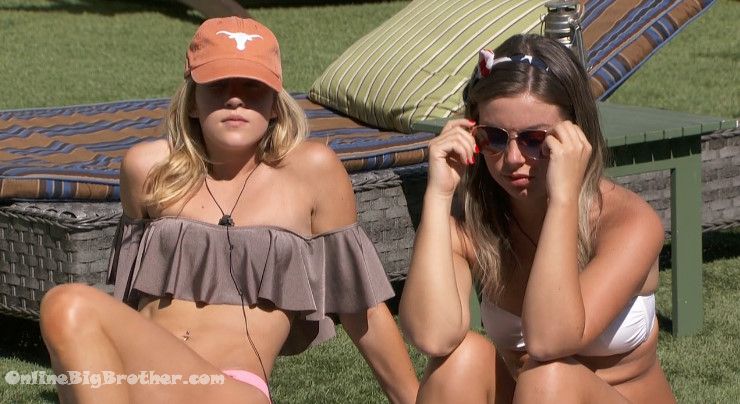 1:52pm Morgan and Whitney
Talking about how disrespectful Danielle is.
Morgan – what are we 5 years old..
Shelby joins them says Monte thinks Shane will vote out Kryssie
Whitney – that's stupid.
Shelby – that plan is not be tight with Monte act like we're voting him out
Whitney – why does MOnte believe everything coming outta everyone's mouth
Morgan says she thought MOnte was goign to be a super player and he's totally not
Whitney – he's too trustworthy.. he looks for the best in people and in here you can't do this..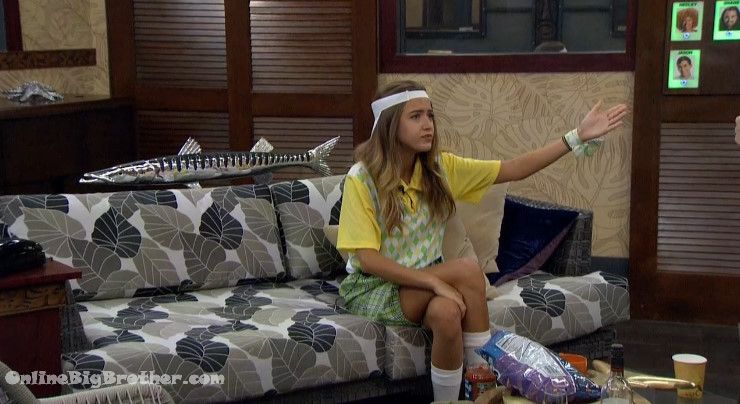 2:34pm Shelby and Alex
Shelby says Danielle was impersonating Alex outside. They talk about how they had to put Shane and Danielle up because no matter what the other side says they know they are going up.
Shelby says Monte is probably going home but they still have to try and save him.
Alex hopes America is watching and knows Monte isn't racist and Danielle is disrespectful
Alex – just the way she's been behaving.. it's so disrespectful..
They start to complain about Danielle and dishes drama.
Alex says all the other side does late at night is talk shit about them. Scott told her. Alex calls them two face..
Alex – makes me really trust them
The agree if Shelby wins the HOH Jason will be her BFF again. They plan on studying tonight.
Alex says the vote is completely up to America. Shelby can't believe how dumb Monte is thinking Shane will vote for him. They mention how Monte has started to work on Neeley but he's wasting his time.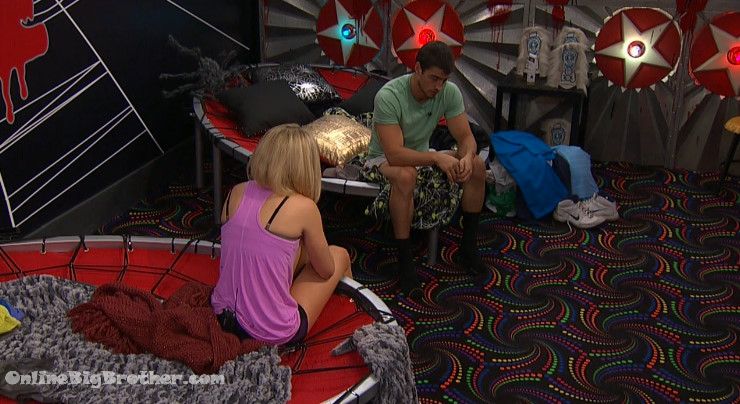 3:15pm Morgan and Monte HAve nots
MOrgan tells him to stop trusting Shane.
Monte – Neeley is really really torn right now.. She loves all three of us..
They agree to keep Neeley thinking.
Monte – I trust Neeley way more than Shane.. once he figures out he'll do anything to save Danielle.
Monte – I wold have been sweating bullets if Scott was up..
Morgan – we really have to help Alex out.. we owe her big time
Monte says he's happy Alex put Kryssie up it's giving him the best shot to stay in the game.
Morgan says Kryssie handled being nominated very well.
Monte – she thinks I'm goign home.. maybe she hasn't done the math yet.. it's a tie
Morgan says the house doesn't think Danielle is the target and they don't think there's a 4 person voting block. (I think they do)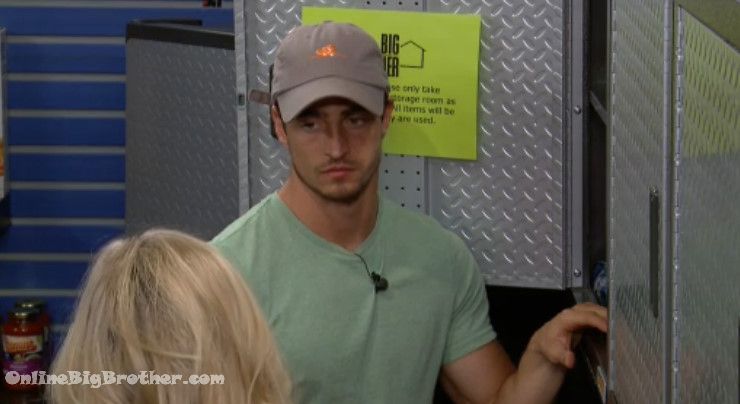 5:46pm Storage room Monte and Morgan
talkign abut Monte working on Shane to get him to vote out Kryssie. Tomorrow morning Monte will go up to Shane in private work on him. They agree that America will start seeing Danielle being "Full of herself"
Monte – Worst case scenario Neeley and Shane don't swing our way there's still America's vote.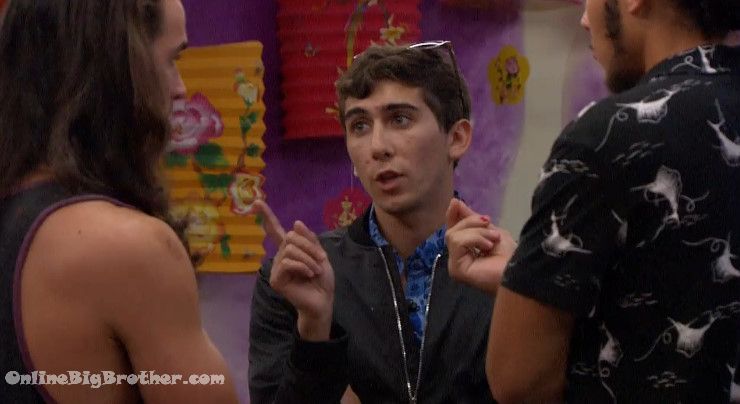 6:11pm Jason, Shane, Justin
Jason says Scott is voting out Kryssie not Danielle. The entire side of the house is voting out Kryssie.
Shane says he's been telling MOnte he'll vote Kryssie out just so he will shut up
Shane thinks he can get Scott, 'I'll just have to downgrade him"
Jason says all the other side of the house is doing is pissing Kryssie off more. \
Shane going on about Alex should have put up a pawn.. Danielle joins them. They tell her everyone on teh other side is voting out Kryssie.
Danielle – doesn't make any sense to me..
Shane – Scott is flippy floppy…
Jason says it's unlikely the other side will get power next week.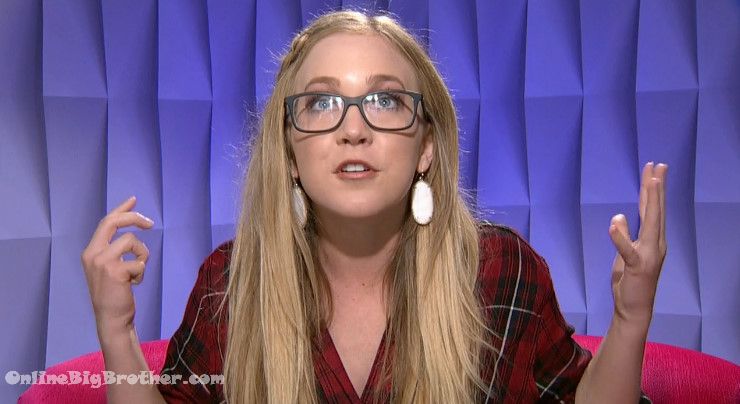 7:30 – 8:00 Live Diary room .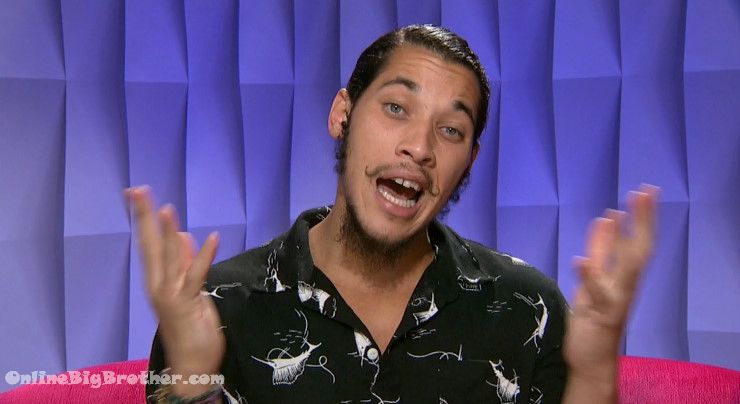 CBS All Access Live Feeds! Test them out 1 Week for FREE!
[polldaddy poll=9548195]