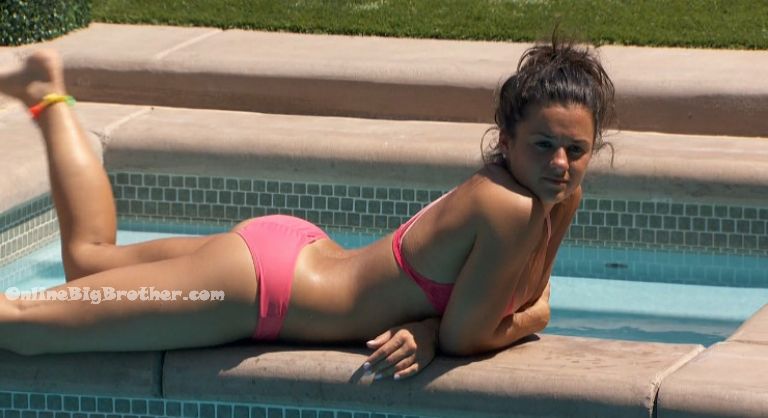 2:30pm Natalie…
(Natalie fan club is back ;) )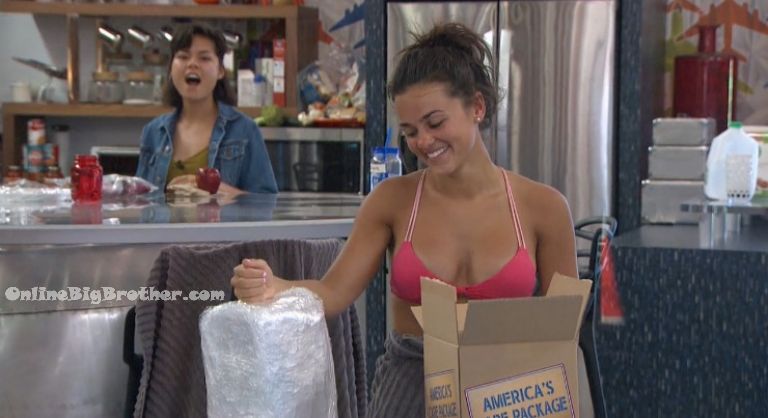 2:40pm Lockdown over.. Natalie gets her makeup bag back..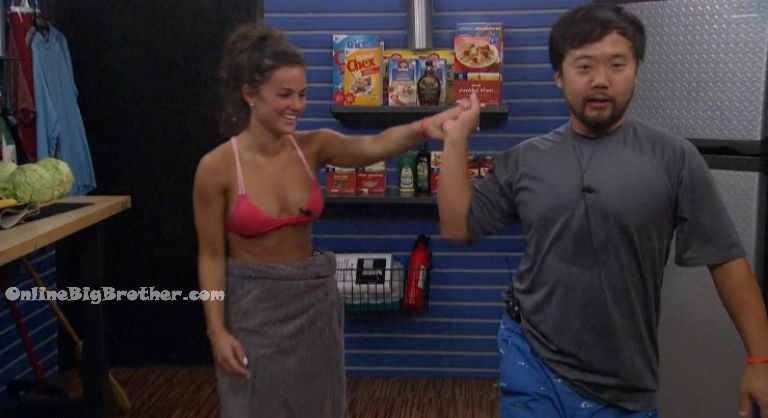 2:43pm Storage room dance
James and Natalie storage room dance #BB18 @DawgsBigBrother pic.twitter.com/JHjmPNCNEc

— OnlineBigBrother.com (@bigbspoilers) August 1, 2016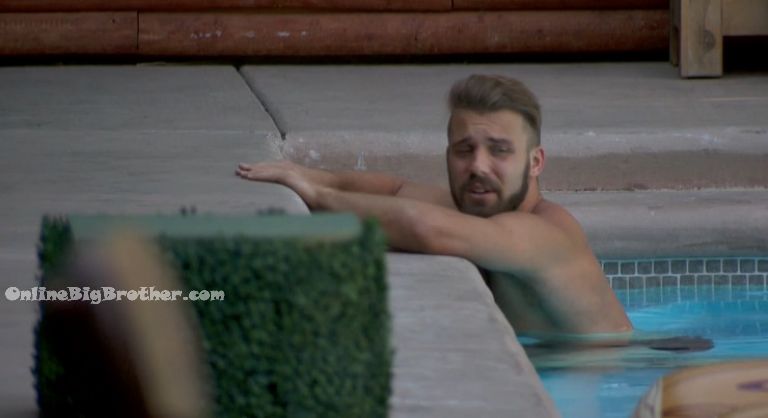 2:44pm Pool side Paulie, Paul and Corey
Paulie says if Bridgette wins they will direct her towards Michelle.. if bridgette doesn't win they'll clip her because she's no use to them.
Paulie says they will get "Exec" (Victor) to put up Zakiyah and Michelle.
Corey says Nicole brought up that the girls (Zakiyah and Mcihelle) are freaking out
Paulie jokingly says based on how Michelle is acting he wishes they would have put her up..
Paul – I'm going to be visibly distraught when Da leaves.. hopefully that will tie in Michelle and Z close to me
Paulie – they'll blame me .. they are already blaming me
Paulie says victor wants Natalie out bad but maybe they can persuade him to save that for a later date.
Paul – ya save that for later
Corey – much later.
Paulie – the guys when it comes to comps… zero nerves.. no panicking..
Paul – they're panicking..
Paulie – dude they are going to panic even more after Da goes and bridgette.. they will be so f*** shelll shocked they will crumble and they will lose.
Corey says Michelle and Zakiyah will be crying after Da leaves..
Paulie is going to tell Bridgette to go up to Zakiyah and Michelle before the HOH and say "I'm coming after you b1tches" (haha)
Paul – Z behavior is really starting….
Corey – did you see how she was looking at us on the hammock.. she was making those faces..
Paulie says he's going to "shake them up" a little bit before the HOH. (Rattle Zakiyah and Michelle which really only means rattle Michelle and this is Paulie so no)
Corey – they are going to sh1t themselves… all alone..
Paul – she thinks she has you
Paulie – she thinks she has me so bad..
Paulie – dude she thinks she has me like a f*** puppy dog.. Like f*** thorwing her body around.. I'm feeding it to her like you're killing me..
Paulie – "You think this is my first rodeo when a chick uses her F***** body to confuse me.. sorry.."
Paulie – I think she has feelings for me….
Corey -she told Nicole she wants to have your babies
Paulie – Look, she'll have feelings for me after the show..
paul – and if she doesn't you just dodged a bullet
Paul says the way he's setting things up this week he's gong to be able to infiltrate the girls side, "Get friendship and send them home.. remember when you told Paulie I was a floater.."
Paul – look Z you've been a log in the pool.. You've been floating all season long
Paulie – the definition in the Big Brother Dictionary of a floater is a person that skates by and does nothing..
Paul – I f***g hate skating. It's for p****ies
Paulie – make sure you grab a life vest cause I know you ain't swimming..
They laugh
Corey – OHhh man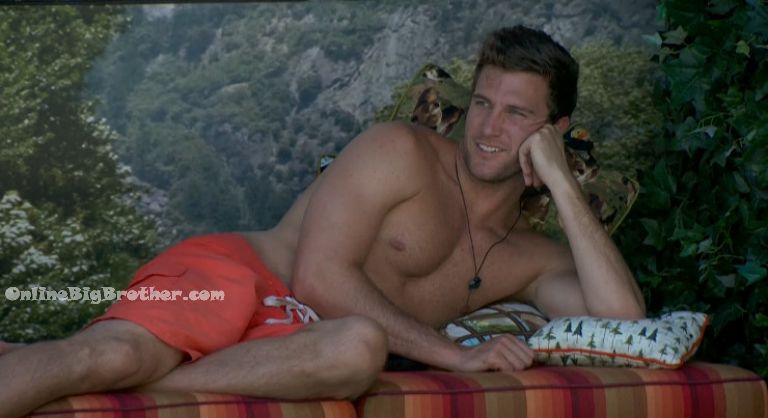 Paul – you can take that tunnel to the paris room and shove it up your a$$… (Some joke I missed)
Corey – You don't have to call Paris
Paul – get inside my tunnel for free.
Corey – get inside my tunnel for free
Paul – you don't have to solve a riddle to get inside my tunnel
Corey – you can come in my tunnel for free..
Paulie – for the rest of the week I'm not letting Z sleep with me
Paul – I'm liking that
Paulie says Zakiyah snuck into his bumper car last night, every time they sleeping the same be bed he stays up all night because it's so uncomfortable.
Paulie says Zakiyah is always sneaking into his bed because she wants to prevent him from "walking around talking" late at night.
Paul wants them to have a meeting in the Paris room at 5pm, "Everyone comes in tells a d1ck joke and walks out.. No exec.."
Paul – actually that might be sketch…
Paul says Natalie is smart she's going to make it another 3 or 4 weeks, "I'm going to give it to her.."
Paulie – She's just like Victoria.. I'll clip her right the f*** now, I don't give a sh1t ..
they laugh..
Paul – she hasn't done dick.. no vetos no HOH's
Paulie – No Blowjes.. (Bl*w J*bs… LOL i hope you know what I mean)
Paul – useless
Paulie – Useless.. gets mad at james for no reasons… the only person that is keeping her off the block..
Paulie says Da wants him to let her know what the outcome is on Thursday. he's not going to tell her.
Corey – I'm just going to say yo know where my vote stands..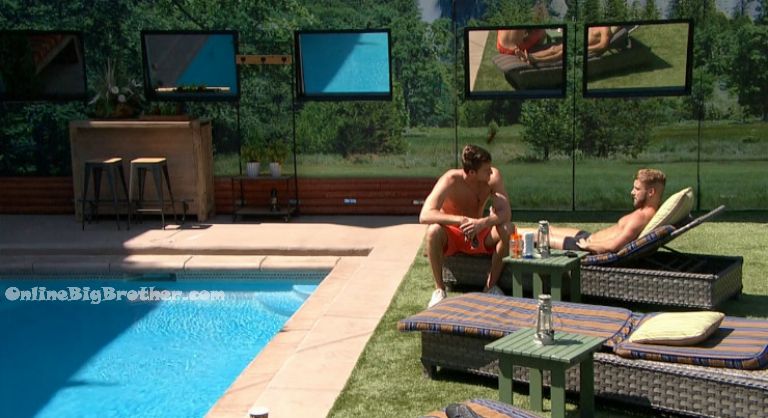 3:12pm Paulie and Corey
Paulie says he doesn't trust Zakiyah and Michelle.
Paulie – you and I are sitting in a great spot.. all we have to do is what we do and crush it..
Paulie – cmon bro.. we don't play around at all…
Corey – as long as we keep Michelle and Z level headed.. they all wanted Tiffany out so bad we cold have gotten Da out.. chill out man..
Corey impersonates Michelle – "I'm scared of her" (Bridgette)
Corey – what are you scared at… she's got a bum knee bum ankle..
Corey and PAulie agree that Michelle is being selfish and she should get over it.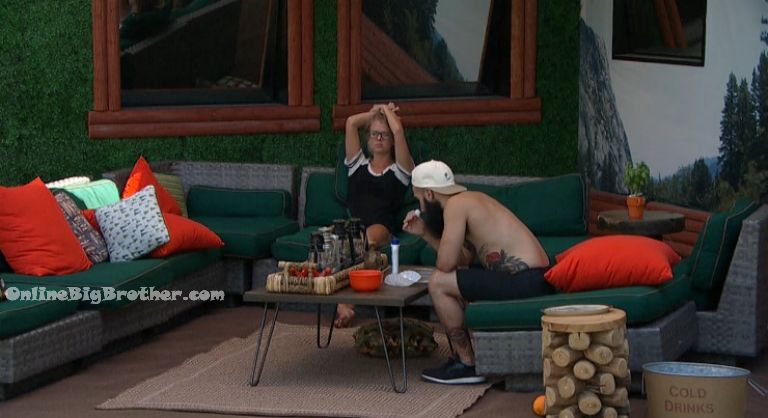 3:18pm Paulie and Nicole talking about Victor or Bridgette being the best to have HOH next week.
Paul says he's going to play upset when Da'Vonne leaves.
Nicole is playing up that she's voting out Bridgette.
3:28pm
Da'VOnne asks her family to pray for her and send positivity her way..
Da'Vonne – something is up though.. Maybe i'm just being paranoid… I'll figure it out"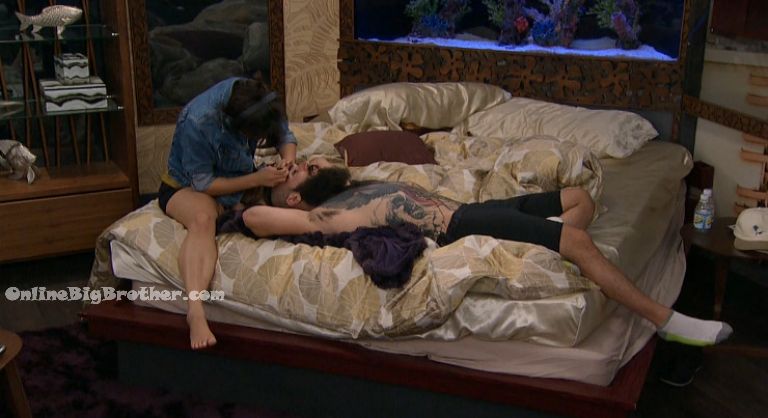 3:36pm this is happening……. .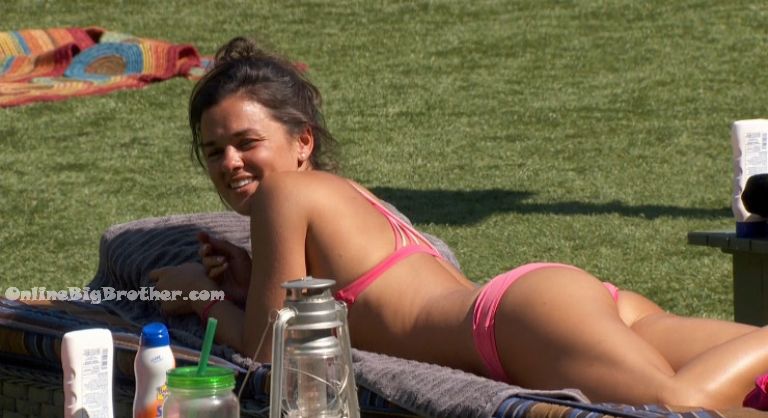 3:51pm Natalie fan club submission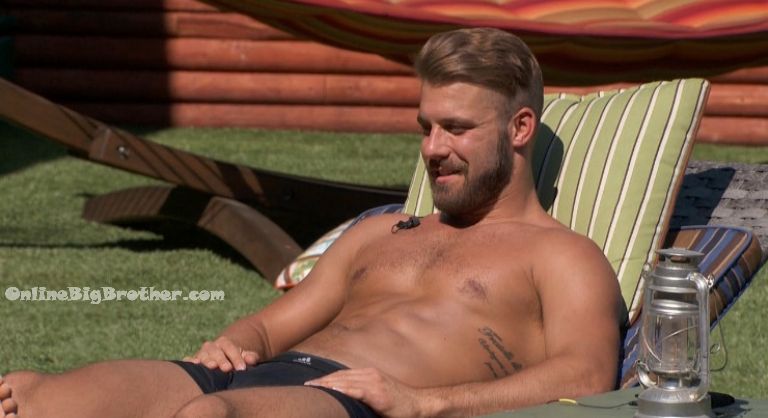 Paulie fan club submission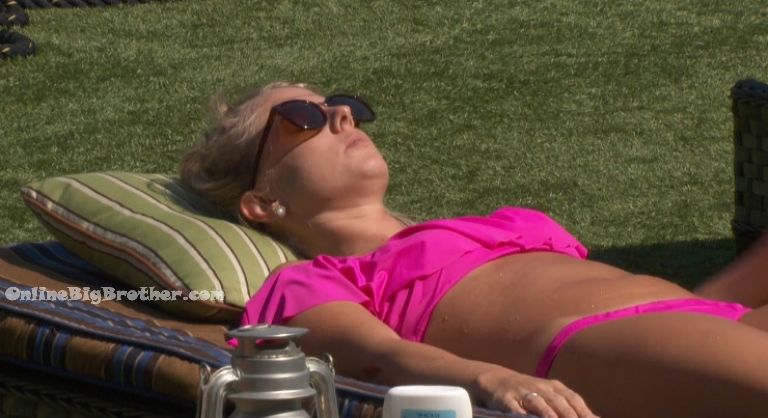 Nicole fan club submission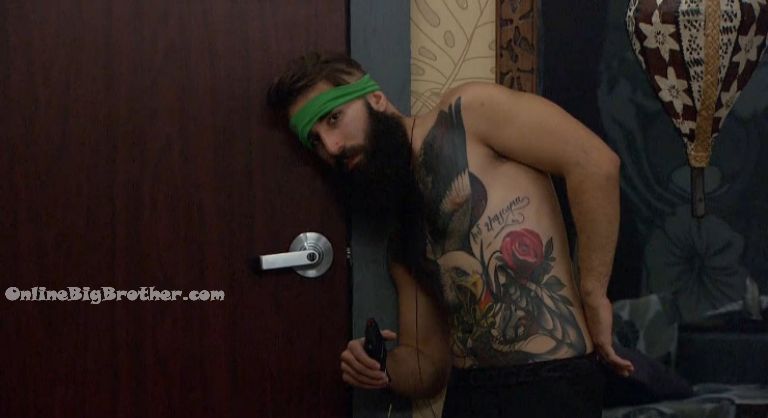 4:03pm Bridgette and Da'Vonne are having a conversation near the chess table Paul listens in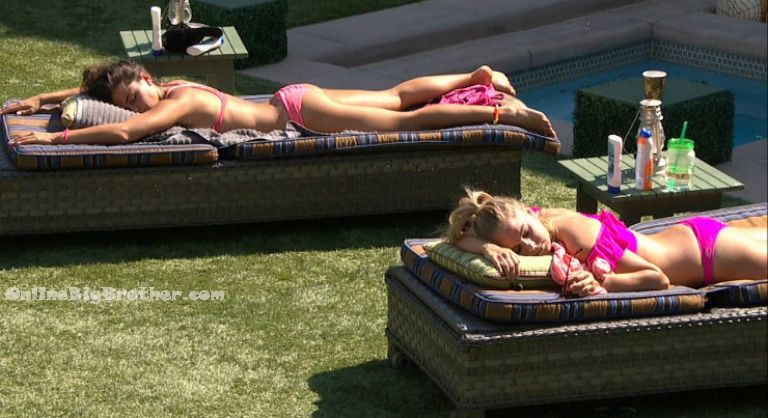 4:10pm Girls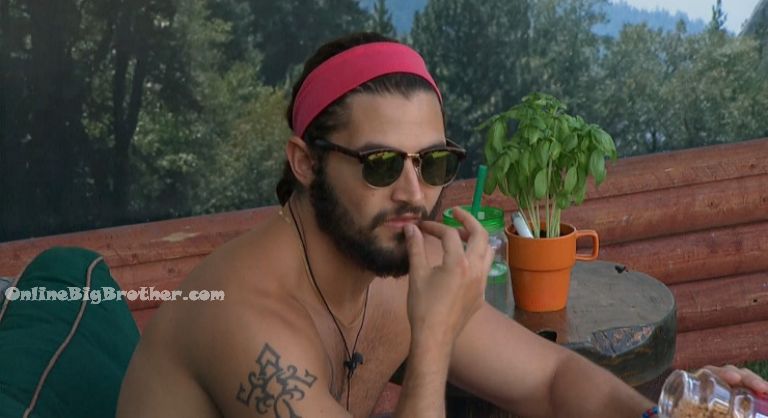 4:11pm Paulie, Corey and Victor..
Paulie filling in Victor on some of the recent events from the day.. It's filtered.
They talk about winning during the double evictions then going into "Cruise Control"
Victor – nobody is boning in here.. wouldn't mind less estrogen..
Victor says James is really pissed about what Michelle said, "he really took it to heart.. you know she brushes it off"
Victor says he'll take the blood on his hands and take out their targets.
4:40pm random shots…
So real #BB18 @DawgsBigBrother pic.twitter.com/mA6hfjEjyd

— OnlineBigBrother.com (@bigbspoilers) August 1, 2016
[polldaddy poll=9486231]
[polldaddy poll=9485811]
[polldaddy poll=9485817]
Share it YO!!
Tweet