POV Holder:
PAulie
POV Competition
July 30th
POV Used
?
POV Ceremony
Aug 1st
HOH
Paul
Next HOH
Aug 4th
Original Nominations:
Bridgette AND Paulie
After POV Nominations:
Bridgette AND Da'Vonne
Have Nots
Natalie, Paulie, Corey, Zakiyah
CBS All Access: Live feeds are only $5.99 per month – Try it FREE for 1 WEEK!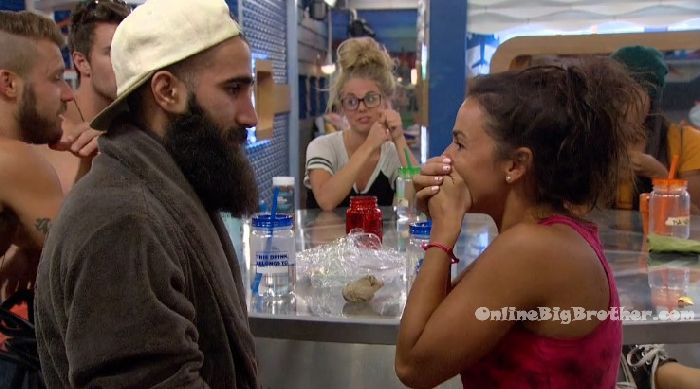 5pm In the kitchen – Corey, Nicole, Paulie, Vic, Bridgette, Paul, Z, Da and Natalie are hanging out chatting about random thing. Paul and Natalie play the who can make who laugh first. Paul tells Natalie I'm going to super glue your eyes shut and spit in your ears. Natalie says I'm going to feed you catfish and sugar. Paul whispers in Z ear. Then Z says to Paulie I'm going to rip your stupid c**k off and glue it to your forehead. Paulie then makes a loud noise and this face: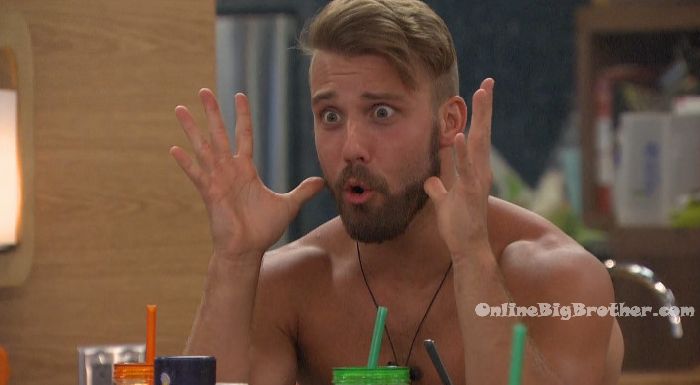 Z tells Paulie I'm going to cut off your Italian sausage and put it in my spaghetti and meat balls. Paulie says I'm going to rip those pretty little lips off you and wear them as a c**k ring. Natalie says this game is amazing! Paulie says at this game I do not slip but at 3am last night America saw who's n!p?! Z says I bet you can suck a golf ball through a garden hose. Paulie says I'm going to take a scented candle and drip in down your chest. Z starts laughing and Paulie wins.
5:35pm Natalie and Nicole in the hot tub. They compare stories on how annoying Vic is. Natalie says I honestly think that he started liking you and now that he's seen you with Corey, he's jealous.
Meanwhile in the kitchen – Vic is annoying people with the spatula trying to go as close to their faces as he can without touching them.



6:10pm – 6:20pm Nicole and Paul talk about how annoying Vic is. Paul says the next time you want to annoy him when he says something .. tell him "You don't know that!" He gets so pissed. Paul goes into the kitchen and tries some of Vic's nuts. Nicole joins them and complains that Vic didn't cook all the burgers. Vic says just burnt the nuts talking to them. Paul says you don't know that!? Vic gets annoyed saying that he can see that he burnt them. Nicole says you don't know that! (lol)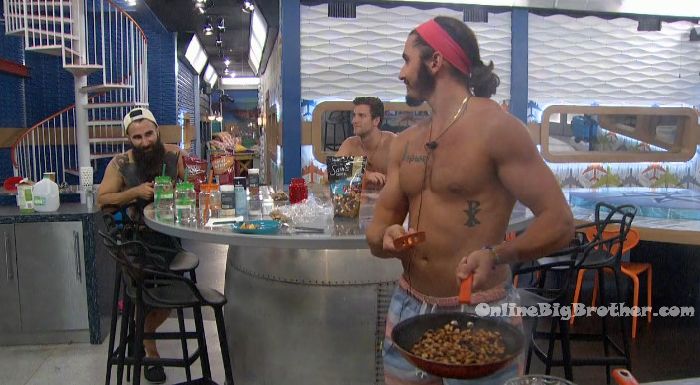 6:20pm – 6:30pm Bathroom – Da and Z – Da says that Paulie hasn't talked to me since the ceremony… but he has been laughing and joking with Bridgette. Z says I would go to him and ask where's you head at. Da says I'm just trying to think of what I did to make them flip. Z says I feel like I would go to him and asks him what's up? Da says I'm trying not to read into it.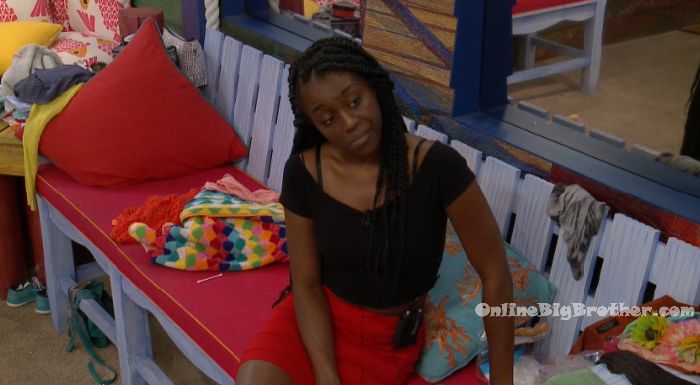 Da talks to the camera and says that she's going to take a nap so that she can be up all night too. Da says I think he thinks he is running this house .. and he probably is .. but I don't kiss nobody's a$$. What if there is nothing to fight and I am perfectly safe. And that he did put me on the block That's what you don't know about this house. Late night is when all the milk is spilt so I'm going to take a nap and then mix and mingle.
6:45pm – 7:05pm Z, Bridgette and Nicole plan out pranks to pull on James. Their pranks are 3rd grade level. The first prank they plan to pull is to wait until he's deep asleep. They're going to put baby powder in his hair and then spray it with hair spray. Bridgette says the other one they should do is put glitter on his deodorant so that he has glitter pits.
Paul and Paulie get into the hammock. Vic says its his turn and climbs on top tipping them all off. Vic then starts spraying Natalie with the hose. Big Brother tells him to conserve water due to the drought. Vic says he's bored and can't do sh*t in the house. Paul pleads with Paulie and Z to keep saying "You don't know that" to Vic when ever he says something factual.
In the bedroom – Corey tells Michelle about how he was sitting in the kitchen and Vic came by and threw out all the havenot trail mix sitting on the kitchen table. Corey asked him why he did that and Vic said if you leave it out I'm going to throw it out. Corey tells Michelle that if Vic is ever a havenot, I'm going to f**k with him so much.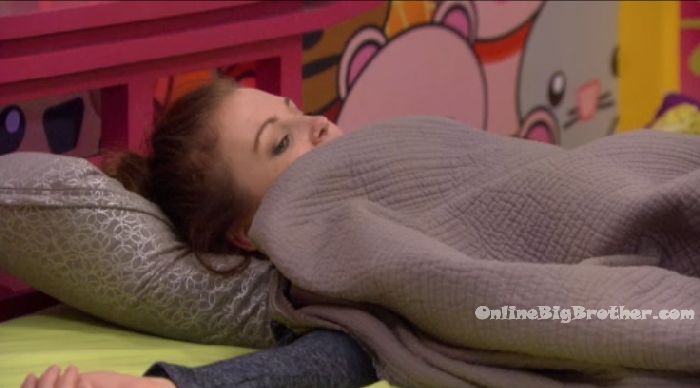 8pm – 8:15pm James and Natalie are laying in the hammock. Natalie tells James about how in the kitchen they were saying James was the one that brought the bag of marshmallows out into the backyard. Natalie says it was Paul that brought them out here but he was too drunk to remember. Natalie says defended James and said it wasn't him. James says and it was Michelle that ripped the bag. I'm going to call them out. I'm going to squash that. Natalie says its freaking marshmallows, get over it! GO request some more. Natalie says everyone in here is so fake. It should be called fake brother. These people better watch out if Bridgette wins HOH. I'll put in a good word for you. James says she's joked 3 times about putting me up because I put her up. Natalie says I'll make sure she doesn't. If she wins, I'll tell her everything.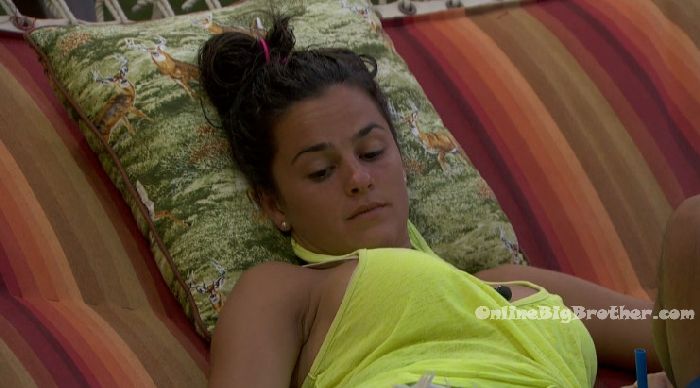 [polldaddy poll=9486231]
[polldaddy poll=9485811]
[polldaddy poll=9485817]