POV Holder:
PAulie
POV Competition
July 30th
POV Used
?
POV Ceremony
Aug 1st
HOH
Paul
Next HOH
Aug 4th
Original Nominations:
Bridgette AND Paulie
After POV Nominations:
Bridgette AND Da'Vonne
Have Nots
Natalie, Paulie, Corey, Zakiyah
CBS All Access: Live feeds are only $5.99 per month – Try it FREE for 1 WEEK!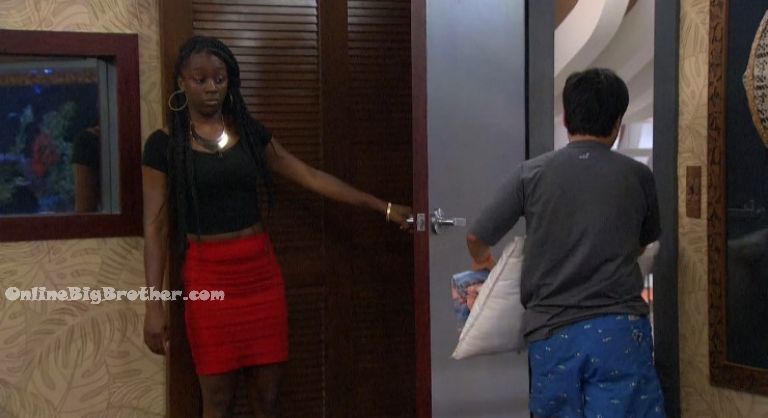 11:58am Da'Vonne asking james for privacy in the HOH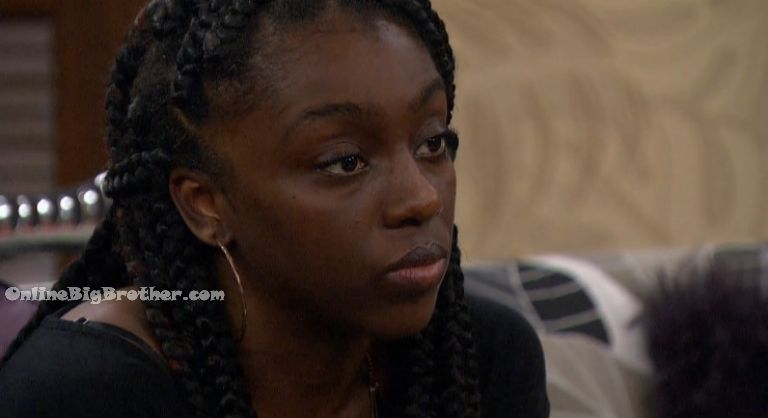 11:58am HOH Da'Vonne and PAul
Paul – You alright Momma day
Da – I'm alright.. She's starting
Paul – Starting what
Da – Campaigning..
Da – I'm not mad at anybody I saw the conversation happening.. Another week of that (Bridgette campaigning)
Paul – I could have put anybody up it would have been 10 times worse.. I'm not saying you are overreacting.. 100 times..
Paul – I'm trying to do something for the good and I'm the bad guy now.. I feel bad I don't want to put people up I have to
Da – I understand.. If you and I were as tight for the past 3 weeks of helI I've been through.. I thought I would be the last option when were we so afraid of Natalie
Da bring sup last week Paul was verbally telling her targets were Bridgette, Nicole, natalie, Victor now it's changed and she's the pawn.
Paul arguing that his target is still BRidgette, goes on about needing someone to keep a cool head that he can trusts as the pawn.
Paul says if he had won the veto he would have left the noms the same.. "I can't ask him not to use it.. Bridgette didn't win that is what I wanted'"
Paul- I put Paulie up.. Paulie is a good friend of mine as well.. It's not about just putting someone up it's about putting on soon I trust uop..
Paul – Bridgette is the f*** target I don't see any parallel universe where Bridgtte goes home unless people are fuciming lying to my face.. What Grandiose scheme could be happening that involves Bridgette.. What acvn this girl doto possibly sink her ship.. She has burnt all her bridges.. What Trick does she have in her hat..
Paul – I said it in my speech I needed someone that is confident that makes the week go smoothly..
Paul – straight up.. Michelle did volunteer.. But in my head.. I trust you..
Paul – Michelle is a very soft girl she threw an apple at me and cried..
Paul says he owes her one and will be the pawn if she needs one
Da'Vonne- I told you when I picked you I would never put you up and for you to turn around and put me up
Paul – you are working with me to get someone out.. I highly doubt everyone is lying to me.. I can't see Bridgette doing any sort of campaign.
Da Vonne' just saying YA YA YA YA through all this bullshit.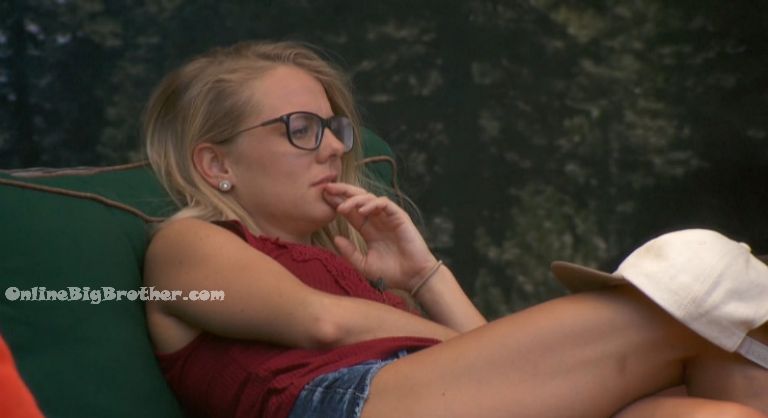 12:05 cam Nicole and Paulie
Nicole about Da'Vonne "She's so sketchy.. She's so sketch.. I feel that she should be calm and be nice and those hugs …"
Corey joins them.
Paulie asks if Da'Vonne is going to flip out on her
Nicole is going to try and avoid Da all week.
Corey says James and Paul are worried Zakiyah and Michelle will put them up next week
Paulie says Z and Michelle will put him up
Nicole – they will not.. You know what is bizarre Michelle was going to sacrifice herself to not put Da'Vonne.. That's loyalty right there..
Nicole says after that Hug from Da'Vonne she's DunZo with her.
Nicole – Da told MEECH something about me over by the hammock
Paulie- oh ya.. Before the HOH competitions even happened.. Basically the same thing.. The fake Frank mentioned your name the fake Bridgette mentioned your name trying to piece you together with Frank
Nicole – I was wondering why those 3 girls were so chummy during the HOH
Paulie – after we threw out ideas to Paul he came to his own conclusion
Nicole says she wanted to Get Da out so it that's what she's using to say Nicole is working with Frank and Bridgette, Nicole won't lie about it.
They count the votes, Paulie, Nicole, Corey, Victor, James and Natalie. Corey and Nicole want Michelle and Zakiyah to vote the other way.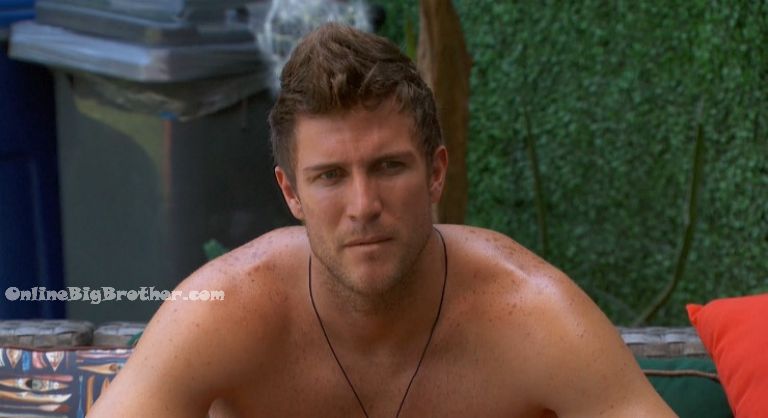 Nicole leaves..
Corey – once Da is gone we're in a good position
Paulie- kinda coast..
Paulie – Michelle's not a idiot she'll put 2 and 2 together that's where Nicole comes in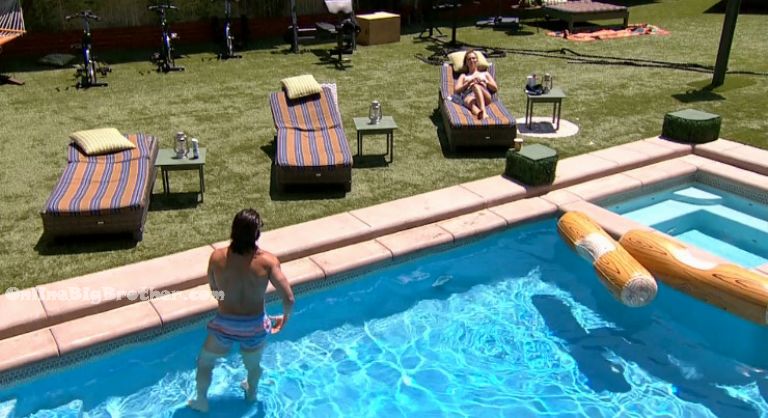 12:17pm a new Victor showmance is starting..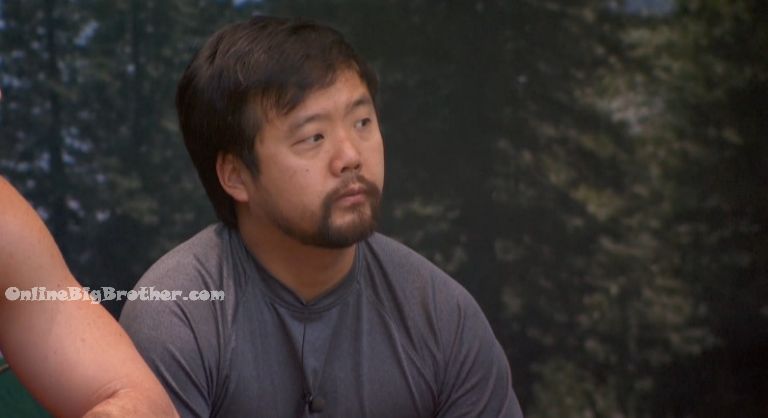 12:30pm James, Corey and Paulie
James- meech came into the have not rooms.. Corey, Nicole and your man are always whispering together
James – watch yourself with the whispering..
James – me and Natalie we're fighting.. Just annoyed.. The whole bed situations.. It's no big deal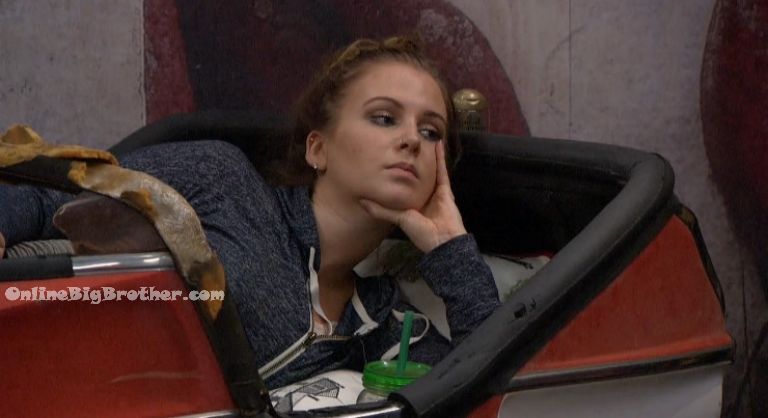 12:31pm Have nots Nicole, Zakiyah and MEECH
Zakiyah is saying she's going to stick with wanting Bridgette out. For some reason Zakiyah is claiming that Bridgette betrayed her.
Zakiyah says Bridgette is more of a threat than Da'vonne
Michelle agrees.. .
Zakiyah – I feel that Paulie is cool with her..
Nicole – he wasn't pushing it..
Zakiyah – He's pushing like hardcore… let's get Da out..
Michelle says she'll vote Da out next week but this week they need to get Bridgette out
Zakiyah – the only person that will vote to keep Bridgette is Natalie…
Zakiyah says it's Paul's HOH they have to honour what he wants and he wants Bridgette out.
Nicole says she has every intention to vote out Bridgette.
Zakiyah tells Nicole that Da's plan it to take Victor out than Natalie, she's not after any of them. Nicole has heard Da'Vonne mentioned her and Corey, Nicole won't tell from who.
Zakiyah – I know James and Paul want Bridgette out this week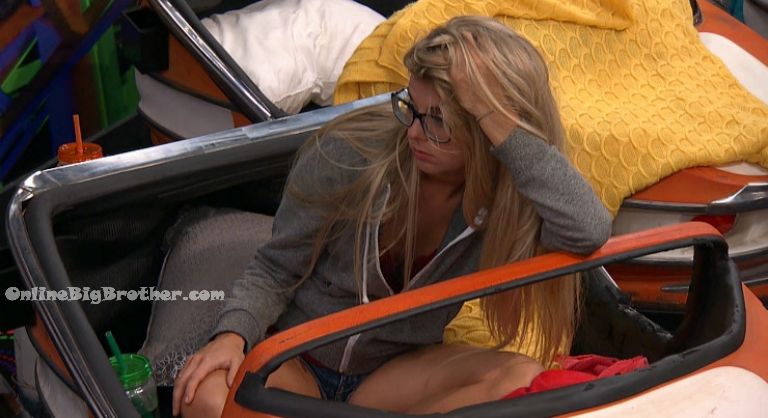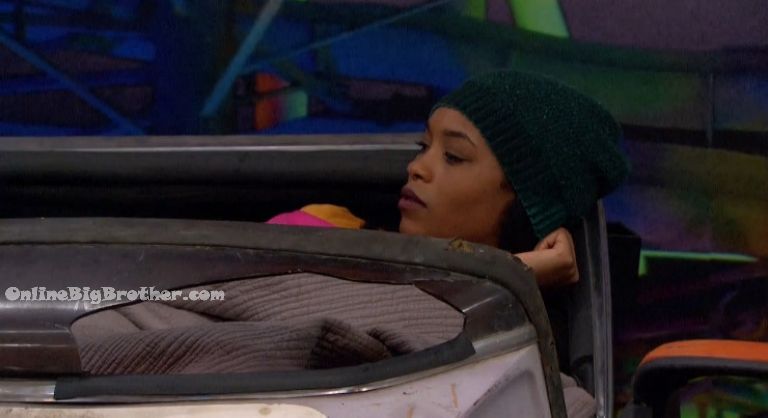 Nicole leaves…
Michelle – do you think.. I think they all want her gone
Zakiyah – they do
Michelle – Are they going to do it
Zakiyah – Nicole, Corey and PAulie are going to try hard
Michelle – I know it sucks
Zakiyah – I feel it was PAulie that said that to her.. He said the same thing to me (Da'Vonne wanted Corey and Nciole out)
Michelle – she's not coming after them.. It's so annoying..
Zakiyah – they are believing everything..
They are both pissed at Nicole.
Michelle – I feel sorry for day
Zakiyah – nobody wants to feel like that.. They are going to look really damn silly once they look back on everything
Meech – last night on the hammock.. PAulie was like I just want to see how she acts.. Bullshit
Zakiyah – You don't want to see how she acts you want her to go
MEECH – why lie about it
Meech – are you still close to him or are you growing apart
Zakiyah – I feel for him on a deeper level.. I feel things like this brings another Things out in our relationship.. I can see out differences..
Zakiyah thinks Frank is still affecting the game in the house, she's blaming Frank on Da'Vonne going up.
Zakiyah – I don't think Paulie will turn on me I still have to be garudreded..
Michelle – it's Paul's HOH..
Michelle – He's (Paulie) no better than Frank trying to get into Paul's ear..
Michelle says Corey, PAulie and Nicole are always whispering. Even Natalie and Victor are starting to notice it.
Michelle says Corey is sneaky a lot more sneak than she thought he would be.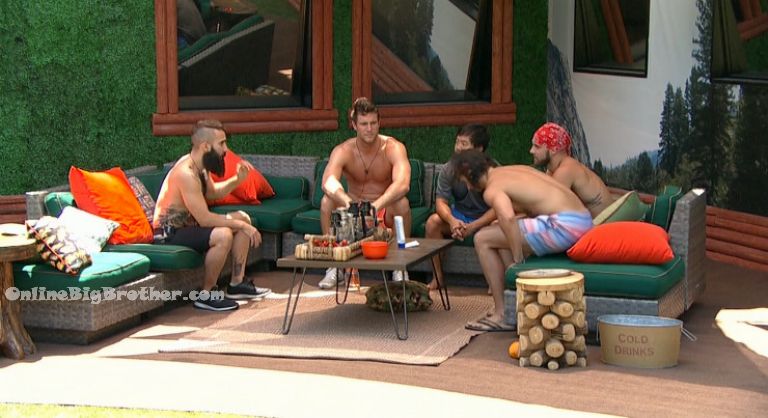 12:46pm
Paul asks the guys for them to please not make it a tie this week.
Paul goes over his conversation with Da'Vonne in the HOH
Paul says PAulie needs to stop giving information to Zakiyah .Paulie says he doesn't
Paul – I don't trust that girl…
Paul says they talk game around her and she's picking up too much.
Paul says Michelle has loose lips. James tells him about Michelle spreading paranoia telling shining light on Nicole, Corey and Paulie whispering.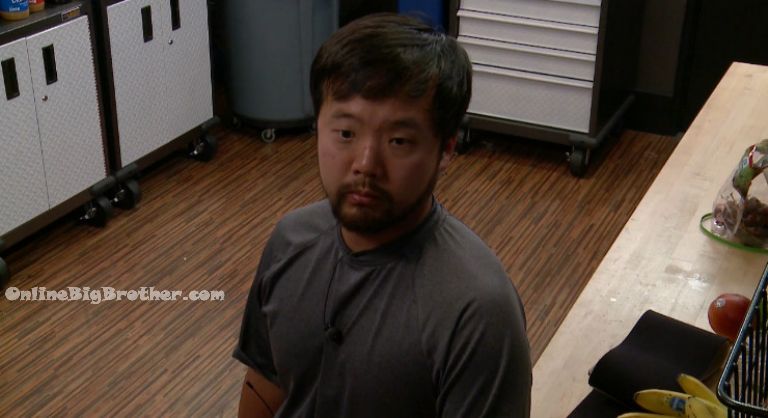 12:59pm Da'Vonne and James Storage room
Da'Vonne- Please keep listening for me
James- I told paulie if anything changes to come talk to me as a game player.. So you're good so far.. Not a 100%
Da'Vonne- why isn't it 100% if everyone wanted her gone
James- hmmmm
Da'Vonne – you know what i'm saying it's weird..
James fumbles around..
Da- I think Natalie thinks i'm mad at her cause all that laughing.. Please let her know
James- she's not mad at you..
James starts to talk abou the bed incident last night as being the reason natalie is mad.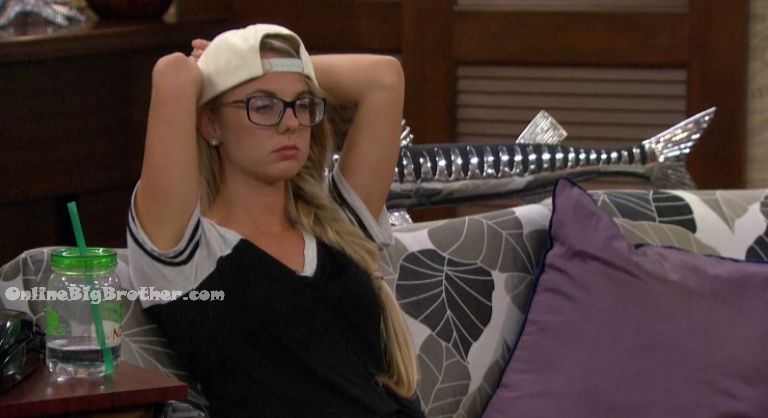 1:06pm Paul and Nicole HOH
Nicole (the whiniest voice you can imagine) – whhhhhhhhyyyyyy areeeeeeeee theyyyyyyyyy protectingggggggggg DAaaaaaaaaaaaaaaaaaaaaa
Nicole is worried Zakiyah and Michelle will target her and Corey during the double.
Paul – Z will never do anything to me.. Beat me in a HOH or POV..
Paul says one of the reason he put Da'Vonne up is because Da was so confident going into the HOH..
Paul suspects that Da'Vonne threw the HOH comp.
Nicole points out that Da waited to throw her ball last.
Paul says after he wins the HOH Da'Vonne is up his butt, "the only person up my butt.. Pump the breaks hommie.. She told me I was her ride or die.. Ohh thanks.. Never knew"
Paul adds that as soon as noms come up doesn't see Da'Vonne for 2-3 days. POV happens Paul goes back to Day being Paul's best friend again.. He notes Da'vonne was the only one crawling around like a headless chicken
Nicole – she was mad Paulie won the POV ..
Paul – she threw Z's name under the bus immediately.. Right off the bat..
Nicole – why doesn't that bug Zakiyah..
Paul- never cared just keep that here.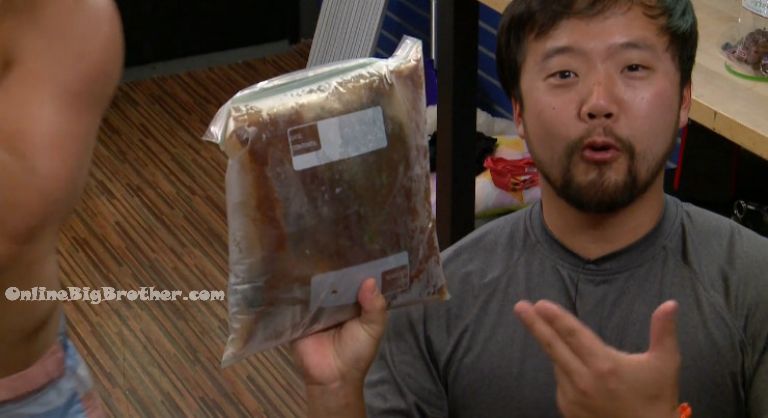 1:08pm James finds his crocs it's frozen and marinated.
James- I declare war on the house.. It's on
Victor is with him they are going to prank the house.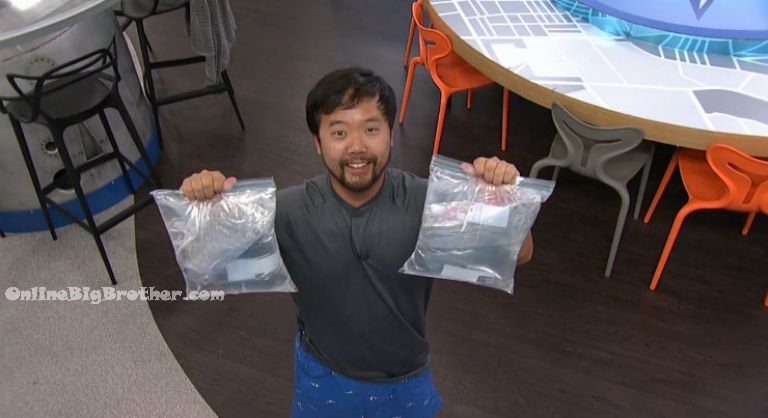 1:16pm James gets his revenge.. Puts Natalie's shoes in zip lock bags with water to freeze.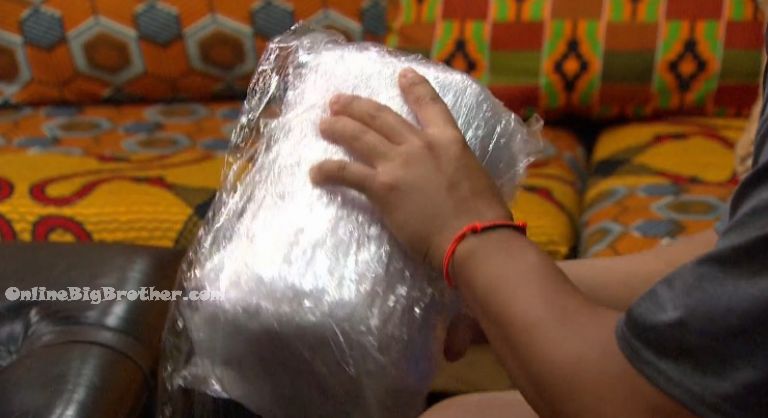 1:37pm James continues to prank the house for his crocs.. (This one is Natalie's makeup bag)
Natalie's Makeup bag #BB18 @DawgsBigBrother pic.twitter.com/JJm8RbLsLJ

— OnlineBigBrother.com (@bigbspoilers) August 1, 2016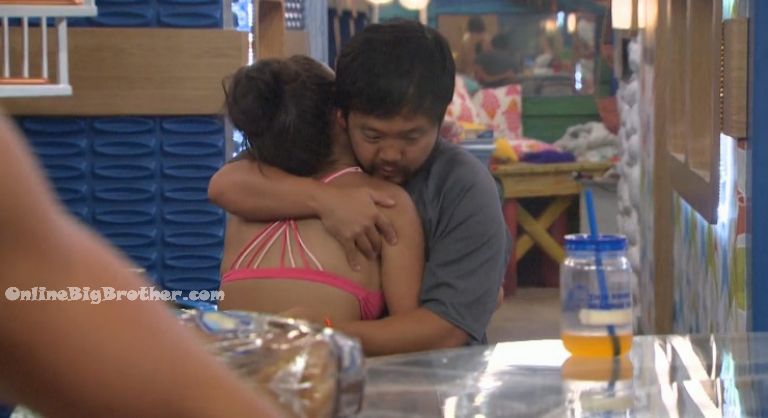 1:41pm Natalie makes James Heat shaped toad in a hole. (one of my favorite special breakfasts :) )
James thanks her..
James- this is goign to taste great.. it's good..
Natalie – next time I make them they are going to be perfect.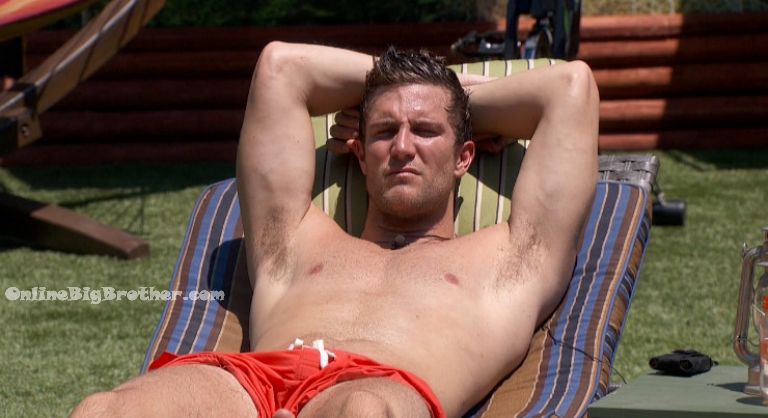 1:45pm Nicole – He's such a dream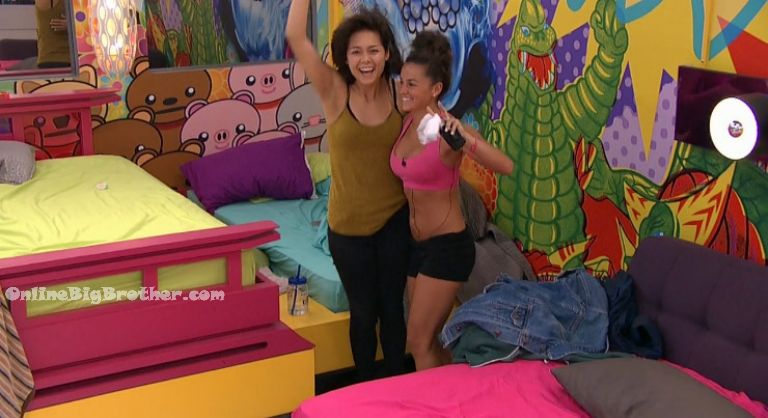 1:47pm Bridgette and Natalie
Natalie – I need to find my sneakers cause I'm f***g fat.
Bridgette – don't say that about yourself.
Natalie – he stole my sneakers that's a dfifferent ball game..
They are whispering about working together.. Bridgette says she's going to fake be sad..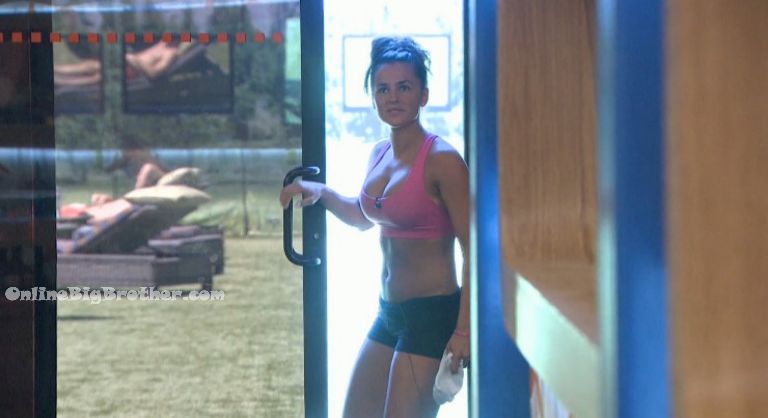 Natalie is looking for her sneakers.. "Did you take them.. James Joseph Huling… WHERE'S JAMES I THINK HE HIDE MY SNEAKERS "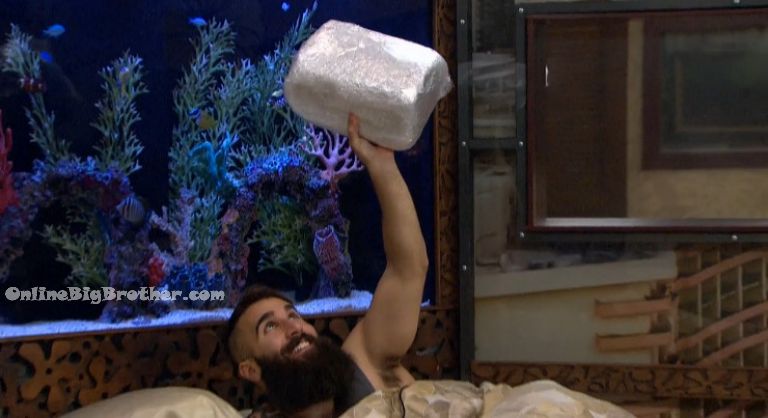 1:55pm 75yards worth…