POV Holder:
?
POV Competition
Aug 15th
POV Used
?
POV Ceremony
Aug 10th
HOH
Liz
Next HOH
Aug 17th
Original Nominations:
Johnny Mac and Becky
After POV Nominations:
? and ?
Have Nots
Vanessa, Johnny Mac, Steve
9:35pm Vanessa and Steve
Steve says he's been giving Johnny Mac a pep talk
9:51pm Have nots
9:55pm HOH James, Twins, Steve, Meg and James
Steve fries up a have not pork chop. Austin is giving him some pointer in how to do it. Tells him to oil up the pan first.
Austin is joking around calling Steve "Boy"
Everyone joins in on the friend
Austin – I vote to evict BOY.. Boy take a seat
James – Boy
Steve – why is this white
Austin – why's the sky blue BOY
Steve – no Serious
Austin tells him pork is white says the pieces are thin and will cook fast,
[envira-gallery id="128456″]
10:08pm "khal drogo" gets his mane braided
[envira-gallery id="128463″]
10:14pm Becky, Steven, Twins, Meg, Austin
Meg makes James a sandwich she puts on Swiss he says he like pepper Jack.
They laugh as he puts pepper jack on it. Everyone agrees the swiss cheese they have is not good swiss cheese.
Out
10:42pm Steve and Jmac Have Nots
Steve – come play a game with us everyone is there.. we invented a new game
Jmac- Ok
Steve- are you feeling OK you've been sleeping a lot
Jmac – what else is there to do
Steve – come play with us
Jmac – I need to sleep I didn't sleep last night you know
Steve – you want to sleep
Jmac – Is everyone literally out there
Steve – yes, Literally everyone
Jmac – Ya then I'll come out
Steve- I think you should
Jmac – I'm good
Steve – your voice has been off… somethings been different about you recently, like since Clay and Shelli left..
Jmac – there's a lot I need to talk to you about
Steve – OK do you want to talk tonight than
Jmac – ya .. ya I do
10:52pm A new game to play
[envira-gallery id="128473″]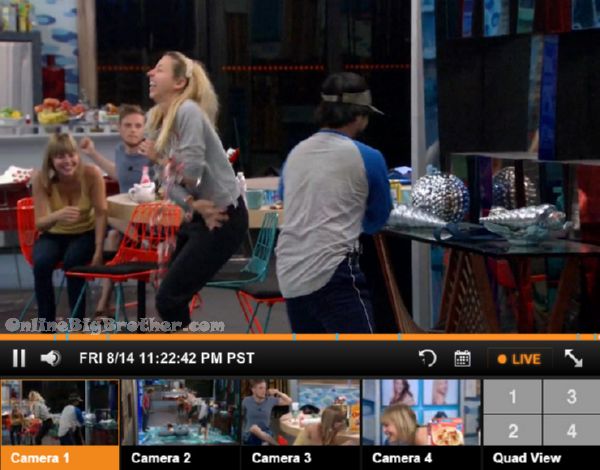 11:23pm After a hour of playing this new game they get in a fight over sponsors it's Irish springs vs seventh generation
A twin – Caring today for seven generations tomorrow
A twin – so beautiful
James and Austin represent Irish springs
Steve says something against Irish springs
A twin – Why does Steve hate Irish springs so much
Steve – It only lasts 12 hours
Austin – He's got animosity for his father because he's in love with is mother some Freudian shit
(so far all summer they have been given Irish spring soap lately it's switched to Seventh generation. Some people like it other's don't)
The game is called pot ball. There's a collection of pots staggered on the ground in the hall way between the kitchen and living room. You throw a tinfoil ball from the kitchen into a pot. You play a couple round there's a bonus round called Glory Whole. One game they played James Dominated the glory whole round.
Austin – All of a sudden he's a glory hole savant
[envira-gallery id="128486″]
11:47pm HOH Meg, Julia, Liz and Austin
Talking about how crazed Vanessa is.
Liz – when she walks in a room I cringe
Liz and Austin tell Meg they have to be cool with Vanessa because if she wins HOH next week "She'll go rogue"
Meg suggests Vanessa will throw HOH
Meg – James is terrified of her right now
Austin – I am to
Liz – Oh my god I'm obsessed with James
Austin – I don't think she's going to try and win next week
Liz tells them if the Veto is sued she's really worried about who to put up.
Austin says the need to see what Vanessa does these next two days because Vanessa has already "Started 50 things"
Liz says Vanessa was in the diary room for 1 1/2 hours
[envira-gallery id="128493″]
11:57PM submitted without comment
12:06am HOH Liz, Austin, Julia and powerhouse Meg
Julia says Vanessa never wants to talk she just talks game.
Austin bring sup Vanessa getting close to them once Liz one HOH saying they are a team.
Julia adds that Vanessa weasels her way to the power
Austin and Liz talk up how smart it would be to put up Vanessa next week. Liz complaining that Vanessa would win the buy back competition and comeback. Meg is certain they will all vote her right back out
Austin – Unless she was in that HOH
Meg wonders if Vanessa's would be eligible to play in HOH after the buy back.
Meg says Jackie didn't like Vanessa.
Austin – Jackie was really right about her that's the scary thing
Meg says she never really talked a lot with Vanessa. Austin and Liz warn her that Vanessa is crazy good and manipulative. Austin shares a story about when they won the HOH and he lost the Veto Vanessa wanted him to win.
They start going over old Audrey stories
12:23am HOH bunch still talking about past events. Audrey dominates the conversation
Julia tells them Shelli and clay had their hand in too many cookie jars.
12:33Am Peeling off face while the reminisce about past events.
There's a negative slant towards Vanessa during this entire HOH conversation.
ALLIANCES:
Goblins/Gremlins = James and Meg
Generals = anyone allied with Becky
SOS = Steve and Vanessa
Rockstars = Steve and Jmac
AUS-Twins = Austin, Julia and Liz
"Brass Tacks"  Gobins and Austwins
The new "Brass Tacks" = Aus-Twins, Meg, James + Vanessa
"The Scamper Squad" – Aus-Twins, Vanessa, Steve
[polldaddy poll=9025485]