POV Holder:
Next POV:
Sept 8 (Saturday)
POV Used
POV Ceremony
Sept 10 (Monday)
HOH Winner:
Ian
Next HOH:
Sept 6 (Thursday)
Original Nominations:
Current Nominations:
Last Evicted Houseguest
Frank And Joe
Superpass Big Brother 14 Live Feeds: 3 Day FREE Trial!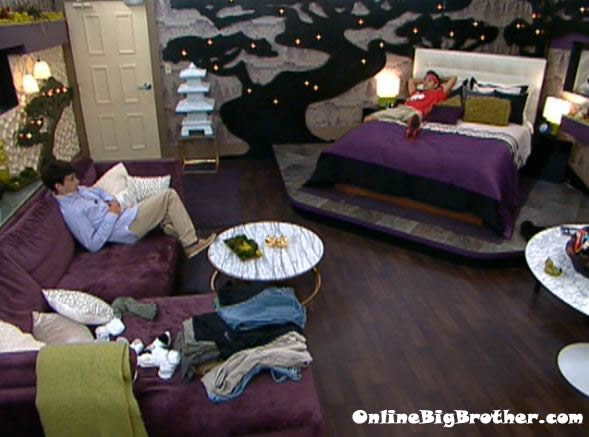 1:35am After Ian gets his HOH room. When they are alone Dan tells Ian that he thinks the nominations should be Jenn and Shane. Ian says that he agrees, and says that's what he was going to do. Dan tells Ian how to explain choices for nominations. Dan comes down from the HOH room and heads into the bathroom where Danielle and Jenn are getting ready for bed. Dan asks Danielle if she is done for the night with diary room sessions. Danielle tells him yes, and says that she even did her goodbye messages. Big Brother cuts the feeds. Danielle is washing her face. Jenn starts joking with her about her huge zit. Ian comes down from the HOH to get more of his things to take backup to the HOH room. Ian says that he wants them to open up the yard so that he can use a swing. He says that he has been pacing up in the HOH room for a while now. Dan, Jenn and Danielle start talking about the HOH competition. They compare their answers for the how many minutes Jodi was in the house for before she was evicted.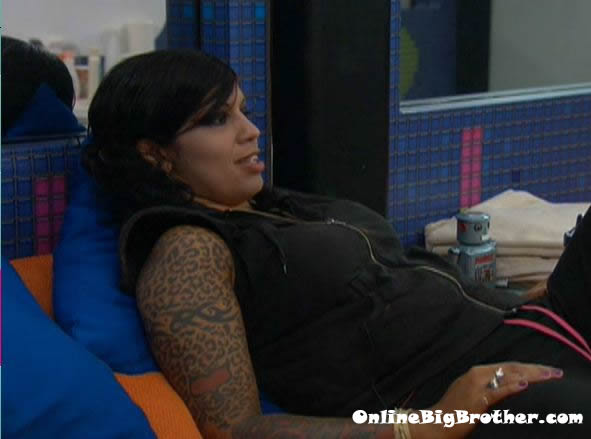 2am
Danielle and Jenn are in the bathroom alone talking about tonight's show and how exhausted they are after everything. They talk about how think they may have heard people booing Frank when he walked out. They also think they heard Joe get a big applause from the crowd. Danielle says now that Frank is going to jury house he will be getting the nasty on all the time with Ashley. They talk about how Frank told Danielle that she was his crush. Jenn says that she knew he said that. Danielle asks if he meant it. Jenn tells her that Frank thought Danielle and Kara were hot. Danielle says so Frank said we were both hot? Jenn says that Frank told her that she is probably one of his top crushes from all seasons. Jenn says that he told me you were blushing. Danielle admits she was and says it was flattery at its finest. Danielle says that Frank told her he wanted to get Dan and Shane out and says that she thinks he may have been hitting on her by saying that. Jenn says that is how he roped Ashley in. Danielle tells Jenn that she isn't that type of girl. She says that she wouldn't have been interested in Frank. Danielle says that Frank is a cocky SOB. She says his social game was s**t. Jenn agrees. Danielle says about Frank that the only person he is going to have a good time with in the jury house is Ashley. Danielle says that Britney is going to hate having him there and says that she will whip out some MC Snowflake on his a**! Jenn and Danielle start talking about Joe. They talk about how grossed out they were by Joe because he never washed his hands after using the bathroom. Danielle says that he masturbated all the time too. Danielle starts imitates all the rubbing sound she would hear at night. Jenn says that he must not have realized how loud he was. They both laugh. Danielle starts talking about how everyone in the house is something they are not. Danielle says that she thinks Ashley is an actress, Ian is in grad school, Wil is a pop singer, Kara is a Playboy model, and that Shane is a bigger model than he says he is.
2:20am Dan and Ian are out in the backyard. Ian is swinging on the hammock and Dan is lying on a lounger. Dan tells Ian that he will like Chelsea. Ian tells Dan that he is lucky to have a girl writing him great letters like that. Dan tells Ian that when he gets out he will be surprised how many girls will have contacted him. Ian asks really? Ian asks like girls I know? or girls in like Canada? Dan tells Ian that he will be surprised. Ian tells Dan that he thinks Janelle is going to win the $25,000 America's Favourite prize and that he thinks Britney could be the second highest vote getter. Ian says that he felt bad for Joe. Dan says that he went out in a classy way and Frank didn't. They talk about how Frank hugged one person and took off and Joe hugged everyone and was gracious when he left. Dan calls Frank a douche bag for the way he left the house. Ian agrees and says it was bad sportsmanship. Dan says that in a lot of sports players take on the attitude of their coaches. He says that he saw Frank take on the same attributes that Boogie had when he left. Ian tells Dan that he wishes he would have been aligned with Dan since the beginning instead of Boogie. Dan talks about how Boogie treated Ian. Dan compliments Ian and says that he got out two big fish out with his HOH's, Boogie and Frank. Ian tells Dan that he really does like Boogie. Dan tells Ian not to worry Boogie will like him after the game is over. They start talking about the POV.


2:40am Jenn joins them. Ian asks Jenn if he can ask her a question. Jenn tells him that he can ask her anything. Ian asks Jenn if she would have won the shark fin POV would she have used it. Jenn says no, she probably wouldn't have used it unless someone would have tried to strike an honest deal with her. Jenn says that she probably would have entertained a plea from Ian over one from Joe.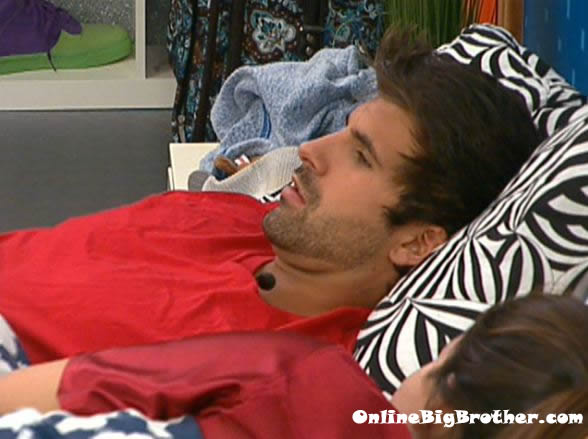 Meanwhile Shane and Danielle are in the kicks bedroom talking. Shane tells Danielle that thinks he is going to be going up. Shane says that he has to win POV. Danielle says that she is worried that she is going up against Shane and then he will win POV and she will be left up on the block. Shane tells her if he wins POV and they are both on the block he will remove her. Shane says that he owes her one. Danielle tells Shane that Dan never told her she was going to be the pawn tonight, she didn't know until they were sitting on the couches. Danielle says that she couldn't believe Dan put her up. Shane says that he thought Dan would put Jenn up and was shocked when he said Danielle's name. Shane says that he feel bad for Jenn because she knows she is going up. Shane says that he thinks it will be the face morph POV. Shane says that he believes Ian can win that one and make sure Jenn goes home. Shane says that Ian can't compete in the next HOH so the 3 of them (Shane, Danielle, and Dan) could try and get rid of him before the final three. Danielle tells Shane that Dan was so protective of her tonight. She says that when she was on the block Dan grabbed Ian and threatened him. Danielle say that Dan told Ian he would cut his face off if he vote Danielle out. They talk about how they can't let Ian get to the final HOH questions competition. Danielle and Shane turn off the light and curl up together in bed.
Big Brother Live Feeds FREE 3 Day TRIAL: Try them and see what's happening right now!
3:20am – 4am Dan and Ian head inside to the bathroom to get ready for bed. Dan heads into the kicks room he says that he wants Joe's bed but that he is worried it has Joe's semen on it. Danielle and Shane help Dan change the sheets. Dan asks them if they have talked to Ian about nominations yet? Danielle and Shane both say that they haven't. Shane says that Ian told him that he was going to have the house guests draw straws to figure out nomination. They all talk about how important the POV is this week. They talk about sending Jenn home so they make the final 4. Shane says that the nominations don't really matter unless Jenn wins POV and pulls herself off. They all decide to go to sleep. Jenn comes inside from the backyard and says that she would kick small children down the street for a piece of toast right now! Jenn then goes to the bathroom to get ready for bed and then heads to her bed.
5:30am All the house guests are still sleeping..
9am Still sleeping..
9:30am Big Brother switches the live feeds to the control room to wake up the house guests.
9:55am Jenn is the only house guest awake, all the others are still fast asleep. Jenn is out in the backyard. Big Brother asks her to lower the awnings. Jenn says no problem gangster boo. Big Brother says thank you! Jenn says what a great start to the day! Big Brother says you're welcome..
Simon and I work 24/7 all season long to bring you all the live feed updates and spoilers, please consider donating. Any amount is greatly appreciated, your donations go directly to paying the server and bandwidth fees needed to run this site. Donation Link
Share it YO!!
Tweet