POV Holder:
Next POV:
Sept 8 (Saturday)
POV Used
POV Ceremony
Sept 10 (Monday)
HOH Winner:
Ian
Next HOH:
Sept 6 (Thursday)
Original Nominations:
Current Nominations:
Last Evicted Houseguest
Frank And Joe
10:56pm Cam 1-2 Ian, Jenn and Shane
Ian talking about Fat Circles "Fat Circles.. Shoutout to Eric Roland Calc ][ "
11:06pm ian and Shane
Shane: "This is your 3rd HOH but it's only your second one with a HOH room"
Ian leaves
Jenn waddles in 'What a Sh!t tastic day for me"
Shane: "I hope i'm not up against you our Dani.. Who knows"
Jenn :"Who knows what's going on in his mind"
Ian joins them.
Shane asks Ian what final 4 HOH is all about. Ian explains that the final 4 HOH means nothing all if gives you is safety the POV winner holds the power to evict. Ian adds that the final 4 HOH is usually a crap shoot.
Shane says they all beat some of the best players in the game like Janielle and Boogie.
Jenn says that Frank told her to her face that she was going to get 7 or 6th.
Jenn is surprised at how sloppy Janelle's game was. Jenn: "Janelle girl you disappointed me" Ian adds that Janelle's game fell apart once the coaches entered the game.
Dan joins them.
Jenn says that Janelle's whole team is gone. Ian says that his parents must have been going crazy watching him win the POV on live TV. Ian says that the guys from "Jefferson's Starship" must have been watching the episode of Big Brother in the bar.
Theres a coach two first rounders a second rounder and a third rounder
Dan says that Britney was way better than he originally thought from watching her on season 12. Dan adds that Boogie and Janelle were some of the best players in Big Brother. Dan: "can you imagine making it final 3 two times"
Jenn brings up that Janelle always said her biggest mistake was keeping too many guys in the house near the end. Dan points out that in her first season all the people left were girls. Jenn laughs.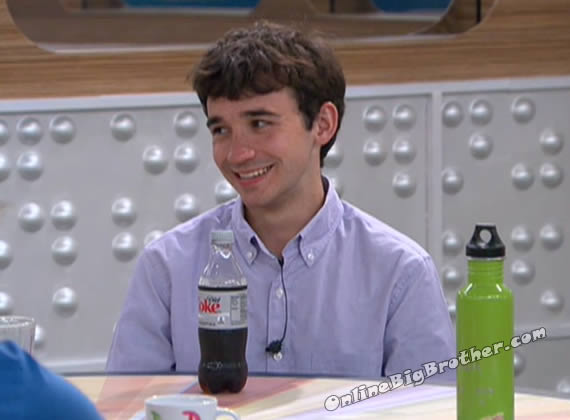 They start talking about Willie
Dan mentions how it feels like ages when they last saw Willie in the house.
Dan: "He had some endearing qualities.. "
Ian agrees says Willie had a good heart.
Shane: "I honestly think that Willie thought he was helping him and JOJO out"
Dan: "He was volatile"
Ian: "He said he passed the test but he was drinking.. (Feeds cut)
11:32pm Cam 1-3 Jenn, Ian, Shane
Ian says that Britney wanted a all guys team she told him if at the time her dream team would have been Frank, Shane and Ian.
Shane points out that Britney could have picked Joe. Ian thinks Joe looked too out of shape. They all agree that Joe handled the eviction well. He knew his only chance of staying in the game was to win that POV.
Jenn: "I'm not going to lie I thought Frank was going to say something when he left"
Jenn: "He looked very blindsided"
Jenn: "I'm telling you Jodi was here to start sh!t"
Dan on the living room coach: "Jodi is the only houseguest that we talk about every day.. Kara we talk about every 3rd Day"
Shane: "I miss you Kara.. I hope you're watching:"
Jenn: "I'm sure she is "
Ian: "She's curled up in bed watching with Boogie"
Ian says that Boogie was self conscious about his age. After he kissed Ashley Ian said to him "Don't you love it how a forty something can make out with a hot a$$ 20 year old" Boogie was not happy about Ian sayign that. Jenn agrees.
Ian gets called into the Diary Room
11:50pm Living Room Dan, Shane, Jenn and Danielle
Dan reads his HOH letter from his wife.. His wife misses him and has been going to church every day and praying for him. Dan's family is taking good care of her while he's playing Big Brother. Dan gets emotional says sometimes he worries that his mother and sister are not looking out for Chelsia.
12:24AM Living Room Cam 1-2 Shane, Danielle and Dan. Jenn is sleeping in the bathroom and Ian is in the Diary room
Danielle is looking at Dan's HOH pictures. She says his wife is amazingly pretty. Dan explains that in the picture she was wearing something a little bit more revealing than she usually does. Dan mentions that she usually covers up with a cardigan but since they were on their honeymoon during that picture she wanted to "Spice it up"
Shane : "You gotta spice it up"
12:37Am Cam 1-2 Shane, Dan and Danielle
Shane says they gotta win POV. Dan tells them that Ian has one shot to make it to the end. Danielle says that Ian will open pandora's box tomorrow and it will be something bad for Ian and something good for them. Dan: "They won't give him a power.. any power right now will guarantee him in the game" (bring back duos)
They are so happy Frank is gone. Dan: "I could not take him anymore.. he was so cocky" Shane: "So Arrogant.. that's what did it for him "
Dan: "How many cheers did he get"
Danielle: 'Not very many.. I think I heard boos"
Shane: "Joe's was louder"
12:47AM Ian's out of DR
12:48AM Cam 1-2 Danielle and Dan Living Room
Danielle: "He's starting to get on my nerves"
Dan: "We have to convince him to volunteer to go up.. If he wins POV you need to convince him to not use it or you will go up"
Danielle: "He will never do that" (Would be epic if he did)
12:57AM HOH Cam 1-4 Ian gets his HOH room..
Shane acting WAY too happy playing it up and it shows. Jenn finally wakes up, "Hot int he streets.. jenn city.. Keeping it real.. Brooklyn.. Thats right.. "


Make a dream come true vote Dawg to end world hunger
Share it YO!!
Tweet