POV Holder:
Next POV:
Sept 8 (Saturday)
POV Used
POV Ceremony
Sept 10 (Monday)
HOH Winner:
Ian
Next HOH:
Sept 6 (Thursday)
Original Nominations:
Current Nominations:
Last Evicted Houseguest
Frank And Joe
Ian wins HOH
10:04pm Cam 3-4 Shane and Danielle
Shane is mad says that Ian is going to put up Jenn and either Danielle or Shane. Danielle asks Shane who he was going to vote for if the nominations stayed the same during the double eviction. Shane says he would have voted to evict Ian.
Shane is saying that he has to keep the final 3 with Dan no matter what. Shane "He's got 3 HOH and 2 POV's now.. he'll win against us in the final 2" Danielle: "I know I know". Danielle asks him if Ian has mad a deal with Shane. Shane says no. Danielle hasn't talked any deals with Ian.
Shane: 'If Jenn wins POV I'm going home"
Danielle says she emotionally Drained.
10:10PM Cam 1-2 HOH winner Ian. Everyone appears to be sh!tting their pants right now.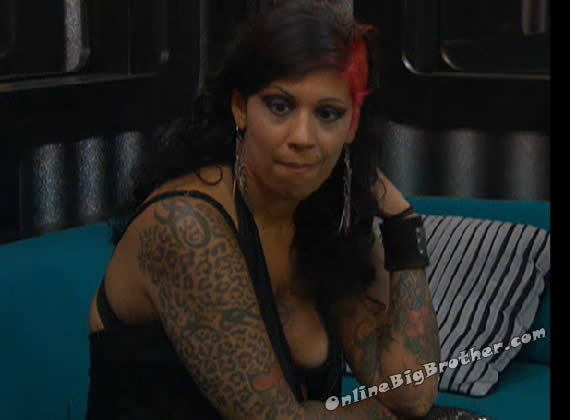 10:14pm Cam 3-4 Jenn and Danielle
Danielle thinks that Ian and Shane have something. Danielle says that Shane has become really clingy. He's following her around the house ever since Britney left. Danielle: 'He follows me.. he follows me everywhere Jenn.. I feel like he's following me to watch me" Jenn wonders that maybe Shane is getting information for Ian. Jenn thinks Ian and Shane have something because apparently she knows Ian won't put up Shane. Danielle: "I know Ian and Joe had a final 2"
Danielle says that they are in trouble because Ian is so good at these mental competitions. Jenn agrees says at this stage of the game it'll be hard to get him out.
Danielle mentions that Shane is making comments about how close her and Jenn are. Jenn thinks he gets a little jealous sometimes. Jenn tells her not to be upset about the HOH.
Jenn is worried that her and Dan are going up. Danielle explains the only thing that matters is veto. Jenn: "I want to stop almost winning and finally win" Danielle feels so bad she wanted to win that HOH to protect Jenn and Dan.
Jenn says that Ian thinks her and Dan are together.
10:30pm Cam 3-4 Ian rocks on the chair for a bit then heads into the bedroom "The Socially inept Loser made it to the final 4 of Big Brother"
10:32pm Ian and Dan
Ian says he's going to put Dan and Jenn up he wants to get Jenn out.
10:37pm Cam 3-4
Ian is pacing back and forth mumbling crazy ideas, scenarios, theories..
Shark attack.. SHARK ATTACK.. 1 or 2 my family gets a better life..
Dan joins him asks him what he's going to do if it's doomsday happens. Ian thinks he would put up Danielle. Dan says he should put up Shane and Jenn and they will vote out Jenn. Ian: "says that Danielle wins POV takes Shane down.. I have to nominate you"
Dan: 'She won't use it"
Ian: "I'm taking you and your taking me no matter what right.."
Dan: "Ya "
Ian: "How can I sell not putting you up"
Dan thinks they can call a quack pack meeting and convince Shane to volunteer to be a pawn to vote out Jenn.
Ian: "Never in a million years did I think I was going to be at challenges in this game.. I think i'm tied with Shane"
Ian tells Dan he will die happy knowing that the quack pack is in the final 4
(OMG Ian you are nuts they are going to vote out Shane.. lucky for Ian it seems like he can wins comps)
Share it YO!!
Tweet