| | | | |
| --- | --- | --- | --- |
| POV: | ? | Next POV: | Aug 18th |
| POV Used | ? | POV Ceremony | Aug 20th |
| HOH: | FES | Next HOH: | Aug 23th |
| Noms: | | Have Nots | |
A real easy way to support the site if you are an amazon shopper is to make your purchases through our link. You pay the exact same thing but we get a small % commission. It doesn't cost you anything and helps us out.
Amazon Canada
Amazon USA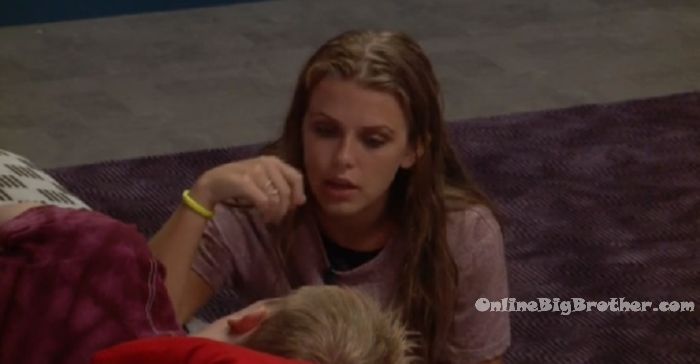 10:17pm Outside the HOH room. Scottie and Haleigh. Haleigh – Sam has a crush on Brett. She was pissed.. she was asking Rockstar if Brett and I f**king bang. That's disgusting. I would throw up. Then she came to my room and said Haleigh – who do you have a crush on in this house? Scottie – Sam said that or Rockstar? Haleigh – Sam did in front of Rockstar. I said well JC I guess. And she started laughing. I said I don't know there are a bunch of cute guys. Sam left and Rockstar said Sam is jealous of you and Brett. Scottie – that's why she put you up then. If I won HOH I would put Sam up and expose her. Haleigh – I don't know if we can work with Brett going forward if Brett puts him up. He's not going to trust us. Scottie – no. Haleigh – I can really push Angela next to Tyler to keep Brett off. But is it really worth it? Scottie – between us three we just need to win the next 5 HOH's.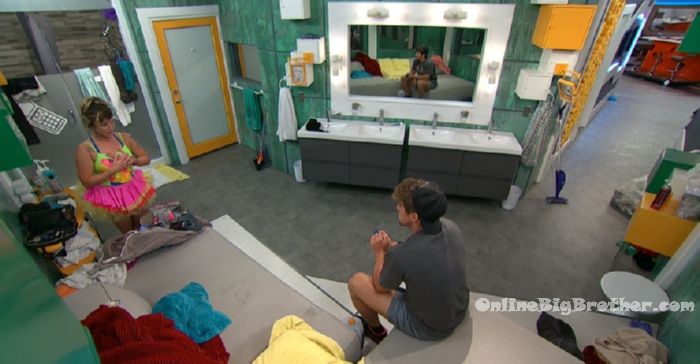 10:24pm Bathroom. Sam and Brett. Sam – please don't use that in part of this because I am a real person. I have feelings, I have a life outside of here so I just as that you don't … Joke with me, we can role play .. whatever. But please don't do that to me. Okay because I am very lonely. I am very vulnerable and I do like you so please don't do that. And that's all I ask because realistically Rockstar has a family, a husband, kids and you're a baby. I am single and in the same age range. Brett – I would never use that as an advantage or to exploit that in anyway. Sam – okay, thank you. Because I have tried so hard for that not to happen in here or to anyone else in here. All I ask is please don't use that as part of your plan. Everything else, I am yours. I have no knowledge or this.. you make a plan and tell me what it is and I'll do it. Brett – Okay. Sam shakes his hand.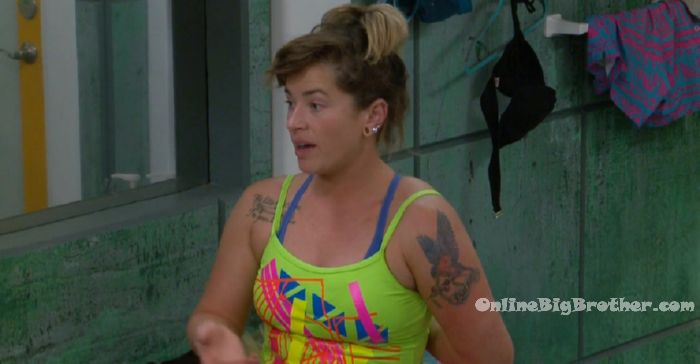 10:30pm Fes gets his HOH room. They all look at his photos. Fes then reads his HOH letter from his mom. Fes starts to tear up. Fes then talks to the house guests – I don't think I am having one on ones tonight. I think I will probably talk to some of y'all tomorrow. Just because this whole game I feel like I've been a straight up player. I've told everybody my vote every week. Everyone knows how I get down and play the game. Yeah, I am still here day 58 but I've been left in the dark .. a lot of weeks. More week than I have not been. Being on the opposite sides of the vote and not knowing who flipped and who did this I don't know if I am ready to hear all the bull crap. Throwing this person under the bus or talking crap about you. I've been left in the dark so I fee like I am pretty much alone at this point. I am going to do what is best for my game. Tonight I am going to chill by my self. Nothing against you Kaycee because you were on the block and I would have done the same thing to stay. But I just want to know who was the one person to keep Rockstar? Scottie puts up his hand. Fes – Scottie – anyone else. Everyone agree it was Scottie? Because I've been left in the dark and nobody ever tells me who the flip vote is. So now that I am HOH .. Scottie is saying it was him.. anyone else? Brett – F**k it! It was me! I will call it and claim it. I already feel like I have the whole f**king house against me. I finally f**king did it! Fes – did what? Brett – I voted to keep Rockstar. I feel like Kaycee already felt that way so sorry Kaycee. Kaycee – I did feel that. Brett – I didn't really want to say it in front of everyone but I've been honest about my vote this whole time.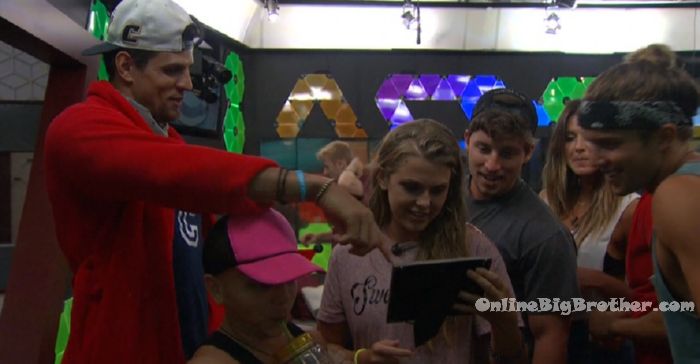 Brett – Scottie it is cool that you want to say that but you also wore a Swaggy C shirt and voted him out so that's straight! Scottie – I am just letting you know this is cute. You're (Kaycee) a bullsh*t actor! Kaycee – what the f**k are you talking about!? Scottie – you just went like this. Kaycee – I've always felt .. I have never been close to Brett Scott. I have never been close to the kid so when I feel him and I feel the energy. I am never close to him so you can think whatever the hell you want. I am on the f**king block! Everyone has been acting f**king fake towards me. Okay, so its not easy dude!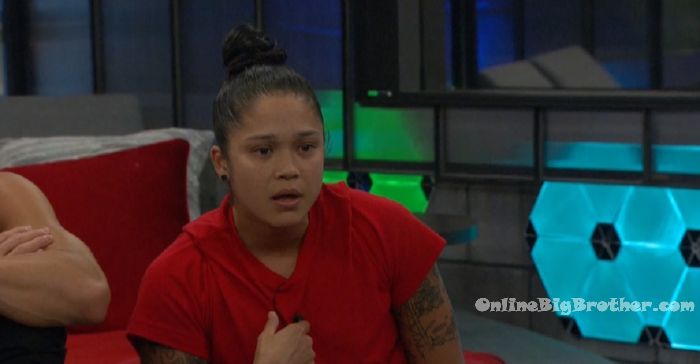 Scottie – oh I've been fake towards you? Kaycee – everyone has been weird with me. Scottie – when!? when!? I'm not saying everyone. I don't give a f**k about everyone! Kaycee – everyone knows which way I vote every single week. So do not talk about acting. I am not close with this guy. Scottie – I am still waiting for you to tell me when I've acted weird with you. Kaycee – everyone has been acting weird with me. Scottie – man you're having a hard time with specifics. Kaycee – because you're coming at me dude! You have no idea! Fes – so who do you think? Kaycee – I haven't been feeling good vibes with Brett. Everyone's been acting weird with me so that's what I have out there. You can sit there and smile all you want dude. Scottie – yeah this is cute. Haleigh – I just want to bring up that fact that was there a point where Brett apologized to you? Scottie – we were standing up there and he said I want to talk to you about what happened. Brett – I did say I wanted to talk to you about what happened because there was only one vote and you said you were going to keep Rockstar as well. Fes – so who do you think it is? Kaycee – I talk to him (Scottie) more than I talk to Brett. I came in here playing a loyal a$$ game. This is just how I'm feeling. I can feel vibes and sh*T and that's what I'm feeling. I've talked to you way more than I've talk to him since day 1 and you know that. Scottie – cute. Brett – there is nothing cute about it .. there is no need to be hostile towards each other guys. It is what it is, I am sorry if you're upset about it Scottie. Scottie – I am A okay! Fes – see what I am saying I never know what is going on so maybe y'all can help me figure it out. That being said ..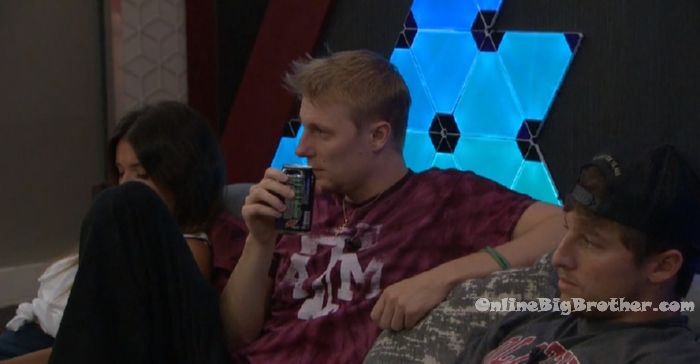 Everyone heads out of the HOH room. Fes then laughs and says I didn't expect all that but I'll take it!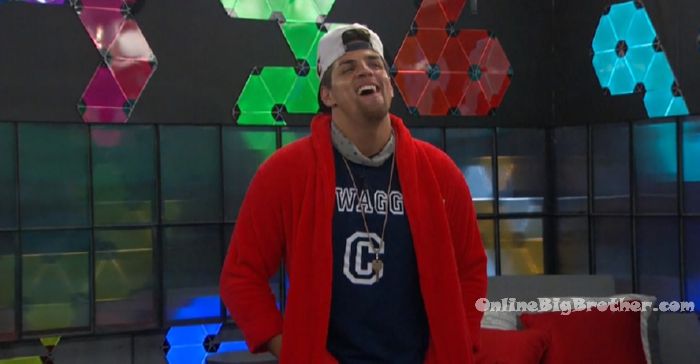 10:50pm JC and Haleigh. JC – whoever did the vote. This is just a lot to take in. Haleigh – this is really good for me and you because this is drama that I'm not involved with. JC – I don't understand what was going on so I was like what the f**k!? Haleigh – Scottie came up to me.. JC- I know you and Scottie have a good relationship. Haleigh – obviously not if he is blatantly lying to me. JC – do you know who? Haleigh – right after he (Scottie) said he was the one vote. JC tells Haleigh – between you and Faysal, I trust Faysal more. A lot of people talk to me about gamewise. Haleigh – I feel like I don't take priority with you. JC – when you're a part of moves in the house I have no idea where your head is at.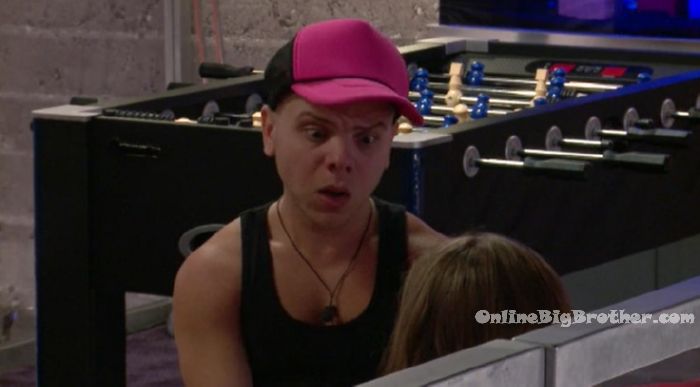 11:25pm HOH room. JC, Fes and Haleigh. Haleigh and JC are drinking the HOH wine. JC – remember when I told you that it wasn't beneficial for you to be in a showmance with her. I think that Scottie really likes you (Haleigh). I think he wants Fes out so that you will turn into him. He will be like your new hero. He will by your new Faysal. Fes – I tried telling her (Haleigh) that I don't feel that comfortable with Scottie. How are we supposed to be in an alliance if he doesn't talk no game with me? JC – he never thought Brett would say anything. Haleigh – he knew that Brett would want to be in good with everyone else. The way Scottie was acting, he was really uncomfortable like he didn't know what to do. Haleigh gives JC more wine. JC – this is your opportunity to un-target yourself. Haleigh – un-target me. I can talk to Tyler and try to get him completely on my side and try to make him believe that since you and I are suck good friends. Like I convince him to not do anything with or touch Tyler… but that he has to promise me that is going to be in a good place with you. Haleigh – well he made the comment that we're even. Fes – okay so put Scottie up with who? JC – no, no are you crazy?! Scottie is the veto winner. No Scottie up. Haleigh – who then? JC – you have to backdoor Scottie.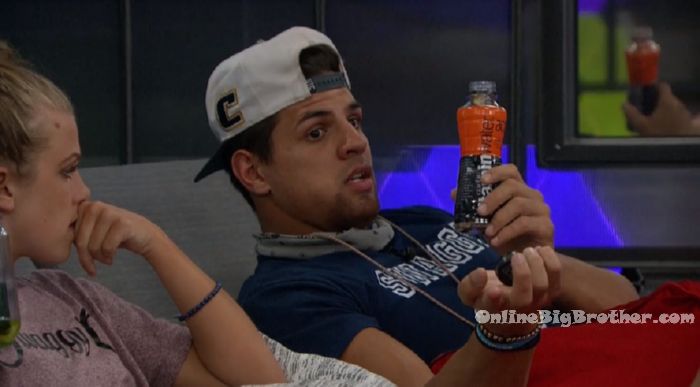 12:20pm HOH room. Scottie joins Fes, Haleigh and JC. Scottie joins them for a bit. Fes tells says he is going to bed so Scottie heads out of the room. As he is leaving he tells Haleigh he loves her. He asks when she is coming down. Haleigh says in a few hours.
12:47pm – 2am HOH room. Fes and Haleigh. Fes – I told you I got us! Haleigh – you better hype me the f**K up in the DR. Fes – Scottie is out of control. Haleigh – say you do Scottie and Tyler. Fes – if I make a big move… will y'all back me up on this gig move? This is going to be a big f**ing move. Haleigh – tell me? I want you to make a move that is not going to.. Fes – Scottie is out of control and I told you that and you didn't believe me. Haleigh – are you going to put up Scottie and Brett? Fes – f**k it lets see who can win a veto. The only thing I am scared about is if Scottie wins sand takes down Tyler. That's why I thought about putting up Tyler and Scottie and then backdoor Brett up. Haleigh – that's an idea. He is already coming after me. You don't also want him coming after you. Fes – That's the only way to secure .. its either going to be Brett and Tyler or Scottie and Tyler. Its going to be a big f**king move. Lets see who can win the veto. Fes – Scottie is sketchy as f**k. The only reason you don't think so is because he likes you. HE is sketchy as f**k. Fes – I need input from you. Haleigh he's (Scottie) not that close to Tyler. Fes – so maybe I talk to Tyler and tell him what I am doing. And I say look I am not going after you. Scottie is trying to turn people against each other. Haleigh – maybe say – If I don't put you up I need you to promise if you win veto, you will do what I want.
Haleigh – I don't have a lot of friends in this house. Fes – neither do I. Fes – just know I've got you. Lets make some deals and set ourselves up for next week.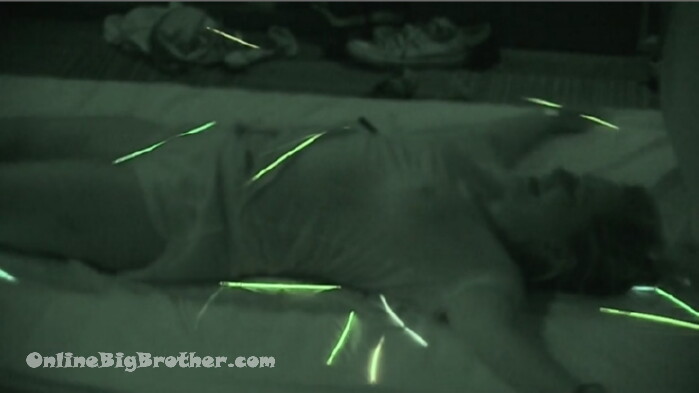 2:32am Scottie got the glowsticks out they had a quick glowstick party!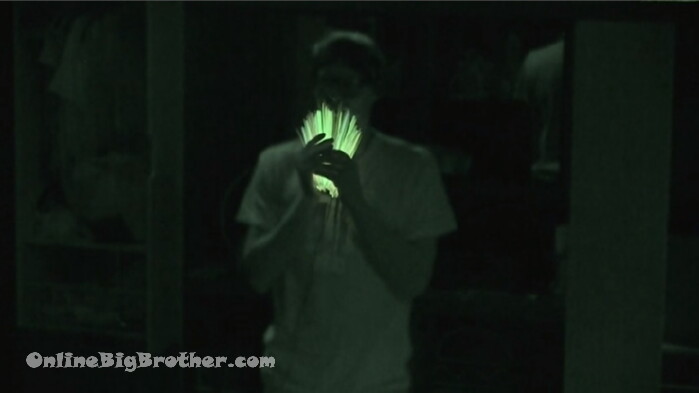 glowstick party #BB20 pic.twitter.com/mrBNvioh9g

— OnlineBigBrother.com (@bigbspoilers) August 17, 2018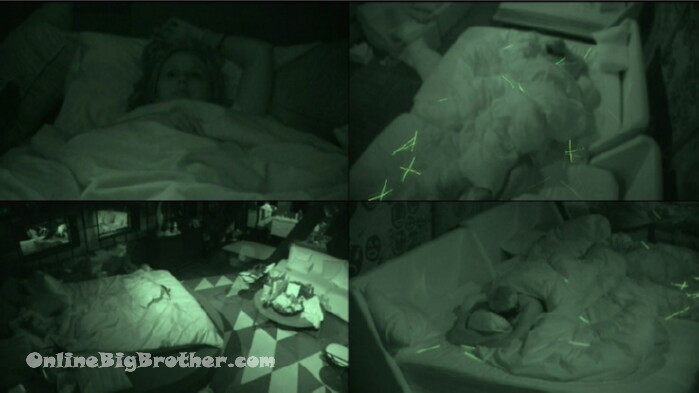 3:00am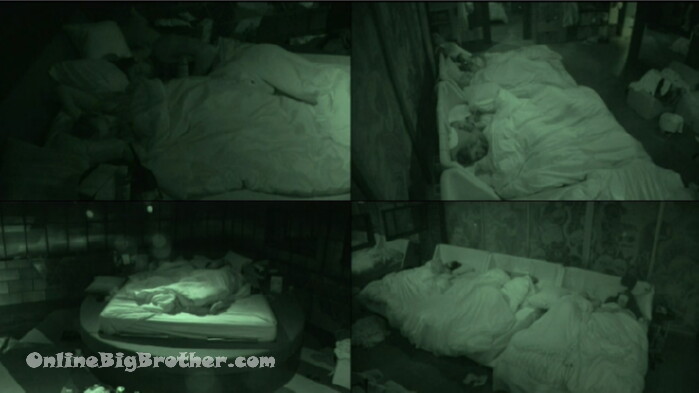 8:14am zzzzzzzz
9:23am zzzzzz
Donations Really do help keep this site keep running round the clock. If you like our content please consider supporting us. Any amount is greatly appreciated!
Rank the houseguests!
Easiest way to Rank the house guests use link below