| | | | |
| --- | --- | --- | --- |
| POV: | ? | Next POV: | Aug 18th |
| POV Used | ? | POV Ceremony | Aug 20th |
| HOH: | FES | Next HOH: | Aug 23th |
| Noms: | | Have Nots | |
Big Brother Spoilers In what is the cherry on top of stupid land. Fes is targeting Scottie the one person left on his side other than Haleigh.  Fes' target is Scottie if veto is used Tyler goes up. IF SCottie wins the veto things get interesting if Scottie doesn't win the veto Scottie goers home. Of course this can all change by Monday.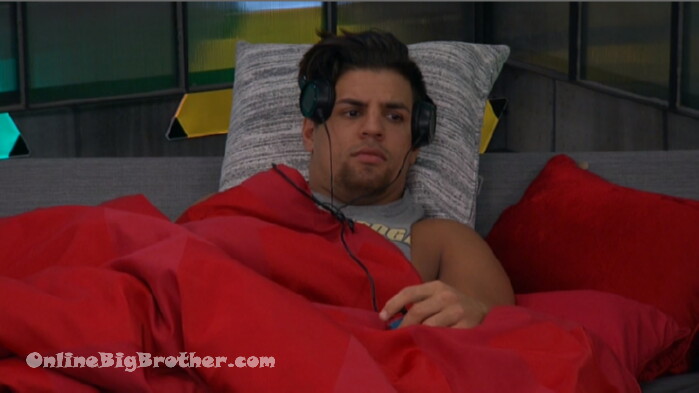 9:44am Fes and Haleigh
fes – can you be my little minion
H – what do you want
FEs – to get Angela and Tyler
FEs – here's what I told everyone last night if you feel comfortable coming up to talk to me you can.. so I don't want them say me go down and grab people. I want you to tell them hey fes wants to talk to you (LOL)
Fes – can you do that
Haleigh – yeah
Fes – in a little bit in a hour
H – you need to talk to JC first
Fes – I'm going to tell him what I'm doing
Fes – his whole thing is to put up KAycee so Scottie is not mad at me so if we win the veto we act like we weren't going to put him up right?
Fes- regardless if this Theory is right even if I don't put him up he's still going to come after me .. so… .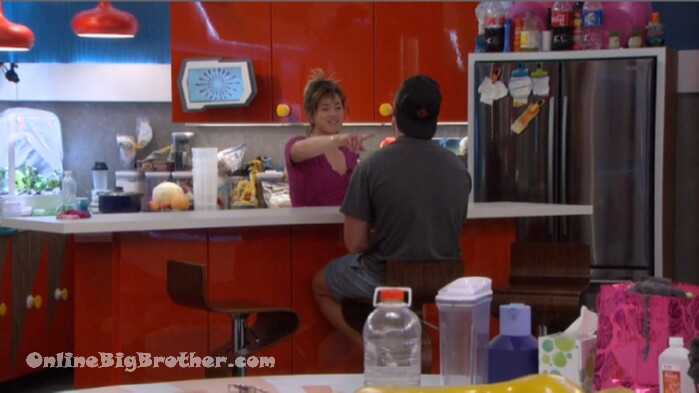 9:46am Sam and Brett
Sam says the first few days Fes was hitting on Angela and he rejected him. Sam mentions that Haleigh told her day two "I can't compete against that"
Sam – he has an agenda
Sam says whoever goes up Haleigh has something to do with it "it will be whole will be eligible for her; you , Tyler.
Sam – It's going to be Angela and Tyler that go up I promise
Sam thinks they will try to take out Angela first.
Sam – we're going to get called in for the ceremony in 5 minutes
Brett – I don't think it will start until 11 like all those other times
Sam says she thinks there was a whole thing to see if they can get Kaycee to sleep with Sam
Sam – I miss Rockstar.
Brett – I know
Sam – she didn't include you in her instruction for her departure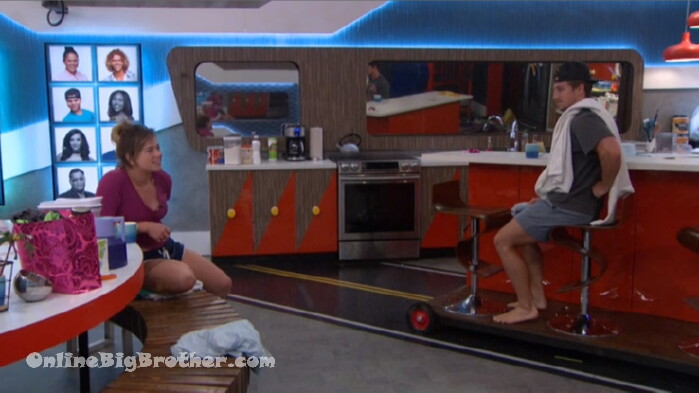 9:55am Sam telling BRett how tight her muscles are (hint hint Brett)
Sam says she loves the everlong foo fighters song (what they listened to this morning)
just chit chat
Chewing

10:14am Angela and Tyler
Angela – it hurts so bad
Tyler – it hurts so good
(they're in pain after the 3 minutes endurance last night? disappointed)
Angela – I'm so sore.. it's hurt so bad
Tyler- it hurts so good #BB20 @DawgsBigBrother pic.twitter.com/bMGe1c91k7

— OnlineBigBrother.com (@bigbspoilers) August 17, 2018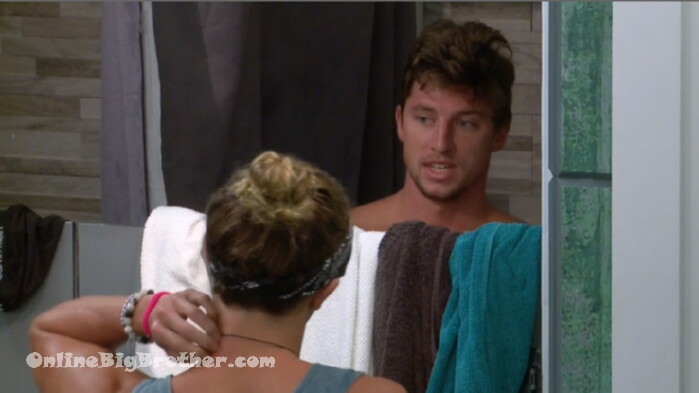 10:20am Tyler and Brett
Brett – I have no idea what is going to happen
T – neither do i
T – JC is trying really hard to get Scottie BAckdoored
Brett – yeah but… he can try all he wants
T – it can happen
B – I mean it could happen .. I mean the reality is.. honestly I think I'll get put up (sorry the shower makes it immpossible to hear)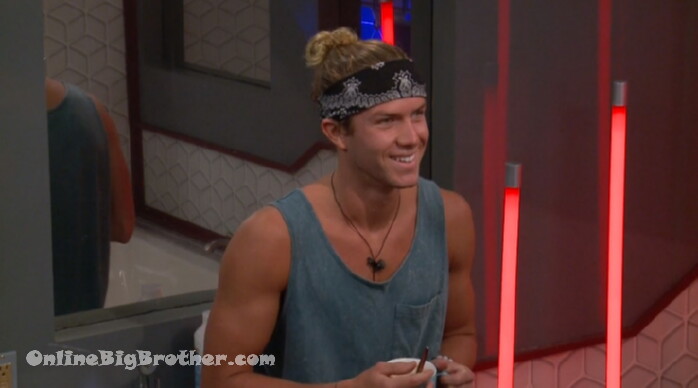 10:23am Tyler and Fes HOH
Tyler and fes aren't sure where the votes went last night.
Tyler – Scottie said and Brett said
F – long story short I don't know for sure what I am going to do.. 100% sure.. BUT one thing I need your word because I've been a man of my word .. I'm not touching you I'm a man of my word..
T – I've been saying the same thing about you
FEs – since day one haven't said a thing about you wanting to put you up never.. eventhough I've won 3 comps you've won 5.. makes sense to get the better physical player out than me. I'm not doing it.
t – that's not you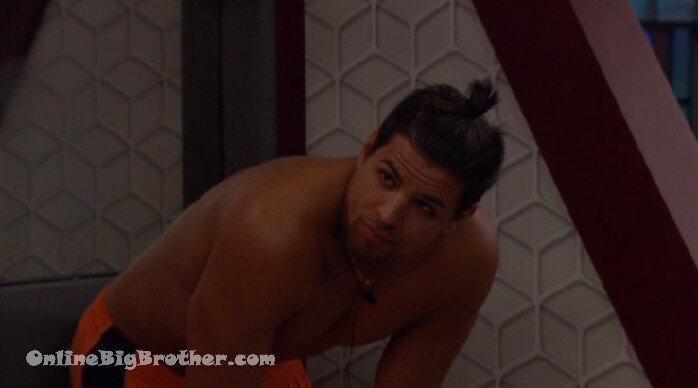 F- I'm not getting greedy
Fes wants to go to top four and battle it out "Best man wins.. Win all the comps you want I don't give a damn"
Fes says even thought they are on opposite sides he's never wanted to take Tyler out.
Fes says if Tyler gets picked to play in the veto win it if you want to protect yourself. The only thing that he asking if Tyler wins the veto than Tyler does what Fes wants with it.
Fes explains it would be easy for him to slap Tyler on the block, "You voted everyone I liked out of the game"
T – trust me I know that
F – simple move to put Tyler up, he's on opposite sides of the house and he's a good competitor.. but I'm not doing that
Fes tells him if he does this they are good in fes' eyes top 4 "i'm a man of my word… f*ing word.. not touching you"
Tyler – I believe everything
Fes – another thing is..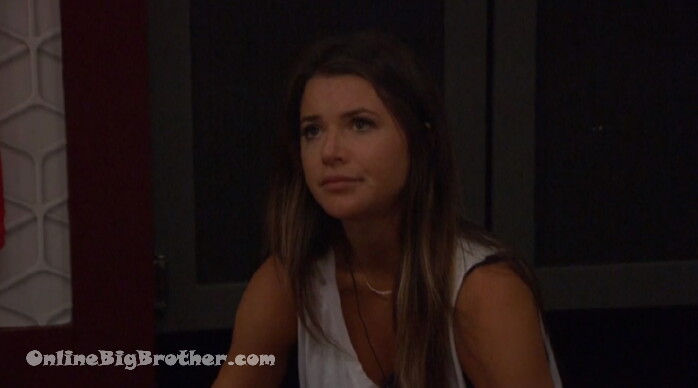 Angela comes in. Tyler tells her they are in the bathroom "it's bath time.. It's bath time"(LOL i think this was a dig)
FEs tells her he's not touching Tyler "I don't know my full move yet"
Fes tells her she's not going up. He's adamant that the veto user does what he says
Fes – there's a lot of shady sh1t going on, 2 people raised their hands there was one vote so I don't know what the f* that is
Fes can't understand the vote last week..
Tyler – I don't know anything about that
Angela – I don't understand that..
they are all laughing
FEs tells Angela just because he hasn't talked a lot of game with her he wants her to know he's not her enemy
FEs – it would be a cop out easy thing IF I put y'all up
Fes – I just want this week to go smooth because most weeks haven't'… that's all i'm saying
Tyler – I can look you in the eye and tell you I'm in for it..
FEs – you both play a similar game .. straight up everyone knew where you are voting each week
T – you always know were I'm voting we're just not always on the same side (LOL)
FEs – I respect y'all and i'm not going to touch y'all
fes – once you get to 6 one of you best friends go home..
Fes – if you want to win it go ahead .. (veto)
FEs – even thought we are on the opposite side of the vote a lot doesn't matter. it's the people in the middle..
FEs goes on about these people in the middle that are flipping votes.
Angela and Tyler both say "It happens every week"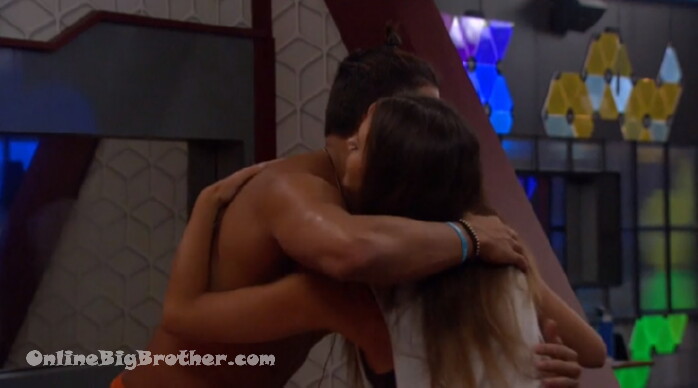 They hug it out..
Angela – enjoy your bath..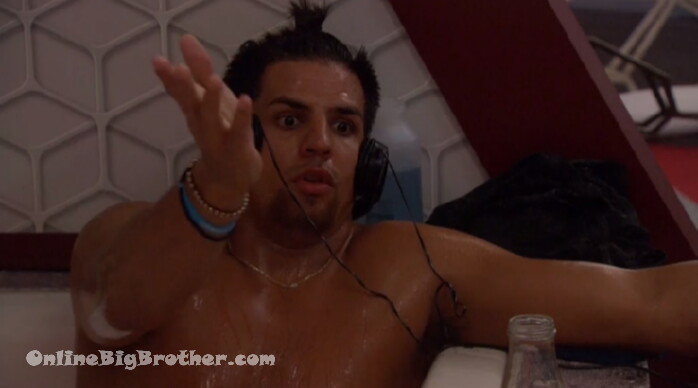 10:46am FEs and Kaycee
Fes is telling Kaycee he's targeting the people that are playing both sides. Kaycee tells him she's respecting any decision he makes.
Fes – it's the lying and flip votes that's making me mad..
FEs says you are supposed to lie and cheat but he doesn't know who to do that
Fes wants her to respect his nominations this week she'll be fine though. "I don't know what exactly i'm doing"
Kaycee – you got it
Fes – I'm a man of my word
Kaycee – I know you are
Kayce says fes reminds her of her best friends she has his back this week and next week
Fes says if the house comes together and makes a unified decisions this week than next week whoever wins they can make the unified decisions.
Fes – there's no hacker let make it smooth
fes goes on and on how he essentially doesn't want to be fooled today
KAycee – I respect whatever you do less. moves makes it as simple as possible
Fes – in your logic Brett voted to keep Rockstar
Kaycee says she's always been close to Scottie from day one.. we were on opposite side but he would also come to her about votes..
KAycee – i'm a a lot close to Scottie than Brett..
Kaycee thought BRett was the one that voted her out.
KKaycee says Scottie is now telling her she's voting her out
Fes – you think he's saying that to cover his a$$
Kaycee – I think Brett voted me out
Fes – every week that the votes been close there's 5 people that say the vote goes that way but Julie always says there 4 votes..
FES – if it walks like a duck and quacks like a duck it's a f*ing duck.. 9 times out of 10 it's a f*ing duck.. that's my move get out the shady sh1t..
Fes – I scratch your back this week you scratch my back next week
Fes – I have no reason to backdoor nobody
Fes – i'm on the wrong side of the vote every week kaycee.. it's not because I"m scheming.. I don't know how to play this game.. I know how to be loyal and win competitions.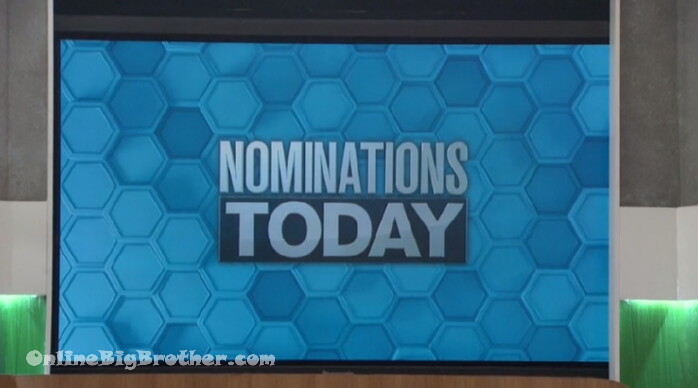 Nominations .. today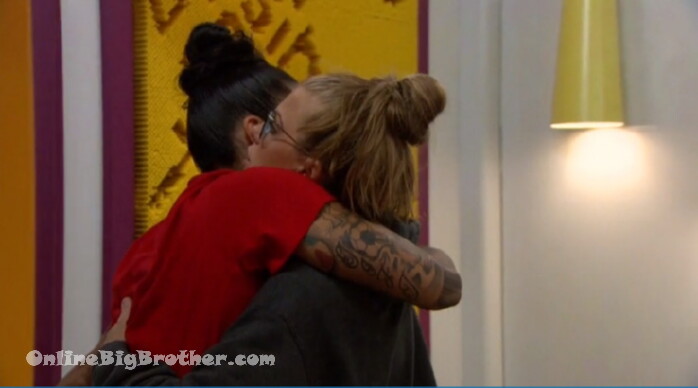 KAycee and Haleigh talk about a bit of Drama last night. Kaycee says she apologized to Fes and wants to apologize to Haleigh. She doesn't like how Scottie pulled her into it last night.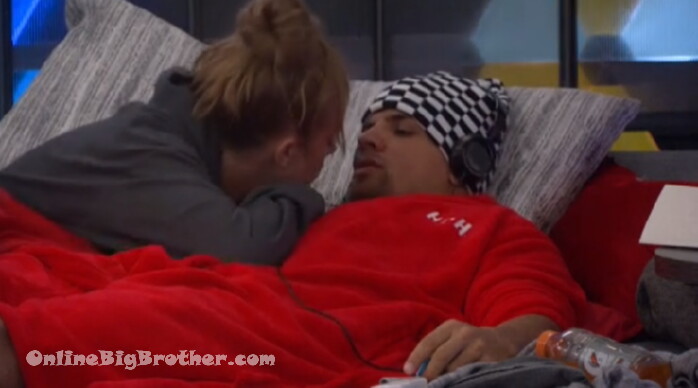 FEs gives a recap.. I'm not going to bother he goes over everything above but adds a layer of stupid to it.
FEs tells her Kaycee is not cool with Brett she's cool with Scottie. FEs – it's not about HOH's anymore it'a all about the veto.. FEs says he doesn't want Tyler to use the veto on Scottie.
Fes – I'm cool with Haleigh but Scottie was in her head telling her to backdoor you .. because he doesn't want to do it himself
haleigh warns him about doing that..
Fes – should I wait until Noms are locked.. or what..
Haleigh asks him what happens if Brett or Scottie take themselves off the block.
Fes – whipsers Tyler, Right?
haleigh – I guess.. (poor little lamb bird)
Fes – do you understand what I am saying about I would rather know who my enemies are.
FES – how many comps do you need to win to be a comp beast..
Haleigh – Tyler is one .. he's won 5
FEs – i've won just enough comps so people don't want to put me up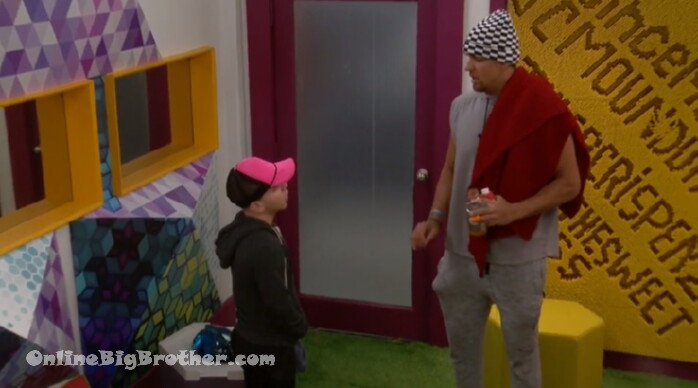 NOON
FEs – I'm making a big move
Fes tells JC he's slapping Scottie and BRett on the block
JC – why are you doing that
Fes – cause I can
JC doesn't think that's the best play "what if one wins the veto the other will probably go home if we run the votes"
JC – if one of them win HOH next week…
Fes – it's a small chance I just want you to know because I respect you
JC – I support you in whatever you do
Fes – I'm going big this game has been f***ed up so i'm going with my gut on this one
JC – ok
FEs – lets go to war.. the thing is the numbers are getting smaller..
FEs wants to eliminate all the players in the middle so there's not more flipped votes. "WE're good with these people and now lets go take out the other side of the house"
JC tells him that Scottie has a thing for Haleigh.
Fes runs upstairs and tells Haleigh JC is onbaord.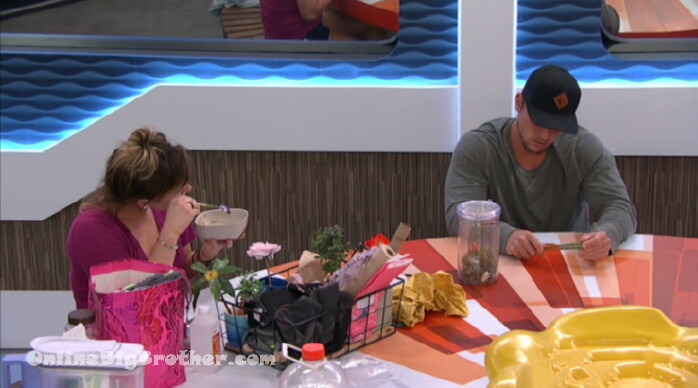 These 2 are sure spending a lot of time together.. I thin Sam has told Brett about her thing for him.. (just my own personal bit here.. I've noticed Sam is alot more dare I say normal now that the rock is gone.)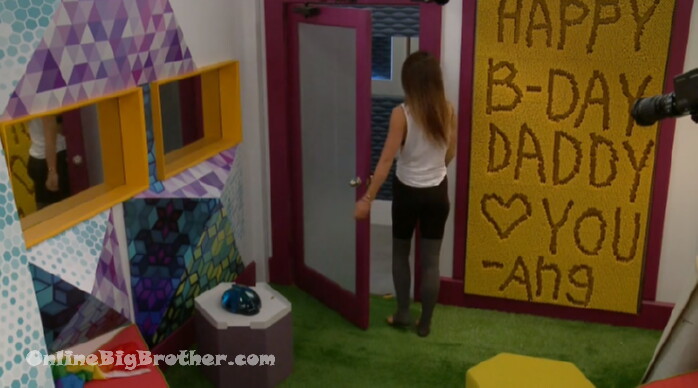 12:26am Angela's dad's birthday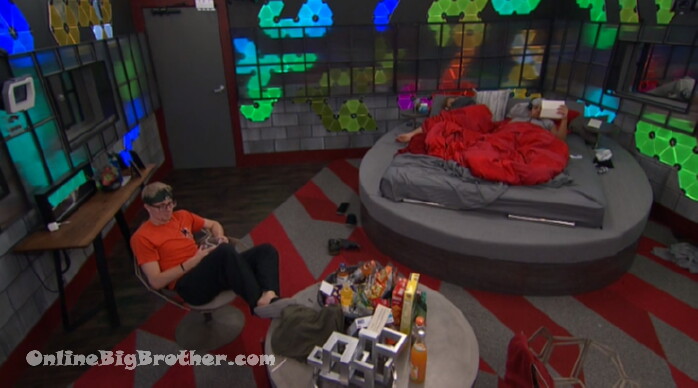 12:57pm Scottie, Fes and Haleigh
Scottie says production was really after him to get out of bed this morning. (maybe because they wanted you to save your a$$)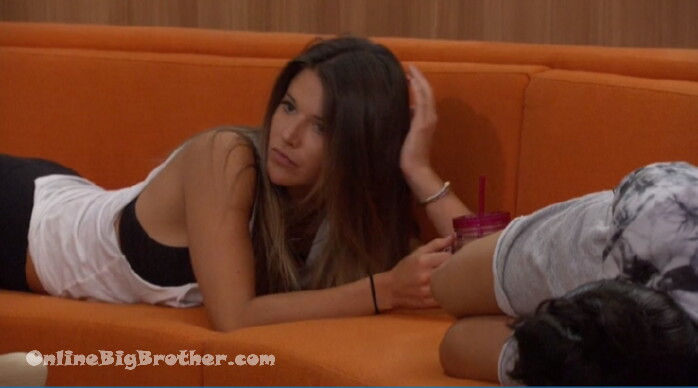 1:00pm Angela and KAycee
Kaycee thinks it's going to be Scottie and Brett on the block.
They wonder why it's taking so long for the Nominations Ceremony.
A real easy way to support the site if you are an amazon shopper is to make your purchases through our link. You pay the exact same thing but we get a small % commission. It doesn't cost you anything and helps us out.
Amazon Canada
Amazon USA