| | | | |
| --- | --- | --- | --- |
| POV: | Brett | Next POV: | Aug 18th |
| POV Used | ? | POV Ceremony | Aug 20th |
| HOH: | FES | Next HOH: | Aug 23th |
| Noms: | Brett & Scottie | Have Nots | |
A real easy way to support the site if you are an amazon shopper is to make your purchases through our link. You pay the exact same thing but we get a small % commission. It doesn't cost you anything and helps us out.
Amazon Canada
Amazon USA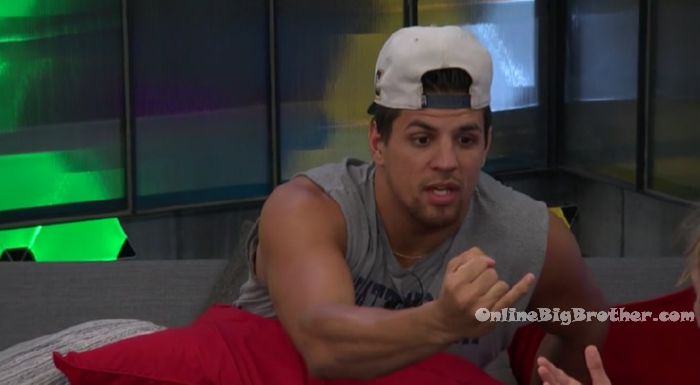 5:10pm – 5:55pm HOH room. Fes, Haleigh, Angela and Tyler. Fes – before I talked to Scottie. She was in the kitchen with a big smile on her face. She said okay I am ready to play this game and I know who you should choose as a replacement nominee. And then listen to this .. she said if you do this for me, I will quit smoking. That was her pitch. Who do you want on your team. Me or Haleigh. Do you want someone who can hold on to a tree for hours or Haleigh who only takes and never gives. And then she was like pinky promise. Haleigh – what did you say? Fes – I was like this is a big offer .. I'm going to need to think about this one. Haleigh – she said the same thing to Rockstar.. I'm ready to play this game. Angela – well she isn't playing with me. Haleigh – what does that mean I take and don't give? What does that mean? Angela – when we were outside she asked what you were going to do and I was like I don't know but if I was him I would put up someone next to Scottie that I knew wasn't going to go home. Fes – but that is uncool what she just did. She was like make your parents proud and help me quit smoking. She said the day Haleigh goes home you and I could go in the storage room and rip up all my cigarettes together. Haleigh – do you want her to quit smoking really bad? Fes – no. Angela – why does she think this game revolves aroudn her habits. Are we playing house? Who can clean the bathroom the best. Who contributes that most? Haleigh – I don't understand why she dislikes me so much. Fes – that's why I can't put up Sam .. she would go home. I was like is this the best pitch you can do. it's been 61 days and now I can trust you!?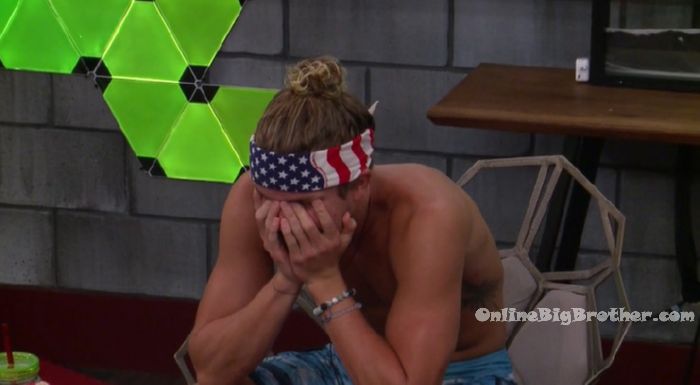 Fes – I was like yeah okay I send Haleigh out and then Sam is smoking the next day. Motherf**ker! I would look like the biggest idiot. She is probably in the DR lighting up and being like got his dumba$$! I was tempted to do it just to see if she would rip up her cigarettes. Haleigh – oh really?! I am just glad we saw all this before they were able to do anything.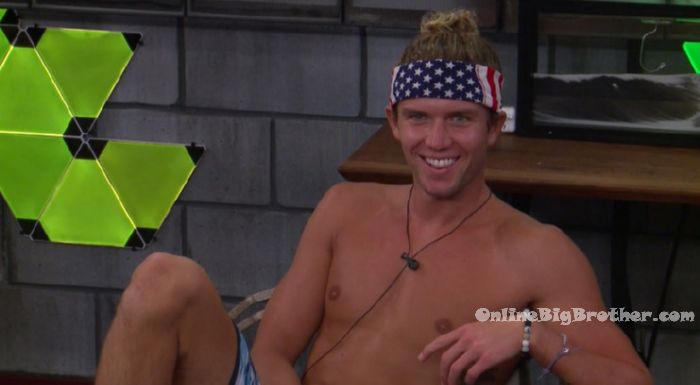 Angela – so what happens when one of us get a chance to put them up.. (Fes and Haleigh) we deal with that bridge later? Tyler – yeah. They go home, what are they going to do? Angela – true.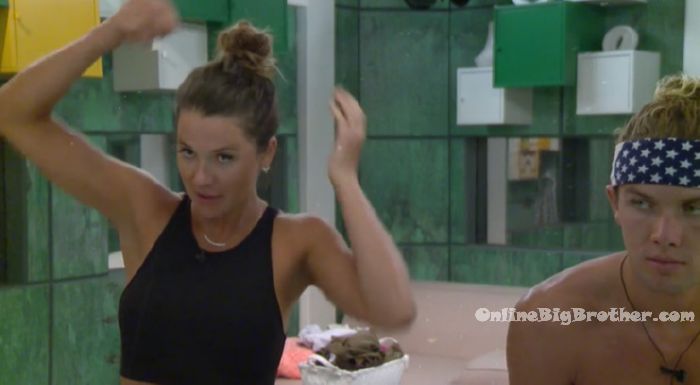 5:54pm Bedroom. Scottie and Haleigh. Haleigh – what did you want to talk to me about earlier? Scottie – I don't know the best way to put this because you're going to hate me either way. You're going to hate me. Haleigh – why would I hate you? Scottie – because by design you hate me. Haleigh – I would never hate you. Scottie – I need you to disassociate from me because I am going. Their taking out the pairs. Bay and Rocks had something. Swaggy and Steve had a deal. People are going after the pairs. Haleigh – why would I disassociate from you? Scottie – what good would it do for you to associate yourself with me. Haleigh – because your my friend and I'm not going to let you go through this myself. Scottie – this is the part where you're going to hate me, I've already put it in motion. Haleigh – what do you mean? Scottie – I've already told people that you've been playing me and let them believe that. I am literally being knocked out by my own team right now .. its not a good look for you to be with me. Haleigh – I don't understand. Scottie – you don't understand why its a bad look for you to be near me? Haleigh – no, everyone knows you're my friend. Scottie – not any more. I told them all we're enemies now. The group with Angela believed me. Haleigh – no one believe you. What did you say.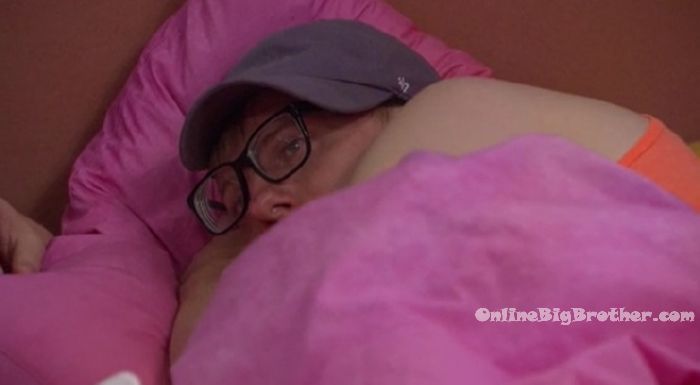 6:05pm Scottie – I spun some bullsh*t about you being my target. Haleigh – is this because you talked to Sam last night? Scottie – I have tried to play this game with my heart and it is just getting ripped out in every f**king direction. Haleigh – do you believe that .. that I am playing you? Scottie – I don't believe that. Like I picked you to play. Someone somewhere is trying to f**k me. So I said let her go, let her play her game. I don't want the drowning man syndrome. Haleigh – we don't even know if you're leaving. Scottie – who am I going to beat in a boat. Haleigh – apparently Sam thinks you would beat me. Scottie – did she pitch it to Fes? Haleigh – yes. Scottie – she told me the same thing which is why I pitched whatever I was supposed to to Fessie.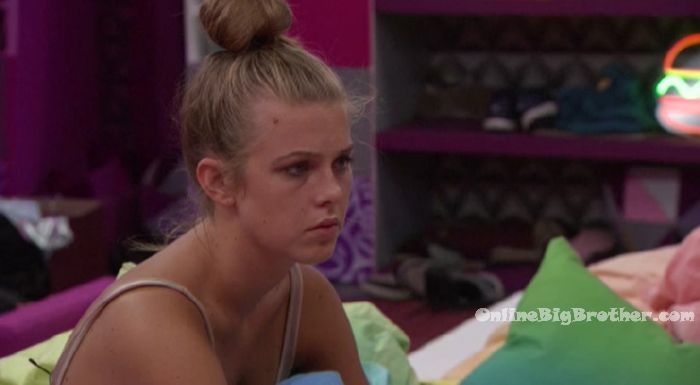 Haleigh – what did you tell Fessie? Scottie – whatever Sam told him. About you playing us and you're basically Kaitlyn 2.0 and stuff like that. Haleigh – you said that?! Scottie – yeah I am trying to make them think we're enemies. That's why I've been back here pouting all day. That's why you have to go to him and say Scottie is weird and has to f**king go. Haleigh – did you say that because you think that or.. Scottie I would never play you. Scottie – I am f**king tired of hearing it all. Its ripping me up. Haleigh – I have literally defended you and had your back this entire time. Scottie – that's why you need to let me go. All of your friends are going and soon it will just be you and Fes. You need to start building bridges with other people or you are going to go soon. I am a sinking ship. Haleigh – well if Sam and Brett are telling you to do this then that is two people that want me gone. What are you to say in your speech? Scottie – I've decided to say that I have nothing to f**king say. I am literally going to just lay down.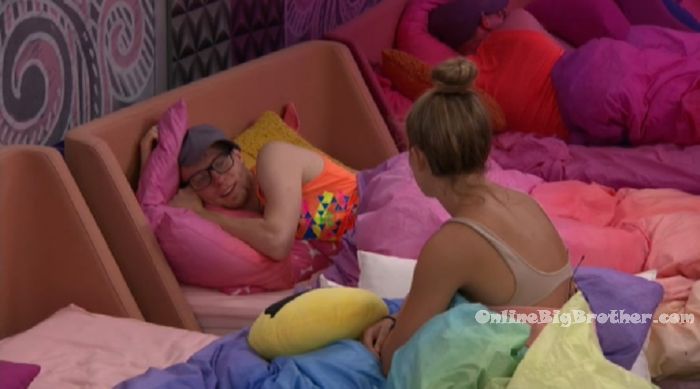 6:14pm Backyard. Tyler and Brett. Tyler – they're not targeting you now. Brett – yeah, now that I won the veto. Tyler – no for next week. Brett – who are they targeting next week? Tyler – Sam. Because she is in on the help Scottie plan. And I think he is going to put up Kaycee. They want Scottie to go. He dug his own grave. Brett – They actually tried to get me to use the veto on Scottie. I was I am NOT doing that.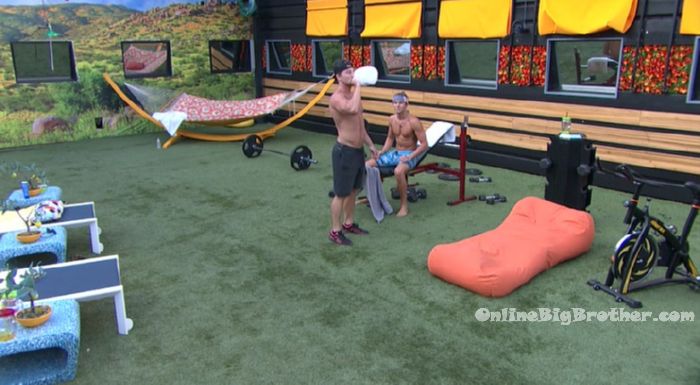 6:25pm HOH room. JC and Fes. Fes – Let Scottie freak out and let Kaycee be smooth.. and Scottie will go. If he doesn't go then I don't know. That would mean 4 people voted for him to stay.. because I have to break the tie. JC – if that happens go to the DR and voluntary leave. Fes – Damn if Scottie goes this week your boy made the biggest move boy!! Brett – I don't know if we will get the vote for him… all these girls are licking boots for him. Why didn't you put Haleigh as a havenot? She has only done it once. Fes – you have too. JC – I am pissed you're a f**king b***h. I would have acted confused like Brett, Tyler, Sam.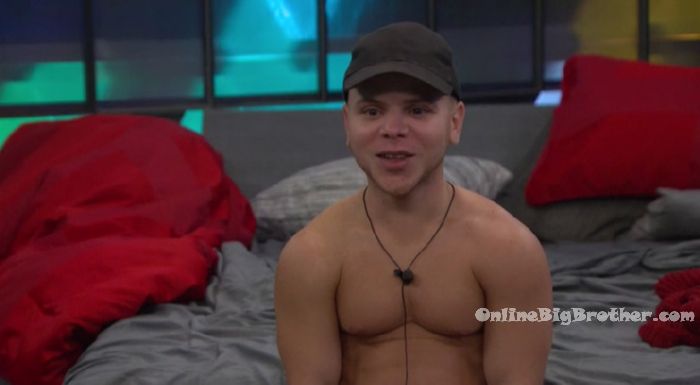 6:30pm Bedroom. Haleigh and Scottie. Haleigh and Scottie. Haleigh – I am not mad because I have had your back. Scottie – you are ligidimately beyond nice to me and I don't understand. Haleigh – because you're my friend. You're just a nice person and you're funny and we talk about things that aren't game. Scottie – those are my favorite moments in the house. Haleigh – I'm not mad at you .. I'm just sad. I am sad because you're on the block. Sad that Fes put you there. Sad that no one trusts you. Sad that people think I'm not really your friend. I'm just sad. Haleigh starts crying. I am sad that I didn't put Sam up because I listened to Rockstar.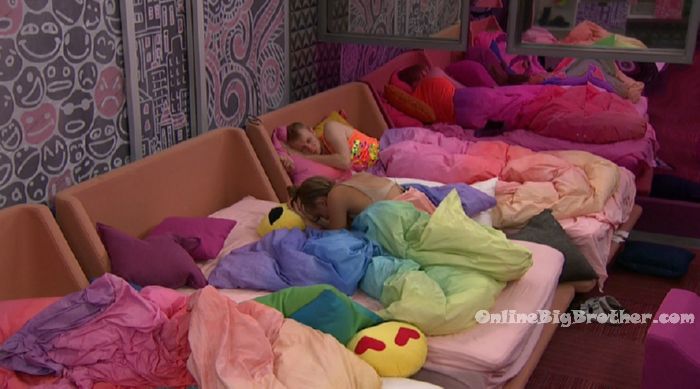 7pm Scottie goes into the storage room and digs through the garbage bags. He pulls out shoe inserts and goes to find Haleigh in bathroom. He gives them back to her. He tells her he accidentally threw them out.

7:18pm Bathroom. Tyler tells Kaycee that she has the votes if she goes up. Kaycee – I will talk to Fes tonight and try and get something out of him. Like I'll go up but keep me safe next week.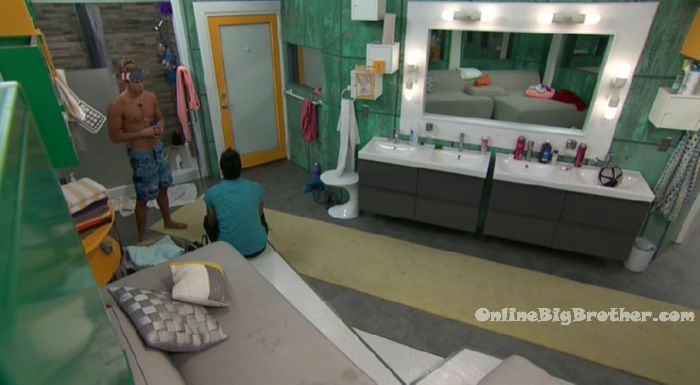 7:38pm Brett, Haleigh, JC, and Fes talk about how they think JC was America's player. JC – I'm not. Brett – yeah that was convincing. Brett – it could be running around spraying people with shaving cream. JC – I only sprayed Kaitlyn. Brett – oh and Tyler and me and Rachel. Haleigh – make a dish that no ones ever heard of and say you eat it all the time. Bring all of the sodas into the kitchen so everyone drinks one. JC – that was day two! This started a couple weeks ago. Haleigh – oh so it started a couple weeks ago?!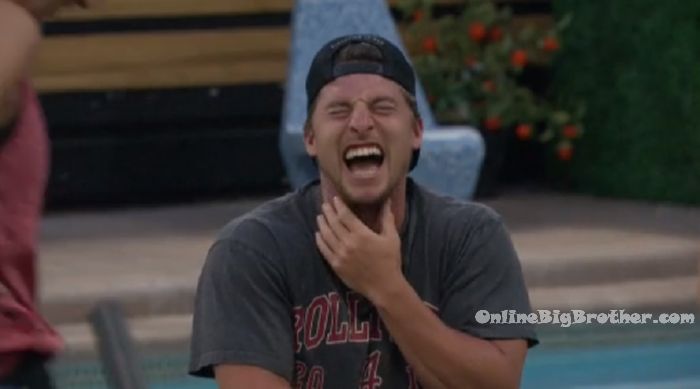 7:49pm Kitchen. Haleigh tells Kaycee if she goes up she has her vote.
8:15pm Haleigh is cooking dinner again for everyone. Fes comes out of the diary room with the snap chat sunglasses.
8:28pm Kitchen – Angela and Fes. Angela – I mentioned it to Kaycee and she is fine with it. (being the replacement nom) Fes – okay I am going to talk to her before. (the veto ceremony)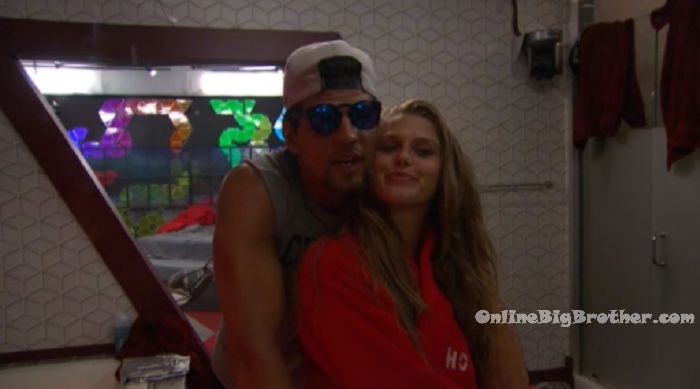 8:43pm
Sam, JC and Brett working out..
If you're enjoying our updates please consider making a donation. All donations go directly to pay the considerable costs associated with running this site. Any amount is greatly appreciated.
Rank the houseguests!
Easiest way to Rank the house guests use link below