strong>HOH: Sarah Beth
HAVENOTS: DX, Ky, Tiff
Nominations: BIGD Xavier DX and Claire
Power of Veto Players: Azah, Alyssa, DF, Xavier, Sb and Claire
Power of Veto: Xavier
Power of Veto Ceremony: Xavier used the veto on himself. Sb nomatined DX in his place.
Big Brother 23 Houseguest Rankings – – RANK THE HOUSEGUESTS –
View the previous day ranks on the – Ranking Grid
Big Brother Spoilers – This vote might be tight still looks like DX is going.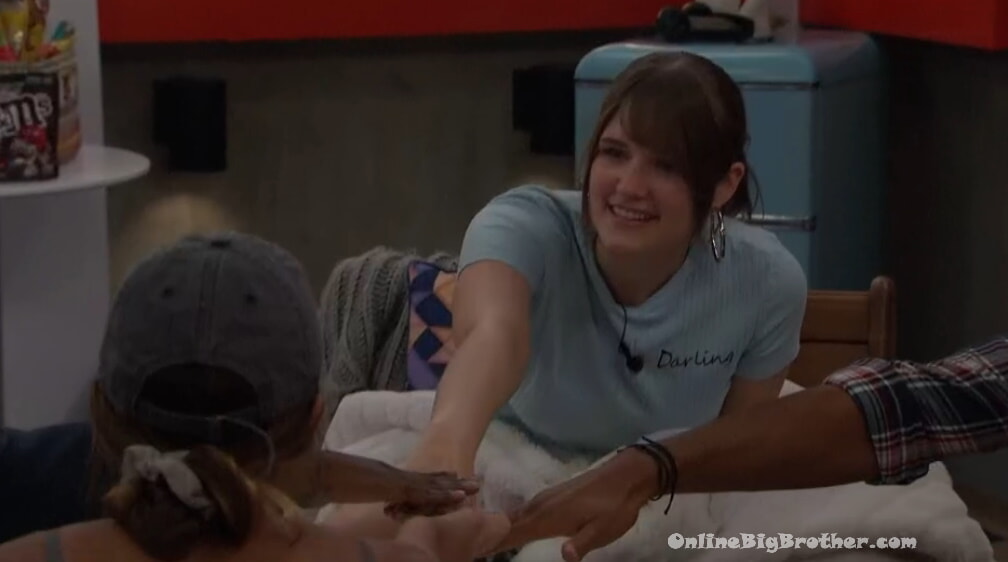 1:08 am Ky, Alyssa, Sb and X
Alyssa says BIGD isn't looking at any od them if he won the coin of destiny
Sb agrees says he'll put up Tiffany and Claire "I feel pretty good"
X – there's a stoplight chance Tiffany is in a position to win the coin of Destiny
They talk through scenarios for next week is best if X wins HOH because he's the third nominee unless he wins that HOH. They go back and forth no it. X tells them let him think it over during his solitary confinement.
Sb – next week we have a better chance of one or two of us not being on the block next to X.
Ky mentions BIGD's anonymous power as more reason why they won't be on the block.
X the anonymous person is the HOH that week
Ky – the four strongest players are in this room (after DX the only people that have won a comp)
Sb keeps reiterating that she feels like BIGD won't put any of them up.
Ky – he would love to be the official 5th
Sb – all we need is one more vote and I'm pretty sure we have BIGD
Alyss a- We have Tiff
Alyssa – It'll be 6 to 1
X – Hannah won't Azah may
Alyssa doesn't think so says Azah told her from a game perspective DX has too much power.
Sb – you guys want to make it official official? (barf)
Alyssa – oh like a name?
Alyss a- you think we should talk to BIGD about a 5 thing
X and Ky say no
X – "You got to remember he's a talker"
They start trying to figure out a name for this neat new alliance.
Sb – 3 kings and a queen
Ky – crowns
X – the crowns… the kingdom? The castle?
Sb – the monarchs?
X – the monarchy
Alyssa – ohh I like that..
The Monarchy if formed.. Alyssa and X leave.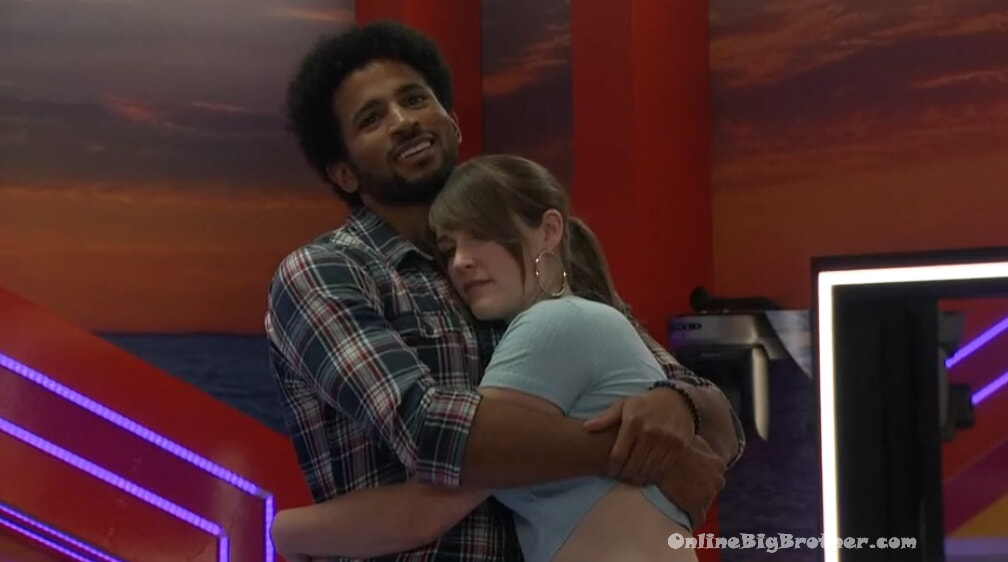 Sb goes on about how she can mentally beat Anyone but Ky or Hannah and given the physical components in the mental competitions she feels she can beat hannah too.
SB – I'm very grateful to you I couldn't have made this move if I didn't have your support
Sb – this does set me up with a strong argument for why I should win (OMFG)
Ky – of course, it does.. of course, it does..
Ky – you took out the best all-round competitor that's a big deal.
SB – previous I felt you were so ahead of me in the game now I have a HOH and a wildcard..
Sb says she trusts Alyssa and Xavier they should let them win the HOH. "It wouldn't be too awful for Alyssa to win it would take a little of the target off me.. "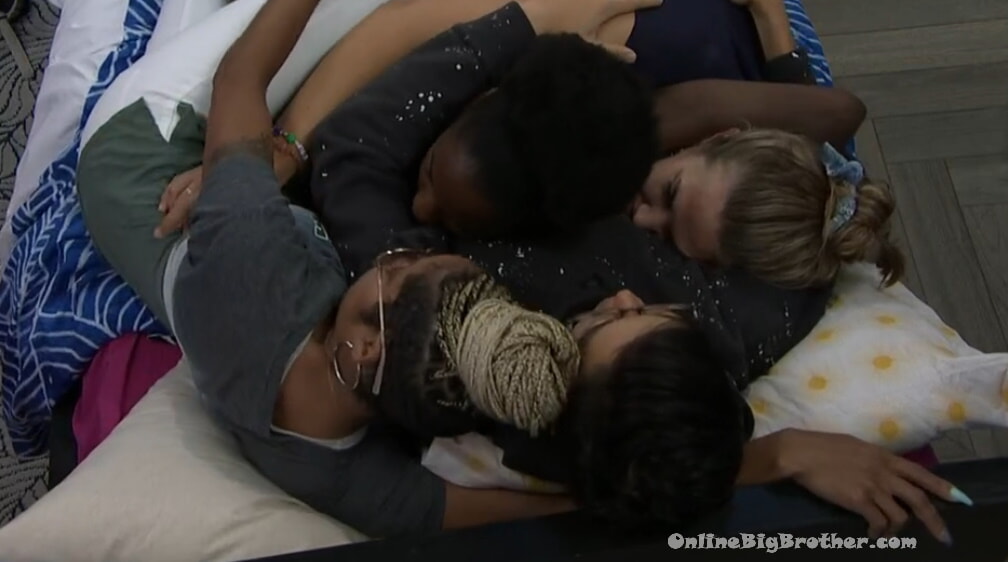 1:33 pm DX, Claire, Tiffany and Azah
They wonder where Hannah is
DX makes a joke that she's with SB "I can't believe we pulled it off"
they laugh..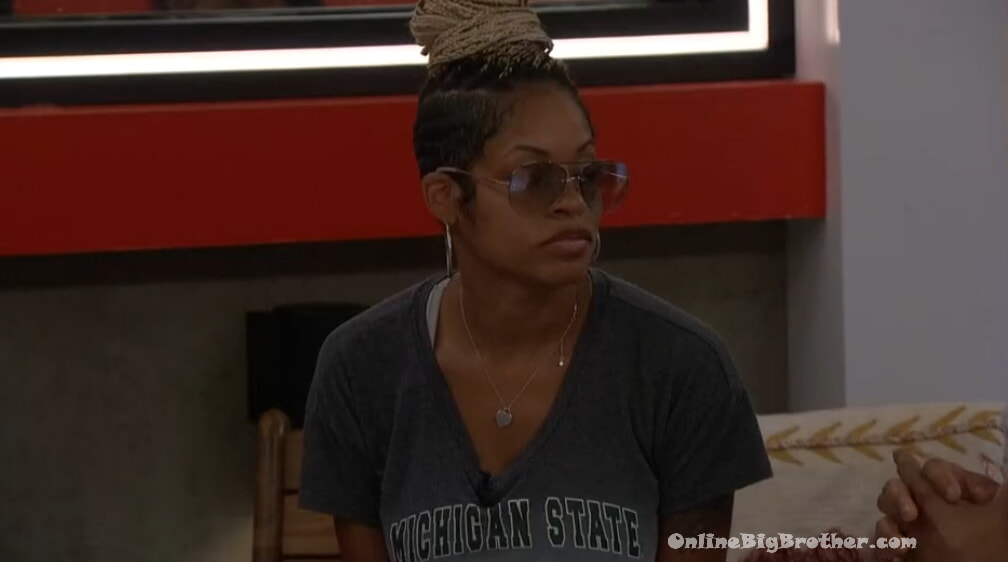 1:44 pm Ky, Tiff and SB
THey tell her the vote will be 6-1 or 5-2
Sb goes on about how tough it is she feels she didn't have control of her HOH because of the twists.
SB adds that she believed DX when he told her he wasn't coming after her but for her this is still the best move.
DX knocks on the door. Tiff leaves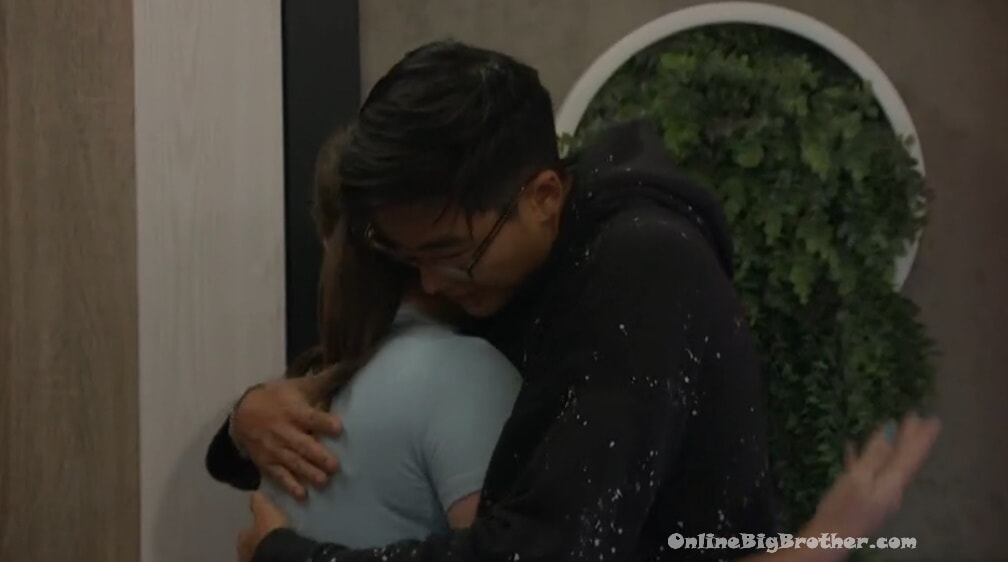 Dx – no hard feelings
SB – it's zero personal
DX – I appreciate you being honest to me.
They HUG
SB – I want yo to fight of it
DX – I'll try SB…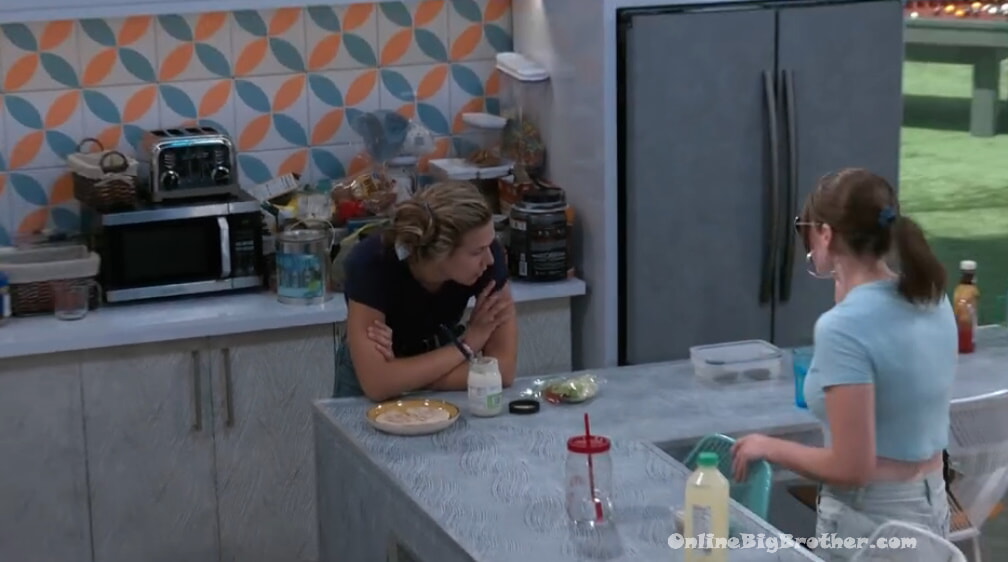 1:50 pm SB and Claire
Sb tells Claire she's going to stay this week. DX is going to campaign but she doesn't think it'll make much of a difference.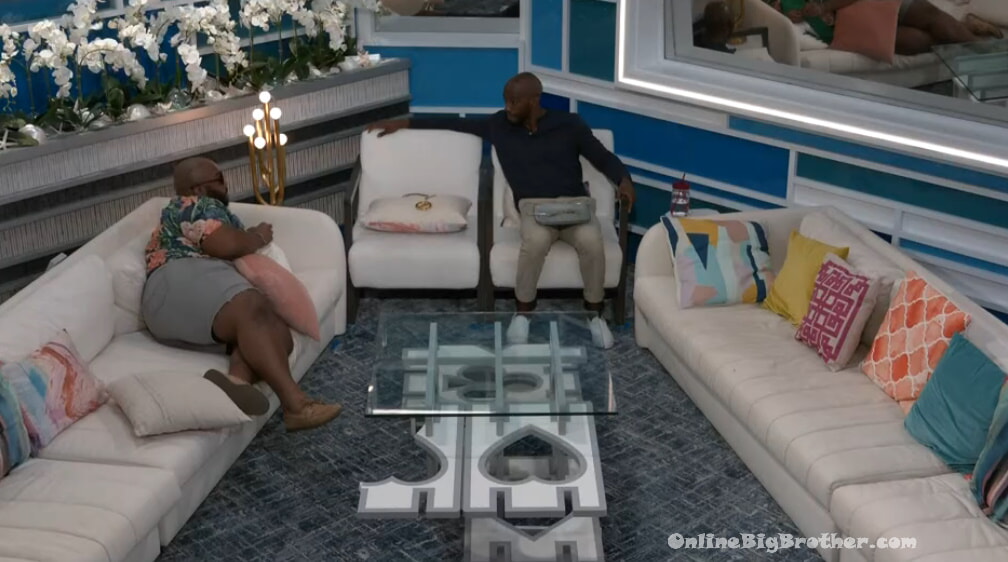 1:53 pm BIGD and X
BIGD is telling him if they don't have a plan to get SB out next week then they are better off keeping DX so that he takes out SB.
BIGD – everyone is losing their person except for Ky .. you guys are all working together. you look like the power team couple duos.. he still has his personal since the week she's supposed to be gone. if he's not willing to throw the challenge next week and make sure he understands he's losing his person why would I do the dirty work and get rid of the person that is willing to do it.
Feeds cut.
Please consider a donation to keep the madness going. BIG thanks to the people that have already chipped in.