HOH: Sarah Beth
HAVENOTS: DX, Ky, Tiff
Nominations: BIGD Xavier DX and Claire
Power of Veto Players: Azah, Alyssa, DF, Xavier, Sb and Claire
Power of Veto: Xavier
Power of Veto Ceremony: Xavier used the veto Kyland nominated DX
Big Brother 23 Houseguest Rankings – – RANK THE HOUSEGUESTS –
View the previous day ranks on the – Ranking Grid
Big Brother Spoilers – DX going up. Fun times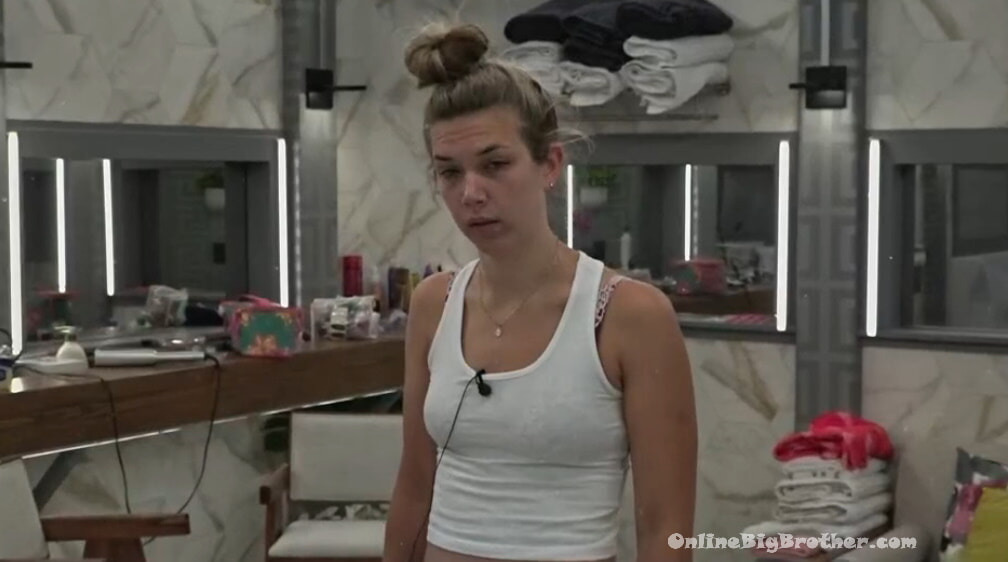 9:10 am Claire wakes up to use the washroom She whispers to herself
Claire – I just don't know what to do with DX.
Claire – I'm on the freaking block I can only push so much
Claire – being on the block is not fun
Claire mentions that Kyland, SB, Alyssa, and Xavier are working together now. "Aww so annoying"
Claire – I just can't push DX that much.. I can push him a little bit.
10:18 am houseguests getting up for the day.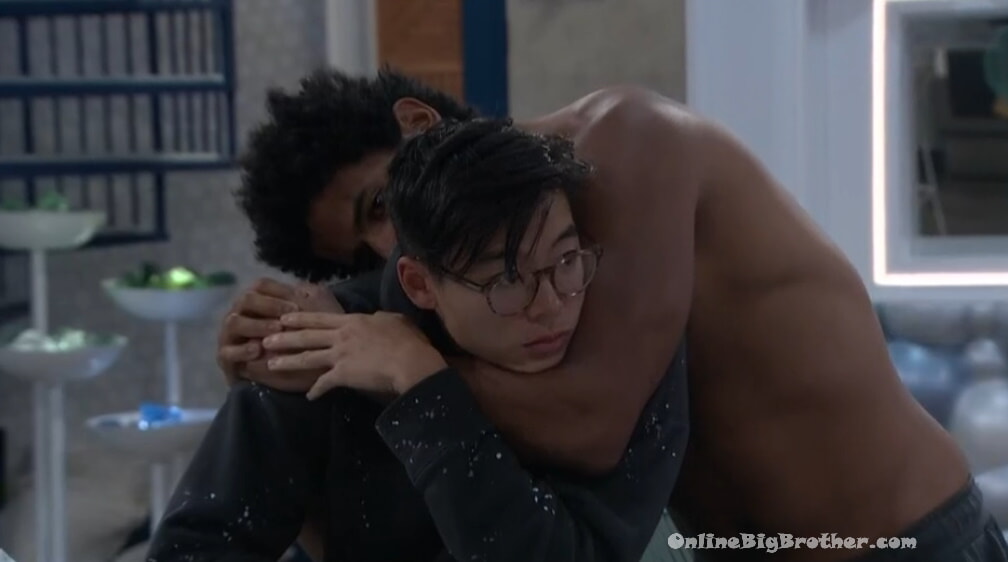 10:22 am Ky whispers something about votes. If it comes down to one vote they'll vote for him to stay. (something like that hard to hear)

10:28 am Ky now creeping on Hannah
Ky – how are you doing?
Hannah – Good
Ky – good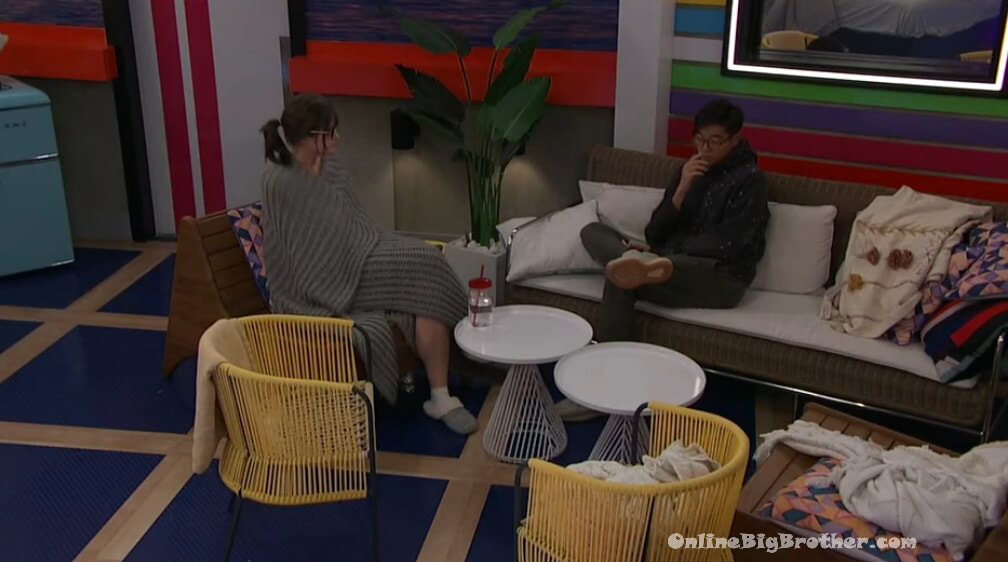 10:31 am DX and Sb
DX – I have a good idea where your head is at but.. ahh.. there's a lot I didn't want to say early I want to see if it changes anything.
DX – going all the way back the days before I won HOH it was. It was not uncommon to hear your name as a house target. When I won HOH I made a deal with Alyssa and X
DX on the wall that they wouldn't go on the block.. I won HOH and there was a lot of pressure for a king to go home and two from specific people they were looking at you
DX – that never made sense for my game.. I promise you I had you back fully.. after I put up Christian the entire time there was people outside of Alyssa and Christian that tried to flip the vote.. (X and TIFF)
DX- I understand going into next week 3 people are a tie. The person I am closest to in the house is Hannah. IF she does hit the block and leaves this house I lose my closest person. That would leave only 2 people that are close to me. If I lose Hannah I on;y become closer to you and Ky otherwise I don't have anyone to play this game with. If I ever do hit the block I'm going to go home.
DX – I don't know what your conversation with BIOGD was but when you are HOH people have all the more reasons to say what you want to hear.
DX – I trusted you and that is not something I turned on this week because you are HOH
DX – I believe pretty strongly that if BIGD did win the coin of destiny next week it will be you and Ky on the block. Even just logically let's say I didn't hear anything about it. If I am out of the house BIGD probably won't target TIFF, Claire, or Azah they are not strong competitors in his mind. X is already on the block the only three people are you Ky or Alyssa. Do you agree with that or no?
SB – I see what you are saying there..
DX – If I am still in this house I have a good shot at beating BIGD in the coin of destiny. If you do not put me on the block this week I will promise you I will not come for you in 2 or 3 weeks whatever you want. Which those 3 weeks I'll probably go home. I love this game SB. I don't want to go home
Sb – that's a lot to think about it's a hard decision.. umm.. obviously, I really love this game too I want to be here as long as I can. I want to make s decision that allows for that and I don't think it's possible for me to know what the right one is. So .. I mean I don't want to have any regrets either way. I appreciate you coming to talk to me and telling me where your head's at it helps me make a decision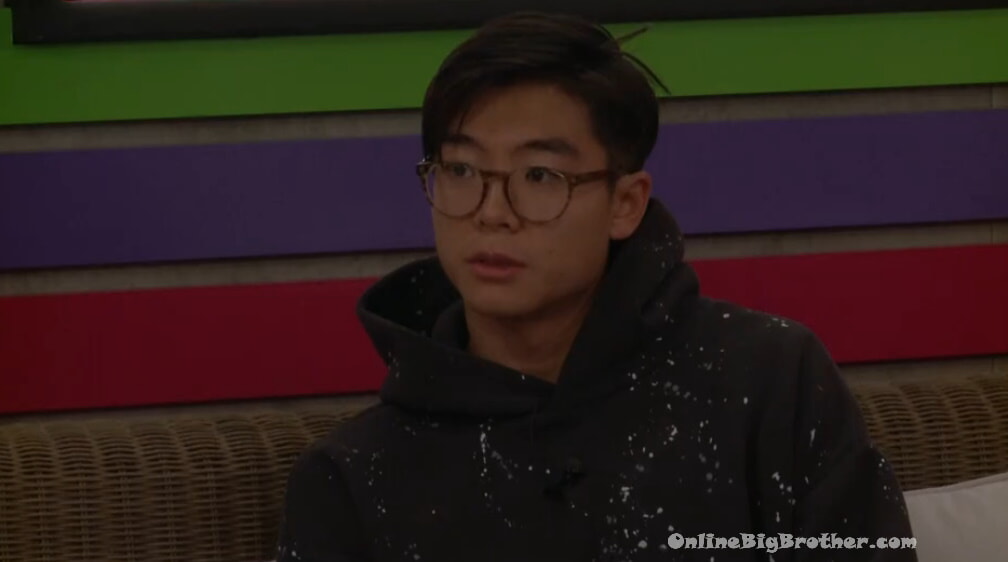 DX – do you believe me when I say I'm not coming for you
SB – umm. . Yeah but that's not so much on you that's on me. I'm not the type of player that finds it's easy to trust other peope
Sb says it's not surprising people in the house wanted her out because she did win the wildcard and she's a "King"
Sb – People know I win competitions it's very possible I end up on the block very soon
SB – just because people were coming for me week 3 doesn't mean they are coming for me now
SB isn't going to focus on who was trying to get her out week 3 she's going to focus on who is coming after her now 'Who is the biggest threat to me"
DX – there is a target on both of you. If I stay in this house to work with you guys to decrease the number of people that view you as a target. While I'm in the house having me here does protect you and to a lesser extent Kyland.
DX – I'm sitting here because I took out Christian.. I didn't understand it at the time He was protecting me in this game. SB I will not .. you will not hit the block I promise you
DX says if he tells her who told him about Alyssa flipping the vote it would likely help him but he won't because he Promised that person to keep it a secret. He points out this shows he's a loyal person.
DX says if he wins the coin of destiny next week he won't use it against people she feels comfortable with.
DX pushes for Hannah to go up. "if Hannah leaves this game you and Ky become my closest allies I would never come for you"
DX – I'm telling you you are someone I want to work with, in this game.
Sb – you made some good points I have to think about it some more
SB – do you have any reasons to think Claire or Tiff would come after you in the next even three weeks?
Dx – just like you said in this house I only know where they stand with me I don't know where they stand with other people I don't know where I fall on that totem pole.
DX – 3 weeks is a long time I don't know where they will be in three weeks. they are good players if they see a move that is best for their game they will take it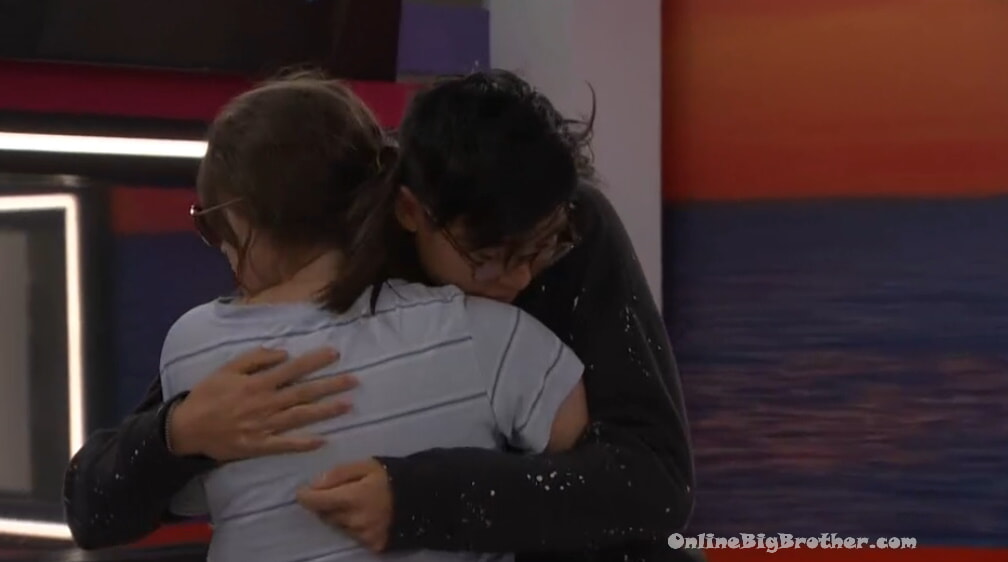 Sb says she needs more time.
They hug
DX leaves.. Sb locks the door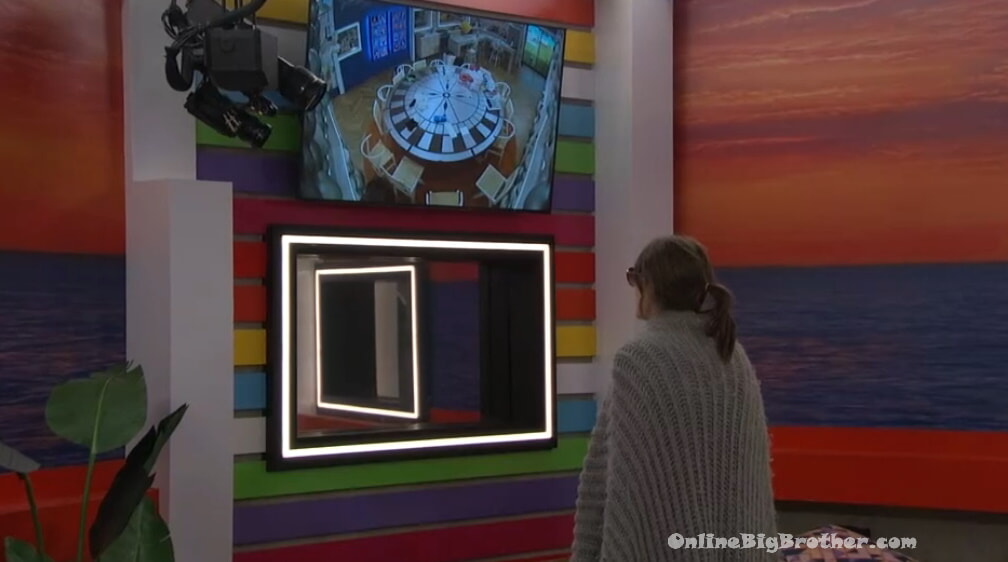 Sb let's do a little exercise.. the coup d'etat doesn't exist. If Azah wins HOH next week and this is just based on my personal perception of the game. IF Azah won HOH her target would be Kyland I think she might be someone what hesitate to put me up she would ultimately do it.
SB – if BIGD wins next week I have a good sense he'll go after Tiff adn Claire. I could be wrong (Wrong)
SB – If Ky wins he's not putting me up.. Claire I think will come after me and Kyland.
Sb – Alyssa and X I can't say for sure but right now I feel like with BIGD pretty confident.. then Tiffany and Ahhnnah will not put me and Kyland up..
SB – Four will fight for me and 3 that will fight against me .. one person that is a wildcard that is Azah.
Sb says she either has 4 people for her and 4 against or 5 for 3 against
SB says she doesn't completely trust Babyd but right now she's going to. If he stays Claire or Hannah go that is one less person after her. .
SB – okay
SB – if babyB stays and I can trust him I can have Azah as a wildcard. BiugD won't come after me, Ky won't, Claire will, baby D no, Alyssa and Xavier I don't think are coming after me.
SB says Xavier and Alyssa become wishy-washy if DX stays
SB – my number went from a solid 4 to a 5 but 2 might be upset that I didn't take the shot at babyD.. I just don't think the numbers work out in his favour.. I don't think it makes a difference for me.
SB – he thinks he can win the coup d'etat but I don't trust him keeping me off the block.. He says he's really close to Ky but this is Big Brother.. He doesn't have a lot of options..
SB – if Ky and me are on the block together I don't have BAbyD's vote..
Sb thinks Babyd will send her home if she hits the block and babyD will convince Claire and Tiff to keep Ky over her.
SB – when I think about all the things he said.. even if I believe he would keep me safe there's no guarantee he wins HOH or the coup d'etat.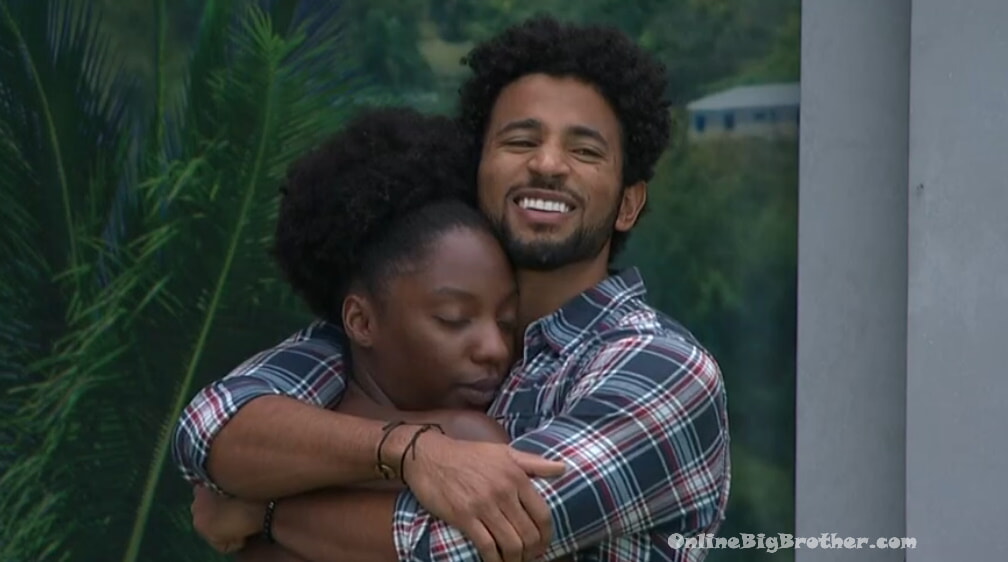 11:08 am Ky creeps on Azah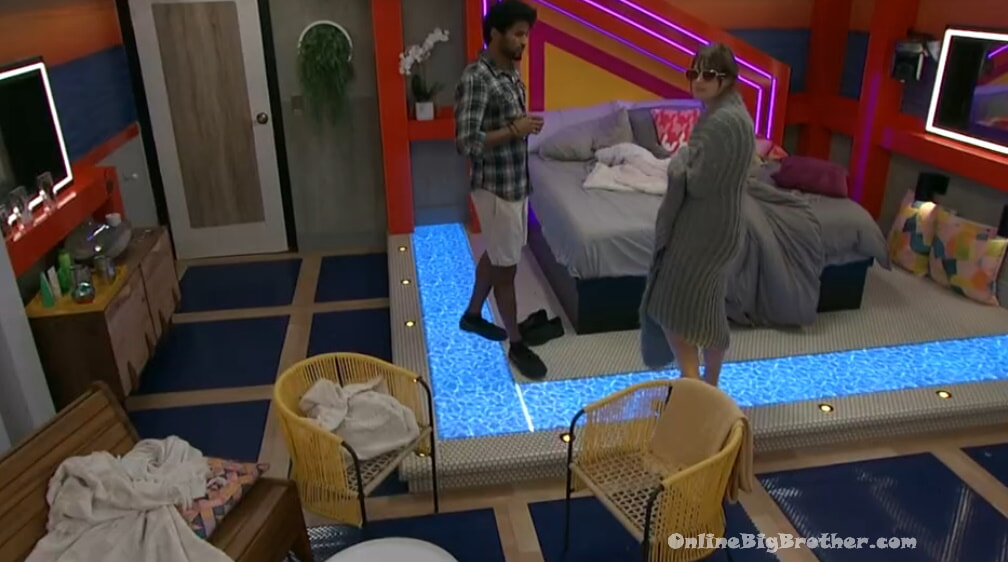 11:10 am Ky and Sarah Beth
SB – Derek came to talk to me
Sb – he's fighting to stay..
Sb – he thinks BIGD is coming after us
She gives him a summary of her conversation with DerekX
Sb – I'm choosing to beleive what I'm being told from the three of them they are going after Tiffany and Claire.
SB – keeping him doesn't shift any targets from us.. if he's here he's not taking a shot at me he'll use his influence
Sb – BabyD has a lot of influence in this house he would keep you and send me home
SB – if he gets rid of me he thinks he'll pull you in .. what's ky going to do play the game by himself?
Ky – I feel personally closer to Tiff and Claire but I feel less safe with them.
Sb – I just don't believe him that he wouldn't come after me next week even if he said he wouldn't it wouldn't make sense for his game to do it
Ky says DX will win power and blame it on BIGD
SB says it will be horrible if BIGD wins the power and puts them up but if DX stays in the hose and wins the power only to put them up that will feel even worse.
SB – I would rather have the former in every way
Sb – another thing that is unfortunate with babyD is choosing to stay loyal to other people. this is big brother I need people loyal to me. They need to tell me all the information they know. those are the people I want to play with.
SB mentions how DX won't tell her who was talking about Flipping on SB
SB – he basically didn't make a case for himself there' nothing I can do.. (he's protecting Tiff)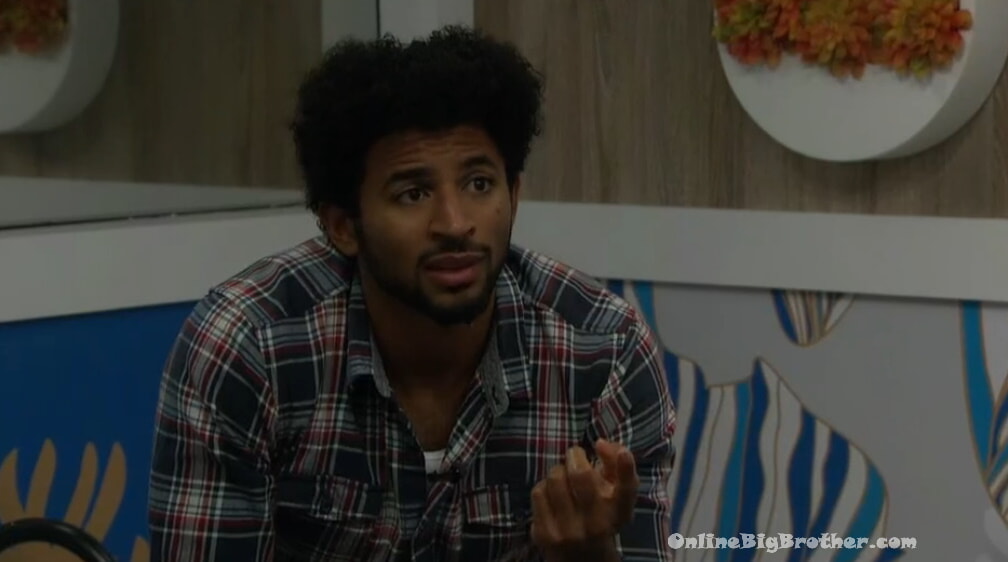 Sb begins to practice her nomination speech for DerekX
SB – I might lie to Tiff and Claire and say he threw them under the bus.. he'll leave and can't defend himself. (Cold)
SB – I will be telling everyone I want Claire to stay
Sb – I want Claire to think I'm putting babyd up because I want her to stay (lol)
They talk about Hannah going up and Claire thinking she has the votes to stay.
Sb – if she thinks she has the votes to stay over Hannah she's delusional she doesn't know what is going on in this game.
Sb says if Claire is willing to ruin her game to keep DX off the block DX has to go.
Sb brings up that Hannah hasn't talked game to her "what is she doing?"
Sb – why doesn't she fight for Tiff to go up?
Ky – she doesn't think Tiff would go up over DX
Sbn – why would she think that?
Ky – she's smart
Sb says she can see through DerekX "The house will be different without him. How confident are you about the vote"
Ky – Very
Ky says Azah and DF are voting out DX.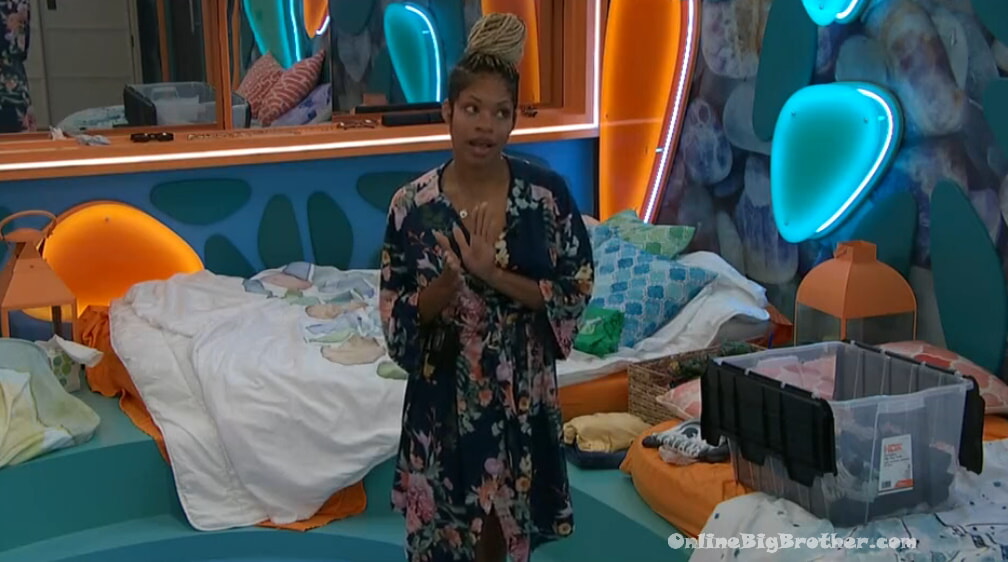 11:55 am Tiff
Tiff – DX is going on the block and I'm really sad..
12:09 pm Feeds cut to puppies for Veto Ceremony.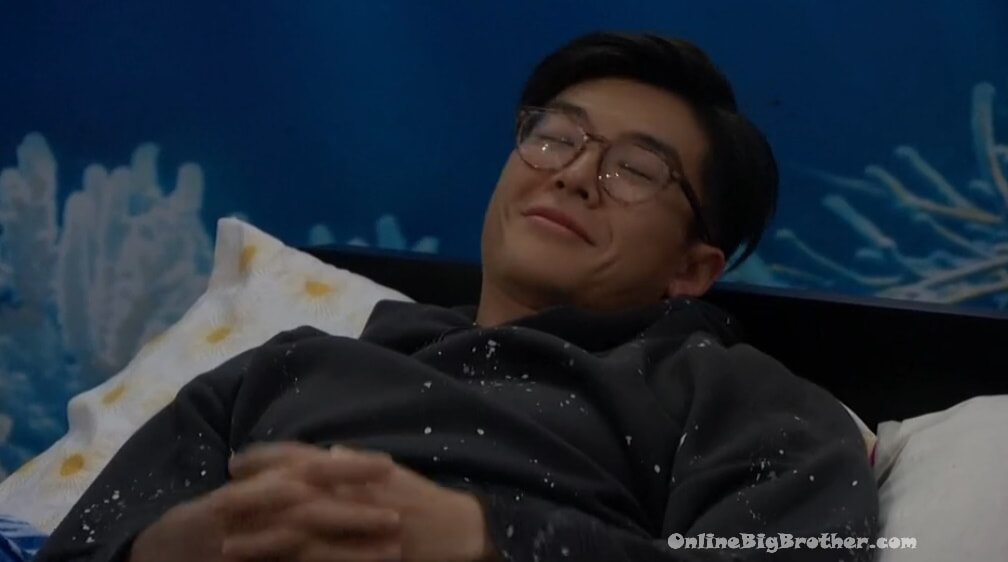 1:00 pm Feeds return
DX – can I just eat food now that I'm on the block?
Please consider a donation to keep the madness going. BIG thanks to the people that have already chipped in.