strong>HOH: Sarah Beth
HAVENOTS: DX, Ky, Tiff
Nominations: BIGD Xavier DX and Claire
Power of Veto Players: Azah, Alyssa, DF, Xavier, Sb and Claire
Power of Veto: Xavier
Power of Veto Ceremony: Xavier used the veto on himself. Sb nominated DX in his place.
Big Brother 23 Houseguest Rankings – – RANK THE HOUSEGUESTS –
View the previous day ranks on the – Ranking Grid
Big Brother Spoilers – This vote might be tight still looks like DX is going. The Cookout girls are in trouble. Discuss..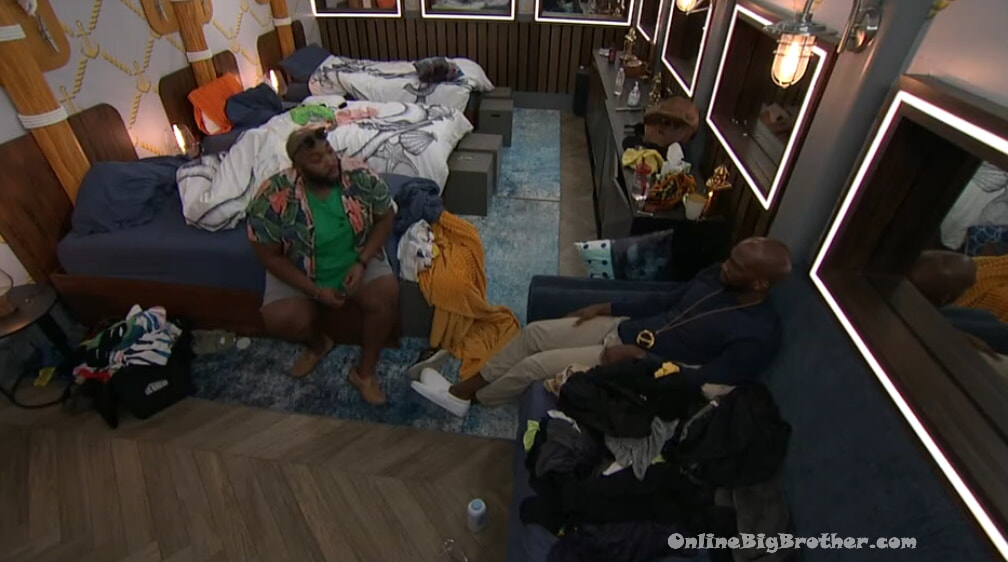 2:00 pm BIGD and X
BIGD warns him everyone thinks Alyssa, Ky, X, sb are working together
X – We're aware of that
BIGD wants a plan in place so they can take out SB.
BIGD – DerekX has made it clear he's taking out SB
X says tiff and Claire are after SB as well. Keeps pointing out that DX is too strong of a player to not take the shot at him right now
X – there are plenty of people in this house that will take a shot at him
Feeds cut when we're back Azah is talking to Xavier saying DX leaving this week is best for their game.
Feeds cut again.. When we're back X is telling her how the girls, not winning the competition right now are capable of winning. Alysa comes in.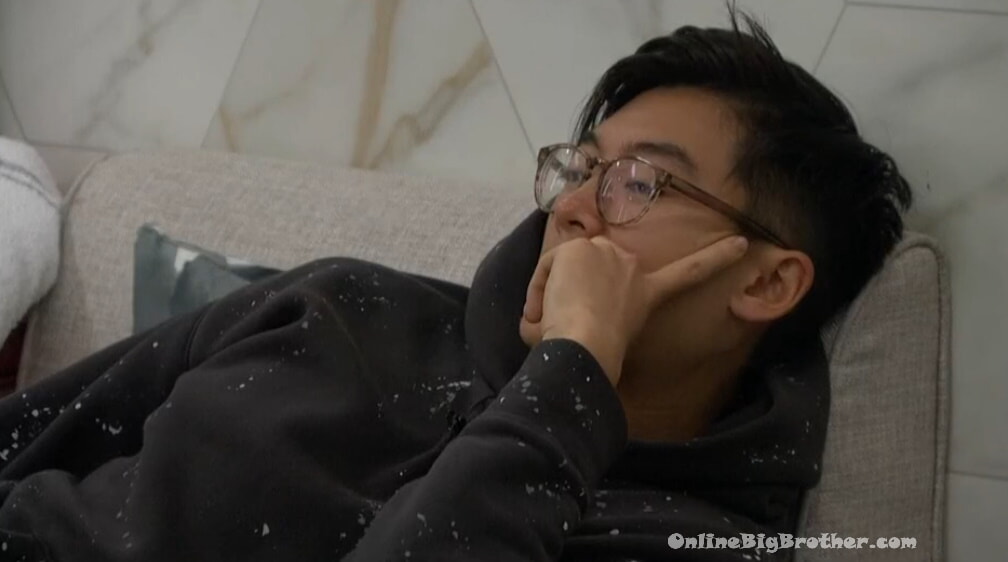 2:10 pm DX and Hannah
DX points out that when he leaves all the HOH's and Vetos have been won by those four Alyssa, Ky, SB and X.
Hannah – so was this Sb's plan from the beginning?
DX – she says it wasn't
Hannah – you gave her 5 thousand dollars
DX – I know I don't think I can watch this season back..
Hannah – I was ready to BOX her
Feeds flip.. When we're back Alyssa is with them saying "Sorry if there's anything I can do please let me know I understand"
Feeds cut when we're back. Dx is talking about his pitch. Feeds flip again to X and Azah. (hard to follow these feed flips)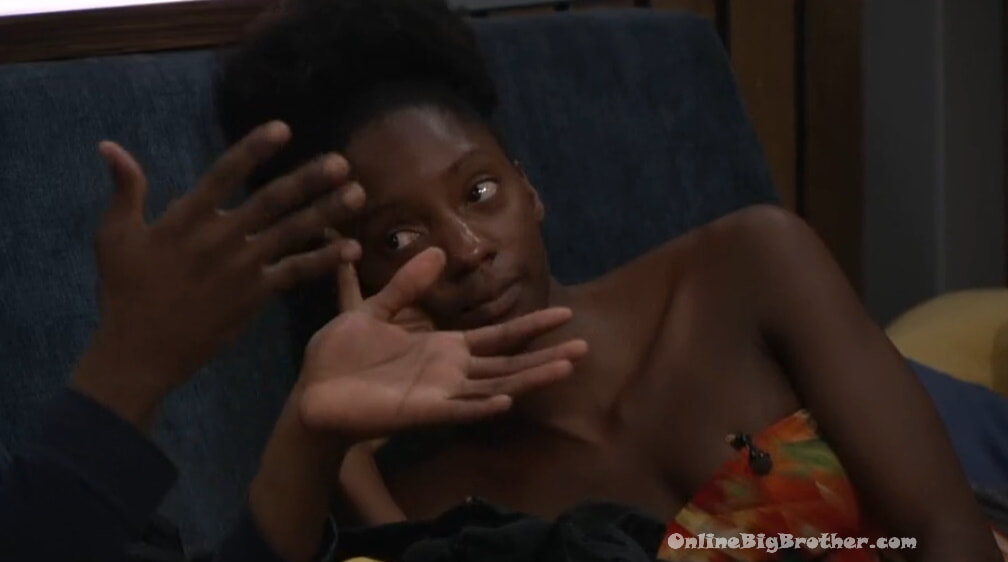 Azah – I told him Ky if you can pull this off I won't be mad at you anymore.
X – everything I've done in this game has been for the 6.
X says Ky had to put in a lot of work to keep two cookouts off the block.
X- it all kinda worked out
Azah – good job daddy
X says that sometimes SB would question what Ky was telling her but he was reinforcing the same thing and it worked. "She needed to hear it from both of us to feel secure in the decisions she was going to make" (At one point X was a potential nom for SB but Ky was able to reprogram her)
Azah – how is your relationship with Ky
X – solid we both are doing what we can to make sure the 6 happens. Sometimes the ways he goes about it is unclear. I don't think he'll do anything to jeopardize that
Feeds flip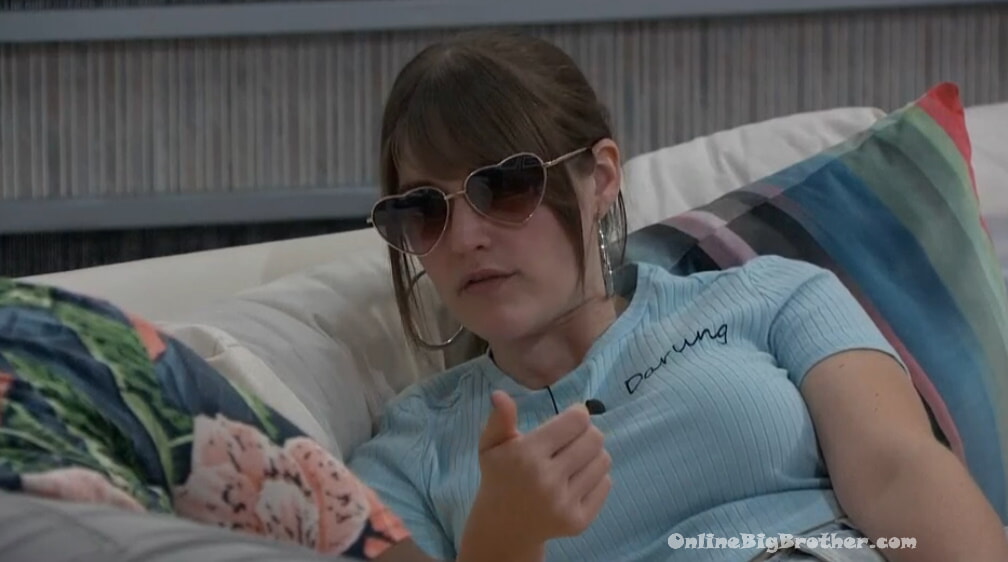 2:26 pm Sb and DF
Sb going over the rules of the last High Roller power. DF sounds stressed by it.
DF says he's trying not to talk to Ky
SB – you have people convinced they think you are really coming after him (LOL)
Sb – if DerekX goes home and comes back with a battle back I'm self evicting.. If Thursday night DX finds the votes to stay I'm just going to follow Claire out (Never a better time to flip the vote then.)
SB – the only person that will vote to keep him is Hannah
Sb – it'll be 6 to 1 I'm not worried about it at all.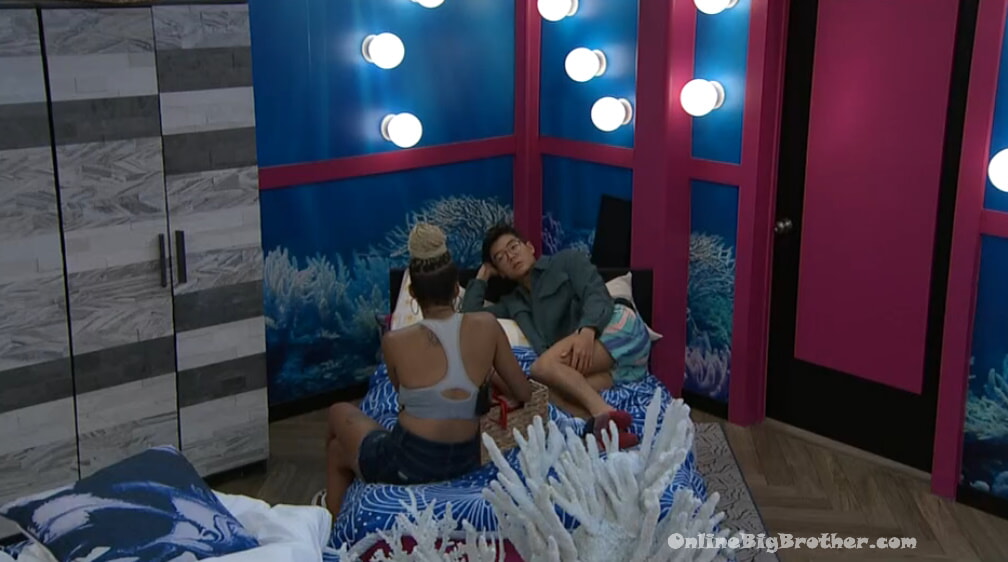 2:39 pm Tiff and Dx
Tiff – you know I would much rather have you in this game the only way I can do that is to flip this house. I really honestly don't care about flipping it I would rather flip it for you over anyone else that is going against Claire. I know that SB has what she thinks is a team of 6 against a team of 4 you are
Tiff – me, Claire, You Hannah that's is how she sees it. it's her Ky, Kings, and the Jokers. She wants to keep me and Claire's trust she doesn't want to come at me she weakens my defense she's not afraid of Me, Claire, Hannah.,
tiff – the only way to keep you here is me, Hannah, Azah
DX – BIGD
Tiff – IO tried.. the one thing he said I didn't have an argument for. He (DX) tried to flip the vote last week
DX – I didn't
Tiff – I didn't know how he knew that
DX – SB told him.
Tiff – try to convince him that didn't happen.
Claire comes in talks about her DR and the feed cut. When we're back. Claire is with them chatting.
Tiff tells DX he's the one walking out the door "In your speech, you have to say something that people will no longer trust her"
DX is down "100% I will do that"
Tiff – I want her to be the target next week. She plays like it's weak and she plays like ehs' emotional. She's protected
DX will use his entire speech about why you can't trust SB
Tiff – I want you to hear this Claire I want you to be part of this assassination.
Claire leaves..
Tiff doesn't know if SB is trying to pull Claire away saying that Tiff, Azah can't win competitions.
DX – Ky told me if it's a unanimous vote he'll give me a vote. we need to convince him it's a unanimous vote
Tiff says they'll need Hannah to convince him everyone expects her to vote to Keep dx.
Sb comes in..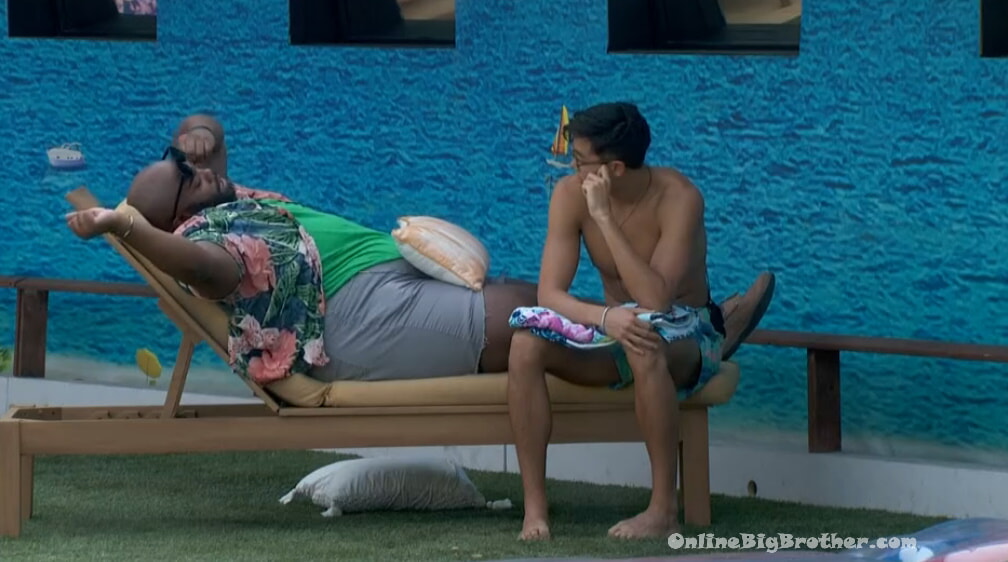 2:56 pm Df and DX
DF – I'm trying to figure out what's best for me. I don't trust any of these mother f**8ers
DF – I was on the block last week. I was on the block this week and I feel I'll be on the block next week.
DF – whos looking out for me?
DX – if you help me this week you have me for the rest of this game.. You know I can win comps
DF – give me time to think.. I ended up on the block last week. I'm trying to figure out who is working with who..
DF – you have Hannah you have Tiff..
Feeds cut. (this is happening a lot right now)
DX – if I win that coin flip if I say you're good with me you are good with me.
DF – let me think about it I've been trying to layout the weeks coming up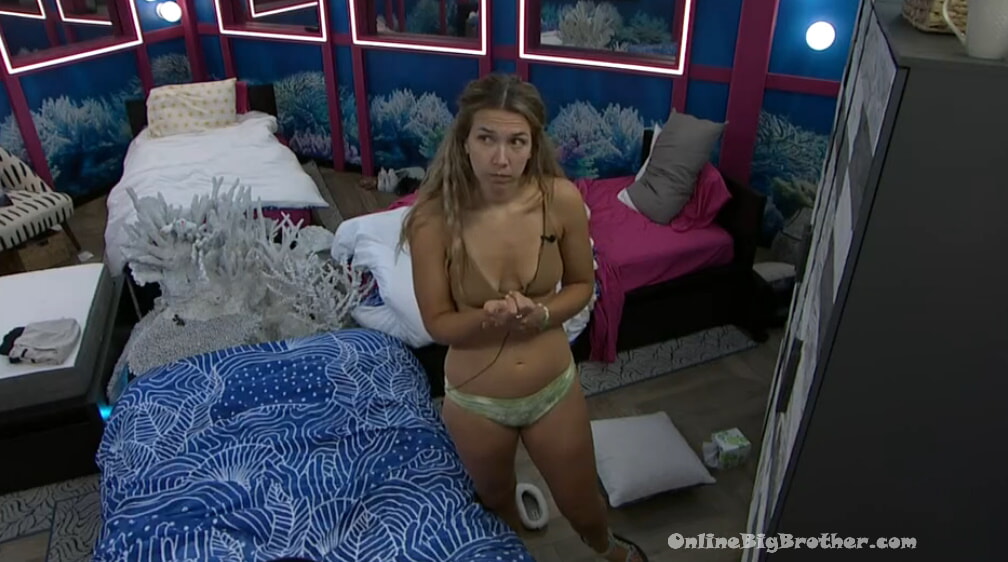 3:00 pm Claire
Counting votes she knows she has Alyssa, X, Azah, and Tiff. She'll have to talk to Azah more. "I should be good"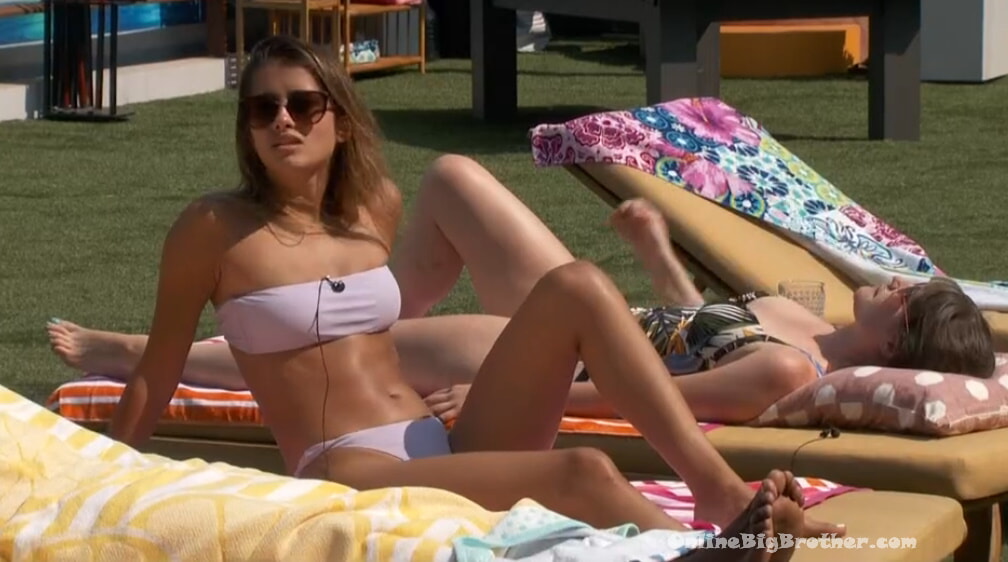 3:35 pm relaxing in the backyard.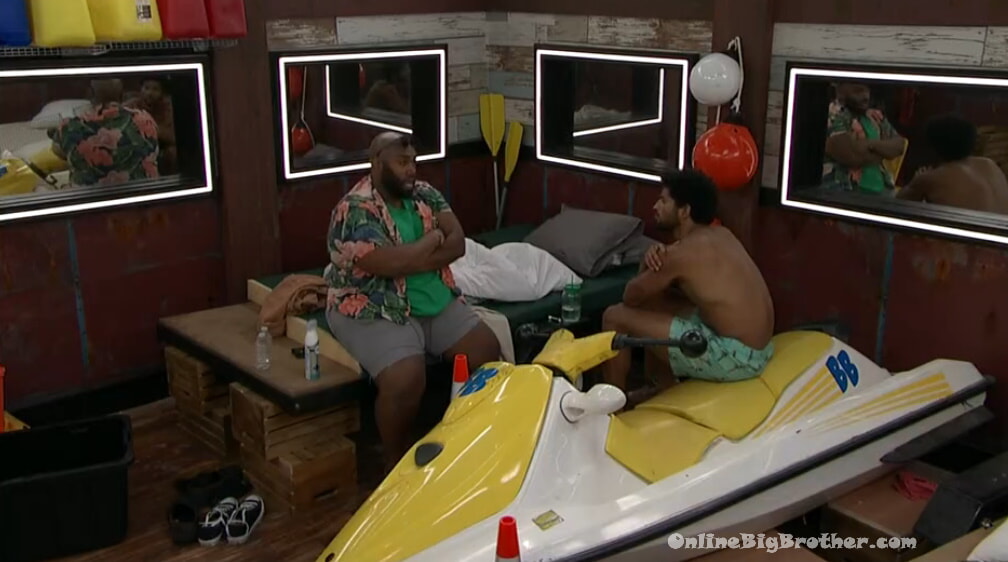 3:37 pm DF and Ky (Lots of feeds getting blocked and lots of planning for double powers)
Df – plans moving forward for next week because now we have a power what do you think?
Ky – Ohh also.. we had a meeting us four the girls and X. Sb and Alyssa.. we pushed them to believe that Tiffany also has the power. They are less sure on Hannah but pretty certain on Tiff.
DF – SB is my target plain and simple (LOL)
Ky – yes that's ideal
Ky – ohh I never did the search what am I doing
Feeds cut.. When we're back.
DF – This is where my head is at. It's bittersweet OK Derek has to go of course.
DF – we have to make sure us three you, me and X don't win when there are 7 people. If I do win I'm not worried about that next week
Ky – because you'll have me and X and Azah.
DF – I need them to like act.. I had a conversation with Derek he knows that I know that he tried to flip the vote last week. I told him straight up it's hard for me to keep you, we made a deal.
DF adds that DX wanted Brit out because she's this strong competitor he never thought of the "skill sets" DF had to bring to the table. "YOu were willing to throw me out"
They talk about Claire putting DF and Ky on the block. DF says she's the other person that tried to flip the vote on him.
Df anticipating getting the power says "I'm trying to pull of this plan and we have one shot"
Kyland – if You and Tiff tell her [SB] it's not me she will believe you over Tiff. Don't sweet it
DF – if I win HOH I put you and ..
Ky – Claire
DF – Claire up .. or
Ky – Tiff and Claire
Df – hold on.. yeah .. F***
DF – I wanted to pull off some great move like I put up You, Tiff, and X.. so when I play I can take both y'all down put up SB and Claire so it looks like.. no .. scratch that. (Jesus)
Df – you, claire, and X are up
Ky – Secret HOH
Df – Both.. (LOL he's making plans for next week that involves him winning HOH and secret HOH)
X joins them..
DF says if he can't get out SB he's going for Claire.
DF says the boot list should be DX, SB, Claire then Alyssa. He thinks Alyssa might take out SB. (LOL)
X says they've already planted the seed with Sb that Tiff may have enough money for the coin flip.
X says the goal of the house is to get Sb out next week which means Alyssa, Claire, Ky, or himself can't win "one of the others has to win otherwise he can't win it"
DF – I feel it'll be luck
X – what if it's endurance? What if it's slip n slide..
Ky – that is my nightmare
Ky – Alyssa can beat..
X – Alyssa will do good
Ky – that's why Azah or Tiff have to..
X – I do know if Alyssa wins she's going after Claire
Ky – what if Claire wins the veto.
DF – even if Alyssa wins I can still win the power
Ky – yes of course we just can't bank on the coin
Ky – the one thing we cannot let happen is Alyssa or Claire they can't win.
X says "People" need to be prepared if they can't win HOH and Alyssa does then Claire is going up. (Tiff is people)
Ky – people need to understand that they need to win HOH
DF – the goal is to pull this off with no problems
Ky – of course..
DF – we need to figure out how the three of us are going to get to the end.
X says once they get to 6 they're all playing in veto and they can just win out
Ky – I don't know any vetos that those three are going to beat us three.. Literally… OMG literally
DF tells them they have no idea what the comps will be there might be a balance bean "make us all look stupid"
Ky defends his balance beam performance. "18 seconds according to baby D)
Df – I'm going to try and go for this HOH
feeds cut When we're back.
DF says he's voting DX out
Ky says they need to push the 6-1 vote.
DF says he's not good at competitions "I'm just good at using my mouth"
He goes on to deny to Ky he meant anything sexual.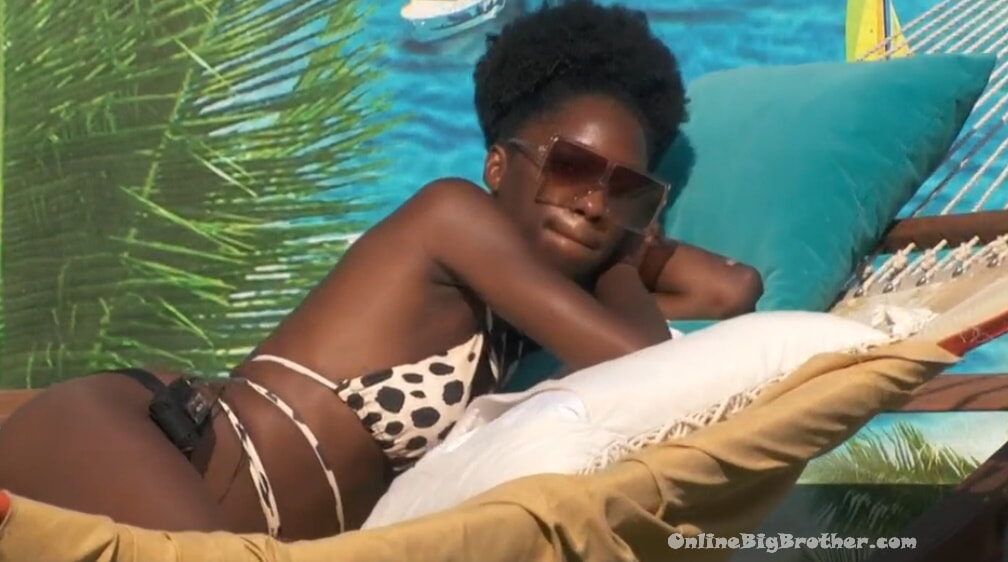 4:32 pm Relaxing outside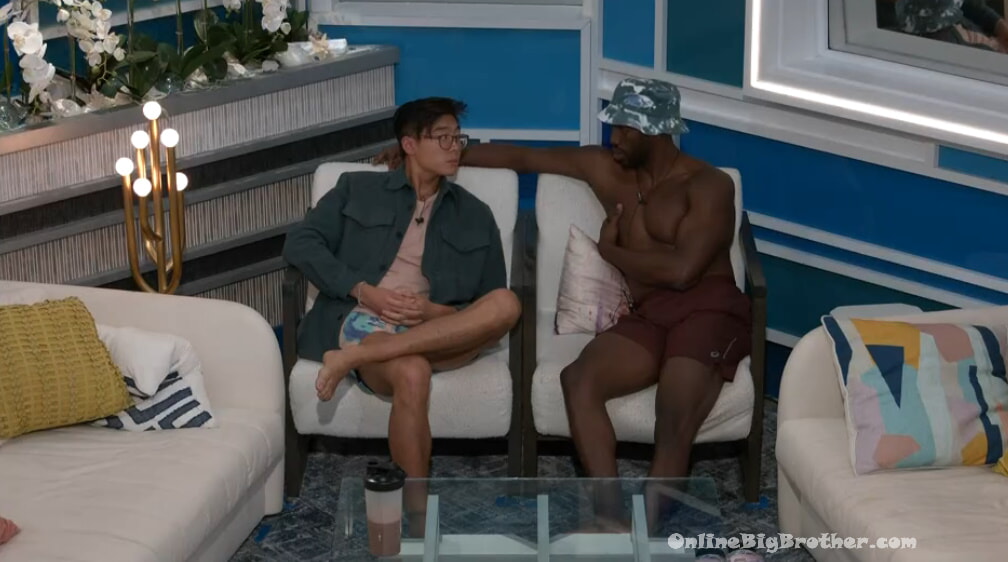 4:44 pm DX and X
DX doing some light campaigning "Ahh f** this game"
They laugh
DX – can you keep this between us If I stay I'll play the coin of destiny 100%
X – you are America's favorite.. that's dope
DX – I'm not playing a shady game.. I'm honest
X – when you won Hoh was your goal to take out Christian
DX says that was his goal from the beginning before he won HOH There were some people that said Sb.. another person was pushing for someone other than SB. I made those noms because I wanted to buy more time. Now I feel F***ing stupid. I put my trust in all the wrong places.
DX – you for sure will be on the block next week
DX says that is why he knows X wants the HOH and power to be trusted.
DX – I can control the original nominees and the replacement nominees..
DX – if you help me this week you and Alyssa are good.
X warns him about throwing people under the bus says he appreciates him sharing about his BB bucks.
X gives him some campaign suggestions.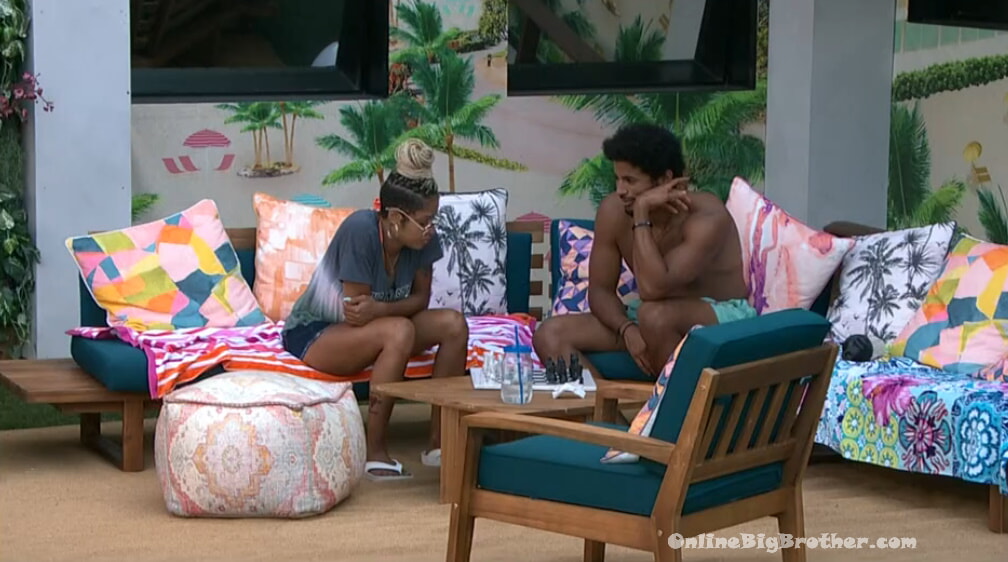 5:30 pm Tiff and Ky Playing chess.
Kyland says he feels like she's building a trap for him in the chess game.
Tiff – Kyland. I am definitely building a trap for you.. Now that we understand that I feel better.
Kyland – that was the most ominous sh1t I've ever heard in this house now I'm scared
they laugh
Tiff – You should be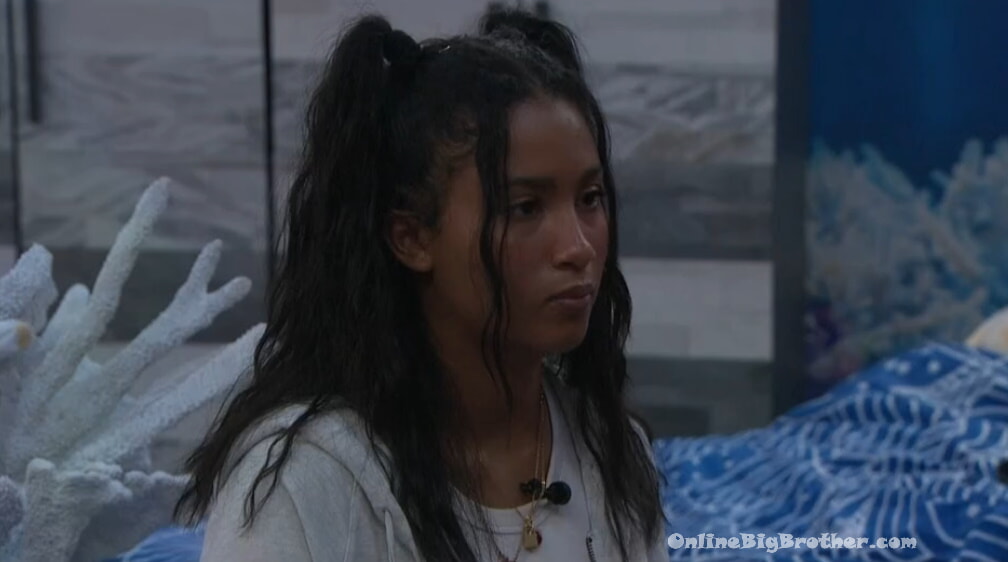 5:35 pm DX and Hannah
DX going over his campaigning points. Says he was in the HOH listening to music and he saw BIGD, Ky, and X all walk out of the have nots together.
DX says he thinks he really broke his trust with BIGD last week.
DX brings up the chance that Ky throws him a sympathy vote and that flips it.
Hannah brings up she told Claire even before he went up that DX has her vote. DX says his last-ditch effort will be to campaign against Ky and SB. He's going to wait until X goes into solitary.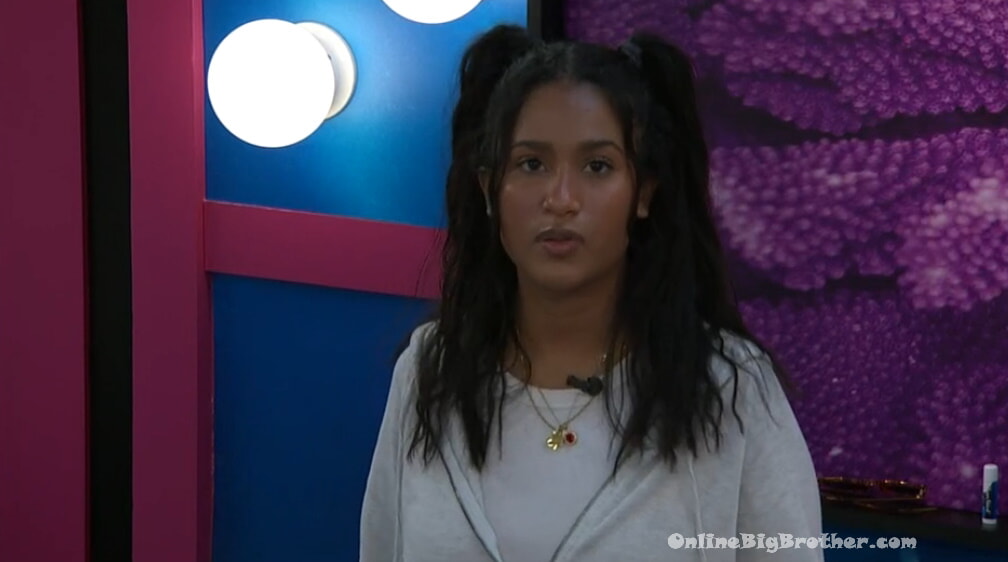 6:06 pm Hannah to the cameras after talking to DX "I feel so bad"
Hannah – this is the most guilty I've felt in a very long time. If he goes home this week and I could haev done something to prevent that. I'm going to feel directly responsible for sending him home.
Hanna – I respect him so much..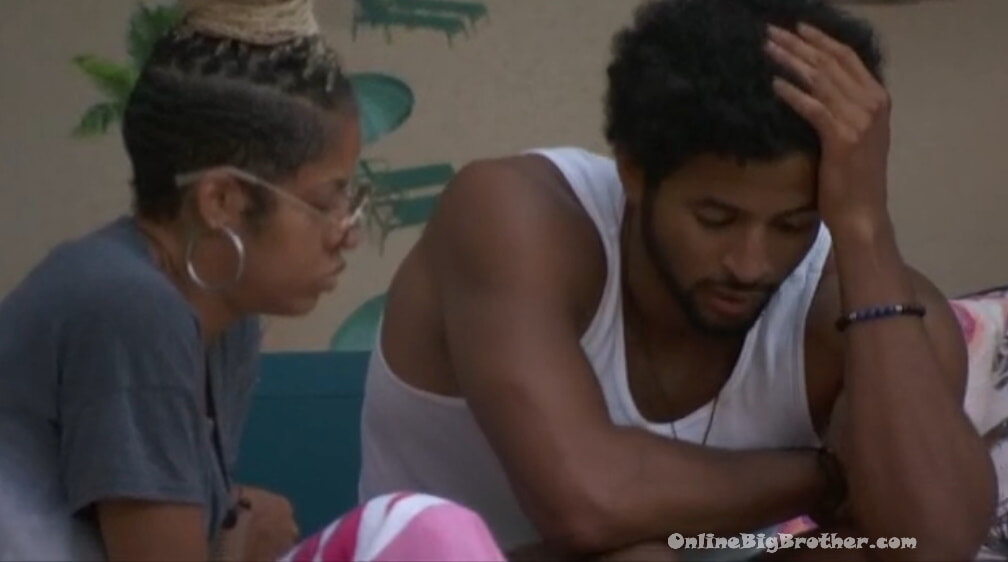 6:25 pm Ky and Tiff
Tiff – is there any possibility for him to stay this week?
Ky – it's not my decision. I just can't imagine any scenario. It good for me like it's good for you it just makes the 6 harder.
Ky – if you see something I don't
Tiff – who is your ideal HOH
Ky – honestly if Azah just because..
Tiff – what happens with Azah.. who would she put up next to SB?
Ky – me
Tiff – if SB wins Veto?
Ky – Alyssa .. Claire..
Tiff – for some reason i keep thinking that Claire is gone.
Ky says it worked out perfectly for them to get DX out. If X or Alyssa had won the HOH he would have played in the roulette but because it was SB he didn't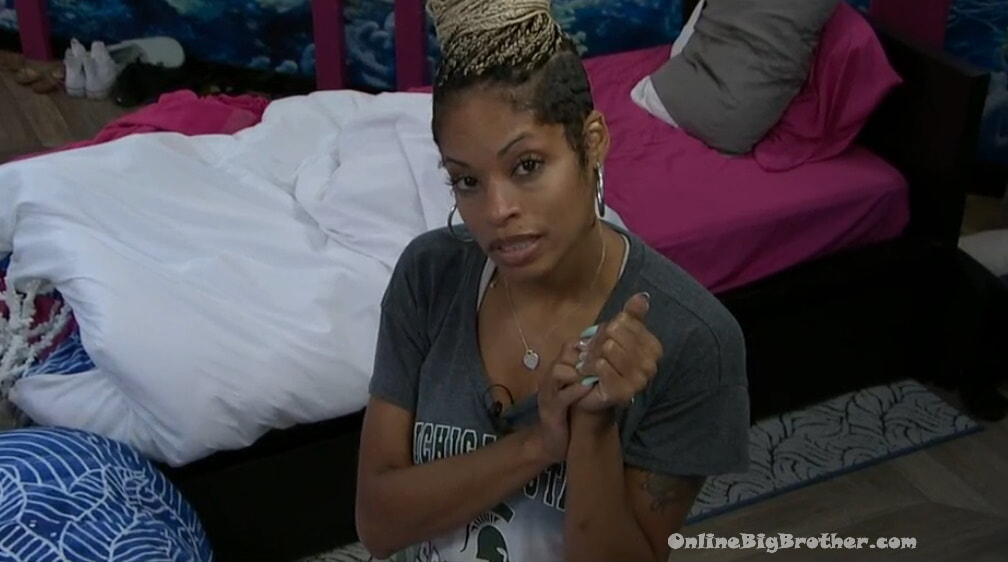 6:40 pm Tiffany tells the camera she loves DX but this week he's got to go. Next week she will get rid of SB>.
Please consider a donation to keep the madness going. BIG thanks to the people that have already chipped in.