POV Holder:
Kevin
Next POV
May 1st
POV Used
No
POV Ceremony
May 3rd
HOH Winner
Kevin
Next HOH
May 6th
Nominations:
Bobby and Brittnee
Have Nots
Zach, Bobby, Willow (Season slop pass)
POV Players
Kevin, Bobby, Ashleigh, Brittnee, Sarah, Pili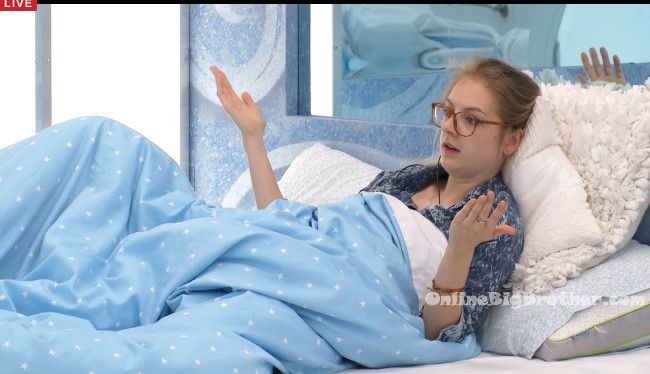 9:30am Big Brother wakes up the house guests. Bobby, Bruno, Zach, and Pili are in the kitchen. Sarah says sure we keep Bobby now and maybe he helps us get people out but then he kills us in competitions. I didn't come here to play for third or second place. Sarah asks you can only win 1 week at a time. Not to mention what have you done for me lately bro!? Godfrey says he got Sindy out, he throws competitions, he lied about the secret veto. Sarah says I trust you more than him. Sarah says we don't have to put all our eggs in the Bobby basket. Sarah says when they get really intense is at the end when we would be f**ked at the end against him, not them. Bobby might get us one more week. I'm looking long term. I'm not looking for one more week. Godfrey says I'm going to keep Britt Yo! She's a way more independent thinker. She's not going to flip. Sarah says everyone is trying to go to the end with Ash and Pili .. because think about it what have they done. Godfrey says but that's dangerous .. better to go with people you trust. Godfrey says right after Kevin didn't nominate me the two Goblins came up to me and said hey we got your back! Godfrey says yeah just like the two votes you cast against me last week. Sarah says that's hilarious. Godfrey leaves. Sarah talks to Brittnee and tells her about the conversation she had with Bruno last night. He was almost yelling at me. He says we're all next if Bobby goes. Sarah says no you're next. Britt says exactly. Sarah says we ain't playing for fifth place.. we're not playing for third place either.. eat that sh*t.
10am – 10:35am Bruno and Bobby head out to tan in the hot tub room. Bruno talks about Zach and says that he's full of sh*t. He was sitting there telling me he's going after Sarah and Britt. Bobby talks about piece of a coat hanger he pulled out in the veto ceremony and says after he was joking maybe he could sell it on ebay for 10K .. the 10K he should have gotten if he had pressed that button in the vault. Zach and Godfrey join them. They all suntan in silence. Willow, Ash and Pili join them.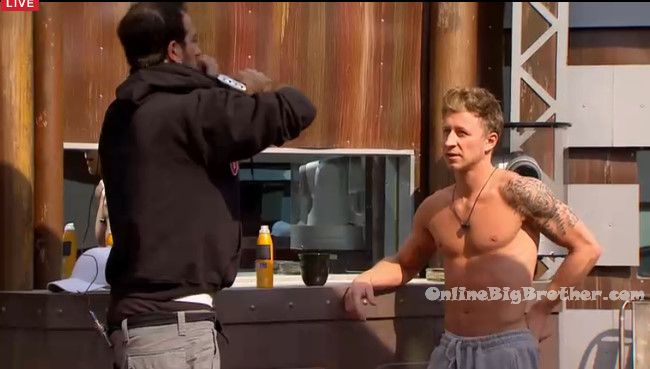 10:40am – 11am Kevin joins Sarah and Britt in the bedroom. Sarah tells him about the conversation she had with Bruno last night. Kevin laughs and leaves with Britt. Sarah asks Willow to come here right now. I swear to god I will self evict if you keep acting like this. Sarah says we already have to act distant in front of other people can't we just act real if we have 2 minutes alone together. Willow says I have to do it all the time to keep it up. Sarah says can you not just say you love me? Sarah gets upset and crawls under the covers. She says she can't do this. Willow comforts her. Big Brother tells them the house is off limits. Sarah asks task!?!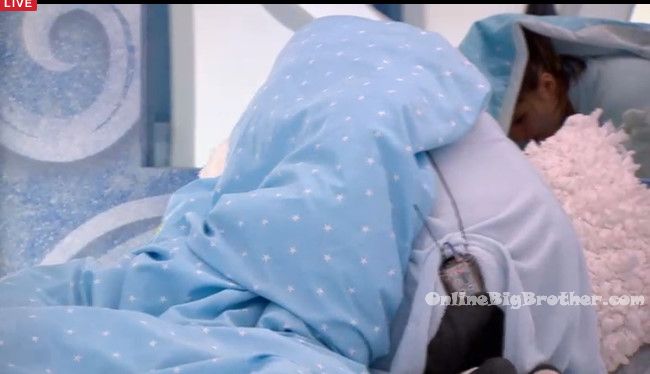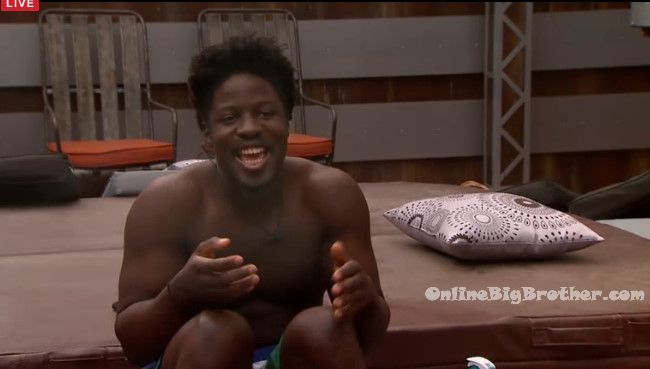 11am – 11:35am Hot tub – Bobby, Britt, Bruno and Godfrey are hanging out chatting about random things. Godfrey talks about eating goat eyes and says they're the shape of hershey kisses. Bruno asks what else do you eat that's gross. Godfrey says goat head and brain. "Brain spread" Brittnee is disgusted by the conversation. Godfrey says that the tongue is the best part. People would fight for it. It tastes like ham.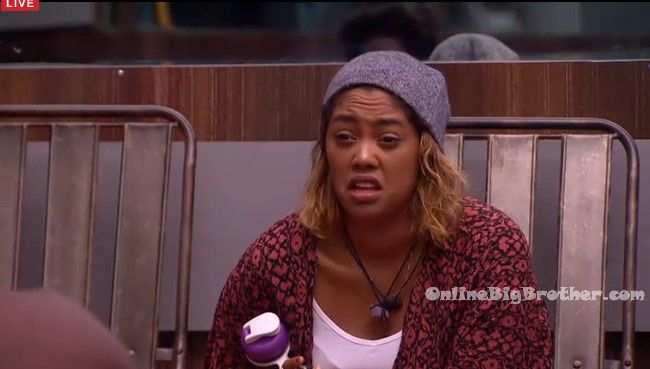 11:40am – 11:50am Brittnee, Sarah and Bobby are in the kitchen. Britt tells Bobby in a couple days we won't see each other. ..well not for awhile. Bobby talks about how he still thinks winning the first HOH was a curse. He says that he wants to keep his pride. Its a very relaxing feeling to not be talking game. Big Brother tells the house guests the backyard is now off limits. All the house guests head inside.

Godfrey @bigbspoilers #bbcan3 pic.twitter.com/DbrDefSQi5

— Dawg (@DawgsBigBrother) May 4, 2015

11:55am 12:05pm Up in the HOH room – Kevin, Ash and Pilar are talking. Pili says its obvious that Bruno is lying. Ash says everyone is coming and talking to each other and he's telling everyone different things. Kevin tells them about how Bruno pulled Sarah out by the pool late last night. They talk about how its perfect Bruno, B and Sarah are pissed at each other. Ash says the more heat that they have .. the cooler we are. I want to win this next HOH so bad. I need it. He is trying so hard to scramble and he's going about it all the wrong way. Kevin says even if Godfrey wins you would probably be able to survive. Ash says for me right now Sarah is not a threat to me but I want to look out for you guys too. Kevin says even if Sarah wins we might be okay. Ash heads down stairs.

12:05pm – 12:25pm Big Brother tells the house guests again that the house is off limits. All the house guests head back out into the backyard. They talk about the road trip they want to take from Seattle to Vegas. Sarah says we have to get a big bag so we don't have to mess with it the rest of the trip. Sarah says I'm contacting Dr. Will and telling him we're coming.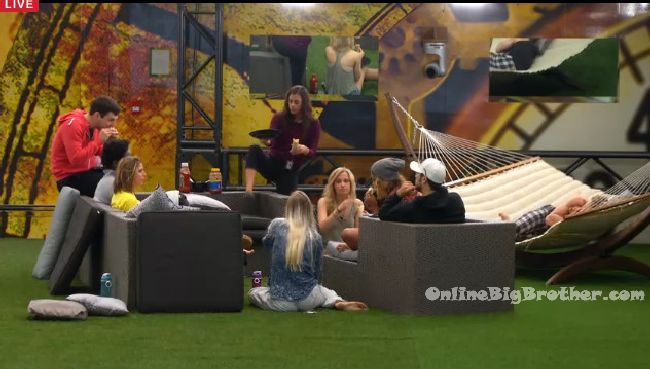 12:30pm Big Brother blocks the feeds.
If you're enjoying the live feed updates this season, please consider donating. Simon and I work 24/7 all season long to keep you updated on everything that happens inside the house. Any amount is greatly appreciated! Your donations go directly to paying the fees required to run this site. In addition to that if you're interested in other ways to help support the free content we provide – check out our How to support OnlineBigBrother.com page.
ALLIANCES IN THE HOUSE
There are always a lot of Alliance but we've tried to make sense of it all.. Read our alliance help guide
If you are outside Canada and want to watch the FREE Big Brother Canada Live feeds sign up for a VPN service here https://www.hidemyass.com/vpn/r16399/. It's safe to use, easy to set up, and cheap. Need to know more check out this post explaining how to set it up.
[polldaddy poll=8834825]