POV Holder:
Kevin
Next POV
May 1st
POV Used
No
POV Ceremony
May 3rd
HOH Winner
Kevin
Next HOH
May 6th
Nominations:
Bobby and Brittnee
Have Nots
Zach, Bobby, Willow (Season slop pass)
POV Players
Kevin, Bobby, Ashleigh, Brittnee, Sarah, Pili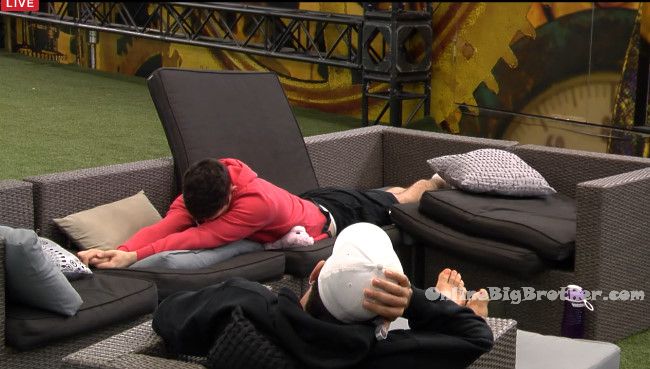 12:25pm – 12:50pm Big Brother blocks the feeds and when they return – Big Brother has ended the backyard lock down. The house guests head inside. Kevin, Bruno and Godfrey are sitting on the backyard chairs. Kevin asks Bruno about being calling in the the diary room late. Bruno says yeah. Bobby join and says he was called into the diary room at 2am, 4am, 6am and 8am. Kevin says no way! Bobby says I think they were trying to piss me off. They head inside. Brittnee asks how long their road trip will be. Zach says two and a half weeks to three weeks. Willow says they should schedule it to end in California when Big Brother 17 ends.

Out in the backyard –
Godfrey, Kevin, Pili and Ashleigh. Godfrey tells Pili "I like that sweater" Pili says "thanks its Ashleighs" Godfrey tells her "I like it better on you" Ashleigh asks what? Godfrey says "I said I like the sweater on both of you."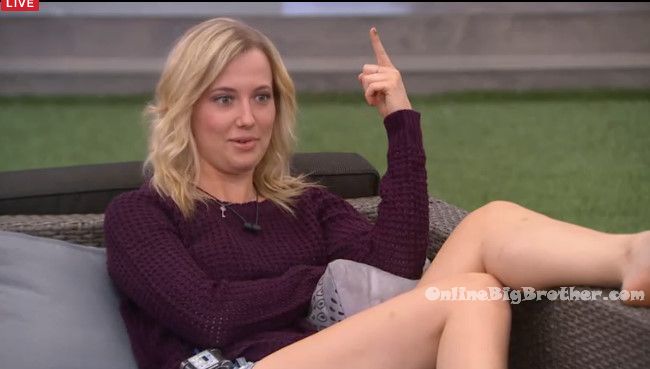 1:25pm Godfrey, Bobby, Brittnee, Zach and Pili are in the kitchen eating. Bruno and Godfrey head outside. Bruno says no matter what whoever sits beside B will go home. No matter what! No matter what! Godfrey agrees. Bruno says we need Bob here! I like Britt but she isn't going to win it for us. Any time I tell the girls something.. Willow, Sarah .. within the hour everyone else knows. Godfrey says wow. We'll figure it out before Wednesday. We've still got two days. Bruno says eventually those 4 couples are going to have to split! Godfrey says the sooner the better. Bruno says You, me and Bobby are tight! So are those girls. Godfrey says we have to be careful about how we ask them bro. We can't be pushing them. I'm telling you she (Sarah) is pissed Yo! Bruno says whatever! They're going to go for the couples first but then we're f**ked. Bruno says we're okay we're just going to have to weasel a bit. Bruno says we're only really safe if we win ourselves. I wouldn't be surprised if Sarah took a shot at us to get in better with them.
1:40pm – 2:35pm Kevin comes out of the diary room with the HOH camera and says they're supposed to make short videos doing something crazy so that Big Brother can make gifs and post them.
2:40pm – 3pm Backyard – Bobby gets called to the diary room. Zach says you might as well just live in there. You've been called in the all day. Bobby says that's what happens when you're on the block. Sarah says that's what happens when you finger everybody! Bruno says its weird we're getting the camera today instead of tomorrow. Keivn asks well are we going to be tasting the flavour of a twistos twist this week? Zach says he doesn't think so. Zach asks Kevin what he wants to do when he gets out. Kevin says he would like to go back to school and get a business degree in economics. It depends on what kinds of things comes of this too though.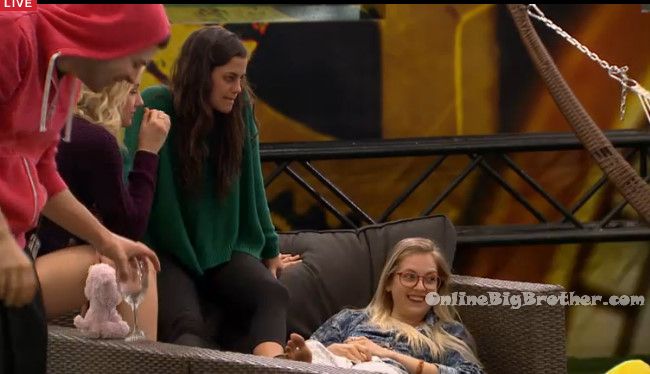 3:20pm In the bedroom – Willow and Godfrey are talking. Willow says you've got to go Zach and Kevin or Ashleigh it doesn't matter. Ashleigh joins them. Godfrey says we think it will be a double eviction next week so we're all packing our stuff. I can't risk you guys packing my stuff. Ash and Willow head to the bathroom.
3:30pm – 3:50pm Backyard – Zach, Bobby, Pili and Kevin are talking about smoking cigarettes, cigars and snorting chew. Ashleigh says she snorted the rockets candy when she was younger and would never snort anything again after that.
UP in the bathroom – Bruno walks in and asks Godfrey and Willow if they're banging. Willow would break you! Willow says I don't know I've never had dark chocolate before. Him saying he's done it 5 times in an hour intrigues me though.
4pm In the kitchen – Sarah and Ash get the idea to dye Ashleigh's hair with fruit compote so they can dress up as the spice girls. They test some of her hair and when they're going to do it all big brother tells them to stop that. Willow says she thinks its for the DR sessions. They decide to try it again on Thursday after Wednesday's taping is done. Willow says I think its going to be a triple eviction… you go, you go, you go! If I'm evicted I just won't go!
4:15pm Bedroom – Willow says I am trying to be nice.. I'm trying to be fake with Sarah but I can't. She is just annoying. Pili joins them. She asks if Willow is okay. Willow says I'm mad at Sarah, I'm mad at Bruno .. I'm just having a bad day. Pili leaves. Willow tells Ash I think though I am going to do God and B. (if she wins HOH) And if God comes off then Bruno goes up. Ash says I wouldn't want to expose the whole I'm not trusting Bruno yet. Willow says because if he wins then he throws you up. He literally told me put up B and Sarah… that's a waste! Ash says that's what I thought too but why would I put up people who aren't coming after me.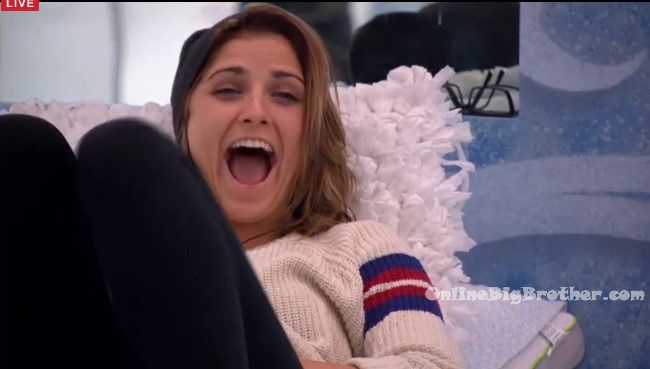 4:25pm – 4:45pm HOH bath time –
Kevin tells Pili we have to think about what's best for the four of us but better yet what's best for you and I. Kevin says so say Bobby leaves Wednesday.. unless theirs some twist. Kevin says there are 9 of us .. 4 diapers. He counts on his hands the 4 diapers on one hand Me, you, Zach Ashleigh and the others on the other hand Bruno, Britt, Sarah, Willow, Godfrey. Pili asks has Bruno talked to you lately? Kevin says no, he's really been burning some bridges lately.. which is good. Zach is afraid of Sarah. If Sarah wins this week she will go after Bruno. Pili agrees. Pili asks if its an instant who do you put up? I think I would put up God and Bruno. Kevin says for us its better to get out Bruno but for Zach and Ash its better to get out Godfrey. Pili says Bruno cannot win HOH. He's like pissed right now. Kevin asks you're determined to win if its an endurance? Pili says yes unless I slip or its cold water. Pili tells Kevin if we were up on the block and I won the veto I would most likely take you off because you would be more likely to go. Kevin says I'll keep working on Godfrey. When I'm with him I'll be like Pili loves you and when you're with him you should be like Kevin loves you.
If you're enjoying the live feed updates this season, please consider donating. Simon and I work 24/7 all season long to keep you updated on everything that happens inside the house. Any amount is greatly appreciated! Your donations go directly to paying the fees required to run this site. In addition to that if you're interested in other ways to help support the free content we provide – check out our How to support OnlineBigBrother.com page.
ALLIANCES IN THE HOUSE
There are always a lot of Alliance but we've tried to make sense of it all.. Read our alliance help guide
If you are outside Canada and want to watch the FREE Big Brother Canada Live feeds sign up for a VPN service here https://www.hidemyass.com/vpn/r16399/. It's safe to use, easy to set up, and cheap. Need to know more check out this post explaining how to set it up.
[polldaddy poll=8834825]