POV Holder:
?
Next POV
April 10
POV Used
?
POV Ceremony
April 12
HOH Winner
Bruno
Next HOH
April 15th
Nominations:
?
Have Nots
?
POV Players
?
If you are outside Canada and want to watch the FREE Big Brother Canada Live feeds sign up for a VPN service here https://www.hidemyass.com/vpn/r16399/. It's safe to use, easy to set up, and cheap. Need to know more check out this post explaining how to set it up.
2:20pm UP in the HOH room – Sarah says she could tell Bruno "I'm not a threat to you" I don't know what else I can say. Zach says yeah there's not much more you can say. Just wait and see what happens. It doesn't seem like he's been doing much game talk with anyone. Which probably means he already has his mind made up. Sarah says I'm sure he's putting up me and Johnny. Zach says we'll just have to wait and see who gets drawn for the veto. Those guys are 100% on his side. Sarah says if it wasn't Johnny it would be Kevin. Zach says thats ballsy too. Sarah agree. Zach says it depends on whos in the veto. Zach says yeah you can pick us with out exposing us. Sarah says I might pick Bobby. Zach asks because he wouldn't use it. Sarah says yeah. Zach says that's not a bad idea. Bobby and Bruno join them. Bruno goes to take a shower.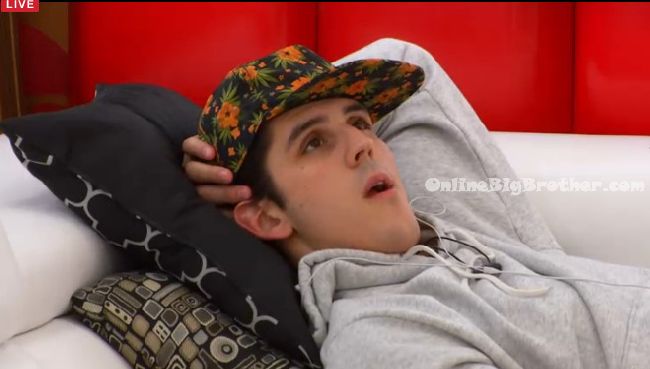 Sarah leaves the HOH room. Bobby tells Zach that he overhead Johnny and Kevin whispering in the kitchen. Zach asks what about? Bobby says I don't know, I just heard my name. It might not have been anything. They are definitely working together if they're whispering. I just wanted to mention it to you and Bruno. It doesn't change the first noms but if someone comes off.. Bobby leaves the room. Bruno comes to talk to Zach. He tells him they need him to play in the veto. Bruno asks have you talked to Kevin at all? I don't know where he sits. Zach says Bobby wants to take a swing at him. Bruno says Johnny is gone this week if he stays on the block. Zach says if Johnny comes off then maybe take a swing at K. I don't think if Kevin won the veto if he would even use it on Johnny. Bruno says honestly Sarah or Johnny.. Sarah isn't a competition beast but her mouth is deadly. Zach says hopefully its a comp favoured to us.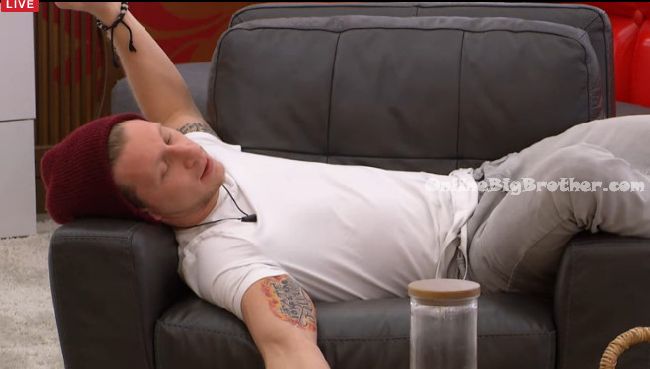 2:45pm – 3pm Sarah talks to Brittnee in the bedroom. Sarah says that she'll tell Bruno all I have is that I am loyal. Brittnee says who would put up Bruno. Who would be up that you would send him home over them. Sarah says this is so frustrating. Whatever they can all go to the end together and rub oil on their muscles. She starts crying. And these competitions are getting to me. Theyre so hard. I knew I would suck but didn't think I would suck this bad. I am trying to be social and its f**king me over. Because its making me look like the most manipulative person in big brother history. And I'm the complete opposite. Sarah says that Bruno told me to pick Ashleigh if I get house guest choice. Britt asks why Ash? Sarah says because Zach can tell her what to do. Zach won't let her take me down. They're scared of being on the block. Zach you're scared of being on the block?! Sarah says "Like F**king do something! F**king quarterback of the year!" He's acting! They're all just playing safe! They're playing the most boring games ever! Like I would be in a good mood and I dont even care about being nominated. I want to play this push and pull game. Sarah says everyone is just voting how the house wants. Graig was preventing us from playing this game that's why I got on board with it. She says she'll say to Bruno that she doesn't know if he can relate to these kids because I can't. I know how much Bruno has given up to be here too. Sarah says she feels so guilty just being here. I've done nothing. I spent more money just in makeup and clothes to be here. Brittnee says you already done so much just getting here and being one of the 16!

3pm Big Brother blocks the feeds for the havenot competition..
4:50pm The live feeds are still blocked..
ALLIANCES IN THE HOUSE
Week One there's a lot of Alliance but we've tried to make sense of it all.. Read our alliance help guide
Support the site and purchase your Amazon goods through our link below. It doesn't cost you anything and we get a percentage of what you buy.
Amazon Canada
Amazon USA