POV Holder:
?
Next POV
April 10
POV Used
?
POV Ceremony
April 12
HOH Winner
Bruno
Next HOH
April 15th
Nominations:
?
Have Nots
?
POV Players
?
If you are outside Canada and want to watch the FREE Big Brother Canada Live feeds sign up for a VPN service here https://www.hidemyass.com/vpn/r16399/. It's safe to use, easy to set up, and cheap. Need to know more check out this post explaining how to set it up.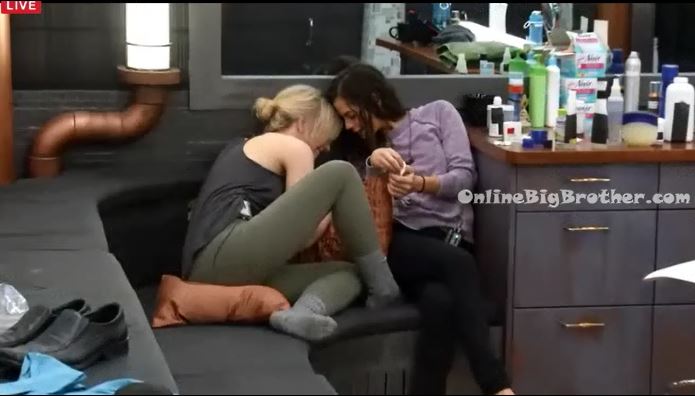 10:40am – 11:10am In the bathroom – Ashleigh tells Pilar that she will talk to her and tell her about Zach and her when she gets out. Pilar asks why what happened? Ashleigh says beacause. Pilar keeps pushing. Ashleigh motions behind a pillow what her and Zach did. Pilar gasps and jumps up. Ash tells her she can't tell anyone!!! Pilar asks in the havenot room? Ash says yes. Pilar asks and last night? Ash says both. Pilar screams and hugs Ash. Ash says a good make out sess is fun! Pilar says obviously I like him (Kevin) but I need to keep telling myself it could end any time. I'm afraid of pushing it to the next level. Like we are on national television and I don't want my mom to be like .. Ashleigh agrees. Pilar says I don't know if he would go kiss somebody else. Sarah joins them. Ash talks about how when her and Zach were making out in the havenot room. Bobby said he could hear heavy breathing. Ash says we were just laughing and making out. Sarah says Bobby needs to mind his own business.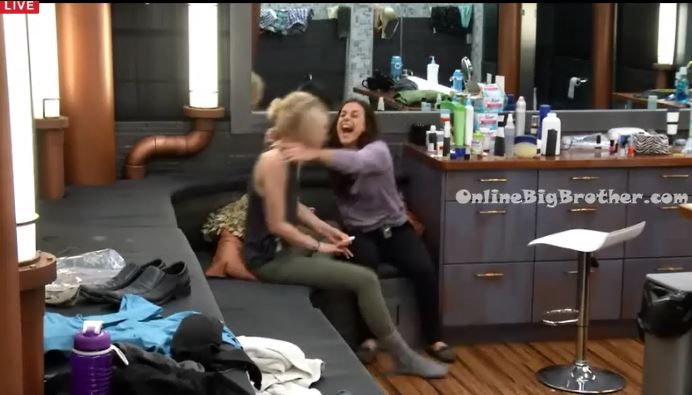 11:20am Sarah and Willow are in the bathroom. Willow comments that she was lying when she said the last guy she was with was 8.5″ She says it was funny to see the guys reaction. Sarah says I'm obviously going up right? Naeha walked out the door and I made myself transparent. Do they think I'm a manipulator? Willow says no. Willow tells her and Johnny to talk to Bruno. Pilar joins them. They tell Sarah to talk to Bruno and tell him what you can offer him.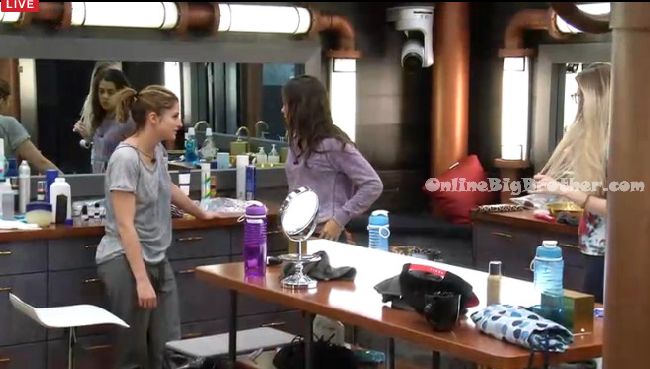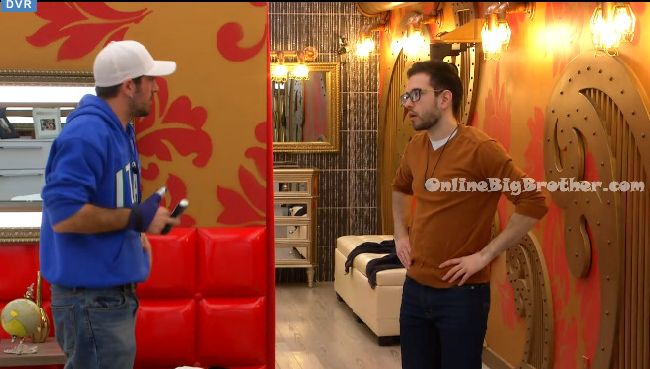 11:35am Big Brother blocks the live feeds.. When the live feeds return – Bruno picked the players for the havenots. Bruno comments that Zach's team is stacked. Bruno says you have the slop pass so at least you'll be eating. Bruno says it sucks for JP's team, but Johnny has to go! Zach says I don't even care. I'm not even nervous because I get to eat regardless. Everyone else is nervous. Bruno keeps telling Zach he has a stacked team.
Havenot teams: (I believe these are the teams ??)
Zach, Godfrey, Kevin
Britt, Pilar, Willow
Johnny, Sarah, Jordan
Bruno is the host as he's the head of household. It will be a blindfolded competition. (I think only one or two of the three are blindfolded) Havenot competition clue "Shocking" Willow thinks she'll be blindfolded and have to walk through something trying to not get shocked or where she has to touch things that are shocking.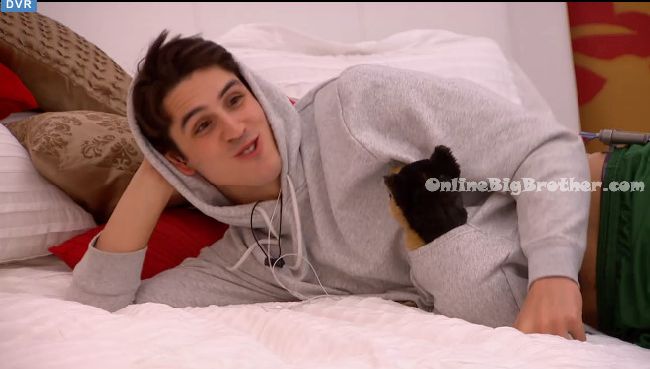 12:15pm In the bathroom – Johnny talks to Britt and Sarah. He says if I go up on the block and don't win the veto I am going home. Britt says unless we change the target. Johnny asks how do we do that? Britt says its a long week. It's not over till its over. Johnny says Canada's Veto! I'd love one! Johnny says I know I'm in trouble, I know I have to win. Both Sarah and Johnny think they're going to be nominated. Sarah tells Johnny she loves him. He says I love you too. They kiss. Sarah says I love Naeha to death but she blew up our games because she was so intense.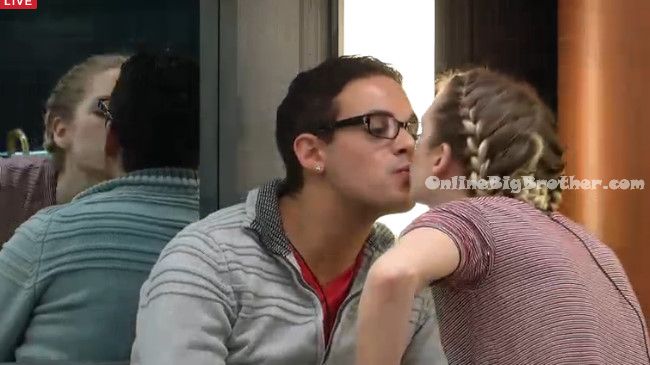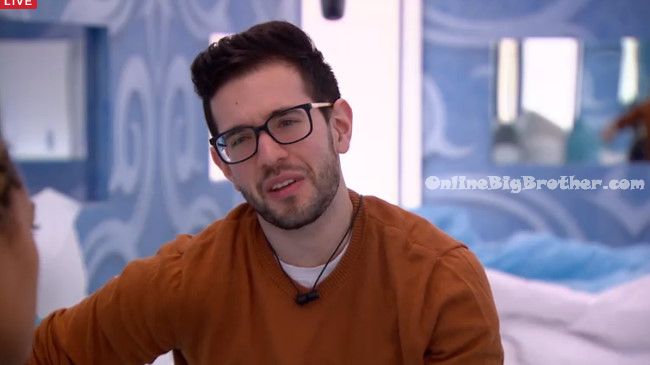 12:40pm – 1pm In the bedroom – Jordan is talking to Brittnee. As much as it sucks that he won it is going to show everyone how powerful he his. And we haven't even done nominations yet. Brittnee comments on how Bruno is a Dad, has kids, is approachable. Jordan says this is his HOH. We just need to be careful and discrete. They talk about Bobby Britt says that Bobby's game is weak. Jordan says its weak sauce. Britt says He thinks he has a charm about him, but it drives me crazy. I don't find him attractive. Britt says that physically those guys have it but socially they don't.
1:15pm UP in the HOH room – Willow talks about how her butt was bruised in the HOH competition last night. She says "It was spinning me and spreading my cheeks!" She then shows us her bruised butt. Photos of her bruised butt are here on our Tumblr site
1:30pm Big Brother calls Bruno to the diary room. All the house guests think the havenot competition might be starting soon since he's the host.
Ashleigh sees Bobby sleeping on the floor. She goes over and spanks him. He doesn't move and she runs to the bed.
2pm In the kitchen – Godfrey talks to Jordan, Kevin, Bruno and Sarah about how much of a shock it was when he first moved to Canada. He says the most shocking things was seeing all the infrastructure. He says even automatic doors were amazing to see because he had never seen that before. Canada is an awesome place.
ALLIANCES IN THE HOUSE
Week One there's a lot of Alliance but we've tried to make sense of it all.. Read our alliance help guide
Support the site and purchase your Amazon goods through our link below. It doesn't cost you anything and we get a percentage of what you buy.
Amazon Canada
Amazon USA