POV Holder:
?
Next POV
April 10
POV Used
?
POV Ceremony
April 12
HOH Winner
Bruno
Next HOH
April 15th
Nominations:
Johnny and Sarah
Have Nots
Brittnee, Pilar, Willow (Pickled Eggs & Chicken Feet)
POV Players
Bruno, Sarah, Johnny, Bobby, Brittnee and Kevin
Zach is the POV host
If you are outside Canada and want to watch the FREE Big Brother Canada Live feeds sign up for a VPN service here https://www.hidemyass.com/vpn/r16399/. It's safe to use, easy to set up, and cheap. Need to know more check out this post explaining how to set it up.
11:35am – 12pm In the kitchen – Bobby, Bruno, Ash and Pilar are talking. They talk about if this veto was the how bad do you want it. Bobby says I don't give a sh*t about winning this veto. Ashleigh says she would want to win to keep it all the same. Bobby says that's a big thing to keep it the same. Ash says its an even bigger thing to change it.
Willow and Zach start horsing around. She pretends to punch him. He holds his hand out on her neck. He then puts her in a sleeper hold. Willow asks "Is this your idea of flirting?!" Willow jokes that she's gain 18 pounds on slop. I'm going to be the most jacked comp beast. I'm going to put Zach and Bobby to shame. Pilar says I need to win HOH. I need to win it so bad.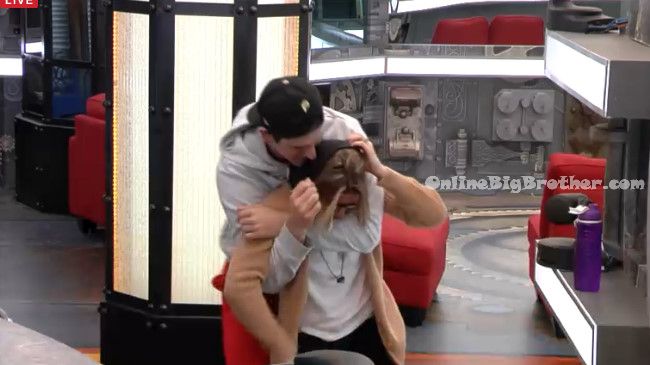 12:05pm Big Brother blocks the feeds and when they return all the house guests are sitting in the living room. Bobby asks are we standing by? I have the oven on. They talk about how they've broken more microphones. (3 or 4 of them) Big Brother has put all the house guests on cold water showers and slop. They are being punished for disrespecting Big Brother and the equipment. Britt says we need to start thinking about how the mics are $1000 and to pretend its coming out of out pockets. Jordan apologizes and says sorry guys. (Earlier Jordan was talking to Sarah & Britt and got called out for not having a mic on. Jordan said "F**K YOU, sorry I mean f**k me") Bruno hugs him and says its okay. Jordan says apparently its a problem. Jordan heads to the diary room to apologize to Big Brother. Godfrey also broke a microphone. Big Brother called them both out. Godfrey comments that he tried to take a shower and it was pretty cold.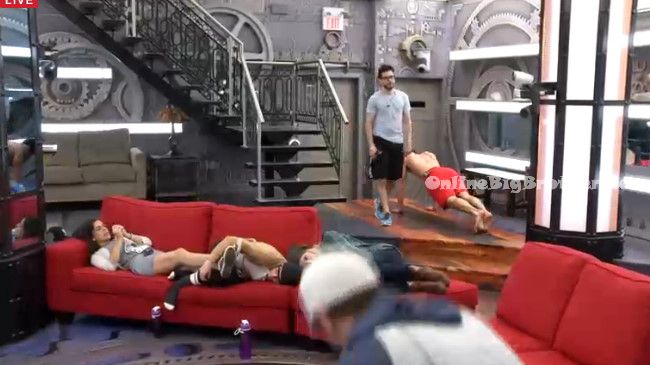 In the pantry – Kevin tells Sarah she is going to rock this comp. Sarah says I feel the same way. This is your competition. Kevin kisses her on the cheek.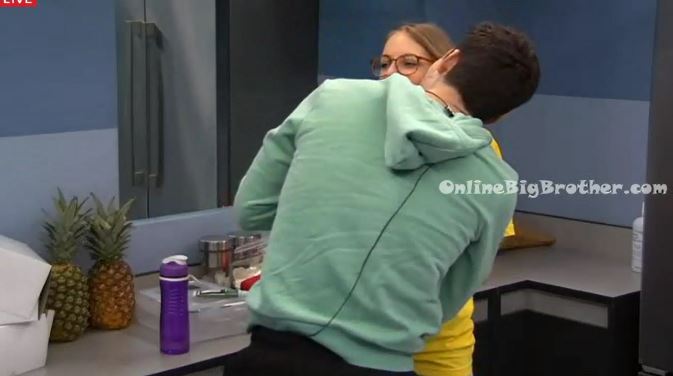 Jordan comes out the diary room. He apologizes again. He heads to the bedroom. Bruno comes up and tells him its not a big deal. Don't worry about it. We've all broken mics. Just the other day mine got caught on my gear and ripped it right out. Jordan says but cold showers and its your birthday tomorrow. Bruno says its not a big deal forget about it. Jordan says I just need some time.
Up in the HOH room – Zach comments that Big Brother said our hot water was cut off indefinitely. Willow asks if they'll get it back? Zach says it means until they say we get it back.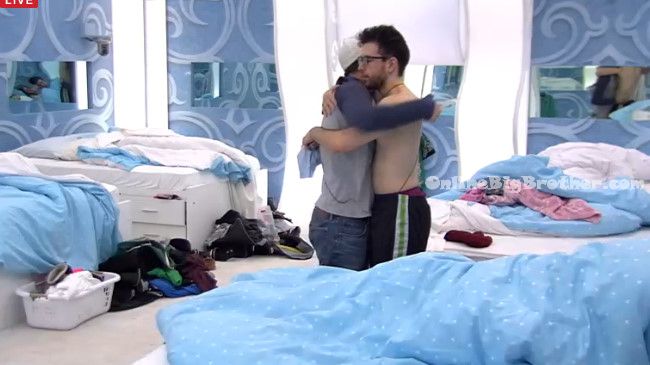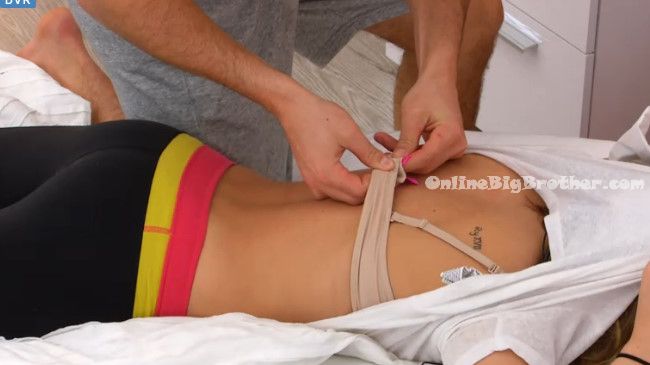 12:30pm – 1pm Up in the HOH room – Willow asks Zach for a massage. At first Zach barely touches her and she tells him if this is his idea of a massage its pathetic. He says its just the warm up. When he adds lotion he squirts it from 4 feet away. He starts massaging her and then comments that he thinks her skin is pealing. Bruno says I think that's the lotion. JOhnny and Godfrey joins them. Bruno notices Godfrey is visibly not happy about breaking a mic and putting everyone on slop. Bruno tells him its okay. It could have happened to anyone they just called you two out.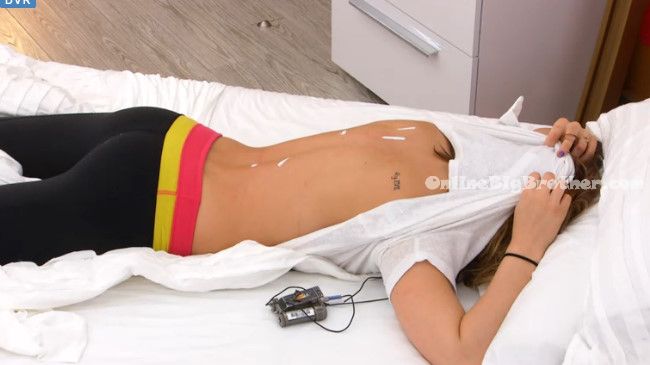 1:20pm Up in the HOH room. Big Brother calls Godfrey out for sleeping and tells him nap time is over. Meanwhile in the kitchen – Sarah comments about Godfrey getting called out. "Seriously this needs to stop." Bobby says he thinks napping is the least of the infractions. Sarah, Kevin, Bobby and Ashleigh are cleaning.
1:30pm – 1:45pm Zach and Jordan are in the pantry. Zach tells Jordan how Bobby was saying they should get Kevin out. Jordan says if Johnny wins, we're f**ked! Well not f**ked. Zach asks should we go for HOH this week? Jordan says I'm going for it. Zach says I think next week we get him out of the game. Jordan says Bobby needs to go. Zach says I think I can even convince Bobby to throw the HOH. Jordan says because he feels so comfortable. Zach says even if he won the HOH we could let him put up Kevin and then we have the votes to keep the pawn. Then the lines are drawn. Zach says we could even convince him to throw the POV, that's how stupid he is. They leave the pantry. Zach and Jordan talk to Ashleigh. She tells them about how Bobby said he didn't give a shit about winning the pov because he didn't want to be on slop for a week. (Thinking if it was a punishments comp he wouldn't take them.) Jordan says he's a little bit*h! Pilar joins then. Jordan says Kevin needs to win.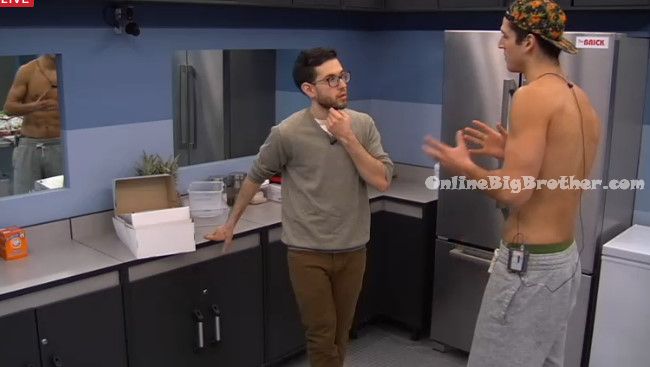 1:50pm Under the stairs –
Pilar and Ashleigh are talking. Pilar says we have to stick together. Ashleigh says I am looking at you and I am 100%! They talk about how 5 is a good number to have. (Alliance of 5)
In the bedroom –
Zach tells Sarah that he is going to try and win the next HOH. Sarah says you have to! Zach says for you the best situation is for the noms to stay the same. Unless you win it. Sarah says I know and if I did I know it sucks Kevin would be nom'd. Britt joins them. Sarah says I just can't not use it if I win it. Zach says oh I know. Zach says I'm getting the vibe that he'll put up Kevin if the veto is used. Zach says we get Kevin out this week and go after Bobby next week. Sarah says since day 1 its been those 4 working together. Zach says we take the head off the snake. Britt says we just did (Graig), now we're taking off the other parts. Zach says here's my plan. I am going to try like hell to win HOH and then put up two pawns .. then tell Bobby the plan is to backdoor Kevin. I'll convince Bobby to throw the POV and put him up. Zach tells Sarah and Britt he trusts then 100%. I don't want you to question me at all. I also trust JP 100%!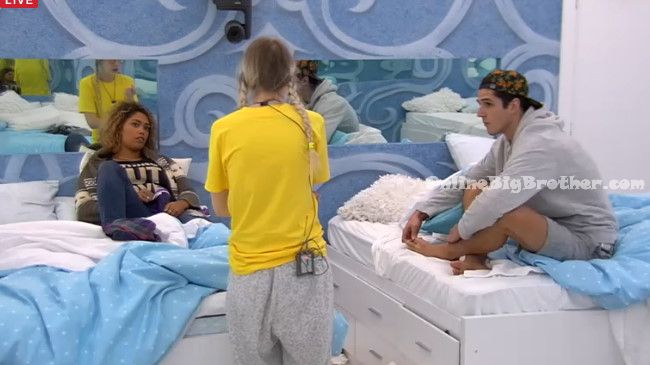 2:10pm Big Brother blocks the feeds.


2:35pm – 3pm The live feeds return with only cameras 1 & 2 showing on the feeds. Sarah comments that Spencer Clawson from big brother 15 is her favourite. "Spencer is my favourite! So cute with his big beard! He had me rolling on the ground! So funny!" Jordan talks about how this is his dream and for him to be letting down not only big brother but everyone else is really upsetting. Big Brother tells him to stop talking about production. Jordan tells Kevin.. I have a plan I am going to try and get Willow up there. Kevin says get Willow up there. Jordan then tells Johnny and Sarah to win the veto! Jordan asks Sarah if she's good at puzzles. She says she is at matching puzzles. Kevin says that Graig was going to say in his speech "I was going bring out the big brother dictionary and oh look there's Johnny under L for liar and there's Sarah under M for manipulator" Sarah says I kind of wish he had. Jordan says that would have been good tv. Sarah says but after I overhead him say well that will make it harder. Meaning going off on people after being called a bully.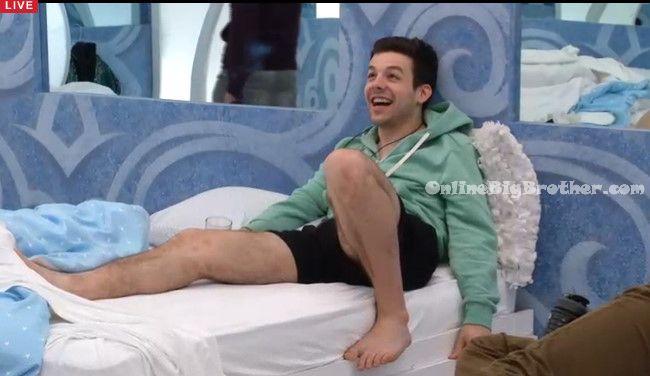 3:05pm Big Brother calls all the House Guests to the HOH room and blocks the feeds.
5:15pm The live feeds are still blocked for the POV Competition..
5:55pm Still blocked.
6:45pm Still blocked..
7:15pm Nothing yet..
[polldaddy poll=8790527]
[polldaddy poll=8786423]
ALLIANCES IN THE HOUSE
Week One there's a lot of Alliance but we've tried to make sense of it all.. Read our alliance help guide
Support the site and purchase your Amazon goods through our link below. It doesn't cost you anything and we get a percentage of what you buy.
Amazon Canada
Amazon USA