HOHJ
| | | | |
| --- | --- | --- | --- |
| POV: | Tyler | Next POV: | Aug 18th |
| POV Used | YES | POV Ceremony | Aug 20th |
| HOH: | Haleigh | Next HOH: | Aug 23rd |
| Noms: | Kaycee Rockstar and Angela Kaycee | Have Nots | |
Big Brother Spoilers Slip n slide HOH tongiht. This is my favorite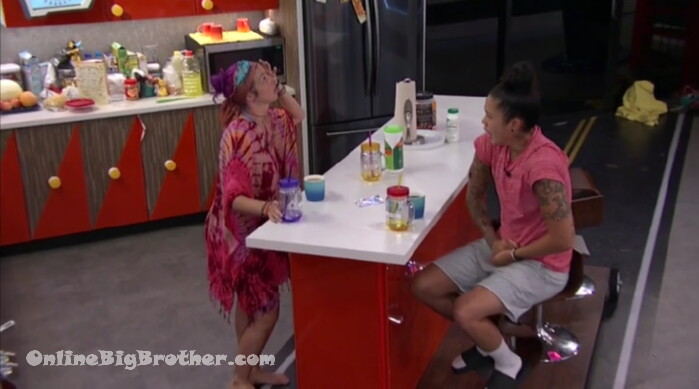 10:37am Rocks and Kaycee are the first up. Talking about what happens when they are evicted. Kaycee tells her she's wearing the pink shirt Bayleigh gave her.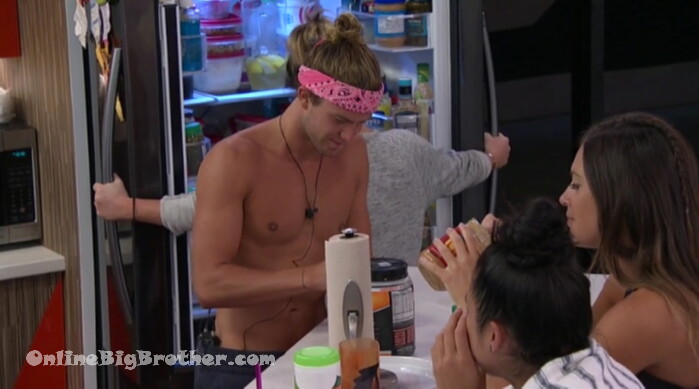 10:52am A bunch are up now just chit chat..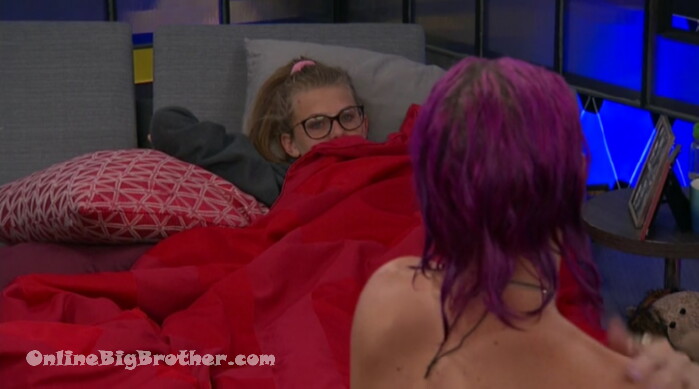 11:09am Rocks and Haleigh
Rocks – it's not that I would be blindside I just really want to know there's an outfit I want to wear if I get evicted.. I wanted to know my finale dress.. I know that sounds stupid. .if I'm not I don't want to pull it out.. if I am I kinda want to know..
Rocks – I totally get what JC is saying, How is he supposed to trust us. Come on JC come over to this side where we've accomplished every single thing we said we would do.. It's Come on JC come to this side where we've literally f*ed up ..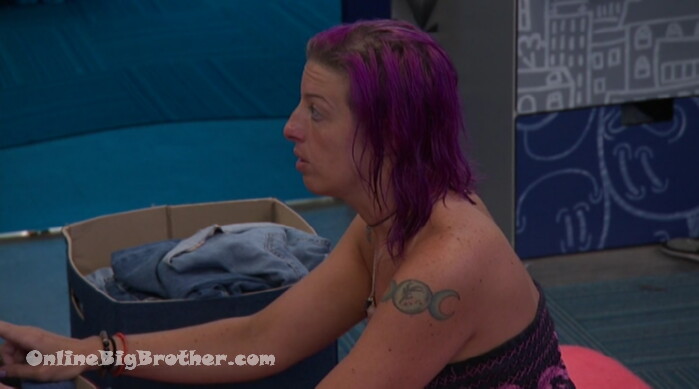 11:16am Rocks and Sam
Rocks talking about wanting to know if she's leaving because she's got a whole outfit planned.
Rocks – I think everyone tells you you are staying until you actually go
Sam – mmmhmmmm
Rocks – I feel like I have the votes to stay
Sam – why did you tell me to tell everyone I was going to vote for Kaycee
Rocks – I didn't want the hacker to switch your vote remember I changed my mind because we needed people to feel secure.
Sam – nobody knows who the hacker is still
Rocks – no (rocks still doesn't know who the first hacker is lol)
Rocks – if I have 5 people voting for me and there's 2 votes for Kaycee, the Hacker cancels one vote. It's 4 to 2 if somebody flips it's 3 to 3. but in the horrible instance I've been talking to the hacker the hacker could cancel someone else votes and flip and someone else flips it could be 2 to 3 I need every vote.
Rocks – everyone is so shy where they are voting
Rocks – it's all f*ed up because of this hacker
Rock – people don't think you are voting for me because your voted for Baylegih and put me on the block..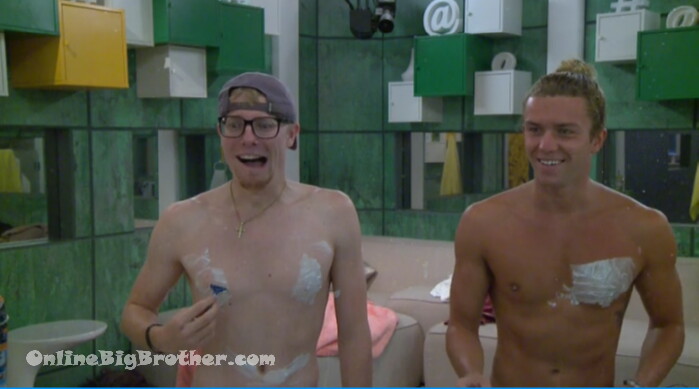 11:24am Tyler is showing Scottie how to shave his chest.
Tyler – now be real f*ing careful I'm telling you..
Tyler – don't do a stupid look on your face..
they laugh that someone is making a gif of them right now. (I was recording in case he shaved a nipple off.. lol)
Tyler – don't never go over the big part.. that the danger zone.
11:31pm Feeds cut to reruns.. it's HOH lockdown. When the feeds come back houseguest will be getting ready for the live show. Our next live feed update will most likely be for the slip n slide Head of Household Competition. Weekly summary and top gifs of course before that. Thanks everyone for the support this year it's been so much fun. Looking forward to spending the weekend with y'all watching the feeds in the middle of the night :) :)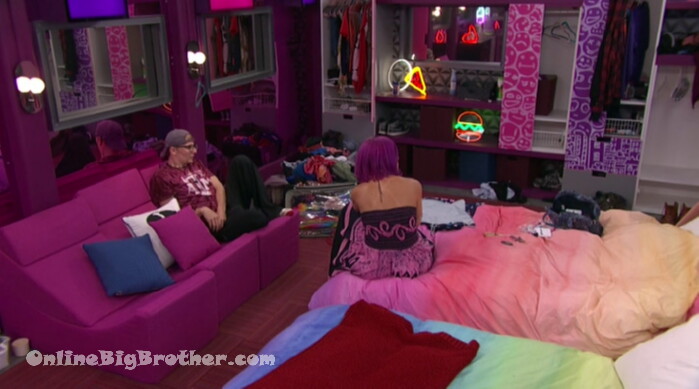 1:00pm Rocks and Scottie chit chatting about hair. Rocks says she thinks she's OK but she doesn't want to be too comfortable.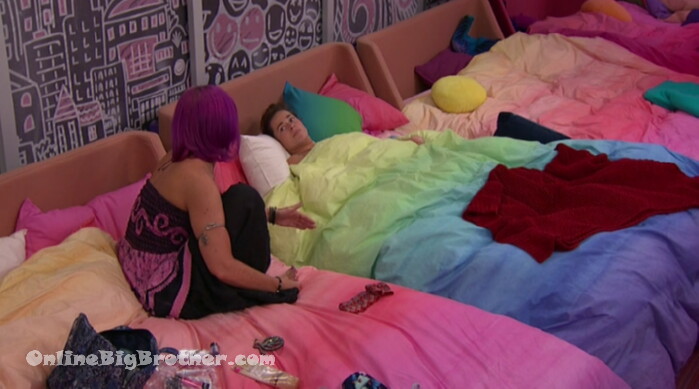 1:03pm Rocks and Sam
Rocks says her assumption is the Hacker is Angela .. she did a risky move.. they will cancel out one of my people they will cancel fes.. (LOL)
Sam asks what happens when she tells everyone she's voting for Kaycee and she doesn't she votes to keep Rockstar and they find out she lied.
Rockstar tells her not to lie say she's voting for Rocks to stay.
Sam – I wish I could leave here.. I would love to get the f* out of here..
Angela tells her if she stay tonight she needs Sam on her side so stop talking like that.
Sam – everybody sneaking around being sheisty with each other I just want to slap the shit out of people.. the whole thing is stupid.. it's stupid..I'm going to hulk out of this f*ing shirt
Rocks – do you want another shirt
Sam – I want to throw up..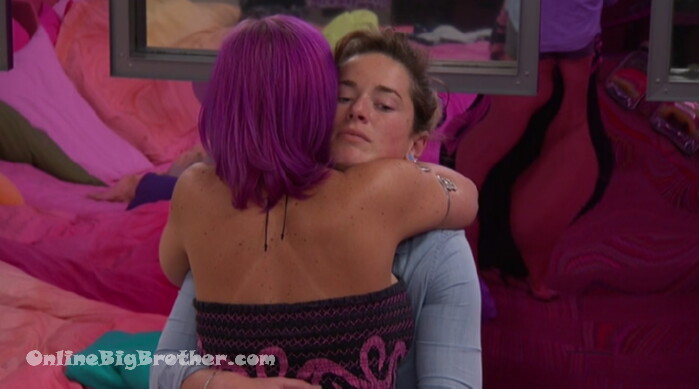 They hug it out.. Rockstar whisper in her ears if she goes home she wants Sam to send all these people to her. (LOL)
Sam – ok..
Rock – don't give them a reason to put you up.. If I leave.. there's less of us..
Rock shows the outfit she wants to wear if she knows she's going home.
Sam – I want to punch myself in the face right now
Sam – I can't believe how much weight I've gained in here.. I hate what this place has done to me.
Sam – Everything I have is a 3 or a 2 and now I'm like a 5.. cause I'm a f*ing COW..
Rocks – STOP ..
Sam – you really are my only person..
Sam mentions that Rocks also has Haleigh she's Rocks number 1.
Rocks – you're the person I hang out with the most
Sam whumpers how she doesn't have anyone
Rocks suggest Sam does everything she can to help Rocks stay.
Sam – should you go I will be 100% alone.. everyone will do their thing when I need somebody..
Production – SAM please put on your microphone
Amazon Canada
Amazon USA