POV Holder:
Jon
Next POV
April 12th
POV Used
?
POV Ceremony
April 14th
HOH Winner:
Jon
Next HOH:
April 17th
Original Nominations:
Sabrina & Rachelle
Current Nominations:
?
Have Nots
Neda, Arlie, Rachelle and Heather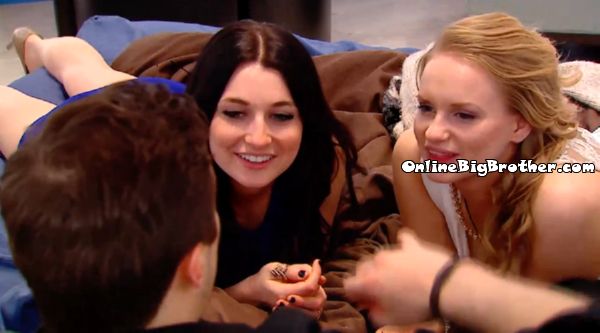 10:36pm HOH Jon, Heather and Rachelle
Jon tells them what he's doing tomorrow. Rachelle comes off and in her place he will put up Allison. He wants Heather and Rachelle to vote to evict Allison and he can guarantee NEda will do the same.
Jon Leaves.
Heather asks her if she wins HOH next week will she'll be safe. Rachelle says she has no plans on taking out Heather. Rachelle wonders is Allison knows she's going up. Heather doesn't think so.
Heather and Rachelle Agree they are now working with each other.
Heather – "I don't want you to go home YET"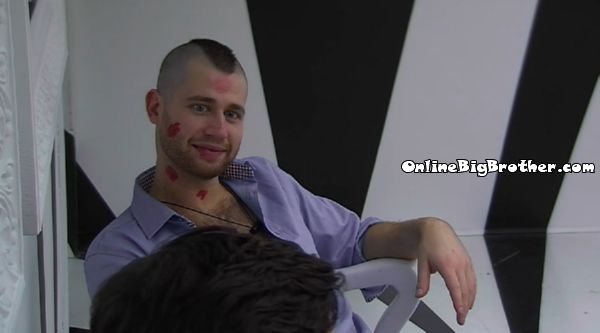 10:43pm Jon, Neda and Arlie Have Nots
(Jon is drunk)
Arlie – "You like talking drunk game"
Jon tells them he's 100% down with a final 4 with them, "We can meet in the slums tomorrow morning."
Jon – "Bam we get rid of Allison"
Arlie – "Allison is gone"
Jon says if they want Allison gone this week he will use his veto but they all have to agree on the votes. Neda says Adel is 100% down with Allison.
Heather – "Done"
Arlie – "Done"
Arlie – "One Day before her birthday bud" (I guess Allison's birthday is on Friday)
Jon – "Ohh sh1t heartless"
The girls leave.
Jon – We've just made a final four with Neda and heather.. We are about to make a final 4 with Rachelle and Sabrina"
They laugh at how they have both side thinking they want each other out.
They start talking about their alliance called "The Goof Troop" and how much money they are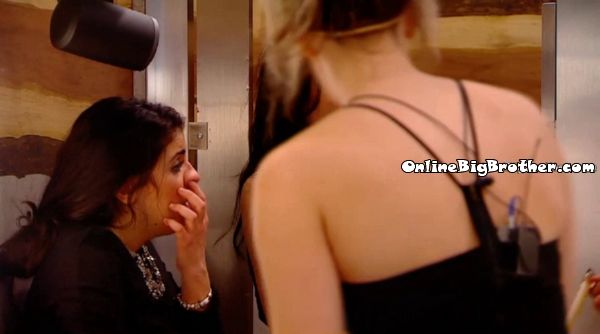 10:55pm Bathroom Neda, Sabrina, Allison
Sabrina crying.. and picking her nose.
10:58pm HOH Room Heather and Allison
heather says she' s drunk and she loves Allison.
Allison you're the only person that hasn't been asn a$$hole to me
Allison never wants heather to doubt that Allison doesn't have her.
Heather – "I want you to stay"
Allison – "And I want you to stay"
10:58pm Bedroom Gremlins and Neda
Neda saying Allison gone this week, then Arlie followed by Adel. Sabrina thinks it would be better for them to take Arlie out this week. Neda tells her NO Allison goes this week.
11:07pm HOH Allison and Arlie
She's defending what she did when she entered the game by leaching onto Andrew.
Allison says she's been told by everyone in her "Alliance" that they are all equal but she knows she's not.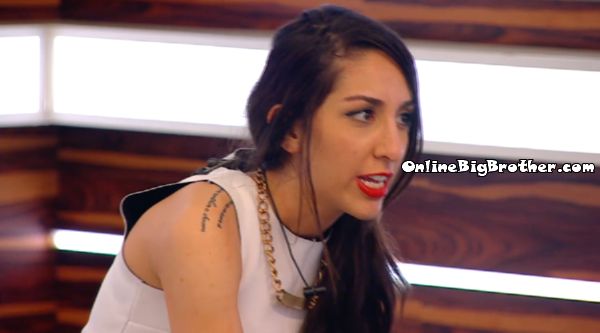 11:15pm Pool Side Neda and Heather
They are confirming their allegiance to each other. Neda plays down how close she is with Jon, she tells Heather she's more loyal to her.
Neda and Heather mention their final 2 and how they want to bring Jon to the final 3.
Adel joins them for a second tells them there's a lot of talk going on people on the outs offering up final 2 final 3's. Neda – "Sabrina is driving me crazy" Adel leaves
NEda says the only person she trusts 100% is Heather. Heather feels the same way.
Heather says Arlie always comes up to her and says "Me, You and Adel right right" Heather thinks it's a bit early to be playing that type of game. Mentions it's like how Paul was playing.

Jon comes by and jumps in the pool shows off to Neda.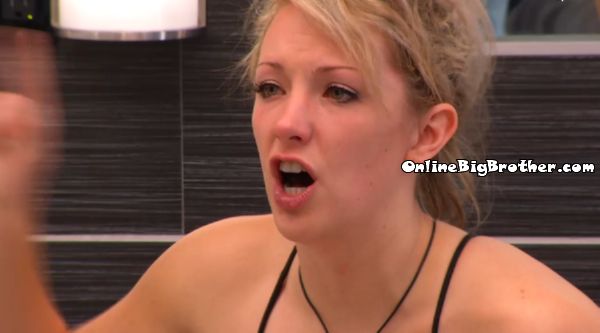 11:30pm Allison and Arlie HOH
Allison crying and angry she pretty much blows a fuse and is very hard to follow..
She Tells him how stupid of a plan it is to put her up and how he turned his back on her when she thought they were working together.
Arlie says he wants to be her ally but he doesn't feel like it's been reciprocated. Allison says she doesn't know anything. She starts to cry.
Arlie keeps telling her to stop crying.
Allison – "DON't F*** TELL ME NOT TO CRY"
Allison swears she didn't know anything that is why she never told him any game talk.
Arlie – "Don't be too upset"
Allison warns him about Jon and Neda they will never be able to split those two up.
12:00AM Allison knows she's going up and is acting like someone who doesn't have a scarlett Veto. She's also super drunk.
(Video Coming)
[polldaddy poll=7964297]