POV Holder:
Kenny
Next POV
?
POV Used
?
POV Ceremony
April 7
HOH Winner:
Heather
Next HOH:
Apr 10
Original Nominations:
Kenny & Allison
Current Nominations:
Sarah & Allison
Have Nots
Sarah, Kenny, Rachelle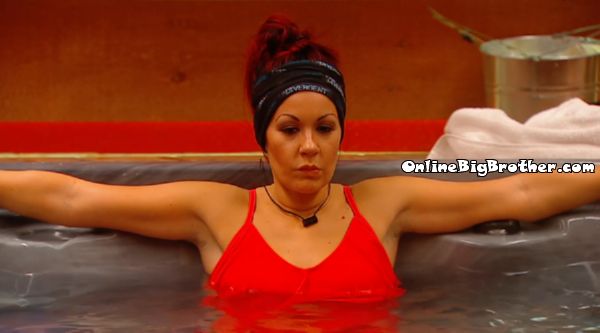 8:17pm Kenny, Rachelle and Sarah
Sarah says she's going into Thursday assuming she is leaving. Rachelle thinks the power is going to shift to their side, She doesn't think they will get picked off one by one.
Sarah – "Who knows it's happened before"
Kenny says he knows he'll be the number one target until power shift or he goes home.
Sarah – I can't believe I'm going out this week.. how quickly the tides have turned for me.
KEnny says she should have turned on him earlier in the week. Sarah says she should have lied about turning on him. Kenny yhinks Sarah might have a better chance than he does in the game, He should have used the POV on her.
Sarah doesn't want him to say that she says
Sarah – THey are hurting Kenny by getting me out 100%.. I know they are liars but I know they trusted me as well.. I know the only reason i'm going is because of Kenny"
Sarah "Thats how much there hate is on for Kenny"
Rachelle says the other side is threatened by their competition winning abilities she points out Kenny won 2 POV's and she's won a HOH
Kenny breaks down the other side's win's says only 2 of them
Sarah says she's going to pull Jon aside and tells him that Alison is Jon's number one now. Kenny puts Jon and Arlie up she will vote to Keep JOn whereas Allison will vote out JOn. Sara – "Jon's only shot in that scenario is if I am here"
Sarah plans to plant the seed in Jon's head because Jon knows how close Arlie and her were so it makes sense that he would tell her Allison and him were close.
Kenny – "That is a pretty good scenario to put in his brain.. put a little bit of doubt"
Sarah is going to try it tomorrow night.. She doesn't want to do it now so he has too much time to think about it.
Rachelle is excited about this "I hope it works.. do you think he's going to go for it"
Sarah isn't sure but it's a chance, "I'll be an undercover agent for Jon"
They agree it's highly probably that Kenny will win HOH. Sarah is going to drill that into Jon's head, "When Kenny is under pressure he performs"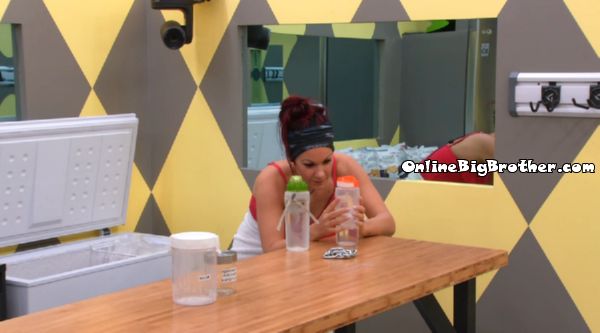 8:40pm Sarah storage room
Sarah – "Oh is Arlie's drink down here.. "
Sarah finds Arlie's drink cup runs into the storage room and puts the Tabasco sauce label on it..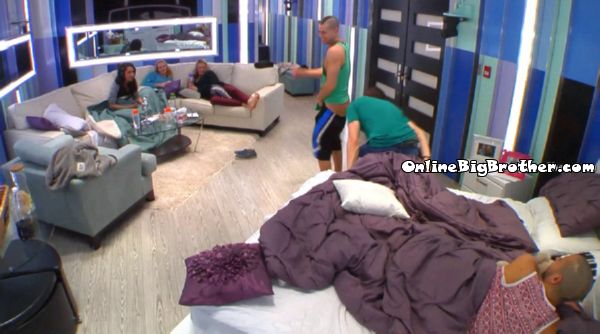 8:57pm HOH Arlie, Heater, Neda, Allison, JOn and Adel. joking around
(Sounds like every time Jon calls Neda a name he has to kiss Arlie's behind)
Jon asks the girls if they have "Pep Nips" Heather doesn't know what that is, Allison explains "Pepperoni n!pples" are large n!pples.
Heather – "Oh like Pancake n!pples"
Adel – "In Newfoundland they are called pepperoni"
Allison – "More like Salami"
Arlie tells Jon to day "Hey Neda theres more lipstick on Alrie a$$ than on her lips"
Jon tells Adel to say "Hey Allison nice Camel toe."
Neda tells Heather To say "Hey Jon Arlie's pinky toe has more hair than your chest"
Jon tell Adel to say "Hey heather (Squeaky voice) Oh HI"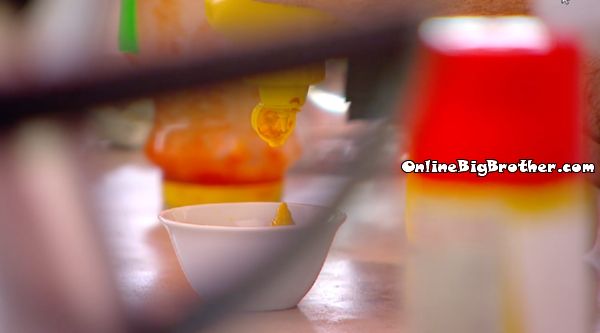 9:10pm All the have nots have is mustard and slop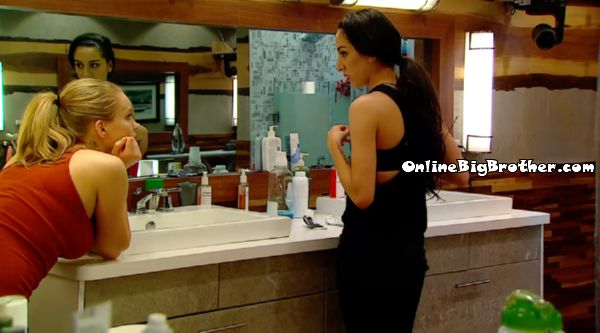 9:38pm Heather and NEda in the Bathroom
Heather says "Allison's trying to be so nice.. Rachelle came in she was like oh were you guys going to work out. And Allison was like Ya do you want to come"
Heather – "I was like WHY would you ask that"
Heather – "Rachelle was like Oh that's OK and I'm like GOOD I don't want you to come"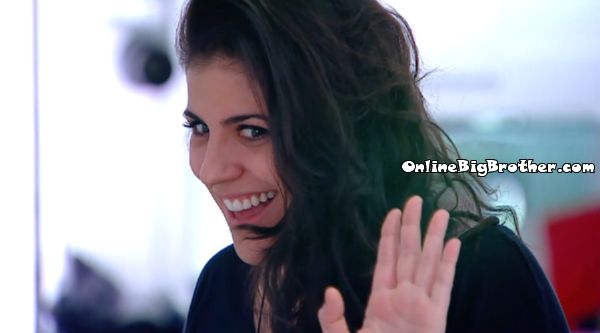 9:40pm Sabrina, Arlie and Jon (Jon laughs through most this conversation)
Jon is saying it's not a good idea to make an alliance 5 minutes into the game. Sabrina disagrees says her alliance was good it made it far got her to week 5.
Sabrina says she was the only one that stayed loyal with the first5. Sabrina adds this proves she's a good player to be with cause she's loyal.
Sabrina – "It is what it is you guys can't stand me and i'm the devil"
Sabrina says she played a great game and it was because of who won HOH and her alliance turning on her that screwed her up.
Sabrina says Arlie was lying to his face and breaking his heart, "You see it later"
Sabrina says she wanted to win the money and when it comes to the bitter end she wants the 100 thousand dollars just as much as JOn.
Sabrina says she never talked trash about Jon or Neda she also claims to have thrown the last HOH because she didn't want to be the one to take out Jon she wanted to leave it to Kenny.
Sabrina – "this is the most honest conversation I've ever had in this game"
Sabrina – "The first 5 wasn't loyal to me and they made me look like an a$$ I feel so betrayed"
Sabrina – "I saved Andrew week one and Kenny week three.."
Sabrina tells Arlie he should feel bad about it.
Arlie – "It's a game"
Sabrina says last night they were calling her evil and she wants them to know she really isn't.
Sabrina tells them what Arlie did to her was the same thing that she did to jon
Arlie – "There's no difference and I never called you evil"
Sabrina goes on and on about how hurt she is, "it's hypocritical I wasn't the only person doing things to other people"
Sabrina says she hopes she stays in the game it's been her dream since she was nine.
Sabrina "Don't lie behind my back"
Sabrina leaves
Jon and Arlie are laughing..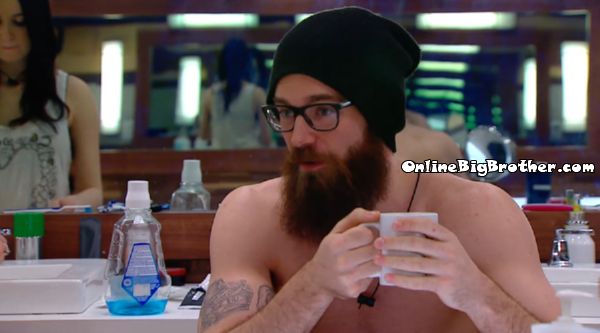 10:06pm bathroom Kenny and the gremlins
Kenny tells them they are in a good position because there's lots of people on the other side with smaller secret alliance and as long as they get the power that entire side will began fighting within itself.
Sabrina says she doesn't feel bad for lying because she's learnt Neda told Jon about the girls alliance called the stupids.
Kenny thinks Sabrina shouldn't feel bad it's a game all they need to do is win HOH and watch the other side collapse.
Kenny explains everyone is lying and everyone is playing vicious they just happen to be on the losing side for right now.