POV Holder:
Jon
Next POV
April 12th
POV Used
Yes
POV Ceremony
April 14th
HOH Winner:
Jon
Next HOH:
April 17th
Original Nominations:
Sabrina & Rachelle
Current Nominations:
ADEL & Arlie
Have Nots
Neda, Arlie, Rachelle and Heather
10:10pm HOH Jon, Heather Allison and Jon
Jon says he will self evict if Arlie stays in the game.
Heather tells them about the conversation she had with the Gremlins.
Heather points out that the Gremlins think they have Allison.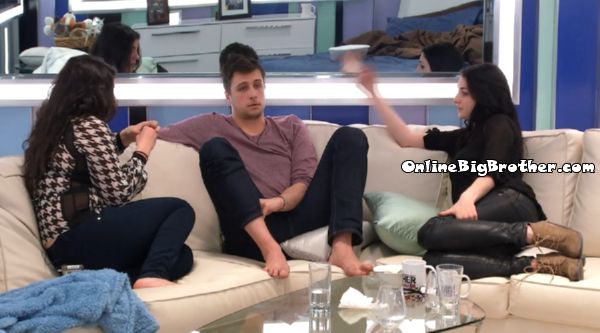 10:17pm HOh Jon and the gremlins
Rachelle says she believes the lips she read. Sabrina really plays up Rachelle ability to read lips.
She read HEather and Neda have a final 2, Neda/Heather said they can't believe the two vetoes were used on the gremlins they also said "backstabbing their alliance"
Sabrina – "We don't trust Neda and Heather at all"
Sabrina- "1 thousand percent it was said WE ARE GOING TO BACKSTAB OUR ALLIANCE"
Jon says he knew the girls would try and take him out.
Jon asks them what they want to do now
Sabrina says Heather and NEda are sh1ting their pants they just spent a hout each trying to smooth things over for them.
Jon says 100% he would take Heather out.. now right now but in 2 weeks time.
Rachelle says Neda and Heather saying all they talked about was Arlie was a lie.
Jon – "What do you guys want to do"
Feeds flip to Arlie and Adel poolside..
10:43pm Feeds go back to the HOH, Sabrina and Rachelle are selling Jon a final 4 deal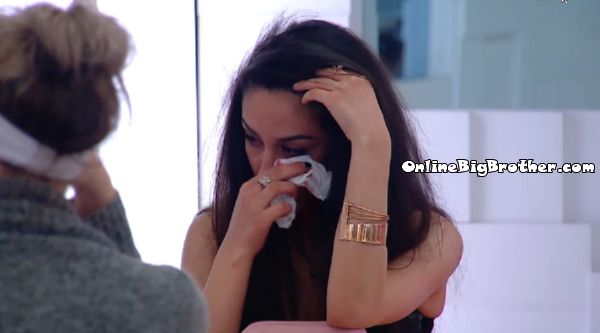 10:19pm Bedroom Neda, Allison and Heather
Neda crying.. They are denying saying anything about Jon. heather – "I'm not worried about it because I didn't say sh1t and neither did Neda"
heather – "Obvious she knows the truth if she can read lips"
Neda says Rachelle thinks she read the things she's saying but its wrong.
Allison -"So she filled in the gaps"
Allison says she's so sick of all this game talk.. she's never talked so much game before.
Heather says Arlie is getting ot the gremlins and he knows he's doing a good job. Allison asks her if she can trust Jon and Neda. Heather says of course. Allison mentions the part about them trying to backdoor her is hard to forget. heather says that was all Arlie.
Allison -Really Arlie was the only one
Heather says yes, her and Neda didn't want to get rid of Allison but they couldn't go against their alliance.
Heather is trying to persuade Allison about Neda, Jon and her loyalty to Allison. Heather says she's been wanting to play with Allison for the last few weeks, "I've been fighting for you for the past 2 weeks"
Heather says Arlie is going to win the game if they leave him in the game. She adds that Arlie will take a Gremlin ti the final 2 he's not taking her or Allison.
Heather – Arelie is going home you me and neda are sending his a$$ home.. I trust you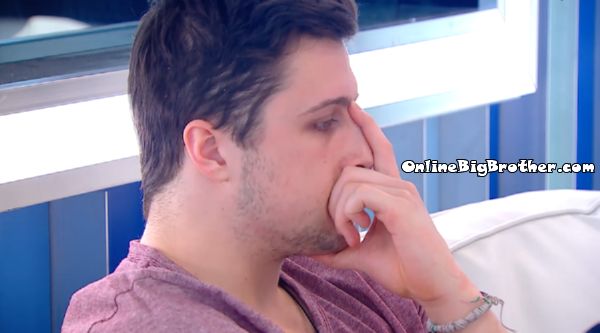 10:44pm HOH Jon and Neda
Jon says that Allison has been telling them everything that is going on in the HOH with Allison. Jon says Heather wants him out he knows that. Neda – "Not right now"
Jon mentions how the gremlins are telling him that Neda told them that it was Jon wanting Allison out.
Neda – "I want to punch them in the face right now"
Neda – "everything is being blown out of proportion"
Jon says they have to pull in the gremlins and Allison and make a final 5 deal
Neda says they can't do that they just made a deal with Allison and heather they can't keep going around making final 4 final 5's
Neda – "Allison Masterminded this whole thing"
Neda says Allison just told her she is not keeping Arlie, "She's a liar"
Jon – 'What do we do.. i don;t know"
Neda – "I Honestly don't know.. I think right now we've dug ourselves into a little bit of a whole"
Neda – That conversation 5 minutes ago was a f*** up"
Jon – "Allison knows we have a final 4 with the gremlins"
Jon – "I just threw the gremlins under the bus to her"
Enda and they are going around telling her about it
heather comes in and neda says "HON can you give a few minutes I'm freaking out"
Jon wonders if maybe they should just keep Heather and f** it roll with it.
Neda says they can play off the thing they have with Adel and Heather.
Neda says Allison has already made up her mind she's with the gremlins and they are going to keep Arlie.
Jon asks her why are they bothering making a deal with the gremlins than.
NEda – "that is the only way I can think of to get rid of Arlie"
Neda and Jon both are not sure what to do right now. NEda says Allison really improved her a game a lot with how she used her veto.
Jon – "Maybe we should talk to Allison and call her out"
NEda – "Ya that is what we should do but not in a bad way"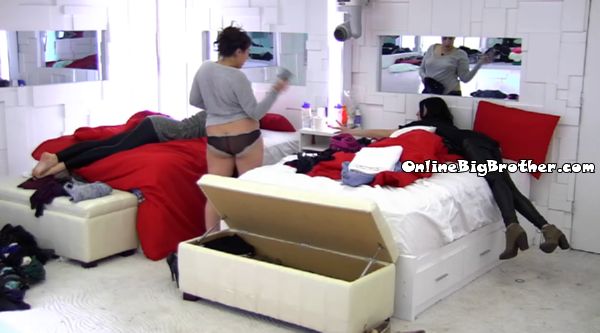 10:53pm Gremlins in the bedroom with Allison
They are briefly going over what JOn said to them in the HOH.
Sabrina saying some good points were made, they might not get another chance to take out Arlie. Sabrina says Neda and Heather have a final 2 and Jon knows that, "He's freaking out"
Sabrina we can't be paranoid we have to go with our guts, "Wheres Arlie""
Allison says Arlie has no personal ties with anyone he's a huge threat in the game. They agree they don't trust Jon or Arlie.
Sabrina – "They don't know you are voting for Arlie.. they don't even think it's in your head"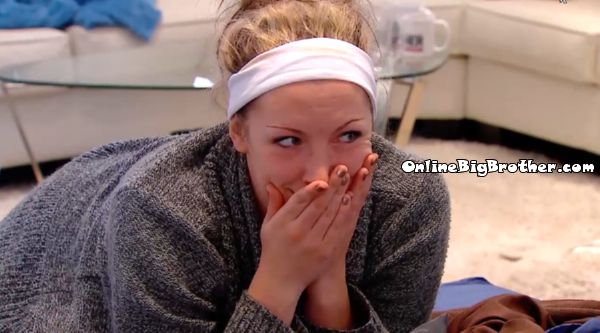 11:07pm to midnight Allison Jon and Neda HOH
he asks her where her head is at
Allison says she would be a idiot to keep Arlie, he's still talking to her about it and she's still considering it in her mind is she going to do it no.
Allison says the Gremlins are trying to make is sound like she is keeping Arlie and they are on the fence about it.
Jon mentions that the gremlins came to them about the final 4 all they wanted with the gremlins to vote their way and give them 1 week of protection. Neda and Jon keep saying how confused they are.
The Gremlins interrupt them four times trying to get in. . (on another cam Rachelle says "What are they telling her that we can't hear.. she better tells us after)
Allison says she did trust him before 100% when she thought they were going to keep Andrew. Allison says she's having issues because she' heard about all these final 4 deals Jon has.
Neda asks her who she trusts more heather or the gremlins. Allison – "I don't know"
Allison asks them 100% honesty how on board was Heather in backdooring her.
Jon – "She was the most resistant"
Neda says she's doing a blank slate what is agreed to tonight is what she's going to go with.
Allison says she does not trust Arlie 100%
JOn – You will not have chances to get Arlie out of this game.. he will carry himself to final 3 and he will win the final HOH
Neda – He already said his word doesn't mean dh!t.
Jon says the gremlins are telling them Allison wants to keep Arlie and they are on the fence.
Allison says emotionally she wants to go with the gremlins buit game wise she doesn't.
Neda says it depends on who the three of them want to work with more Heather or the gremlins. Neda points out Adel is not part of this deal. JOn wants this three to be the core alliance.
Allison – I would never think I had to make a choice between them.
Jon – Take it for whats it's worth I want to work with you in this game.. it's legit.
Neda says she's leaning toward them siding with Heather just because she fought so hard for Allison when they were the sloppies.
Neda says they will go so f*** far if they stick together.
Jon – Final 4
Heather comes by says Arlie and the gremlins are in the bathroom listening in on what is being said.
Allison asks them if they do final 4 what do they tell Sabrina and Rachelle.
Neda – "I don't know what to say"
Allison says game wise she is thinking of getting out Arlie. Jon and Neda both say they are going to get final 4 if they stick together .
heather joins them..

(This video is long.. uploading)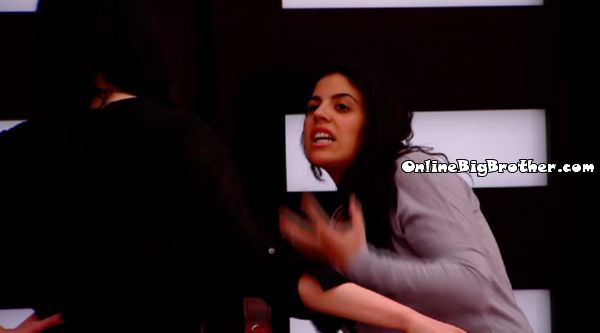 Gremlins pissed they can't hear the conversation in the HOH between Allison, Jon and Neda.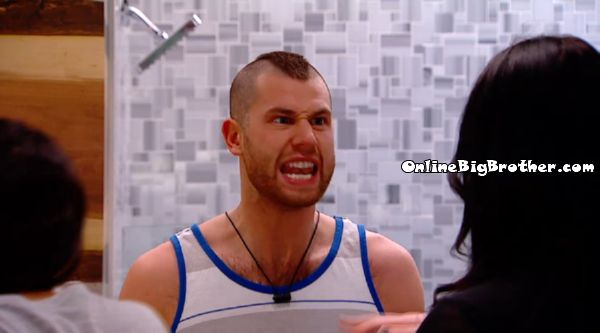 11:08pm Bathroom Arlie, Sabrina and Rachelle
Arlie swearing up and down he's loyal to the gremlins he's going after Jon, Neda and Heather. He's going to raw dog them.
Arlie – I will crush every one of them and send them home.
Arlie says he never will turn on Allison and the Gremlins until final 4 "NEver never never.. I'm telling you the truth I'm being real"
Arlie – Jon is F***d taking a swing at me and miss"
Arlie says Jon gets drunk and makes stupid moves in the game.
Arlie says he's the most loyal person in the game.
Arlie – "Lets f** do it girls"
Sabrina We will never do what they did to you
Arlie – "I would be scared if I was them.. Taking a swing and missing is devastating for the three of them"
[polldaddy poll=7968822]
[polldaddy poll=7964297]