POV Holder:
HEATHER
Next POV
April 26th
POV Used
Yes
POV Ceremony
April 28th
HOH Winner:
Jon
Next HOH:
May 1st
Original Nominations:
Heather and Sabrina
Current Nominations:
Sabrina and Adel
Have Nots
None
The House Guests each took a punishment to see their loved ones yesterday:
Jon is on solitary confinement for 24 hours – He got to see his Dad
Neda had to give up all her clothes & wear the onesie – She got to see her sister
Sabrina is on slop – She got to see her sister
Adel has to stay awake for 36 hours – He got to see his friend
Heather can't use the HOH room – She got to see her boyfriend William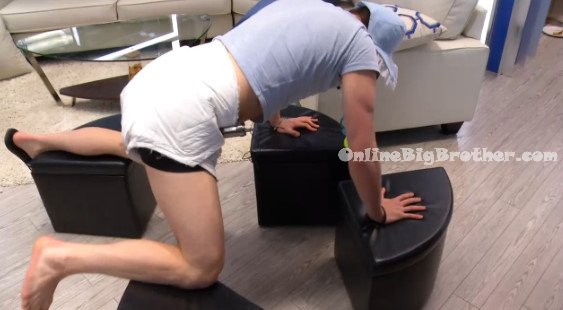 4pm In the HOH room – Jon took down his fort. He then rolled around on the furniture trying to not touch the ground. Jon is beyond bored.
Meanwhile – Neda, Heather, Adel and Sabrina are in the bedroom talking about past events of the season. They talk about how disgusting Andrew was because he would burp and fart around them all the time. Neda and Heather say they both used to tell him he's disgusting all the time. Heather and Adel leave the bedroom. Sabrina says she won't leave us alone. When I ask if you want to come out side.. come! Neda says okay. Sabrina starts talking about jury votes and who she thinks they will vote for. Sabrina wonders if Neda will take Jon to the final two. Neda says that she isn't decided yet. Neda says I just want to be able to talk for awhile but its so hard.. now that there are less people in the house its so hard! Sabrina says that everyone has a better chance of winning against me. Adel would probably have Canada's vote too. Heather joins them and the conversation ends. Adel joins them.
Sabrina says we're like oil and water. Adel says you wish!! Sabrina laughs and says he doesn't understand .. oil and water don't mix! Sabrina leaves. Neda comments on how she thinks this weeks HOH will be endurance. She says if we keep Sabrina and she magically makes it to the final 3 I'm worried because she's so good at memory comps. Neda tells Heather that Sabrina is the worst campaigner ever! Don't tell us how good you are at days! Neda asks Adel if he would have accepted the video chat with his friend again. Adel says oh don't make me answer that. Heather asks why? Adel says he wouldn't take the punishment again to talk to his friend. Heather says that's mean. Adel says well its different you got to talk to the love of your life and she got to talk to her sister.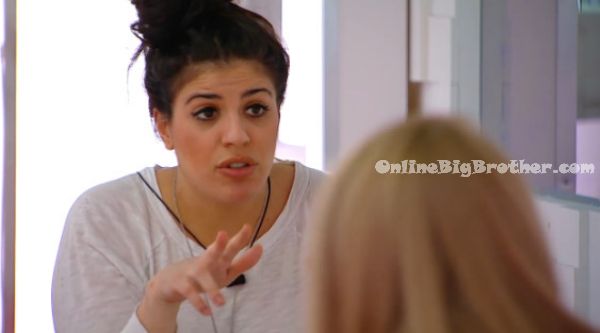 5pm – 5:25pm Adel heads out to the hot tub room. He screams at the camera "AAAGGHHH!!! How am I going to stay up for 36 hours!!! He looks up and says I've got to break out! I gotta get out of here! He finds the left over cigar and starts smoking it. Adel tells Canada to stay up all night with him. He says send me a message inside the house to tell me what to do tonight. He says if you what me to annoy someone then let know and I'll do it. Sabrina joins him and they start arguing. Sabrina tells him that Rachelle put that cigar out in puke. Adel blows smoke in her face. She tells him not to blow smoke in her face. Neda joins them. Adel leaves. Sabrina and Neda talk game. Sabrina tells Neda that if it comes down to me you and Heather and I get to choose.. I would choose you because you deserve to win the most. Heather joins them. Sabrina asks them if they are going to keep her. They both say they're leaning towards keeping her. Neda says unless something changes.

5:40pm Adel is out by the pool carving Neda's face into a watermelon. When he finishes he heads insides and asks if they can guess who it is. Adel tells Neda that its her. Neda says it doesn't look like me at all! Neda grabs it and show the camera … she asks does this look like me?!!? Neda then starts saying Hex you! Hex you!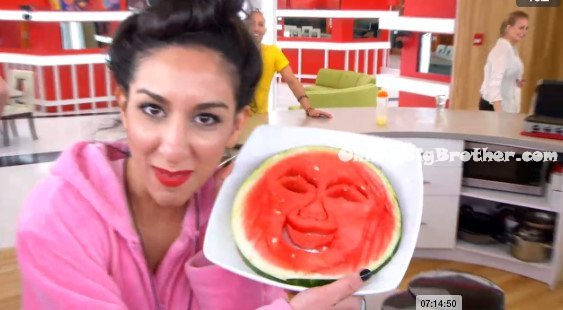 6:10pm Heather, Neda, Sabrina and Adel are hanging out in the kitchen.
Heather isn't impressed when Adel calls her a "Big Booty HOE!" Adel says its a song! @bigbspoilers #BBCAN2 pic.twitter.com/7uEl0Q7wFj

— Dawg (@DawgsBigBrother) April 28, 2014
[polldaddy poll=8001357]
Stay connected and interact with other Big Brother Fans on our Facebook page.
And Follow: @BigBspoilers and @Dawgsbigbrother on Twitter for the most up to date spoilers.
HELP keep the spoilers coming.. Show your support by making a donation. ANY amount is greatly appreciated! Simon and I work 24/7 all season long to keep you updated on everything that happens inside the Big Brother house. Your donations go directly to paying the fees required to run this site.