POV Holder:
HEATHER
Next POV
April 26th
POV Used
Yes
POV Ceremony
April 28th
HOH Winner:
Jon
Next HOH:
May 1st
Original Nominations:
Heather and Sabrina
Current Nominations:
Sabrina and Adel
Have Nots
None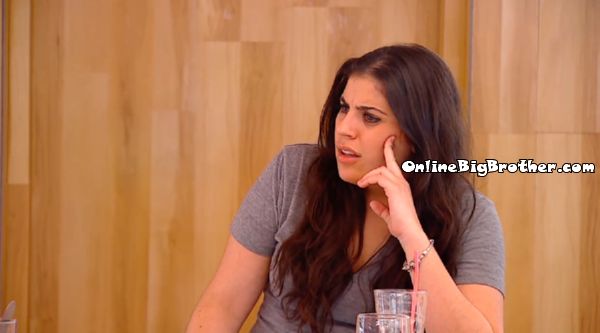 6:13pm Everyone but Jon in the Kitchen
Adel laughs at Jon in the HOH room, "Big Jon must be losing his mind up in there"
Neda says she never really talked game to Kenny.
Heather mentions hearing the boys talking in the storage room about how they were going to string the girls along to use them for their votes then start taking them out. Heather adds that right after she heard them saying that Kenny came up to her and told her they should start working together.
Heather – "Ya OK Kenny.. I haven't talked to you and it's been 5 f****g weeks.. OK Kenny"
Adel says Kenny and Andrew never talked Game to him.
6:23pm Sabrina and Neda talking about Kim and Khloe Kardashian.
Heather joins them, Adel asks if she "watches that Sh1t"
Heather says "You mean follow it.. sometimes"
Neda points out how wealthy people in the public eye don't do much. They have the healthiest foods made for them and they work out all day. neda adds they all have plastic surgery like liposuction, implants and lifts.
6:39pm Adel goes up to the HOH room door bangs on it yells "If anyone is wondering in the house it's 6:45 right now"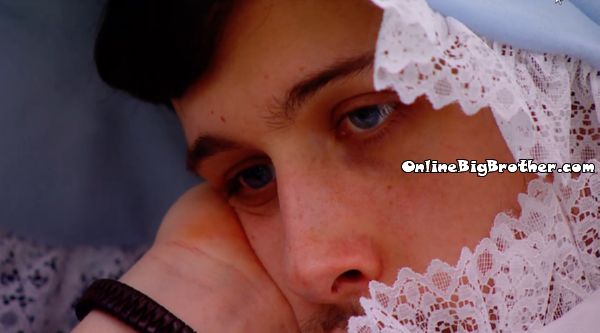 6:45pm Jon still in the HOH dressed as a baby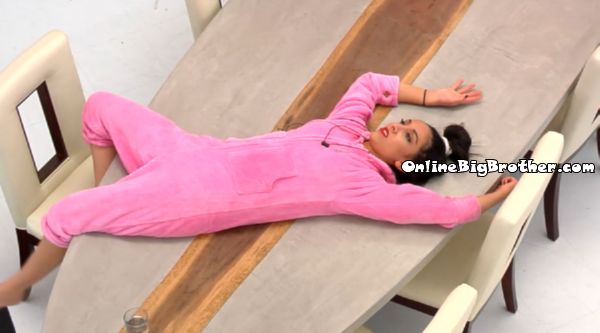 6:55pm Neda, Heather and Sabrina
chatting about seeing their family.
Sabrina says the more she thinks about it the more she understands why she got nominated by Canada. Sabrina says Canada didn't like the 1st5 alliance, they put the only two loyal people of the 1st5 up. She adds that Andrew was a big personality and since she was the closest to him they put them both up to damage the 1st5 alliance, "I was the pawn he was the target"
Sabrina says she's not mean in the Diary room.
Neda says Sabrina was put up because of her association with Andrew.
Sabrina mentions that Allison was really close to Andrew to.
Neda and Heather say that Allison got cheers when she didn't win a competition.
Neda thinks it's because ALlison was associated to Andrew.
Adel joins them and they continue to go over what their family told them. They comment about how similar it was for each person, Sounds like the family told them all more or less the same thing.
Stuff like; Keep up what you are doing, Hold your head up high, Everyone back home is cheering for you , you have no idea how busy you will be when you get home, Aunt Judy has the Gout.
Sabrina jokes about the shirts her sister made up for her says she's going to send Adel one in the mail. Adel says no thanks. Sabrina tells him they have a picture of her on them.
7:22pm Heather says she didn't like how Arlie treated Women he wasn't very polite. Mentions when he would burp right beside them, 'He didn't care what he did"
Neda says Sarah hated Andrew but wanted to keep him around because she needed him for her game.
Adel – "Andrew talked the worse way to women I have every heard"
Neda – "I Agree 100%" She brings up when Andrew would say horrible things about women then say "I love women look I cook for them"
7:30pm Neda and Heather Bedroom Lockdown
Neda – "Has she been campaigning to you"
Heather – "Yup"
Neda = "I'm so glad we tell each other everything"
Neda goes on and on about all the votes Sabrina has in Jury.
7:35pm Bedroom lockdown
Talk about watching the past episodes when they get home.
Sabrina about the parts containing Sarah, "I don't even want to"
Sabrina- "Shes' the wicked witch of Big Brother"
Neda – "I agree with that Statement, We are all wicked witches"
Sabrina agrees says they are all just wicked inside the house.
If you find this site's content valuable please consider giving us a donations to help keep it going.
[polldaddy poll=8001357]