POV Holder:
HEATHER
Next POV
April 26th
POV Used
Yes
POV Ceremony
April 28th
HOH Winner:
Jon
Next HOH:
May 1st
Original Nominations:
Heather and Sabrina
Current Nominations:
Sabrina and Adel
Have Nots
None
The House Guests each took a punishment to see their loved ones yesterday:
Jon is on solitary confinement for 24 hours – He got to see his Dad
Neda had to give up all her clothes & wear the onesie – She got to see her sister
Sabrina is on slop – She got to see her sister
Adel has to stay awake for 36 hours – He got to see his friend
Heather can't use the HOH room – She got to see her boyfriend William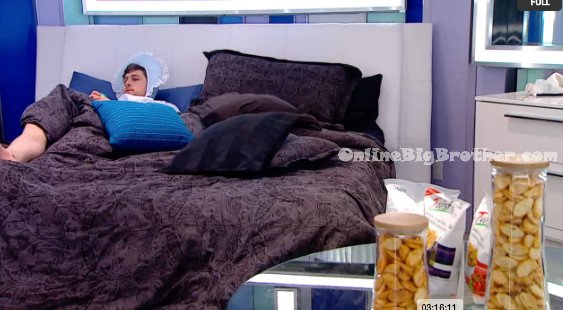 1pm – 1:30pm
Big Brother blocks the live feeds. When the feeds return – Jon is on solitary confinement in the HOH room. Jon says to himself – "Jail would be brutal! I don't know what I would do if I was in jail! Save me! Help! Help! Maybe I can have a conjugal visit?! NOPE! Worth it but it still sucks DAD!" Jon starts to sleep and big brother wakes him up. Jon yells what the f**k am I supposed to do?! Meanwhile Sabrina and Neda are in the bathroom. Neda comments on how Adel said this was the worst puinshment ever. Sabrina says at least its going to be super easy for you to get ready in the morning. Neda says I am going to be super depressed I'm not going to move all day. Neda says the worst thing is .. I have to stay in the onesie all week. I can't wash it. Sabrina says oh that is bad. Maybe you could wash it while you're in the shower. Neda says yeah that's a good idea. Neda and Sabrina pack up all Neda's clothes and makeup and take them to the storage room. They then head out to the hot tub room. Neda talks with Adel and Sabrina about how she can't even borrow other people make-up. Adel asks so Heather just can't go in the HOH room? Neda says that Heather's is the easiest one. Adel says its just not listening to music. The hardest one is the slop. Sabrina tells Adel that they've been in here so long that he is starting to look hot.
2:15pm Jon takes a bath in the HOH room. Its obvious that Jon is already super bored. Meanwhile in the kitchen – Sabrina, Heather and Neda talk about how Jon isn't really an alone type person so this punishment will be hard for him. The girls start talking about random things. Adel is praying outside the main bedroom.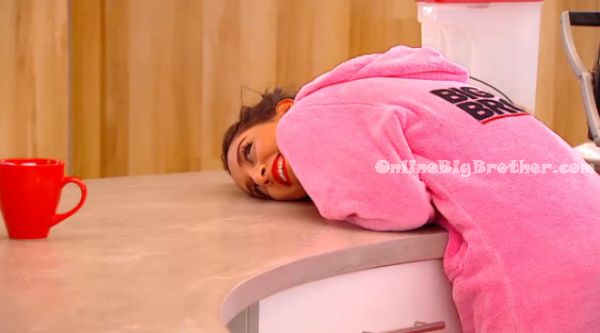 2:30pm – 2:40pmUP in the HOH room – Jon builds a fort. Jon finishes and says this is a sick fort! He crawls through it and gives a thumbs up. He then comes out and asks now what do I do?! He then puts Twistos Sacks on top and inside the fort. He says that's a sweet castle! Meanwhile out in the hot tub room – Sabrina talks to Heather about whether or not she will keep her. Heather says I am strongly considering it. Sabrina asks if Heather would make a final 2 with her? Heather doesn't answer. Sabrina continues to campaign and Heather says give me like a day to think.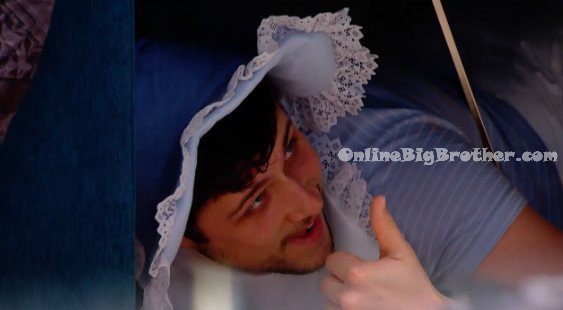 3pm – 3:20pm Jon is sitting in the HOH room bathroom bored out of his mind. He lifts up the air vent and looks inside (Trying to look for an escape?). Adel comes to the door and starts yelling! "I don't know where you are but I MISS YOU! Where are you, you big dope!" Adel then goes to the main bedroom and Sabrina & Neda hold the door closed. Adel says I can't even move it you BIG BOOTY HOE! They move out of the way and Adel charges in the room. Adel starts hexing Sabrina. Adel says that he is going to keep Sabrina up all night. She says you better not, if you do I will come and lie next to you n@ked. Adel says okay do it! Sabrina says okay I will. She then starts to take off her shirt. Adel then follow Sabrina out of the bedroom. She tells him to stop harassing her. She says she is going to go throw out all the food so he has nothing to eat. I will shove slop down your throat. Sabrina says if you don't stop following me I'm going to punch you! Sabrina says over and over again stop harassing me. Adel says I'm not. Sabrina goes into the diary room. Adel heads back to the bedroom. Sabrina comes out of the diary room and goes to the bedroom and tells Adel to continue to harass me, I want you to and wake me up in the middle of the night. Adel says I won't. Are you trying to blackmail me? Sabrina says you don't even know what that mean.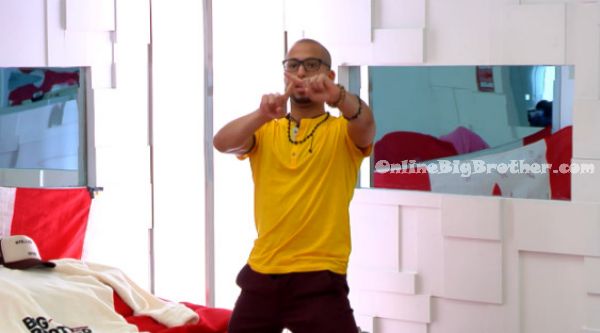 3:20pm – 4pm Story Time with Sabrina:
Story Time with Sabrina @bigbspoilers #BBCAN2 She literally says literally 1 HUNDO times! pic.twitter.com/4py93lRxtb

— Dawg (@DawgsBigBrother) April 28, 2014
3:45pm The live feeds are blocked for five minutes in the HOH room and when they return Big Brother has given Jon food.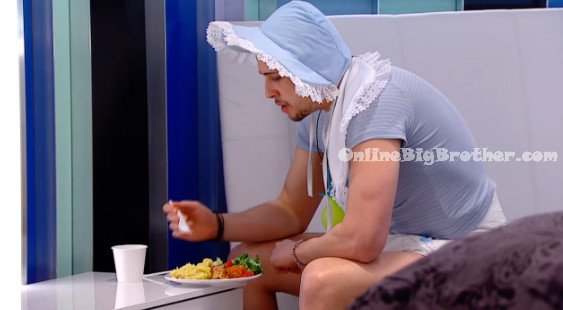 [polldaddy poll=8001357]
Stay connected and interact with other Big Brother Fans on our Facebook page.
And Follow: @BigBspoilers and @Dawgsbigbrother on Twitter for the most up to date spoilers.
HELP keep the spoilers coming.. Show your support by making a donation. ANY amount is greatly appreciated! Simon and I work 24/7 all season long to keep you updated on everything that happens inside the Big Brother house. Your donations go directly to paying the fees required to run this site.
Share it YO!!
Tweet