POV Holder:
Kenny
Next POV
?
POV Used
?
POV Ceremony
April 7
HOH Winner:
Heather
Next HOH:
Apr 10
Original Nominations:
Kenny & Allison
Current Nominations:
Sarah & Allison
Have Nots
Sarah, Kenny, Rachelle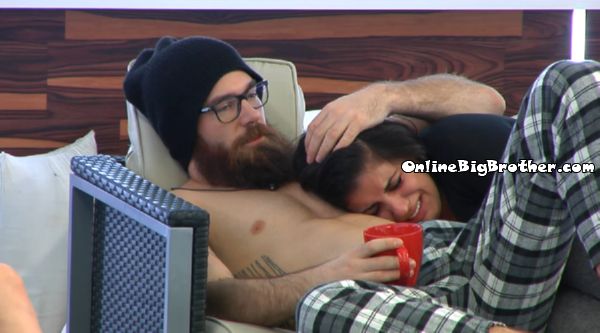 9:55pm Poolside Gremlins, Kenny and Sarah.
they are talking about the game the other side was playing in the kitchen picking who they would marry. Sabrina is pissed by it. (Nobody picked her)
Sabrina says Neda would make a despicable wife at least Sabrina can cook food and clean dishes.
Sabrina – "it's a compliment nobody chose me I would not choose any of theses people except you Kenny"
Sarah leaves
Kenny tries them to stay positive tells them they will win the next HOH, they just need to sit back and find the humor in it. Rachelle thinks so many of the the HOH's were by chance.
Sabrina says she's never been so sad before "Stabbed in heart by people I thought I knew "
Rachelle tells them they cannot roll over
Sabrina – "Doesn't Canada feel bad for us the whole time we were underdogs."
Rachelle says Heather is probably getting the sweet little blonde girl edit and Rachelle is getting the evil girl edit.
Sabrina says she's worried Kenny will side with the "Devils" Kenny tells her there is no chance of that happening.
Sabrina starts to cry says she doesn't want Sarah to leave and she hates Arlie.
Sabrina "They straight up told me I was a mean person"
Rachelle – "Half the people in their are useless " (everyone else other than Allison, Kenny, Rachelle and Sabrina)
Sabrina wonders if Andrew will ever talk to Allison again after she turned her back on their alliance.
Sarah joins them again.
Sabrina says Kyle was nicer than Jon, Rachelle disagree says Kyle called her a wh*re.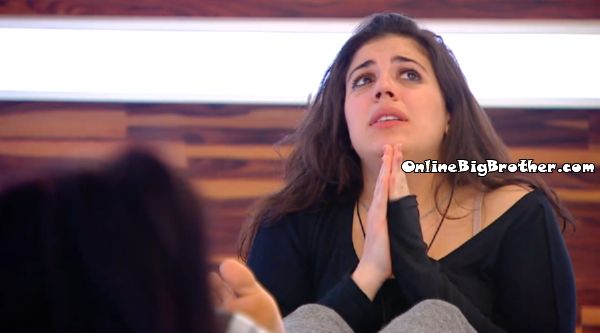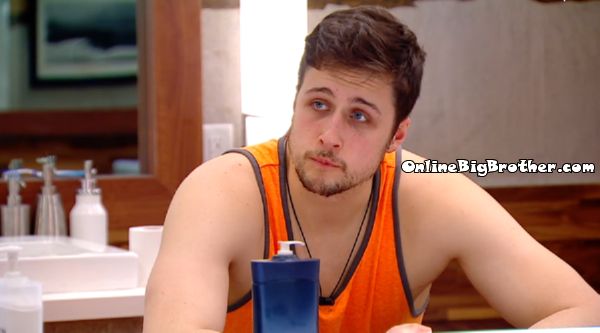 10:20pm Bathroom Arlie and Jon
Talking about when the instant eviction is. Arlie wishes things more straight forward with Big Brother like they are in Survivor he hate trying to work all these what if's into his strategy.
Alrie wonders if it's worth backdooring Kenny or just putting him up.
Arlie is hoping the HOH is endurance and it's the "pressure cooker" (Pressure cooker was an ultra endurance comp during BBUS season 6. house guests stuck in a plexiglass room where they have to hold onto a button, last person standing wins. Big Brother tempts the players with Alcohol and luxuries while in the pressure cooker.. it was an epic comp)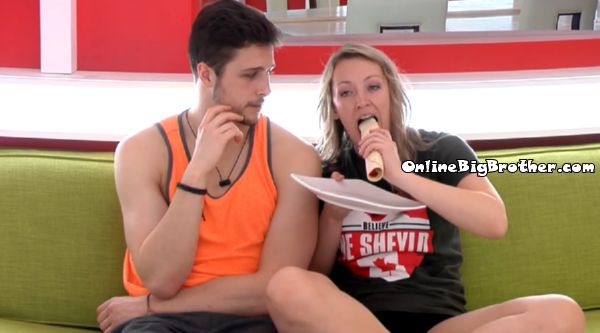 10:40pm Allison digging into a burrito like a savage.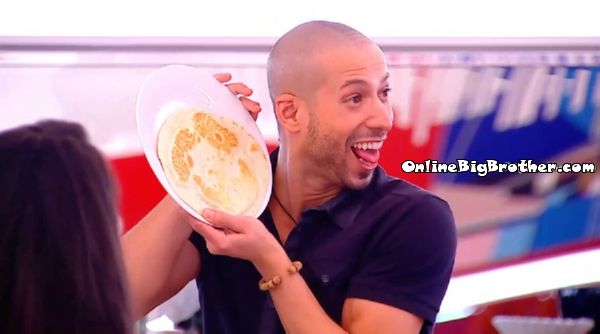 Deli thinks the pancake looks like the Sock puppet Gonads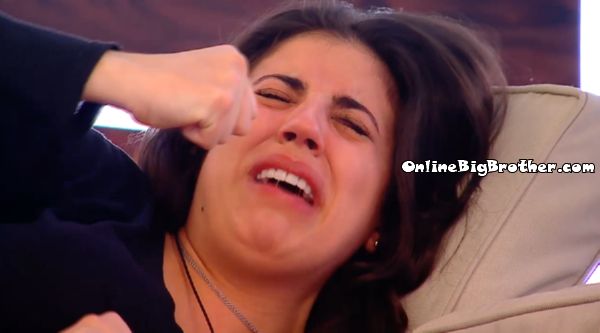 11:00pm Sabrina and Rachelle
Sabrina cycling between full on bawling to full on giggling…
Sabrina – "Oh my god oh my god oh my god.. I HATE ARLIE AARARGH "
Rachelle gets called into the Diary room
Sabrina "I'm not mean they are so mean.. stupid Arlie.. I'm not mean"
Sabrina – Allison oh my god how is she wearing Andrew's shirt.. oh my god.. "
Sabrain – "how is walking around and not feeling horrible… how does a human do this.. how how.. oh my god"
Rachelle comes back, Sabrina asks her what their alliance is called again. Rachelle – The forsaken.
Sabrina – "This is the meanest season ever.. do you think i'm like Amanda"
Rachelle doesn't think she is being portrayed nicely she says she said some mean things about Heather.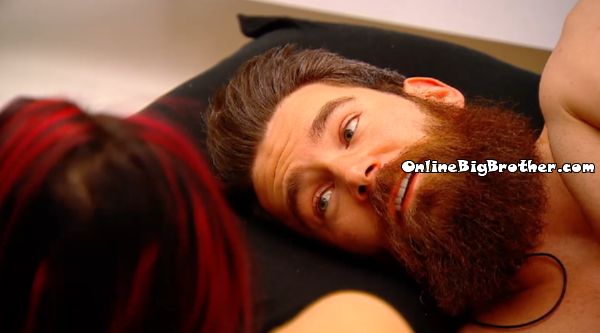 11:00pm Have nots KEnny and Sarah
Sarah says it really is getting to her how happy the other side is.
Kenny says he doesn't think if it was their side they wouldn't be celebrating as much.
Kenny refuses to be a sore loser when you are down everyone else looks up
They start to deconstruct their game.. Sarah wonders that maybe they should have been quiet about their alliance more.
Kenny – "being in jury without you is going to be brutal. Kenny knows he needs to win HOH or POV next week or he's gone there is no way at this stage he can wedge himself into any of the groups.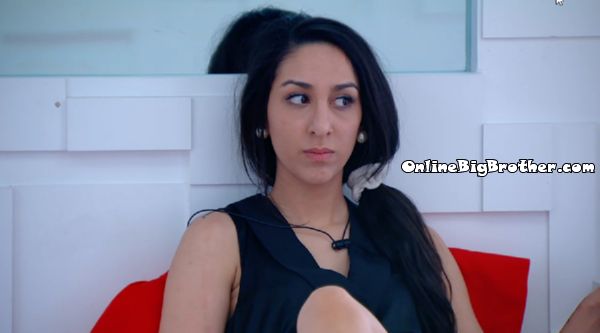 11:00pm – 12:30am Bedroom Arlie, Jon, Deli, Allison, Neda
Arlie saying he had a conversation with Kenny when Andrew was still around and he was talking very suspicious of Arlie. At that point Arlie knew he wouldn't be able to keep the ruse on for much longer.
Jon says Sabrina is claiming she knew about Arlie for a week.
Alrie wants to know what Sabrian has been saying to them.
Neda says that Sabrina is taking credit for being the house mastermind and she's claiming she never said anything mean.
Allison says Sabrina is bawling out of control, "It was really hard to watch"
Jon and Neda say Sabrian is faking her tears. neda mentions how Sabrain will cry uncontrollably once sec then stop if she get no response and ask you what is wrong.
Allison continues to explain her conversations with Sabrina earlier today, Allison mentions how Sabrain denies saying all theses things and keeps telling her she will see when she watches the episode. NEda says there was a reason why Canada nominated her.
Adel says on of his tweets when he won buzzworthy was "Adel good job for seeing right through Sabrina"
Arlie tells them that Sabrina would always say she wanted NEda out because she was Jons' pet, "Nothing major.. just stuff like that"
Conversation turns into a venting circle.. Everyone say a bit about why they dislike Sabrina.
Adel – "She's so full of sh1t it's coming out of every pore"
Arlie deconstructs how the 1st5 worked, He says he was always the last one to get information. Arlei says the other girls just didn't like Heather on a personal level, "They were mean I hated it"
Arlie retells the night Heather and him bonded when IKA freaked out on Heather calling her a pimple lipped b1tch. Heather was hiding in the have nots crying and Sabrina barged in "Acting tough' Saying to Heather "I've been talking sh!t about you for the past week" Arlie – "She was pouring salt in the wound.. that conversation was the worst one in the house"
Heather says people use to make fun of her acne they use to call her pizza face. So when IKA and Sabrina started calling her pimple lip it really hurt her. Heather says Sabrina was so upset when people called her fat because people outside of the house calls her that. It's sad that she would do that to another person in the house about what they are self conscious about.
Allison says she was completely fooled by Sabrina.
Neda says so was she up until they put IKA up.
(Video coming.. it's long)