POV Holder:
Kenny
Next POV
?
POV Used
?
POV Ceremony
April 7
HOH Winner:
Heather
Next HOH:
Apr 10
Original Nominations:
Kenny & Allison
Current Nominations:
Sarah & Allison
Have Nots
Sarah, Kenny, Rachelle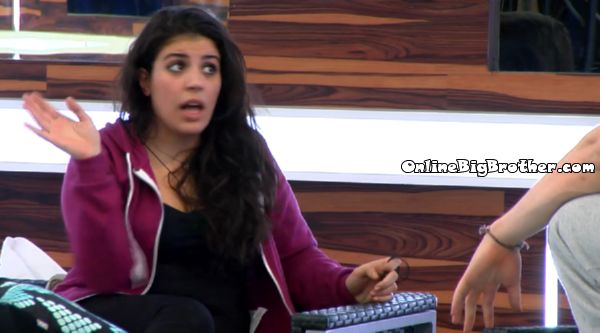 8:16pm Sabrina and Jon
Jon asks her for no bullsh!t during this conversation
Sabrina agrees but wants no bullsh!t from Jon, She says it's all real she is not going to bullshit
Sabrina now claims that she saw Arlie flipping 4 days ago.
Sabrina – "I'm upset you think i'm mean.. it hurts my feeling'
Jon says she's playing a very manipulative game he doesn't think she's mean she jsut said a lot of things.
Sabrina says she heard that Jon said she was a "Backstabbing b1tch" and he wants her gone next week.
Jon doesn't recall saying that say it's not really in his character to say something like that.
Jon says at the time when he supposedly said that he didn't want Sabrina gone., he wanted Andrew gone first, Kenny than Allison .
The conversation ends as they walk back inside Sabrain says this is big brother everyone lies none of them are saints.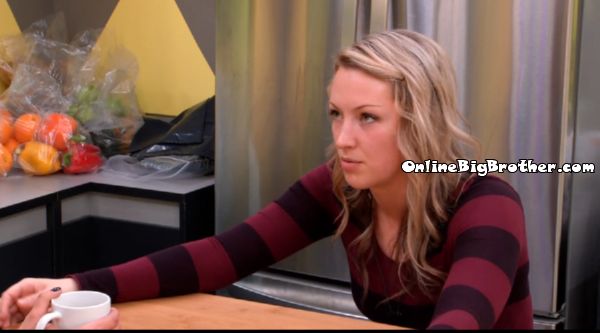 8:20pm Allison and Neda Storage room
Allison says Sabrina said I was ugly and she can sit there and said she wasn't mean to me behind her back.
Neda – "She's a f*** Bitch"
Allison – I've seen her be mean.. about heather" Allison adds Sabrina doesn't recognize the things she said about Heather as mean.
Neda sarcastically says – like heather doesn't count.. she's not human
Neda mentions how Sabrina is trying to tell her she doesn't lie or talk bad about people behind their backs..
Allison and Neda agree Sabrina keeps turning it around to make it sounds like she's the one that has been hurt and they are the ones attacking her.
Arlie joins them says Sabrina is rattled for sure, "She thought she ran this whole game"
Allison says she talked to kenny and they are ready to fight "Game on"
Arlie – "Kenny is a champ so I Sarah.."
Neda says she cannot stand Sabrina she is going to blow up soon. She;'s held her lip for 3 weeks now.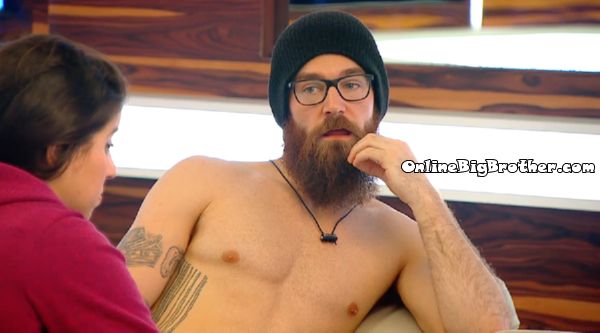 8:32pm Poolside Sabrina and Sarah
Sabrina says Arlie was working with the other side week two, She says it was Arlie going to Jon telling them all the things they said about the other side.
Sabrina – I did this all for the 1st5 and I would do it again .. I'm not mean i'm loyal to my first 5
Sabrina – Really Arlie has f*** us over since week 2
Sarah says she believed him when Arlie said working the other side was to help their game. Sarah now knows that Arlie's allegiance was with Jon all along.
Sarah says she wasn't prepared to play a game like Arlie.
Sarah says the person that f** them was Andrew.. "If he wasn't an abrasive d1ck all the time.. it wouldn't have turned off Arlie and JOn from the beginning"
Rachelle and Kenny join them and Sabrina starts in saying the house thinks she's mean. but she wasn't mean she was protecting her alliance.
(Lots more in this conversation but it's exhausting to listen to .. enjoy :) )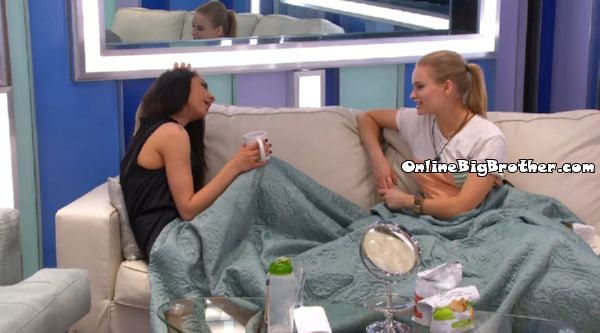 8:33pm HOH Jon, Heather and Neda
Going over the conversations with Sabrina and talking about Sabrina's "Manipulative game" and how her game is screwed now cause everything has come out.
Neda says if Sabrina keeps up with what she's saying and how she's acting Neda is going to snap on her.
Heather knows Sabrian called her chuckys bride, she wants them to come up with a different name.
Jon leaves to run..
Heather cannot look at Sabrina anymore she wants her gone soon. Neda says Sabrina is so manipulative even though they all know this still might be able to spew out a nice speech during final 2.
Neda – As f** up as she is, she has no power at all.
They agree kenny gone first followed by Rachelle.
Heather says that Rachelle poured water on her head yesterday and said it "was an accident"
Heather – Sabrina isn't even on the block why is she so worried.
Neda – "She thinks she's the mastermind this season.
They agree Rachelle and Sabrina are very self centred.
They both claim to know once Ika left that Sarah, Kenny, Sabrian, Andrew were in an alliance.
Neda and Heather both realize that Sabrain fake cries a lot and get "Snippy" when they don't think it's legit and ignores her.
Neda mention that Sabrian would call Allison ugly in the HOH room then go downstairs and cuddle with Allison and play with her hair.
heather – Thats being mean
Neda – Thats a psycho path
Adel joins them and they talk about Sabrina saying "watch the show" Adel says when they watch the show they will know how much of a devil she is.
Neda comments on Sabrina thinking her and Andrew were put up because they were so strong. they all agree Canada put them up because Canada didn't like them
Adel leaves..
Heather likes Allison but wants to make sure their core sticks together. They both Agree Allison is too strong to leave until the end because she'll win the Final HOH.
Heather says she will never forgive Sabrina and IKA for what she said "It was so inhumane"
Heather – "If you don;'t like me just say you don't like me.. Don't pretend to be my friend asking me to sleep in your bed then going around to the other girls saying why is Heather sleeping in my bed.. it's such a piss off"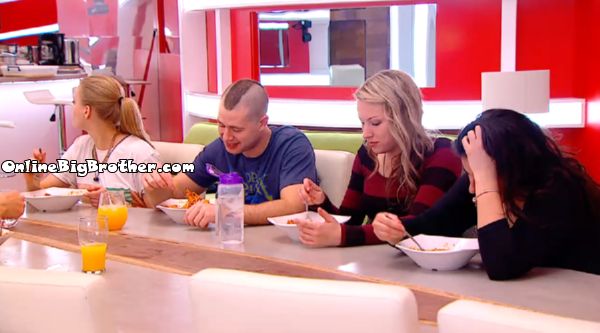 9:39pm Houseguests eating..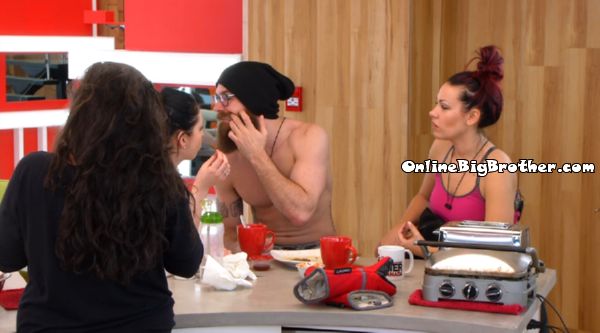 9:40pm
With Sarah being slated for eviction Kenny and Rachelle getting closer and closer.
(Random chit chat in the eating areas)
Adel asks Rachelle if she could marry someone in the house who would that be
Arlie and Adel say they would marry Heather.
Rachelle says Jon or Kenny
Kenny says a toss up between Momzi and Rachelle
Adel says she changes to Heather and Momzi
Jon says he changes to Momzi to.