POV Holder:
Kenny
Next POV
?
POV Used
?
POV Ceremony
April 7
HOH Winner:
Heather
Next HOH:
Apr 10
Original Nominations:
Kenny & Allison
Current Nominations:
Sarah & Allison
Have Nots
Sarah, Kenny, Rachelle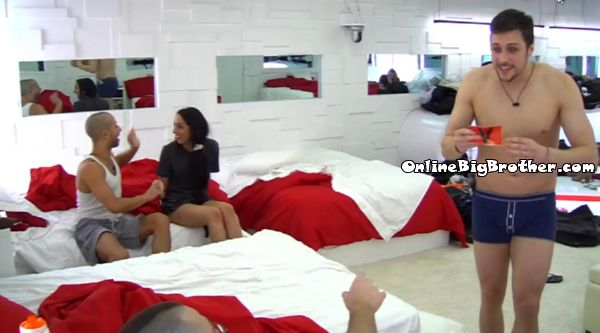 12:32am Bedroom crew Arlie, Adel, Neda, Jon and Allison
They calculate there is 5 eliminations and 10 people. Allison says it doesn't add up there's 10 people in the house with 4 full weeks left.
Adel – "There is no way next week Kenny can play in the veto"
Adel tells them about his power.
Adel tells them that after the third week his power weakened, "on the power of veto ceremony I could just replace anyone I want"
Jon – WOW WOWOW O"
Allison – No you can't"
Adel – I swear to god
Arlie – Give us real talk right now don't f*** with us
Adel explains his power.. it was called the ultimate backd**r After the 3 weeks are up he keeps it but it weakens.
Adel – "When we draw names I pick someone who is now on the block"
For example if Arlie win HOH puts up Rachelle and Sabrina. When they draw POV players names and Kenny is picked Adel can use his card to replace kenny with himself.
Neda is "pissed", "How f*** are you.. you told me this but then said it was a lie"
Arlie says if it's instant eviction next week there is no veto.
Adel – "I keep this card forever" (Until he uses it)
Arlie – This is so cool we just needs to now win HOH
Adel – "so no matter what he doesn't get to play anyway"
Everyone is freaking out about this, Jon is dancing in his underwear.
Arlie – "I love Deli.. Deli can we be boyfriend and boyfriend"
Jon says if Kenny doesn't win HOH he doesn't get to play in the POV.
Adel wants them to pick who he should select to compete in the POV. Jon blurts out "ME"
Neda lets strong the strongest person.
They agree to pick Jon or Arlie. If not Allison.
Adel – "I couldn't use it last week because it was still a veto"
Arlie very happy about this power "deli lets make out for a bit before bed"
Jon – If Kenny doesn't win HOH he goes home
Arlie – "when his name is drawn he's the happiest guy ever then instantly he's the saddest guy ever"
Arlie – "What a good coming out party" (all the alliance came out today)
Neda asks Adel why he never told her the truth. Adel – I was trying to throw you off"
Neda – Throw me off we were working together"
Adel – We needed it when we needed it and right now we need it
Allison tells him his veto card is the craziest power she's ever heard of.
Allison congratulates Adel on having the power for 3 weeks and not using it.
Jon is pretty excited keeps saying if Kenny doesn't win HOH he's going home. They him if the Gremlins win head of Household they won't put Kenny up. Arlie – One of the 5 of us have to win HOH
Jon – "You had so many stories rolling around you blew my mind"
They laugh at how they didn't believe him when he brought up his power because there's been so many stories.
Adel tells them if the card doesn't get used they can use it if they want to play in the POV for fun, you know for the people that haven't had a chance to play in too many competitions, "If someone feels left out I'll let them play a game"
Arlie and Jon say no way they'll use it for something good.
Arlie says if there side wins HOH they put up 2 Gremlins and use the Deli Card incase Kenny's name is drawn.
Adel says he has to use the deli veto card before POV players are picked, "I'm just going to say YA next week"
Arlie giddy about this power. tells them Kenny never even believed Adel hd something and for him to leave because of it will be insane.
Arlie – "Sh** will come out his d**k.. he'll cry"
Adel – "He's the one that never believed I had any power.. I had three weeks of veto it weakened and I had it forever"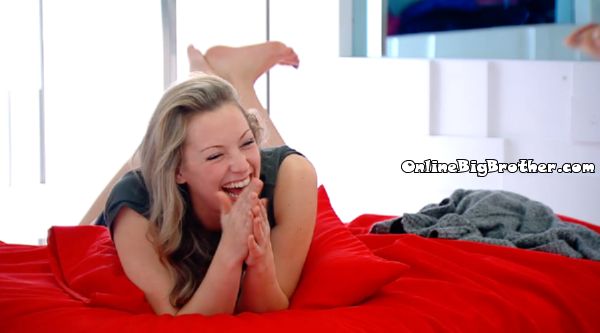 1:10AM Bedroom crew Arlie, Adel, Neda, Jon and Allison
Talking about Sabrina campaigning against Andrew.
Adel start bringing up Andrew saying to the entire house if they talked to Adel Andrew will take them out"
Adel "How am I supposed to feel towards him"
Allison – "I would be pissed"
Adel – "I don't even care"
Allison – "you little f***"
Everyone starts laughing.
Arlie – "thats Adel's humour it always catches you off guard"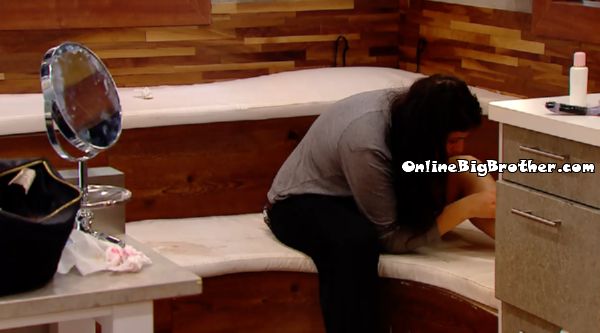 1:22AM Sabrian hidden in the bathroom picking out hairs.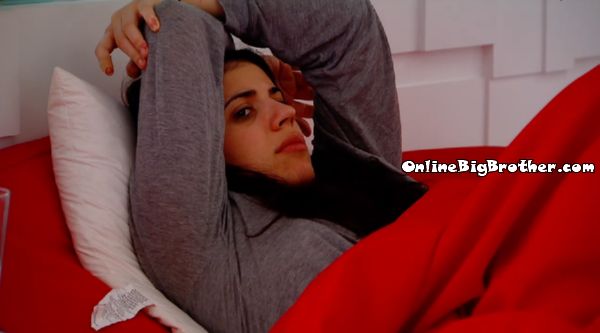 2:15AM kaboom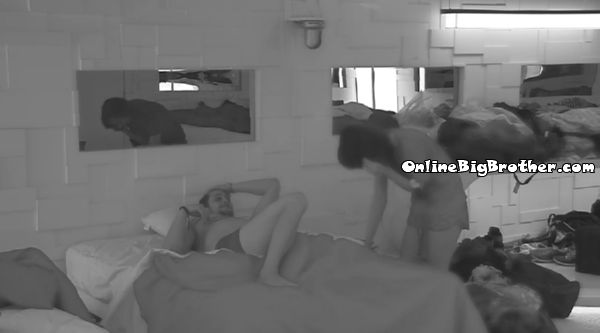 2:22am Jon and Neda Jon has a nightmare and wakes up. He sat up all freaked out made some noise. Neda runs to him and he starts talking nonsense.
Neda – "Oh my god you're so cute.. what the f** is wrong with you"
Jon mentions wolves, farts and says it was real.