POV Holder:
?
Next POV
29
POV Used
?
POV Ceremony
March 31
HOH Winner:
Canada
Next HOH:
Apr 3
Original Nominations:
?
Current Nominations:
?
Have Nots
Jon and Adel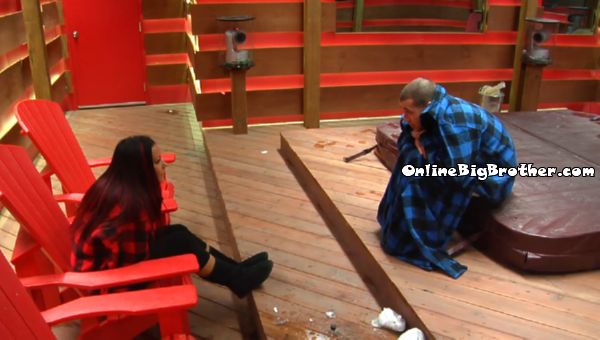 8:59pm Hot tub Sarah and Arlie
Sarah – "You pretend to be nice on the outside than you slaughter them"
Arlie – "that is vicious momzi I love it "
They agree they are in the best position in the game. They think in people's minds they are in the middle but Arlie thinks they are more on the top.
Arlei says that Adel is warming up to Sarah but his biggest fear is Kenny is her number one. Sarah has been taking it slow with Adel. Arlie agrees is her best bet.
Andrew joins them..
Sarah – "Oh my gosh tomorrow is going to be so crazy "
Arlie – "As long as it's not two of us we'll be fine"
Sarah says if it's two 1st five go up it's clear that Canada does not want their alliance to move forward. She thinks the next nominee will be another member of their alliance.
Arlie think their alliance is doing what needs to be done Canada will like them. Arlie thinks they have a chance where none of them will be nominated. Andrew says theres nothing they can do about it it's in Canada's hands.
Andrew wonders
Arlie tells them about when IKA shredded Heather in every way possible and HEather was in tears. Arlie and Adel could hear IKA yelling in the Diary room. Arlie adds IKA was insulting Heather's pimples etc etc..
Sarah acts surprised "where was I when this happened" (you were on the stairs listening)
Alrie further explains what happens and Sarah now remembers she was on the stairs.
Andrew – 'there's nothing wrong with Heather at all she's a sweet girl.. a little hard to take"
Arlie agrees.. mentions how heather has been acting more like herself lately and she's much easier to get along with.
Sarah thinks Heather, Neda and Rachelle are not playing the game so Canada will pick them
Andrew hopes thats the case
Arlie – "It's a possibility"
Andrew points out as long as someone not in the 1st5 goes up because they have the votes, "As long as it's not two of us"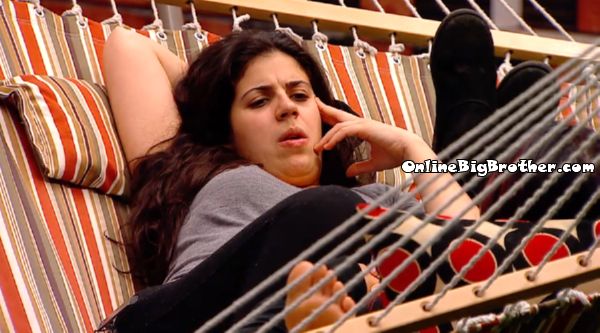 9:15pm Sarah and Sabrina
Sarah tells her she doesn't feel about Sabrina the same way as Kenny. She adds that KEnny is playing the game really hard.
Sabrina wants to know If Jon is talking game to her still. Sarah say no she thinks he's "F**ked up" from all the slop and for losing the challenge. \
Sabrina and Sarah agree Jon is "So gorgeous" Sabrina says she's certain neda and JOn like each other.
Sabrina asks her what does Jon know about Sarah's alliance. Sarah never talks about alliances with Jon, 'He's very careful about what he tells me game wise because of my relationship with Andrew"
Sabrina asks her who Jon wants to keep safe or does he mention her name. Sarah says they think Sabrina is attached to Rachelle which is good, "he's never said specifically he wants to keep you safe and he never mentions he wants you gone"
Sarah – "He's got his mind focused on Andrew right now"
Sabrina – "Arlie to is cute.. Arlie is Super HOT.. SUPER HOT"
Sarah – "When Arlie puts hi shat on I lose it"
Sabrina – "Heather is the most creepiest ugliest girl I've ever seen in my life"
Sabrina "Jon is in love with NEDA that is why he keeps saying I love Janelle I love Janelle because he's trying to convince himself"
Sarah isn't close to Neda anymore.
Sabrina thinks Andrew is in the running to go up.
Sarah – "If it's Andrew and allison we know they are annoyed at Andrew but they support 1st5.. if it's Andrew and one of us they do not support our alliance"
Sabrain – "kenny has a crush on you"
Sarah – 'Really"
Sabrain – YES
Sarah – "I think it's because I get his humor right off the bat"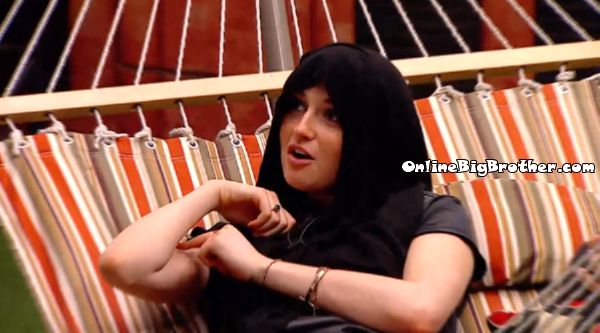 9:37pm Rachelle and Sarah Hammock
They both claim to have no idea who Canada will pick. Rachelle does her russian babushka impersonation (Sven Lada) the girls watch the guys work out.. and chit chat. Rachelle asks Andrew where he got his muscles. Andrew says that once someone asked him that and he said "Wallmart 50%.. then I just walked away"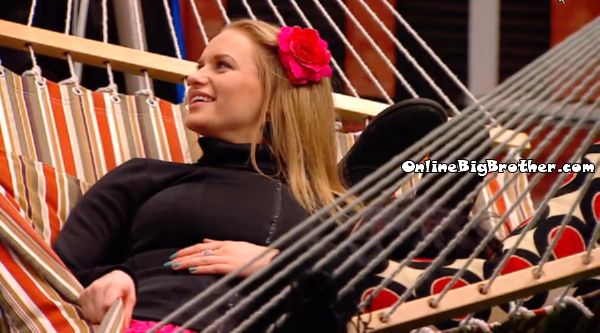 9:50pm Hammock Heather and Sarah
Heather says she would never do it but yesterday she felt like barfing just so she wouldn't gain weight. Allison cruises by on her way to work out, says oh my god next time you think that come talk to me. Heather clarifies she would NEVER do that just thought about it.
Heather describes her boyfriend williams' body says he's kinda like Jon but shorter and more muscular. Sarah says her husband is thin but muscular he doesn't work out as much anymore because he's been working so much.
Andrew takes a break from working out says he's going to go into a competition in October and get 'Super Jacked.. it'll be the first one I've ever done.. probably my last"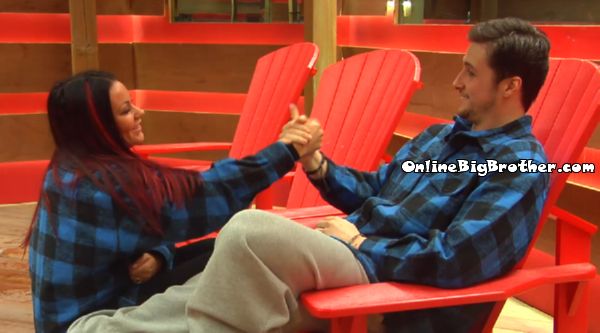 9:55pm Hot Tub Jon and Sarah
Sarah trying to get JOn to talk about his feelings towards Neda. Sarah says she adores Jon. starts talking about his feelings with Janelle and how she was the first girl that he's fallen for, "She's made me fall in love with her". "She's a cool girl I can't wait for her to meet you"
Jon says she's close to 'Ned Balls" but it's more of a sister deal, "You know what I mean.. she's cool I enjoy her"
Jon says Neda is a cool down to earth person that he will keep in touch with for the rest of his life. Jon points out that Neda isn't the type of girl who would do "Anything" in the house. Sarah – "Like Allison" Jon points out she hooked up with Andrew 8 hours after coming into the house.
They agree Allison and Andrew are not real.
Sarah thinks Andrew is deep down inside a good person.
Jon – "If he spoke to my sisters like he spoke to some of the girls here I would break both his legs"
Sarah says Andrew is severely insecure, "Like he's got something to prove.. when you are really confident and a real badass you don't give a sh!t what other people think "
Sarah says Heather is going to be devastated when she hears the things Sarah has said about her in the Dairy room. Sarah adds that Sabrian will be pissed to.
Jon says Heather's high pitch voice drives him insane.
Sarah thinks Andrew and allison are going to be nominated that or Canada may put up two players that are not playing the game like Heather and Neda.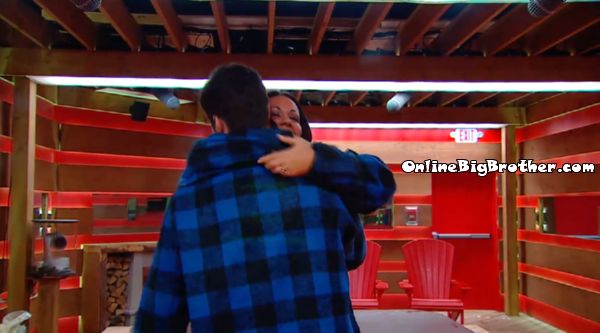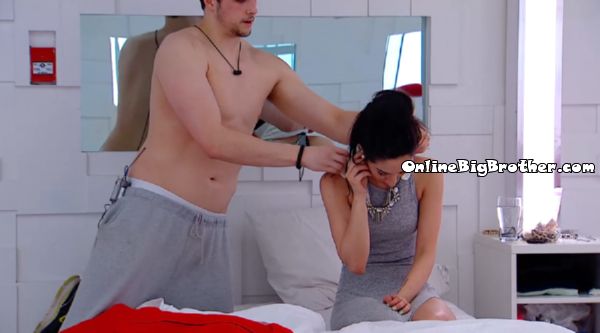 "Ned Balls" is feeling sick Jon grabs her a cold cloth.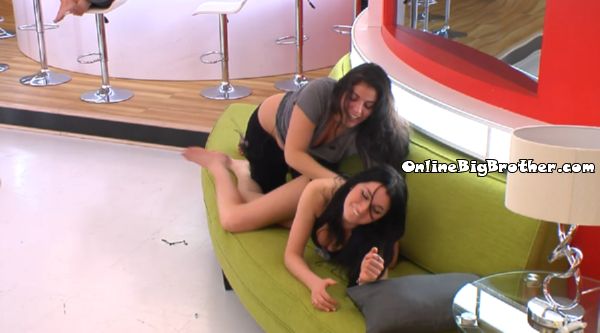 11:00pm Massages
*** FYI Slice is blocking the feeds all weekend starting tomorrow morning and going until Sunday night.
[polldaddy poll=7919957]